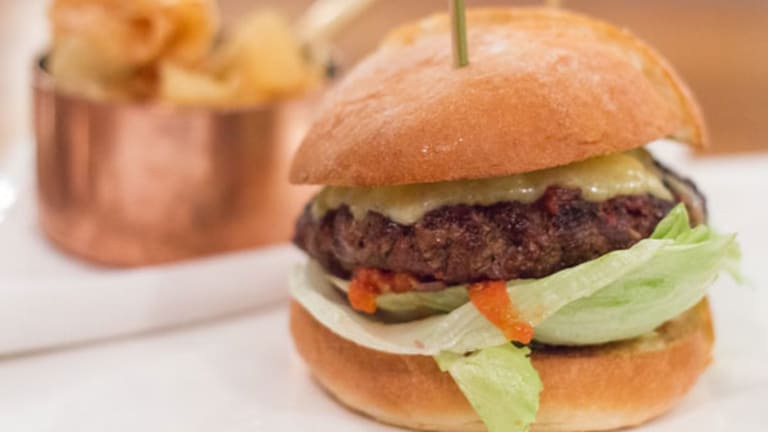 5 Burgers You've Got to Have for National Burger Month
If your burgers have never had tomato cooked in duck fat for three hours or ripe brie and figs ... this is the time.
SAN DIEGO (
) -- Sometimes it's a little hard to keep up with all the holidays and commemorative occasions we have in this country. It seems there's literally a day, a week or a month dedicated to everyone and everything.
But here's one you won't mind adding to your list: May is National Burger Month. Thirty-one days dedicated to honoring the all-American meal. I had to Google it to believe it, but as it turns out -- yes, it's true. And across the country people are making special burgers in celebration.
To help you partake in the festivities, we've singled out a few of the more expensive, luxurious burgers you might want to sink your teeth into.
1. Grant Grill Burger
Where:
Grant Grill, San Diego
Price:
$15
With it's unusual mix of ingredients, including a potato bun, aged goat gouda, onion marmalade and confit tomatoes, this burger is not to be missed. The toasted, crispy and gooey flavor of the goat gouda alone make the Grant Grill Burger something special. But sous chef Juan Cervantes also points out that it's not common to have confit tomatoes on a burger, and these tomatoes are cooked in duck fat until soft and just the right flavor -- a process that takes about three hours. It takes another two hours to make the onion marmalade that's on the burger and three days to make the house pickles that are also part of its final presentation.
So for $15, this burger -- with all the time its ingredients take to make, and the resulting flavor -- is quite the bargain.
"When you eat this burger, you have to take one big bite and get all the flavors," Cervantes says. "You get layers of flavor in your mouth."
2. Billionaire Burger
Where:
Holsteins, Las Vegas
Price:
$28
When you're in Las Vegas, what more appropriate burger to eat than one named after a big pile of money? As chef Anthony Meidenbauer explains it, that's exactly what the restaurant was thinking when they named it.
"It was designed for Las Vegas," Meidenbauer says. "What is Las Vegas all about? We took the idea of a billionaire and what do they want to eat?"
In this case, the answer is Kobe beef, foie gras, port onion marmalade, frisee and truffle mayo.
"Fois gras is obviously very lavish, and that's spread on top," Meidenbauer says. "And then there's truffle mayo and black truffle oil to add more richness -- so it's a really intense flavor. People who come to Vegas often want to try something different and crazy."
3. Gold Standard
Where:
Holsteins, Las Vegas
Price:
$17.50
The No. 2 seller on the Holsteins menu is the Gold Standard burger. For this burger Meidenbauer topped dry aged beef sirloin with smoked bacon, aged goat cheddar cheese, tomato confit, baby arugula and garlic-chive aioli.
"We wanted a great bacon cheeseburger, but not using same old same old toppings," Meidenbauer says.
The foundation of the burger is a fabulous brioche bread, which Meidenbauer notes is "pretty much best kind of bread you can use for burger." To that he adds a top-notch applewood smoked bacon.
"The bacon adds a really great intense smoke flavor. It's not a tiny afterthought -- we really wanted the bacon to stand out." And finally, they slow roast the tomatoes for about four hours.
4. Double Brie & Fig Burger
Where:
Surf and Sand Resort, Laguna Beach, Calif.
Price:
$19
The description alone of chef David Fune's burger is mouthwatering: Angus patty, double cream brie, fig marmalade, caramelized onions and Dijon.
"One of the main things about it is it sounds good when you hear it hear it being said," Fune says. "When it's described -- the balance between the earthiness of the cheese and the sweetness of fig jam and the caramelized onions -- you think 'This is good.' But a lot of people just can't stop eating it. The complexity of it and everything balances so well. People love the combination."
It must be noted that Fune didn't just throw any old brie on any old piece of meat. The meat comes from an all-natural sustainable farm in the Midwest. And much thought goes into the selection of the brie.
"If you were to get a regular brie in the grocery store, it wouldn't hold up to the flavor of the fig jam or to the meat," he explains. "So our brie brings it own little punch to game. We put three ounces on every burger, and that makes it pop."
5. Triomphe Burger
Where:
Triomphe, New York City
Price:
$16
The secret to the Triomphe burger, says chef Jason Tilmann, is the English muffin bun. (Well, it's not exactly that it's a secret -- but it makes a great finishing touch for a phenomenal burger.)
"Well, when you look at the English muffin, it has those holes and ridges that collect flavor," Tilmann explains. "On a normal bun all the flavor seeps out and the bun gets really soggy. But an English muffin stands up more to the meatiness of the burger and the juice and is durable. It serves the purpose of collecting all that flavor."
The other special feature of this burger, says Tilmann, is the beef he uses -- an 80/20 ground beef mix (20% fat) that comes from one of the oldest purveyors in the country. "I've been to the facility to see it being ground. We get it fresh ground every day. It's ground every morning," he says.
This burger has a following, Tilmann says. If the menu were to be changed and the burger was no longer there, he would have angry patrons to contend with.