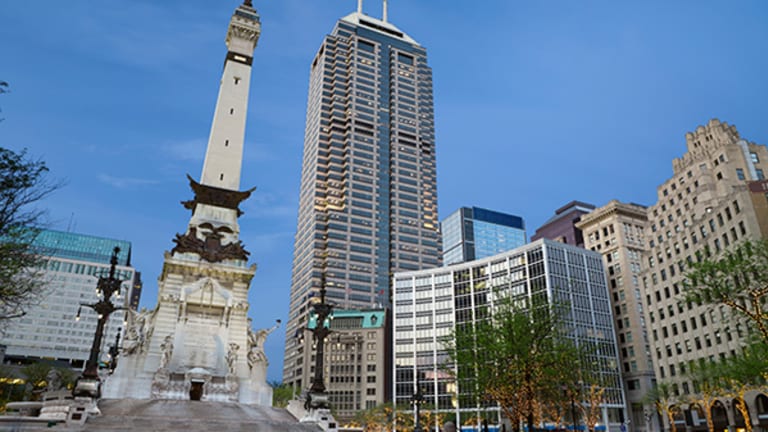 5 Biggest TV Markets Without Major League Baseball Teams
Baseball isn't expanding any time soon, but the stadium and financial woes of some of its smaller markets may result in some moves. The league would have no shortage of suitors.
Baseball isn't expanding any time soon, but the stadium and financial woes of some of its smaller markets may result in some moves. The league would have no shortage of suitors.
PORTLAND, Ore. (TheStreet) -- Major League Baseball took in $8 billion in revenue last season, but there's always more blood to squeeze from the stone.
Look in Tampa Bay, for instance. Major League Baseball teams used Tampa/St. Petersburg, Fla., as a threat after the cities built a domed ballpark there in 1996. The Chicago White Sox, San Francisco Giants and Seattle Mariners all used the facility as leverage for their own new stadiums until 1995, when league owners finally added an expansion franchise in Tampa and cashed out.
Since 1998, the Tampa Bay Rays/Devil Rays have averaged 30,000 fans per game only once: In 1998 when they saw 2.5 million fans come through the turnstiles. Since then, they've ranked at or near the bottom of the American League in attendance. Despite making the playoffs four times in the past seven years and making it to the World Series in 2008, the Rays haven't averaged more than 20,000 fans per game since 2010, when their attendance ranked a team-best ninth out of 14 AL teams.
Last month, the mayor of St. Petersburg met with Rays President Matt Silverman to discuss the team's desire to leave Tropicana Field, where they are bound by contract until 2027. That stadium won't be paid off until 2016 at the soonest, but Major League Baseball Commissioner Bud Selig advised the Rays' front office last year not to offer the city any compensation if it broke its contract.
That's the kind of business partner Tampa/St. Pete and Pinellas County are dealing with, and baseball's revenue-sharing scheme has only exacerbated the problem. Baseball's 29 other owners have leaned on Tampa management to get a new stadium so they can quit subsidizing the team through revenue-sharing payments.
That's a familiar refrain for the Oakland A's as well. The team's noted Moneyball frugality has given it postseason success much like that of the Rays, but hasn't stopped it from finishing in the bottom half or near the bottom of the AL in attendance since 1993. The team hasn't averaged more than 30,000 fans per game in their sprawling Coliseum home since 1992, it hasn't topped 2 million in total attendance since 2005 and it drew as few as 17,500 fans per game as recently as 2010. Sewage backs up into its bathrooms, games are postponed on days when no rain falls because drainage is terrible and NFL teams complain about infield sand on the Oakland Raiders' playing surface.
Major League Baseball hasn't shown any desire to expand in recent years, but its owners clearly wouldn't mind if some second-tier town paid for a shiny new stadium with tons of revenue enhancements for its more downtrodden clubs. While public opinion has turned against such expenditures since $634 million fleecing of Miami by the Marlins organization and its new Marlins Park in 2012, that doesn't stop midrange towns from aspiring to the big time. With a little help from the good folks at Nielsen, we found the five largest television markets without a baseball team and made a case for each:
Indianapolis
Television market size: 1.09 million
Similarly sized MLB market: Baltimore (1.08 million)
This isn't exactly some tiny burg.
The Colts have been to the Super Bowl twice during their time in Indianapolis and won once on Peyton Manning's watch. LucasOil stadium hosted the Super Bowl in 2010, the Big 10 Football Championship each year since 2011 and the NCAA Men's Basketball Final Four in 2009. The Final Four fared so well here that it is coming back in March 2015.
Andrew Luck has the Colts looking like a contender and Paul George led the NBA's Pacers deep into the playoffs here for the past three years. So why no Major League Baseball when pro baseball's been played here since 1887 and the Indianapolis Indians have called the place home since 1902?
The team has been linked with the Cincinnati Reds, Cleveland Indians, Chicago White Sox, Philadelphia Phillies and Montreal Expos, but currently serves as the Triple A farm club for the Pittsburgh Pirates, who just broke a 20-year playoff drought last season. The city spent $18 million building Victory Field for the Indians in 1996 and seems wholly content remaining at that level.
If Indy were to get an MLB team, it would be one of the smallest three-sport towns in the U.S. Cleveland comes close, but ask the folks in the Indians front office how empty the Progressive Field stands can get during lean years. After years of selling out the former Jacobs Field and averaging more than 42,000 fans per game, the Indians spent the past decade drawing fewer than 30,000. In three of their past four seasons, the Indians drew fewer than 20,000 per game -- bottoming out at 17,200 on average in 2010.
Indianapolis could get by with similar numbers, but it doesn't have to.

Charlotte, N.C.
Television market size: 1.14 million
Similarly sized MLB market: Pittsburgh (1.16 million)
You know who shouldn't be settling for their Triple A lot in life? Charlotte baseball fans.
No offense to the Charlotte Knights, the farm team for the Chicago White Sox, but this town shouldn't be anyone's stepping stone. It's only been a Triple A town for 20 years, it's wheeled through the Cleveland Indians, Florida Marlins and White Sox organizations since then and has always had to wave goodbye to talent such as Manny Ramirez, Jim Thome, Jon Garland and Joe Crede.
Why? This town clearly cares enough about baseball to dump $54 million into a new stadium for the Knights -- BB&T Ballpark, which just opened this year. That park is already a block away from Bank of America Stadium -- home of the NFL's Carolina Panthers -- and joins the Charlotte Hornets' home in Time Warner Cable Arena as the latest additions to the city's sports landscape. If we're using Pittsburgh as a point of comparison, that town already supports the Pirates, Steelers and Penguins with little difficulty -- although the Pirates haven't made it easy over the past two decades.
Charlotte has a great corporate base and a whole lot of baseball acumen thanks to minor league and Atlantic Coast Conference teams. It's also within striking distance of National League towns in Washington, D.C., Cincinnati (each fewer than 500 miles away) and Atlanta, Ga. (which is 250 miles away).
What it doesn't have is a stadium seating more than 1,000 people. Remove that obstacle, and you've got yourself a Major League Baseball powerhouse.

Portland, Ore.
Television market size: 1.18 million
Similarly sized MLB market: St. Louis (1.24 million)
Wow, right around the same market size as baseball-mad St. Louis? Surely this town needs a baseball team, right?
Well, there's a big reason they don't have one. It's not that this town is opposed to baseball: It actually has a rich history of it, dating back to the 1860s. As recently as 2010, its Portland Beavers were the Triple AAA affiliate for the San Diego Padres. But Major League Soccer came knocking and offered the city a chance to revive the Portland Timbers and the Beavers were booted to Tuscon in favor of a soccer club that's regularly drawn more than 20,000 fans to its matches since joining the league in 2011.
Occasionally, you'll hear grumbles about baseball here and there. A short-season Single A farm team for the Arizona Diamondbacks took up residence in the western suburb of Hillsboro last year, with the marketing team crowing "baseball is back." Though the Hillsboro Hops' hats were a hit at the Oregon Brewers Festival last year, the Hops regularly drew around 4,000 fans -- or less than a fifth of the Timbers' total -- during their inaugural season.
It's not that Portland isn't a sports town, it's just that it's a different kind of sports town. Sports are as much of a niche here as homebrewing, beekeeping and cycling. Unless it's a Timbers game day or a Blazers playoff game, sports don't tend to just be on the television at local bars -- if those bars have televisions at all. It's not assumed that everyone in town knows that the Portland Trail Blazers' Damian Lillard was unanimously voted the NBA's Rookie of the Year in 2013, though they might know that his last-second shot won the first-round playoff series against the Houston Rockets last year. The fact that the NHL's top prospect in 2013, Seth Jones, played for the Portland Winterhawks this year is esoteric knowledge to all but die-hard junior hockey fans in the suburbs.
So when a local businessman suggested temporarily expanding the Hops' stadium to lure the Oakland A's a few months ago, the response ranged from muted bemusement to outright indifference. Neither the desire nor the money for a baseball stadium have appeared in any large quantity in Portland since the Beavers left, and the nostalgia for baseball here wanes with each passing year.
In a town where the Timbers Army functions like a political organization and the nearest Major League Baseball team -- the Seattle Mariners -- is a nonentity, baseball is about as rare a commodity as sunny days in spring.

Sacramento
Television market size: 1.39 million
Similarly sized MLB market: Cleveland (1.48 million)
This town nearly lost the one pro team it has, was jacked for $258 million in arena money by the National Basketball Association and new ownership just to keep it and doesn't exactly seem emboldened by the experience.
That's a shame, considering there's a team about 80 miles away in need of a new home. This seems like the easy answer to the A's problems, especially with San Jose reluctant to build the team a stadium and a new 10-year lease at the Coliseum the best offer on the table in Oakland. At any rate, it's a much shorter haul than heading to the Portland suburbs to play in some short-season Single A team's digs until some town builds a ballpark that's not even in the planning stages right now.
But that's the problem: The only real shot for Sacramento to get a team is the A's. California's capital falls within the A's and Giants' radius, so any third team would need permission from those organizations before moving in. The A's and their fragile attendance aren't going to grant that request. Even if the A's go elsewhere, the Giants may not forfeit the opportunity to have the Bay Area all to themselves.
So let's say the A's move. At best, they get a Sacramento fan base big enough to make up for the disgruntled Bay Area fans they're leaving behind and they get a new building that Sacramento's really going to have to shake out the couch to fund. At worst, they just forced their fan base into a three- to four-hour round-trip haul to a stadium that Sacramento skimps on because its taxpayers can't really afford that kind of thing.
This is why Sacramento makes do with the A's Triple A franchise, the River Cats, and the highest attendance in all of minor league baseball. The love of baseball is there, but the hassle of landing the A's seems like a burden this town is unwilling to bear.

Orlando, Fla.
Television market size: 1.49 million
Similarly sized MLB market: Denver (1.57 million)
This is not a great time to be a pro sports team in Florida. The Tampa Bay Buccaneers have blacked out most of the team's home games on local television since 2010 and only aired games last year after sponsors bought up tickets. The Jacksonville Jaguars tarp off seats at EverBank Stadium and had their owner sacrifice one "home" game a year to London. The Miami Dolphins have needed help from sponsors and television affiliates to buy up tickets and avoid blackouts while trying to squeeze funding for a new stadium out of the stone that is the Miami-Dade County tax base -- which already feels burned after shelling out for a new Miami Marlins ballpark, only to watch management gut the team.
The Rays and Marlins attendance is atrocious. The National Hockey League's Florida Panthers are in constant flux and may be targeted for a move to Quebec City or Kansas City. Basically, if you aren't the Tampa Bay Lightning, the Miami Heat or the Orlando Magic, you're having a terrible time.
That isn't Orlando's problem. Beyond the "America's Vacation Capital" facade and the flocks of tourists heading to Walt Disney World, Universal Studios, Sea World and other economy-driving attractions is a city with a thriving tech center and a rapidly growing population. It also puts a lot of stock in the Orlando Magic, who've spent more than two decades giving fans short bursts of greatness followed by tough stretches of drama and misery. Big men Shaquille O'Neal and Dwight Howard each brought the Magic to the NBA Finals (in 1995 and 2009), but each also left for a bigger market and spotlight.
Magic fans who have been around for the whole stretch have seen two All-Star games come through town, but have also watched their franchise win little more than half the games it's played and foster some fan cynicism that would impress even the most jaded Northeast transplant.
Meanwhile, USL-PRO's Orlando City SC was just tabbed to join Major League Soccer by 2015. The push for a stadium site and funding has begun and the 8,000 or so fans who regularly show up for Orlando City games at the Citrus Bowl believe firmly they can succeed where MLS' Tampa Bay Mutiny and Miami Sol failed when they folded in 2001 and 2002.
But what about baseball here, you ask? Keep in mind that while baseball hasn't been well-attended in Florida, it hasn't exactly failed here, either. Florida teams have been to three World Series in the past 20 years and have won two of them. They've shown remarkable ability to either develop or pay for stars, if not keep them. With the Rays already looking like a logical in-state move that wouldn't affect the Marlins in the slightest, Orlando could get a great franchise right off the bat.
The only question is where to put it. Disney has a sprawling sports complex, but its ownership of MLB broadcaster ESPN -- of the ESPN Wide World of Sports Complex in question -- might keep it out of the running for an Orlando franchise. Still, it's an intriguing possibility for a town that hasn't endured the same sports woes as many of its Florida neighbors.
-- Written by Jason Notte in Portland, Ore.
>To contact the writer of this article, click here: Jason Notte.
>To follow the writer on Twitter, go to http://twitter.com/notteham.
>To submit a news tip, send an email to: tips@thestreet.com.
RELATED STORIES:
>>5 Major League Soccer Teams That Outdraw Baseball
>>5 Great Stadiums Making Up For Bad Baseball Teams
>>5 Ways The All-Star Game Is Baseball's Super Bowl
Jason Notte is a reporter for TheStreet. His writing has appeared in The New York Times, The Huffington Post, Esquire.com, Time Out New York, the Boston Herald, the Boston Phoenix, the Metro newspaper and the Colorado Springs Independent. He previously served as the political and global affairs editor for Metro U.S., layout editor for Boston Now, assistant news editor for the Herald News of West Paterson, N.J., editor of Go Out! Magazine in Hoboken, N.J., and copy editor and lifestyle editor at the Jersey Journal in Jersey City, N.J.