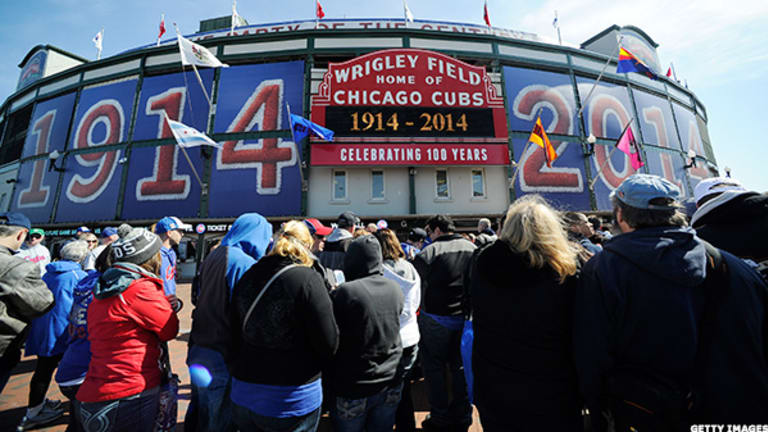 5 Biggest Ripoffs In Major League Baseball
Baseball teams that charge more $6 for hot dogs and sodas, $8 for beers and as much for parking as they do for tickets deserve shaming.
PORTLAND, Ore. (TheStreet) -- Just because Major League Baseball is one of the cheapest tickets in professional sports doesn't mean its teams won't occasionally try to dig deeper into fans pockets.
Still one of the best values in the land overall, Major League Baseball skates by on a low average ticket price and friendly recent history. Baseball hasn't had a strike since its World Series-canceling work stoppage in 1994 through 1995 and hasn't locked out players since 1990.
The National Basketball Association (which locked out players in 1995, 1996, 1998-19 and 2011) and the National Football League (which locked out players in 2011 and referees in 2012) can't say the same. The National Hockey League has lost more than 2,300 games to lockouts and strikes in the past 20 years. Baseball fans, meanwhile, have been rewarded with ticket prices that average $27.93, according to Team Marketing Report.
That's a little more than half the price of an average NBA ticket ($52.50), slightly less than half the cost of a ticket to an NHL game ($61.82) and well below the price you'd spend on any given Sunday in the NFL ($81.54). That doesn't mean MLB is an all-around discount, but it's still a great deal for folks outside of its larger markets. It is, however, 2% higher after a season in which overall attendance and television ratings dropped.
In a league that's increased revenue from $1.4 billion in 1995 to more than $8 billion last season, though, there are some markets being treated a little more gingerly than others. The Houston Astros set a Major League Baseball record for revenue last year by slashing salaries to the bone during their first year in the American League and taking in more than $100 million. What did fans get out of the deal? A team that put up 51 wins and 111 losses and trailed the next-worst team -- the Miami Marlins -- by 11 games. Looking worse than a franchise that straight-up jacked Miami for $634 million in public funds before clearing out all the high-priced talent and leaving the city with the worst team in the National League East is one incredible feat, but Houston was up to task.
Also see: 10 Most Expensive Tickets In Major League Baseball in 2014>>
Of course there's more than one way to fleece the faithful. Fielding terrible teams and extorting stadium financing for personal enrichment is a little too brash for most teams. Instead, there are some squads that would rather bleed fans a few pennies at a time. While Marlins Park is easily the biggest ripoff foisted onto a fanbase and local taxpayers in recent MLB history, we've consulted with the folks at Team Marketing Report and found five of the biggest ripoffs fans face at the ballpark each day. When fans stand up to sing Take Me Out To The Ballgame in these buildings, they should watch their wallets while doing so:

Biggest parking ripoff
Toronto Blue Jays
Price: $22.74
There are a handful of other teams that charge more for parking than the Jays, but none of them charge a parking fee nearly equal to their average ticket price.
The average price of a Blue Jays ticket is $22.78, which makes it only four cents more costly than simply parking your car outside the game. We realize it's not always a one-for-one scenario, but this makes Rogers Centre one of the few ballparks in North America where paying for parking basically equates to buying an extra ticket in almost every instance.
Perhaps this wouldn't be so bad if the Blue Jays hadn't gone on a free agent buying spree in 2013, only to lose 88 games and finished dead last in the American League East. It also doesn't help that the Blue Jays also have an average beer price that's routinely among the highest in the league. The worst part, however, is that fans continue to pay all of it to see a team that hasn't been to the World Series since winning it in 1993.

Biggest soda ripoff
Los Angeles Dodgers
Price: $5.75
Your team just took in more than $1 billion in television rights money. Its payroll has ballooned to $235.3 million, or $32 million more than that of the Yankees. That discrepancy alone would nearly double the Houston Astros' payroll.
And you want what for a soda? Honestly, we do not care that it's 24 ounces and that we typically gauge beer prices by the ounce. We're no monuments to justice. You're charging six bills for syrup and seltzer that you pay cents an ounce for.
So you made the National League Championship Series last year. Great. The team that beat you and went on to the World Series, the St. Louis Cardinals, charges $5.25 for its smallest soda. Not great, but still better than you're offering. What about the Yankees, you say? $3.
That's right, the Steinbrenner family looks like the kindly owners of the neighborhood soda fountain compared with you grifters.

Biggest hot dog ripoff
New York Mets
Price: $6.25
Also see: Baseball Is Still a Big League Bargain>>
There's just no end to the indignities for Mets fans. Ace Matt Harvey is gone for the foreseeable future after Tommy John surgery, only to be mocked for flipping the camera the bird on the way into surgery. Second baseman Daniel Murphy was berated by New York's sports radio braintrust for daring to miss Opening Day for the birth of his child. They haven't had a winning season since 2008 and, since moving to Citi Field in 2009, attendance has dropped every year.
The Mets' stadium is basically a food court with a cover charge, and nowhere is that more evident than in their $6.25 hot dog. Keep in mind that this is a stadium in which fans will miss a third of the game to stand in line for a Shake Shack burger, so what's a high-priced hot dog in the grand scheme of things?
Just another embarrassment for the Mets. Over in the Bronx, a hot dog at Yankee Stadium -- a building where nothing comes cheap -- goes for $3. Meanwhile, the Cincinnati Reds -- who've actually played playoff games in the last five years -- let stadium hot dogs go for a buck apiece.
Mets, a bit of advice: Spend less on celebrity chefs and more on a lineup that can make it into the postseason.

Biggest Beer Ripoff
Boston Red Sox
Price: $7.75 for 12 ounces (65 cents an ounce)
The reigning World Series Champions have never been ones to discount the experience of entering Baseball's Cathedral.
While quick to remind you that they captured a World Series title with only $159 million in payroll, they're a little less proud to note that your $7.75 for 12 ounces will only get you a Bud. Not a Samuel Adams Boston Lager, not a Narragansett: Bud.
Meanwhile, while the bars on surrounding Brookline Avenue and Lansdowne Street aren't cheap even by Boston standards -- which state that a beer will only be sold for under $4 if it's past its expiration date -- they're certainly a better deal than you'll get in the building. At the point where Brookline meets Yawkey Way, for instance, the Beer Works brewpub chain will give you 12 ounces of their Back Bay IPA for $5. Change it to a light lager or pale ale, and that price drops to $4.75.
Gawk at the Green Monster, sign your name on Pesky's Pole and sing Sweet Caroline if you must, but never get a beer in the building unless someone less savvy is buying.

Biggest ticket ripoff
Chicago Cubs
Average ticket price: $44.16
There are two other teams with higher average ticket prices: The Yankees and the Red Sox. But neither of those teams have endured five-straight losing seasons. Neither of them has gone a century without winning a World Series. In fact, neither of those teams has failed to win a World Series within the past decade and have combined for four World Series titles among them since 2004.
The Cubs continue to run the Wrigley Field museum, which hasn't hosted a World Series since 1945 and hasn't seen the Cubs win a title within its ivy-covered walls during its 100 years of existence. Harry Caray and Ron Santo are gone, Ryne Sandberg is coaching the Philadelphia Phillies and Old Style is being elbowed out of the beer trays by Budweiser. Even the rooftop seats across the street are about to be blocked by more signage and scoreboards?
To what end? Mostly to turn Wrigleyville into even more of a beer-soaked bro festival than it already is and make fans forget that the last baseball team to play meaningful October baseball in this town is on the South Side. If you can't hang W banners along Clark Street, at least you can wring every dollar out of the drunken sods along its sidewalks. Take them out to the ballgame, if you ever get around to playing one worth watching.
-- Written by Jason Notte in Portland, Ore.
>To contact the writer of this article, click here: Jason Notte.
>To follow the writer on Twitter, go to http://twitter.com/notteham.
>To submit a news tip, send an email to: tips@thestreet.com.
RELATED STORIES:
>>10 Highest Beer Prices In Major League Baseball
>>Centerplate Lets Major League Baseball Forget Peanuts and Cracker Jack
>>Budweiser's Baseball Opening Day Holiday Plan Is Brilliant
Jason Notte is a reporter for TheStreet. His writing has appeared in The New York Times, The Huffington Post, Esquire.com, Time Out New York, the Boston Herald, the Boston Phoenix, the Metro newspaper and the Colorado Springs Independent. He previously served as the political and global affairs editor for Metro U.S., layout editor for Boston Now, assistant news editor for the Herald News of West Paterson, N.J., editor of Go Out! Magazine in Hoboken, N.J., and copy editor and lifestyle editor at the Jersey Journal in Jersey City, N.J.