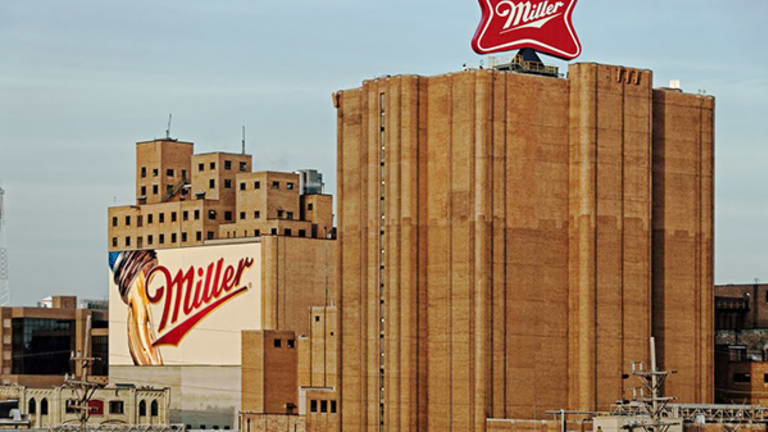 5 Biggest Beer Drinking States in the U.S.
Beer sales have seen better days, but the nation's thirst for it hasn't dried up. Laborers, visitors and modest taxes help these states keep the taps open.
PORTLAND, Ore. (TheStreet) - Beer drinkers in the United States aren't buying as much as they used to, but their taste for beer hasn't changed as much as the numbers suggest.
Overall beer sales plummeted 1.9% last year and have dropped in four out of five years since the recession. That downturn reduced beer's share of the overall alcohol market from 55% in 2000 to just 49% by 2012. That preference for beer among drinkers younger than 29 has fallen especially hard. The percentage of that age group drinking beer has plummeted from 71% in the years 1992-94 to 41% from 2012-13, according to a 2013 survey by Gallup.
When Washington, D.C.-based beer industry group The Beer Institute industry group last checked in 1992, drinking-age U.S. residents consumed 28.2 gallons of beer per capita. That's nearly two 15.5-gallon keg apiece. It's up from the 20.8 gallons a year earlier.
Though Anheuser-Busch InBev and MolsonCoors and importers including Diageo have seen their sales slide in recent years, there have been some noteworthy changes in the beer industry during that time as well. For one, the Brewers Association craft beer industry group notes that the number of breweries in the U.S. has risen from roughly 1,700 at the height of the recession to 3,000 today. The Beer Institute notes that number of breweries licensed by the Treasury Department's Alcohol and Tobacco Tax and Trade Bureau sits at 3,699.
The Future of Craft Beer Starts in Massachusetts
5 More Great Craft Beer Vacations
Also see: The Future of Craft Beer Starts in Massachusetts>>
In the past year alone, craft beer sales have risen 17.2% by volume and 20% by dollars as Samuel Adams producer Boston Beer, Widmer Brothers parent company Craft Brew Alliance and others draw more drinkers to bars and bottle shops. Modelo and Corona importer Constellation Brands, meanwhile, has watched its Modelo Especial brand grow 64% in the U.S. since 2010 as brands including Bud Light, Budweiser and Miller Light lose sales and market share.
The U.S. is still buying beer, but it's spending on imports, small brewers' styles and big-brewer "craft" brands such as Blue Moon and Goose Island. With the help of the Brewers Association and Beer Institute, we take a look at the biggest beer states in the union and just what's driving them:

5. Wisconsin
Gallons of beer per person: 36.2
Number of breweries: 90
Breweries per 100,000 drinking-age residents: 2.2
Wisconsin serves as the home of the Milwaukee Brewers, the birthplace of iconic brands such as Pabst and the location of the Miller cooling caves, museum and brewing facility -- as well as MillerCoors' division offices. Combine that with a growing and increasingly vocal craft beer community that isn't afraid to get in the face of its local political establishment and you have a state that's been a great beer state nearly twice as long as any of its its residents have been alive.
This state ranks 11th in breweries per capita, 10 in breweries overall and in the Top 10 in production. It's a state with a longstanding commitment to Old World-style brewing so great that Sprecher Brewing still adheres to the original German formulas, New Glarus brews in a facility that looks like an Alpine lodge nestled in the predominantly Swiss town of the same name and Miller still keeps Leinenkugel's "Leinie Lodge" facility intact after buying the brewer more than two decades.

4. South Dakota
Gallons of beer per person: 38.9
Number of breweries: 10
Breweries per 100,000 drinking-age residents: 1.7
Mount Rushmore, The Badlands, Wall Drug. None of those are as attractive to South Dakota residents as a sub-4% unemployment rate.
There are those who'd like to paint South Dakota as a flat, economically depressed, heavy-drinking spot on a lightly traveled portion of the map, but that's about as accurate an assessment of the state as anything you'd see in a Road Runner cartoon. No, South Dakota just has beer, places to drink it and a whole lot of money to spend doing so.
More recently, however, it has the breweries to back up its thirst. In 2011, South Dakota had only five breweries in the entire state. Today, there are twice that number serving not only the state, but all the tourists in Sioux Falls, Deadwood and Rapid City and all the bikers in Sturgis. While we'd love to say it's just the residents of South Dakota having a good time, those gallons of beer per capita are just the state's beer shipments divided by the number of its drinking-age residents.
Those South Dakotans are getting a lot of help from the folks coming in and out through Interstate 90. That and a little economic stability does wonders when keeping the taps flowing.

3. Montana
Gallons of beer per person: 41
Number of breweries: 39
Breweries per 100,000 drinking-age residents: 5.3
Montana has the third most beer-loving population in America and the third best ratio of people to breweries in the country, but it doesn't feel the need to stop there.
Since 2010, Montana has added a dozen breweries to mainstays such as Big Sky, Great Northern and Bitter Root and turned Missoula into a brewery-laden vacation destination. Its tiny population keeps that ratio of beer to people fairly hefty, but visitors to Yellowstone, renters during ski season and other big drains on Montana's beer supply help out by drinking more than their share -- and taking advantage of the fact there's no sales tax on it.


2. New Hampshire
Gallons of beer per person: 43.9
Number of breweries: 22
Breweries per 100,000 drinking-age residents: 2.2
Speaking of sales tax, how does tiny New Hampshire end up with 43.9 gallons of beer per person?
Also see: 5 More Great Craft Beer Vacations>>
Easy: by parking itself between three states that charge sales tax and applying absolutely none to its beer. In the Greater Boston area, it isn't exactly uncommon to make runs across the border for beer and alcohol just to take advantage of the tax break, which is why New Hampshire sets up state liquor stores right across the border on I-95 and lets people know that the nearest gas station food mart isn't such a bad place to buy beer.
Brewers aren't fools, and breweries including Portsmouth Brewing, Smuttynose, Redhook, Earth Eagle and Great Rhythm that set up in Portsmouth take full advantage of folks traveling either down the 95 corridor into Boston or down to the Cape or up to Maine for the weekend. New Hampshire isn't above the cold-weather beer drinking that put Maine and Vermont in the Top 10 for gallons of beer per capita but, like those states, New Hampshire gets a lot of help from its guests. It just charges them less.

1. North Dakota
Gallons of beer per person: 45.8
Number of breweries: 6
Breweries per 100,000 drinking-age residents: 2.2
Bitter cold, lots of lonely oil and gas workers and forgiving, libertarian alcohol laws add up to a lot of beer.
We can't stress enough just how much the oil industry along the Bakken Shale pumps into this state. The shale gives up millions of barrels of oil a week and pays even the least-skilled oil worker about $50,000 a year. Drive a truck and that payout doubles. As a result, North Dakota has an unemployment rate hovering around 2.5%.
It's a state of fewer than 700,000 people where entertainment is hard to come by and the options for blowing off steam with that hard-earned cash are limited. The one thing shale workers, farmers and everyone else in North Dakota can seem to agree on is beer, which is a big reason the number of breweries in the state has tripled since 2011. Western boom towns tend to love their saloons, and the state around Bismarck and Fargo is booming.
-- Written by Jason Notte in Portland, Ore.
>To contact the writer of this article, click here: Jason Notte.
>To follow the writer on Twitter, go to http://twitter.com/notteham.
>To submit a news tip, send an email to: tips@thestreet.com.
RELATED STORIES:
>>What A Diageo Sale Would Mean For U.S. Beer
>>Beer Mailbag: Woodchuck, New Belgium Send Off Summer
>>5 Most American Beer Brewers
Jason Notte is a reporter for TheStreet. His writing has appeared in The New York Times, The Huffington Post, Esquire.com, Time Out New York, the Boston Herald, the Boston Phoenix, the Metro newspaper and the Colorado Springs Independent. He previously served as the political and global affairs editor for Metro U.S., layout editor for Boston Now, assistant news editor for the Herald News of West Paterson, N.J., editor of Go Out! Magazine in Hoboken, N.J., and copy editor and lifestyle editor at the Jersey Journal in Jersey City, N.J.