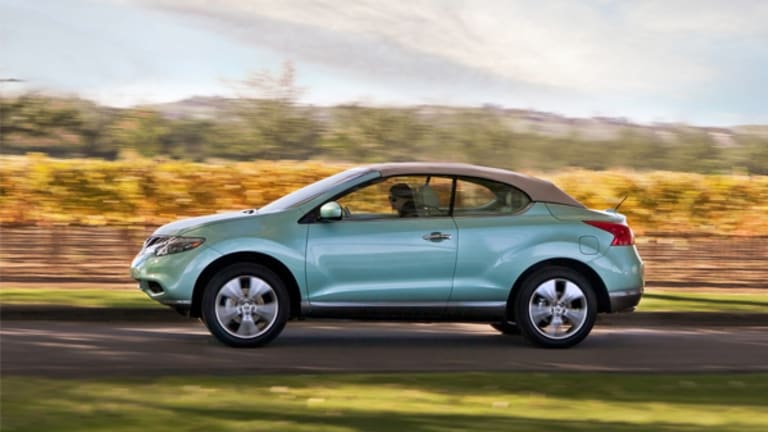 5 Biggest Auto Flops of the Past Decade
These cars bombed about as badly in recent years as the Ford Edsel and Yugo GV did in days gone by.
NEW YORK (
) -- Automakers have developed plenty of cool hybrids, crossovers and other revolutionary cars in recent years -- but they've also rolled out their share of duds.
From a cloth-topped sport utility vehicle to a car that tried to cross a Cadillac's luxury with a Corvette's performance, manufacturers have offered plenty of models over the past decade that bombed in the marketplace.
"Sometimes a car company will say, 'This is the next big thing,' or 'This is a game changer' -- but it turns out that it's not. What they don't realize is that no one's built a car like that before because there's no demand for one," says Mark Takahashi of
, which recently chose the
Top Automotive Failures of the Last Decade
.
Edmunds editors assembled their list by looking at mainstream vehicles with either the lowest overall sales during the past 10 years or those that sold poorly compared with competitors.
Takahashi says many models on the list attracted just a few dozen buyers (or worse) each month. That's less than 1% of the roughly 28,000 people who buy the Toyota Camry, America's bestselling model, every 30 days.
"A lot of these cars tend to models that step well outside of a manufacturer's comfort zone, and we applaud that," Takahashi says. "But there has to be a market for something or it won't succeed."
Click below to check out Edmunds' choices for the U.S. auto market's five biggest flops of the past decade, based on total sales as of April.
Dates in parentheses refer to the years a model has been or was for sale, while the list excludes high-cost, low-volume brands such as
Ferrari
and
Lamborghini
.
Fifth-worst flop of the decade: Cadillac XLR
Sales:
13,302 (available 2003-2011)
What do get when you cross a Cadillac with a Corvette? Answer: Terrible sales.
Also see: 5 Sweetheart Deals on Used Cars You'll Actually Want>>
Rolled out in 2003 as a 2004-model-year car, the XLR was basically a two-seat convertible Cadillac built atop a Corvette chassis.
General Motors
(GM) - Get Free Report
thought the XLR could make the stodgy Cadillac brand seem hip to a younger crowd, but the car proved neither luxurious enough for Cadillac fans nor sufficiently sporty for Corvette enthusiasts.
"I don't think Cadillac buyers were ever looking for that high a level of performance, so GM made the XLR a little softer and lower-power than a Corvette -- which meant the Corvette faithful didn't like the car, either," Takahashi says.
Besides, you could buy a fully loaded Corvette for about $20,000 less than the XLR's $75,000 price tag.
Takahashi says the car ultimately proved so unpopular that dealers needed until 2011 to unload the last of the XLRs, which GM had built for the 2009 model year.
Fourth-worst flop of the decade: Acura ZDX
Sales:
5,828 (2009-present)
This $51,000 car is still available, but Acura has said it's pulling the plug after the current model year.
The ZDX is basically a crossover SUV that Acura parent
Honda
(HMC) - Get Free Report
decided for aesthetic reasons to outfit with a sporty hatchback's sloping rear roofline.
Takahashi says that looks kind of cool, but has left the model with tiny rear seats and little cargo room -- basically ignoring the reason many people buy crossovers in the first place.
Also see: 5 Cars You Might As Well Buy New Instead of Used>>
"The ZDX's design sacrifices utility, and 'utility' is the 'U' in 'SUV,'" he says.
Third-worst flop of the decade: Lexus LS 600h L
Sales:
2,055 (2007-present)
Takahashi calls the $120,000 LS 600h L "a six-figure hybrid that doesn't really get great gas mileage."
The LS 600h rates only 19 miles per gallon in city driving -- just 3 mpg better than you'd get with its non-hybrid cousin the Lexus LS 460, which costs almost $50,000 less.
In fact, the LS 600h gets worse highway mileage than the LS 460: 23 mpg for the hybrid vs. 24 mpg for the gas-only model.
"The only reason I see for
Lexus parent
Toyota
(TM) - Get Free Report
putting the LS 600h out is for luxury buyers who want to say: 'I've got a hybrid,'" Takahashi says. "But it's not even a particularly good hybrid."
Second-worst flop of the decade: Mitsubishi i-MiEV
Sales:
1,420 (2011-present)
The all-electric Mitsubishi i-MiEV offers one of the highest fuel-efficiency ratings of any mainstream 2013, but Takahashi calls it "a porta-potty on wheels."
"It seems like the whole car is made out of really bad plastic," he says.
Technically a 2012 but still available on dealers' lots, the tiny four-door hatchback gets the electric-car equivalent of 126 mpg/city and 99 mpg/highway.
But the i-MiEV manages such great numbers only by having a small cabin, a 66-horsepower electric motor and batteries that need recharging after just 62 miles (meaning the car can only make a 31-mile round trip).
The Mitsubishi also requires about seven hours to fully recharge at 240 volts. That's roughly twice as long as what some rival electric cars need to juice up.
Worst flop of the decade: Nissan Murano CrossCabriolet
Sales:
1,078 (2012-present)
The Murano CrossCabriolet is basically a crossover SUV that
Nissan
(NSANY)
gave a cloth convertible top -- a move Takahashi says is not only odd but "doesn't make the Murano a particularly good car to drive.
"When you take the roof off of a car, you're killing a lot of its structural rigidity," he says. "You go over a bump and you can feel -- and see -- the
CrossCabriolet's hood do something different from the tail."
Consumers don't seem much more enamored with the model than Takahashi is, as fewer than 1,100 bought CrossCabriolets during the model's first 11 months on the market.
"It's one of the worst-selling cars of all time," Takahashi says.