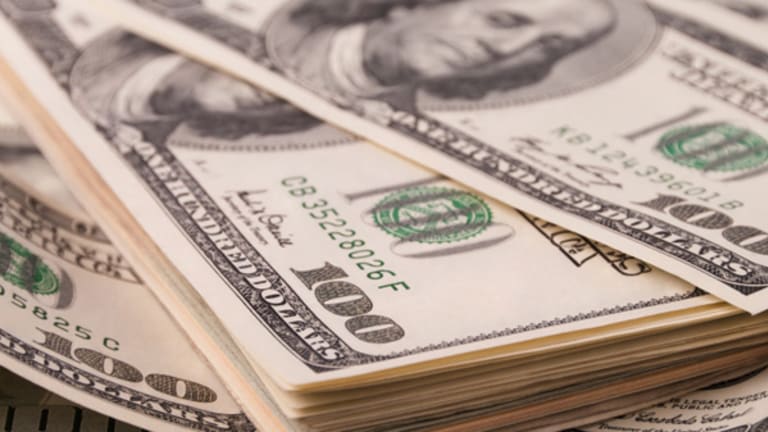 5 Best Rewards Cards For Holiday Shopping
Loyalty cards from Starbucks, CVS, International Hotels and others come in handy during the holidays.
BOSTON (MainStreet) -- American wallets and keychains are filled with more loyalty program cards and potential free stuff than ever before, but they aren't all key players in holiday shopping plans.
Membership in U.S. customer-loyalty programs has reached 2.1 billion, up from 1.8 billion in 2008 and 1.3 billion in 2006, according to marketing and loyalty program tracking firm Colloquy's
2011 Loyalty Census
. The average U.S. household is signed up for 18 retail loyalty programs -- roughly 50% more than shopping households were using in 2006, but also a bit of a stretch, as shoppers took part actively in only 8.4, or 46%, of all their loyalty programs.
Still, that's up from 39% usage in 2006 and indicates just how many companies looked to loyalty programs for a competitive edge.
Delta Air Lines
(DAL) - Get Report
,
Virgin America
,
JCPenney
(JCP) - Get Report
,
GameStop
(GME) - Get Report
and
Walgreens
(WAG)
were among the companies that started or expanded loyalty and rewards programs last year.
The estimated value of the rewards dished out by loyalty programs within the past year falls just below $48 billion, or $622 per household. That would be great if the average consumer was using all of it. Instead, about $16 billion (or $202 per household) went unused by consumers who either weren't aware those rewards were there or didn't want to go through the trouble of cashing in minimal rewards for a program they weren't thrilled with from the outset.
That apathy may just be a matter of holding the wrong cards. With the holiday shopping season providing a great excuse to whip out the rewards card and rack up gifts, we've put together a list of five outstanding rewards programs that don't let too many obstacles stand between spenders and their
free stuff
:
My Starbucks Rewards
Long holiday shopping trips and cooler temperatures make cocoa and coffee a part of the shopping routine pretty quickly. You may as well get something other than jitters and an impromptu trip to the ladies' or gentlemens' convenience for your trouble.
Starbucks'
(SBUX) - Get Report
rewards program is one of the best in the industry based solely on just how little is required to earn rewards. Just buying a card and registering it gets drinkers a free beverage for their birthday. Five purchases unlocks free syrup and milk options, free refills and a free drink when you buy a one-pound bag of beans.
It's a bit tougher to make the 25 extra visits to reach "gold" level by the holiday's end, and a free drink comes only every 15 purchases after that, but it still beats competitors' dollar-based rewards systems that give only a dollar back for every 20 spent and provide none of the other perks. It takes a lot of loyalty to earn that personalized gold card, but the freebies that come before make Starbucks' card worth the wallet space.
Amazon Prime
While not a loyalty program in the typical card-purchase-reward sense, the Amazon Prime program performs the same basic function: getting a loyal consumer spending.
During holidays past,
Amazon
(AMZN) - Get Report
Prime was basically a $79 down payment on free two-day shipping for the season. If you get enough of those logo-bedecked corrugated cardboard boxes left on your doorstep or in your lobby around that time of year, it could be considered a bargain. To more casual shoppers, however, it was just another holiday cost tacked on by another retail clip joint.
That's largely changed thanks to Amazon's new agreements with entertainment companies and partnerships with
GoogleTV
(GOOG) - Get Report
,
Panasonic
( PC),
Sony
(SNE) - Get Report
,
LG
,
Roku
,
TiVo
(TIVO) - Get Report
,
Samsung
and
Vizio
that's made Amazon Prime a
Netflix
(NFLX) - Get Report
-style streaming service as well as a shipping option. While Amazon Instant Video's 10,000 options are still slightly less than what you find on Netflix, unlimited access to its service via Prime is almost $16 a month less than the folks with the red envelope and still includes free two-day shipping on orders of any size.
Those invested in Amazon to the point that they own a Kindle reader or tablet also get the benefit of free loaner books through Amazon's lending library for signing up with Prime. If you're going to create a loyalty program that asks for all its money upfront, this is the kind of holiday incentive you need to provide.
Virgin America Elevate
Fliers fed up with fees who can still remember when flying was a luxury are flocking to airline perks programs to get that "friendly skies" feeling again.
The ranks of airline rewards seekers have grown 17% from little more than 277.4 million in 2008 to 325 million today. Take it all the way back to 2006 and loyalty program membership has soared 28% since that time.
Bigger airlines may have VIP lounges and smaller outfits offer low-cost upgrades, but if you're lucky enough to live in a Virgin America destination, you can get a free flight for as spending as little as $500 -- a pittance to a holiday flier. More importantly, Virgin Atlantic vows that said flight won't be subject to blackout days and keeps that claim free of the nasty little asterisks that can muck up an otherwise fine offer.
Perhaps the best part is that, much as with other airlines, fliers don't have to actually fly to earn their Virgin America points. The airline converts
American Express
(AXP) - Get Report
Membership Rewards points, tacks on points for stays at
Hilton
,
Morgans Hotel Group
(MHGC)
and
Wynn
(WYNN) - Get Report
hotels and gives away points for flower purchases at
FTD
.
CVS ExtraCare Rewards
Health and beauty aid shops have about a third of the loyalty plan membership of other specialty retailers and wouldn't have even that much if programs by
Rite-Aid
(RAD) - Get Report
and Walgreens hadn't boosted their ranks 33% since 2008 to 98 million.
Despite those new options and that big bump, the best program is still
CVS'
(CVS) - Get Report
original ExtraCare recipe. ExtraCare cardholders get 2% back on just about every purchase (little exceptions such as alcohol, postage stamps and lottery tickets apply) and can rack up rewards just by paying for their prescriptions (except in New York, New Jersey and Louisiana).
CVS caps their prescription-based rewards at $50 a year, but that's still a substantial rewards sum. It can't be used on medications, but it can be applied immediately on just about anything else CVS carries thanks to coupon printers set up around the store.
Quarterly payouts can be as little as $2 to $4, but that comes in handy when finding stocking stuffers at a store built for customers who are just popping in for a few little things here and there.
InterContinental Hotels Priority Club Rewards
Earning hotel rewards shouldn't feel like a prison stay, which is why
InterContinental's
(IHG) - Get Report
loyalty program starts giving away free nights with every $1,000 spent.
That's easily the lowest rewards bar in the business and a much easier number to hit when you're dealing with a hospitality company with as many locations (4,400 in more than 100 countries) and brands (Intercontinental, Holiday Inn, Hotel Indigo, Crowne Plaza, Candlewood and Staybridge suites) for holiday travelers to choose from as InterContinental does. The 14 nights required for entry-level eligibility pale when compared with Hilton,
Omni
or
Marriott
's 10-night requirements, but those 5,500 points that add up to a free room can be accumulated either through stays, subscriptions to
USA Today
or Netflix, rentals at
Hertz
(HTZ) - Get Report
or
Avis
(CAR) - Get Report
and purchases through
OfficeMax
(OMX)
or
1-800-Flowers.com
(FLWS) - Get Report
.
They're also much easier to get when InterContinental throws them at you 6,000 at a time for stays in Las Vegas or 7,500 at a clip just for booking a winter stay in one of nine cities including New York, Washington, D.C., and Miami. Even if the hotel's accommodations don't do it for you, points that can be converted to vouchers for any hotel that takes American Express are hard to match.
-- Written by Jason Notte in Boston.
>To contact the writer of this article, click here:
Jason Notte
.
>To follow the writer on Twitter, go to
.
>To submit a news tip, send an email to:
.
RELATED STORIES:
>>6 Holiday Traditions Fading Into Obscurity
>>5 Gift Cards To Avoid For Holiday Shopping
>>How Low Will Holiday TV Prices Go
Follow TheStreet.com on
and become a fan on
Jason Notte is a reporter for TheStreet. His writing has appeared in The New York Times, The Huffington Post, Esquire.com, Time Out New York, the Boston Herald, the Boston Phoenix, the Metro newspaper and the Colorado Springs Independent. He previously served as the political and global affairs editor for Metro U.S., layout editor for Boston Now, assistant news editor for the Herald News of West Paterson, N.J., editor of Go Out! Magazine in Hoboken, N.J., and copy editor and lifestyle editor at the Jersey Journal in Jersey City, N.J.