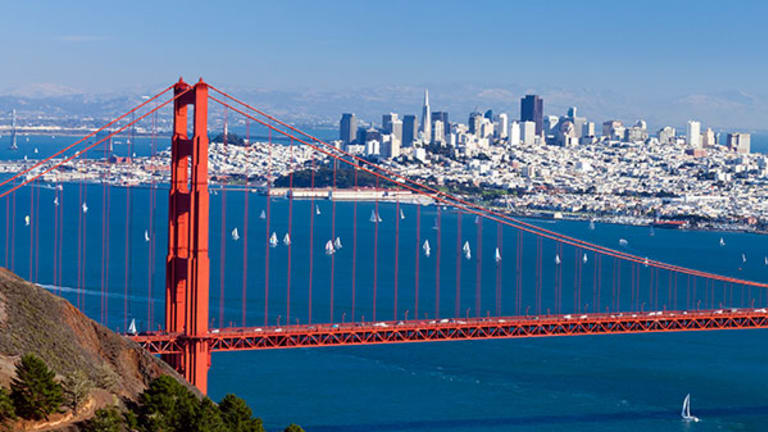 BOSTON (TheStreet) -- If true love hasn't found you this Valentines Day, here's a look at five cities you can move to if you want to boost your odds of meeting the perfect mate.

"We feel that these are the places you should go to if you want to find love," says economist Krishna Rao of real-estate site Zillow.com, which this week released its Valentines Day Index of America's most singles-friendly locales.
The firm analyzed America's 50 largest metro areas for three criteria key to finding your soul mate:
what percent of the local population is single;
how many restaurants and other date-friendly sites a place has per capita;
how much disposable income the typical single has -- an important consideration if you expect your date to at least sometimes pick up the check.
Rao says singles-friendly cities are actually harder than you'd think to find, as unmarried people make up just 50.8% of America's total 15-and-older population.
Zillow also estimates that the typical single has just $1,301 a month of gross income left after paying rent -- not always enough to pay for dates considering that also has to cover taxes, car payments and other expenses.
Lastly, Rao says the average U.S. community has just 15.9 restaurants, bars, museums and other date-suitable establishments for every 10,000 residents, meaning there aren't always lots of interesting places to go.
Fortunately, the cities at the top of Zillow's Valentines Day Index all rate well above the U.S. average on each of the three indicators measured.
"If you're single and had to pick four or five places to move to, we think these cities definitely make the most sense," Rao says.
Read on to see which communities came out on top of Zillow's rankings based on an average of the three factors considered.
Population and income figures come from the U.S. Census Bureau's 2012 American Community Survey, while numbers on date-friendly establishments are from the 2011 County Business Patterns report.
Rent estimates refer to the Zillow Rental Index, a projection of what a metro area's typical residence (even owner-occupied houses and condos) would rent for on the open market.
Also see: 5 Fittest Cities in America>>
Fifth-best U.S. metro area for singles: Hartford, Conn.
Score: 71.6 (out of a possible 100)
Move to the "Insurance Capital of the World" and you shouldn't need to file a claim for a broken heart -- or at least you'll have plenty of chances to mend it with a fresh romance.
That's because Connecticut's capital ranks in the 60th percentile among U.S. cities for single residents (51.6% of total population), as well as in the 67th percentile for date-friendly establishments (16.8 per 10,000 residents).
But Hartford really takes the (wedding) cake when it comes to high disposable income among singles.
A combination of generous salaries and modest rents means the typical Hartford single has $1,661 in gross income per month after paying rent, putting the community in the 88th percentile for that measure.
"Hartford singles have a fair amount of cash to burn," Rao says.
Fourth-best U.S. metro area for singles: Boston
Score: 72.5
Boston's historic Fenway Park is the place to go if you like home runs, but there are plenty of spots around town where you can find lots of singles.
That's partly because some 250,000 students attend Harvard University, the Massachusetts Institute of Technology and more than 100 other local schools, helping Boston rank in the 66th percentile nationwide for singles as a share of total residents (52.1%).
Plenty of unmarried students also stay in town for well-paying jobs in the city's tech sector and other industries after graduation, lifting Boston singles' average incomes.
Zillow estimates local unmarried people gross $1,569 a month after taking rent into account, placing the city's singles in the 80th percentile nationwide for that gauge.
Rao says Beantown's schools also attract plenty of bars, restaurants and the like, helping to give the metro area 17.7 date-friendly establishments per 10,000 residents. That puts Boston in the 72nd percentile nationwide for per-capita date spots.
Also see: 5 Most Sinful Cities in America>>
Third-best U.S. metro area for singles: Los Angeles
Score: 73.9
It's little surprise that the world's entertainment capital has 22.9 date-suitable attractions for every 10,000 residents, the highest ratio among America's 50 largest cities and good for the 94th percentile nationwide.
"Los Angeles has this whole universe of places to go to and explore and meet other singles," Rao says.
Unmarried people also make up 55.1% of the metro area's population, placing the City of Angels in the 91st percentile for singles as a share of overall residents.
Rao says those positives help offset the negative of low average disposable income for local unmarried people.
The typical single Angeleno only has $1,209 of gross income left over each month after paying La-La Land's often-hefty rents, ranking the community in just the 37th percentile nationwide for that indicator. "Once you've paid your rent in L.A. it can be hard to afford going out to dinner or drinks," Rao says.
Second-best U.S. metro area for singles: Las Vegas
Score: 80.5
It's a good bet you'll find true love in Las Vegas.
That's because singles there account for 53.7% of the population, placing Sin City in the 82nd percentile nationwide for unmarried people as a percentage of total population.
All of those Vegas bars and dinner buffets also put the metro area in the 61st percentile for date-friendly establishments (15.8 such businesses for every 10,000 people).
More importantly, the Vegas area's painful housing collapse has left the metro area with rock-bottom rents -- good news for singles.
Rao says the typical unmarried Vegas resident has $1,971 of gross income a month after paying rent, good for a ranking in the 98th percentile nationwide for that data point. "The amount of cash that Las Vegas singles have for dating is really high," he says.
Best U.S. metro area for singles: San Francisco
|Score: 83.1
Maybe Tony Bennett left his heart in San Francisco because it found true love there.
After all, the Bay Area ranks No. 1 among America's 50 largest cities for average gross annual income among singles ($51,526), as well as in the 89th percentile nationwide for gross monthly income left over after paying rent ($1,680).
Frisco also places in the 71st percentile for singles as a share of overall population (52.4%) and in the 90th percentile for date spots (20.5 for every 10,000 residents).
Rao lived in San Francisco until recently and says there's "very much of a restaurant renaissance going on there. There are lots of new places opening up with excellent food and good ambiance, which are great for dates."