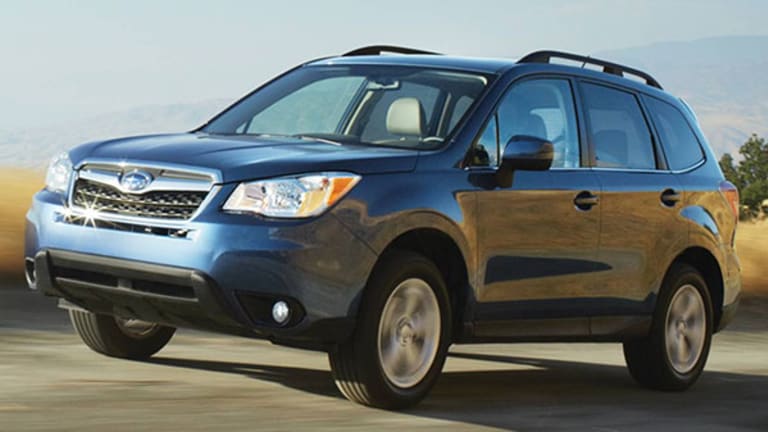 5 Best Cars for Short Drivers
When you look more like Danny DeVito than LeBron James, your choice in automobile shrinks a bit.
BOSTON (
) -- Short drivers can sometimes feel like they're in an episode of
Little People, Big World
when out car shopping, so here are five great models for those of us who look more like Danny DeVito than LeBron James.
"Short drivers obviously have different needs than taller ones," says Warren Clarke of
, which recently named the
Best Cars for Short Drivers
for 2013. "The main thing they need is visibility. If you're short and you buy the wrong vehicle, you can end up looking at the car's door instead of out the window."
Clarke says the best models for smaller drivers have low "beltlines" -- the border between a car's metal body and its windows -- and big "greenhouses," the glass area above the frame and below the roof.
He says short drivers should also look for cars with narrower seat cushions, as wide upholstery makes it harder for smaller people to reach a vehicle's pedals comfortably.
"People tend to assume that smaller cars are the best choices for smaller drivers, but that's not always true," Clarke says. "Visibility and seat comfort have to do with how a vehicle's cabin has been designed, not necessarily with the car's size."
Unfortunately, wider seat cushions often make cars more comfortable for bigger drivers, while higher beltlines and smaller greenhouses tend to look cool -- so more and more automakers seem to favor all three.
"There are still models that offer lower beltlines and bigger greenhouses, but you have to specifically look for them," Clarke says.
Click below to check out the five lowest-priced such models that Edmunds recommends for shorter drivers (or
for cars the site suggests tall drivers consider). All vehicles listed below appear in order of their manufacturer's suggested retail price for 2013 base models.
Kia Soul
Base price:
$14,400
If those cartoon hamsters in Kia's
like this small wagon, shorter human drivers should enjoy it, too.
"It's immediately obvious when you look at that Soul that it's got fairly big greenhouse, with a tall windshield and tall, upright side windows," Clarke says. "Visibility is excellent, and it should be very easy for shorter drivers to see out of the Soul's cabin."
Clarke says the Soul also offers both short and taller drivers a roomy cabin, a modest price and "very good, distinctive styling. It's got that boxy shape that you don't see very often."
Under the hood, the 2013 Soul comes standard with a 138-horsepower four-cylinder engine and manual transmission -- a combination that delivers an estimated 25 miles per gallon in the city and 30 mpg on the highway.
Another bonus: Kia's industry-leading 10-year/100,000-mile powertrain warranty. You should also look for a completely redesigned 2014 Soul to begin hitting dealer showrooms this fall, starting at $14,700.
Mazda Mazda3
Base price:
$16,945
The Mazda3 offers shorter drivers not just great visibility, but great affordability as well.
"This is a really good car to buy if you're on a tight budget, because it's affordable but has great handling," Clarke says. "It's the kind of car that you typically have to pay a lot more money for."
And while Edmunds editors like the 2013 Mazda3, a redesigned 2014 version already in Mazda showrooms features a slightly larger and even fancier interior despite an unchanged base price.
The 2014 edition also comes standard with a 155-horsepower four-cylinder engine and a manual transmission that team up to produce an impressive 29 mpg/city and 40 mph/highway. Or you can add a six-speed automatic transmission and boost city mileage to 30 mpg.
Volkswagen Passat
Base price:
$20,845
This family sedan from Volkswagen features an upscale interior that Clarke says is roomy, but not too big for shorter drivers to safely and comfortably use.
"One of the things I like about the Passat is it has lots and lots of legroom," he says. "It also really feels like you're in a European sedan -- you get a high level of refinement at a really affordable price."
Volkswagen is also phasing an improved turbocharged engine into the line, boosting fuel efficiency to 24/mpg city and 35 mpg/highway with a manual transmission. (Automatics get 1 mpg lower highway mileage.)
If that's not "green" enough for you, there's a $26,295 diesel Passat that gets 31 mpg/city and 43 mpg/highway with a manual transmission or 30 mpg/city and 40 mpg/highway with an automatic (technically an "automated manual transmission").
Subaru Forester
Base price:
$21,995
"You can just tell by looking at a Forester that its visibility will be excellent for shorter drivers because its greenhouse is huge," Clarke says. "It's got big windows all around."
The Forester also comes standard with all-wheel drive and 8.7-inch ground clearance -- both great for driving either off-road or in bad weather.
A redesigned 2014 model already in dealer showrooms also boasts a larger cabin, higher-quality finishes and better transmissions than the 2013 offers despite the same starting price.
The changes have added a few miles per gallon to the crossover SUV's fuel efficiency, with a base 2014 Forester now rated at 22 mpg/city and 29 mpg/highway with manual transmission. (The model gets 24 mpg/city and 32 mpg/highway as an automatic.)
Honda Accord
Base price:
$21,995
The Accord might not offer the auto industry's most exciting look, but Clarke says the model's big windows make the
Honda
(HMC)
a great choice for shorter drivers.
"The whole greenhouse thing doesn't necessarily lend itself to a sexy-looking car, but it does create a highly functional one because you can see clearly out the windows," he says. "That's certainly true with the Accord."
The expert adds that the Accord also boasts a "super-roomy" cabin, good-quality finishes, quick acceleration and sharp handling.
The base Accord comes standard with a 185-horsepower four-cylinder engine and a manual transmission that produce a good 24 mpg/city and 34 mpg/highway or 27 mpg/city. (Automatics get 27 mpg/city and 36 mpg/highway.)
Environmentalists should also check out the plug-in hybrid Accord that Honda has already rolled out for 2014, or a traditional hybrid that's expected to reach showrooms shortly.