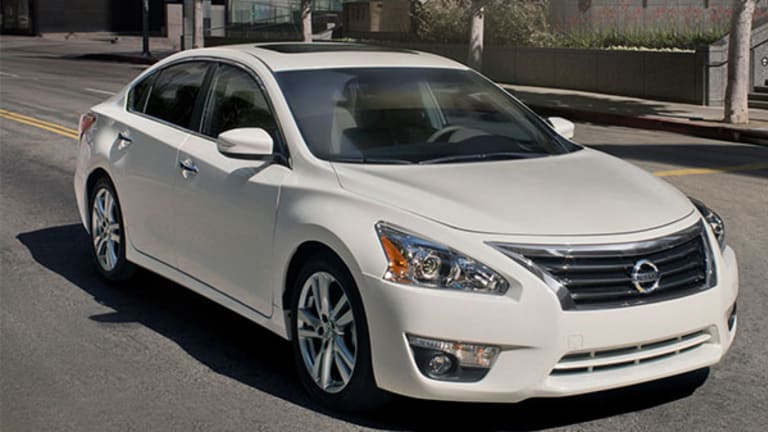 5 Best Cars for a Fatter America
With nearly 70% of Americans obese or overweight, there's a big need for these cars for the big.
BOSTON (
) -- U.S. health officials estimate that nearly 70% of Americans are obese or overweight these days, so here's a look at five cars to consider buying if your tush looks more like Kim Kardashian's than Heidi Klum's.
"Some automakers recognize that
large folks represent a big portion of the market, so those companies doing everything they can to accommodate big drivers," says Warren Clarke of
, which recently named the
Top 10 Vehicles for Obese Drivers
for the year.
The car-information site picked winners by analyzing all 2013 models to find those with the most front-seat headroom, legroom and hip room -- with extra credit given to vehicles that offer extended-length seat belts as standard or optional equipment.
Clarke says that's important because decades-old U.S. National Highway Transportation Safety Administration standards only require automakers to design seat belts to fit 215-pound males, a weight level that plenty of modern-day Americans exceed.
"It's a big safety issue if your seatbelt doesn't fit properly, because there are plenty of obese drivers who don't buckle up because doing so is just too uncomfortable," Clarke says.
Edmunds editors also gave extra credit to vehicles that come standard either with front bench seats or offer them as options. Front bench seats -- a single long seat for the driver and front passenger -- are great for portly drivers, but real rarities these days.
"Bench seats used to be popular back in the day, but are really, really hard to find now," Clarke says.
Click below to check out the five lowest-priced cars on Edmunds' rundown, listed in order of the manufacturers' suggested retail prices. All pricing and product specifications refer to base 2013 versions of each model listed.
Nissan Altima
Base price:
$21,760
Completely redesigned for 2013, the Altima gets Edmunds' nod as a good car for obese drivers because the car offers lots of room in front.
"It's one of the roomiest family sedans out there as far as front-passenger space goes," Clarke says.
Also see: 5 Best Cars for Short Drivers>>
He adds that the Altima also gives buyers of all sizes sporty handling, good acceleration and excellent fuel economy.
The base Altima sedan features a 182-horsepower four-cylinder engine and a continuously variable automatic transmission that team up to produce 27 miles per gallon in the city and 38 mpg/highway. (The $25,230 Altima coupe, which
Nissan
(NSANY)
is discontinuing after this model year, comes standard with a 175-horsepower four-cylinder engine that offers 23 mpg/city and 32 mpg/highway.)
Ford Fusion
Base price:
$21,900
Edmunds recommends the Fusion to obese drivers because the sedan comes standard with extra-long seat belts and a spacious front-cabin area.
"The Fusion is roomy on the inside -- and outside it's a great-looking car," Clarke says.
He and other experts believe
Ford
(F) - Get Ford Motor Company Report
based the Fusion's exterior on Britain's
Aston Martin
superluxury brand, which the U.S. auto giant owned until 2007. "The Fusion definitely looks like a more-expensive car than your typical family sedan," Clarke says.
Fully redesigned for 2013, the Fusion comes standard with a 175-horsepower four-cylinder engine that's rated at 22 mpg/city and 34 mpg/highway. If that's not powerful enough for you, a 240-horsepower four-cylinder turbocharged engine is available.
Chevrolet Silverado
Base price:
$23,590
Big drivers will love the fact that this full-sized pickup truck from
General Motors
(GM) - Get General Motors Company Report
features an available front bench seat and some of the most-generous front-seat dimensions in its class.
For instance, the $31,715 Silverado 1500 Crew Cab boasts a massive 62.5 inches of front hip room and 65.2 inches of front shoulder room.
Clarke says the model also offers "a pretty smooth and quiet ride, plus lots of powerful engine choices."
Also see: 5 Best Cars for Tall Drivers>>
The Silverado comes standard with a 195-horsepower V-6 engine that gets an estimated 15 mpg/city and 22 mpg/highway. There are also three V-8 engines available, including a top-of-the-line version that cranks out 403 horsepower.
Chevy has also already begun rolling out a completely redesigned Silverado for 2014.
Chevrolet Impala
Base price:
$25,860
Clarke says the Impala made Edmunds' list primarily because the car is the only 2013 sedan for sale in America that offers an optional front bench seat.
"A bench seat is a really important feature for some obese drivers," he says.
But you'd better act fast, because Chevrolet has redesigned the Impala for 2014 and eliminated front bench seating as an option.
Beyond special seating, the Impala offers drivers of all sizes a large trunk, easy-to-use cabin controls and a powerful engine, Clarke says. The model comes standard with a 300-horsepower V-6 engine that's rated at 18 mpg/city and 30 mpg/highway.
Ford Expedition
Base price:
$40,605
Even the heftiest drivers aren't too big for the Expedition, which boasts one of the largest front-seat areas of any SUV -- including a generous 60.2 inches of front hip room and 63.1 inches of front shoulder room.
Clarke says the model also gets a big, beefy thumbs-up because the Expedition comes standard with extra-long seat belts that large drivers will appreciate.
In addition to such obese-friendly features, the Expedition offers such positives as rear seats that fold down easily, as well as up to 9,200 pounds of towing capacity. "The Expedition definitely has a lot of 'grunt,'" he says.
The SUV also comes standard with a powerful 310-horsepower V-8 engine and a rear-wheel-drive system rated at 14 mpg/city and 20 mpg/highway. For those seeking better rough-weather handling, four-wheel drive is also available.