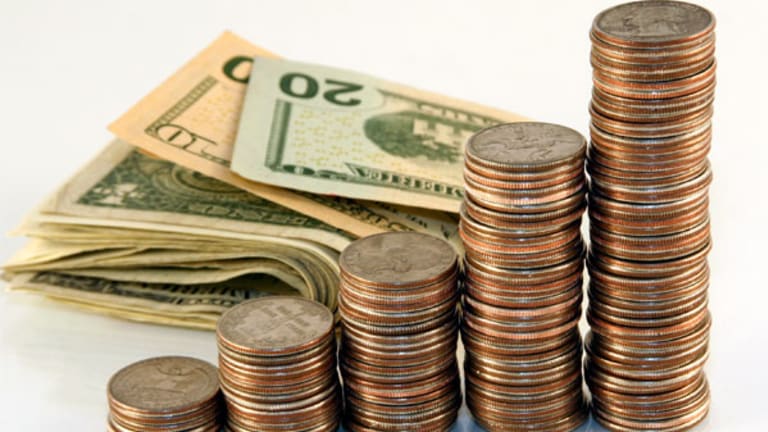 5 Best, 5 Worst Customer-Loyalty Programs
Starbucks ranks among the best, and supermarkets have some of the worst.
BOSTON (TheStreet) -- Bar-coded icons of customer loyalty line the wallets and hang from the key chains of countless consumers, though that commitment isn't always so richly rewarded.
According to marketing firm Colloquy's Loyalty Census released last year, membership in U.S. customer-loyalty programs has reached 1.8 billion, up from 1.3 billion in 2007. The census showed that the average U.S. household has signed up for 14.1 loyalty programs, but only participates in 6.2 of them.
Why take part in only 44% of programs designed to reward active shoppers? Perhaps the other half of those programs don't prove nearly as rewarding as advertised. Do they offer lots of perks and freebies? Do they give the customer additional access and enhanced service? Or are they just taking up real estate behind better cards because the consumer doesn't want to compile 100,000 points just to get a pat on the back.
TheStreet thumbed through the terms and conditions of more loyalty programs than you can cover with a year's worth of air miles. It came up with five that can be a customer's best friend -- along with five others that can be their worst nightmare. We did the research, so here's your reward:
Best: Starbucks
(SBUX) - Get Starbucks Corporation Report
Rewards
Easily one of the best programs in the market for one big reason: free stuff. The whole idea of a program like this is to "reward" a consumer for frequent patronage, which is why entry-level perks like a free drink on your birthday and two hours of free Wi-Fi per day eventually grow into free syrup and milk options, free refills and free coffee with bean purchase as a Starbucks customer feeds his or her fix.
Granted, the free drink for every 15 purchases that a "Gold Level" member makes doesn't seem great compared to 10-for-1 elsewhere, and old Starbucks Gold members lose their 10% discount, but the breadth and variety of this free program still make it worth the swipe.
Best: Best Buy
(BBY) - Get Best Buy Co., Inc. Report
Reward Zone
Nearly two years ago, when Best Buy was charging an annual fee for its "free" loyalty program, the Reward Zone wasn't such a great place for consumers to be. With no fee and a simplified reward system -- $1:1 point -- there's a lot more incentive for an electronics junkie or a frequent Best Buy browser to get on board.
While consumers can quibble about the generosity of a program that requires them to spend $250 to get back $5, members-only offers and access help make up the difference. This program works best after big purchases, when a plasma television or appliance costing more than $2,500 earns members second-tier perks like free shipping, an extended return policy, free movie-rental downloads and music streaming.
Best: Neiman Marcus InCircle
Neiman Marcus' rewards program isn't for everyone, but neither are its offerings. First, InCircle's best benefits don't kick in until a shopper spends $3,000, which is roughly the amount of a middling offering in the wish book. At that level, the valued customer receives invitations to members-only shopping events, advance notices for sales, double points on a day of your choosing (not much of a sacrifice, as it takes roughly $5,000 in spending to earn back $100), free gift packaging and various literature.
Committed customers, however, spend from $75,000 to just under $600,000 a year just to earn access to concierge service, private off-hours shopping events, custom travel and a whopping 5 points per dollar spent. For the Chairman's Circle members who spend more than $600,000 a year at Neiman's or Bergdorff Goodman, it's unparalleled access to a store they're practically living in anyway.
Best: National's Emerald Club
It's all about the Emerald Aisle, National's fast lane for frequent renters that not only gets them from plane to car faster than most folks can call up their rental agreement, but also gives renters their pick of any car on the lot once they arrive.
National's service is not only free, but available at 56 cities nationwide. The "reward" program is about as good as anyone else's -- one credit for each rental, with seven credits earning a free-car day -- but the speed-through service is what makes the sometimes unseemly process of vehicle rental seem a bit more bearable.
Best: Intercontinental Hotels Priority Club Rewards
(IHG) - Get InterContinental Hotels Group PLC Sponsored ADR Report
There are a lot of hotel-rewards programs out there, but few with the locations (4,400 in more than 100 countries), brands (Intercontinental, Holiday Inn, Crowne Plaza, Candlewood and Staybridge suites) and low-bar perks (free nights start at 5,000 points, or roughly three stays at an Intercontinental hotel) of Intercontinental Group.
With double points and gift cards for summer stays through Aug. 31 and points earnable through FTD flower purchases, USA Today subscriptions and Hertz car rentals, Intercontinental's program is competitive. The 14 nights required for entry-level eligibility pale when compared to Hilton, Omni or Marriott's 10-night requirements, but points that can be exchanged for vouchers to any hotel that takes
American Express
(AXP) - Get American Express Company Report
are hard to match.
Worst: Celebrity Cruise Lines' Captain's Club
First off, as a
Royal Carribbean
(RCL) - Get Royal Caribbean Cruises Ltd. Report
property, Celebrity should accept points accrued on Royal Caribbean cruises without making loyal customers take six Celebrity cruises before applying for Royal Caribbean rewards. That said, Select and Elite members just recently received Internet and laundry privileges that colleagues on cruise lines like Princess have had for a while.
While behind-the-scenes tours and increased access is nice and all, it looks flimsy when compared to the $75 to $400 credits that customers receive on competing lines like Oceania.
Worst: Subway
Fraud and the loyalty benefits of the future really stuck it to Subway supporters, who line up each lunch hour for their chance at the free wilting lettuce at the end of the rainbow.
Until 2005, Subway had one of the best rewards programs in the marketplace: the Sub Club, which gave customers a free meal each time their card filled with stamps. Sadly, counterfeiters found the stamps easy to copy, and Subway discovered that you can't track eating habits via cardboard.
In the Sub Club's place, consumers got a system that yielded 1 point per dollar spent and a food-scoring system that makes about as much sense as tennis'. Somehow, it was decided that a $5 footlong was a great return on a $75 investment, with $100 scoring customers a free premium or double-stacked version. After seeing their rewards slimmed to Jared-like proportions, it's easy to understand why Sub Club stalwarts are still steamed.
Worst: Amtrak Guest Rewards
It's hard to tell whether the product or the program is to blame. At one point, loyal Amtrak customers could transfer their rewards points to
United
( UAUA) for free flights. No more.
Now, entry-level customers get 2 points for each dollar they spend. This may make the 1,000-point base price of a free Amtrak trip seem somewhat distant, but considering that Acela trips rack up 500 points a pop, you'll get there in no time.
That's about the extent of the perks, however, as point deals with partners like
Hertz
(HTZ) - Get Hertz Global Holdings, Inc. Report
, Hilton and
Macy's
start at roughly five times the redemption value of a trip.
Even when a traveler reaches Amtrak's upper echelon -- Select Plus -- he or she only get a 50% bump in point accrual, club access and blackout availability. When a points program gives a customer more incentives to deal with partners -- Select Plus members get double points at Hertz and Hyatt -- its value goes off the rails.
Worst: Any supermarket card
The most common customer-loyalty card sometimes turns out to be the least beneficial, according to Consumers Against Supermarket Privacy Invasion and Numbering (CASPIAN). In the past decade, CASPIAN found that products sold at supermarkets with card-loyalty programs -- including
Kroger
(KR) - Get Kroger Co. (KR) Report
and
Albertsons
-- tended to be priced 28% to 71% higher than products at card-free competitors like
Target
(TGT) - Get Target Corporation Report
.
Consumer Reports also notes that customers can "can save big on this week's specials, but it's easy to blow all of your savings buying other higher-priced items while you're in the store."
Worst: Sofitel Hotels A|Club :
A painfully slow point-building process (7 to 14 points for every $10 spent?), reportedly spotty customer service and a dense list of terms and conditions that, in some cases, can result in your point only being usable in one country make this one of the least customer-friendly rewards programs available.
The matriculation process is quick enough, as entry-level customers get bumped up to the second tier after only 10 nights, but they should get more than a 50% point markup, free drink and "special gift" for their trouble. It's a weak program for a luxury chain with 141 hotels in 40 countries.
-- Reported by Jason Notte in Boston.
RELATED STORIES:
>>10 Ways to Handle Debt, Build Strong Marriage
>>Five Ways For Businesses to Boost Profits
Follow Jason Notte on
and get more stock ideas and investing advice on our sister site,
Jason Notte is a reporter for TheStreet.com. His writing has appeared in The New York Times, The Huffington Post, Esquire.com, Time Out New York, The Boston Herald, The Boston Phoenix, Metro newspaper and the Colorado Springs Independent.