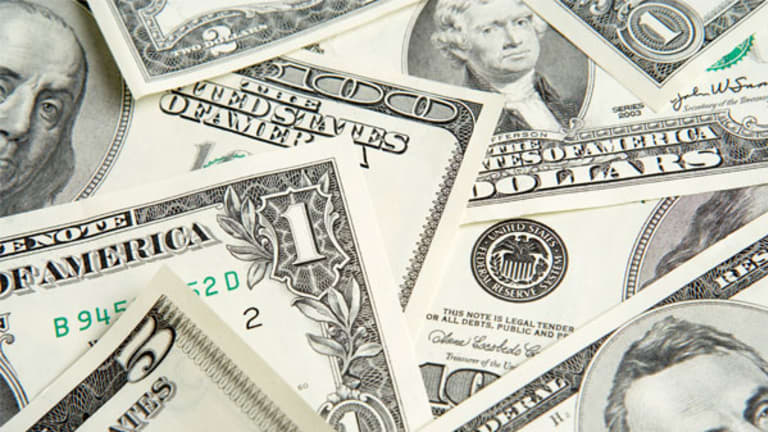 42% of New Parents Have No Money or Less Than $1,000 Saved
By and large the nation does a lousy job of saving for an emergency, that includes families with young children.
BOSTON (TheStreet) -- May showers will soon give way to summer sun, but Americans still need to save for a rainy-day fund, and by and large the nation does a lousy job of saving for an emergency, especially for families with young children.
That's the takeaway from BMO Harris Bank, which released a study last week that 32% of young family households haven't saved any money at all for a rainy day.
Another 11% say they have saved less than $1,000 for an emergency -- which usually comes in the form of a health care issue or the loss of a job. In those instances, having $1,000 or less isn't going to come close to providing the income a household needs to make it through tough financial times.
It's not like the heads of households aren't aware of the need for an emergency fund. According to BMO Harris, 90% of U.S. adults say having enough cash to cover a big health issue is a big concern. The survey notes that parents of newborn children spend $9,676 in medical costs for the first year of that child's life.
It's not just parents of young children who are struggling with saving money. Americans who say they will have children in the next five years have, on average, $5,523 saved up, but 30% in the same group say they haven't saved anything.
Also see: 7 Steps to Better Credit for the 40% Who Don't Understand Their Score>>
Overall, 26% of current parents and 15% of future parents have $10,000 saved up for emergency spending, the survey says.
So what's the problem here? Why can't Americans save more, and what can be to fix that?
BMO Harris executives say that heads of households need to take a longer-term view to generate some savings momentum.
"The challenge with saving for a financial emergency can often be that until it's right in front of you, you may be thinking only about the more immediate costs of raising a family," says Alex Dousmanis-Curtis, director of retail banking at BMO Harris Bank "As a framework to start out, parents should think about having between three and six months of their pretax income set aside."
The sluggish economy is also part of the problem. BMO Harris reports that adults are saving roughly 4.5% of their after-tax incomes, down from 6% immediately after the country emerged from the Great Recession (but ahead of the 2.5% Americans saved during the heart of the recession.
Also see: We're Facing Up to Our Financial Hangover>>
The key in saving for a healthy rainy-day fund is to simply get started, and to use some smart planning. Before you pay any other household bill, pull $50 or $100 out and stick it in a banks savings account.
Do that with every paycheck, and don't skip a "savings payment." Increase those payments as the situation allows. Cut back on dining out, shopping trips online or at at the mall and look closely for other areas where you can cut back on spending.
To get you going, plug in some numbers with this BankingMyWay emerging savings calculator. Use it to figure out where you need to be on savings and as a benchmark on how to get there.
Above all, don't get caught unaware if a financial storm strikes, and that goes double for parents of young children. Having $10,000 or more in the bank will help you get through tough economic times, and will also help you sleep more soundly at night.