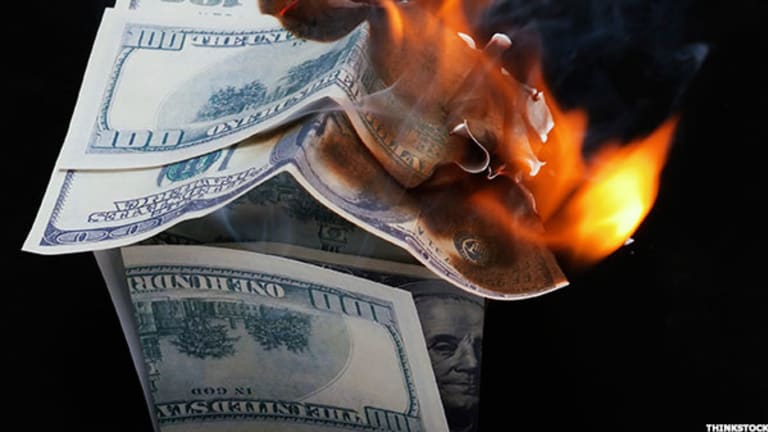 40 Days of Savings: "Money Wasters" to Give Up for Lent to Boost Your Finances
During the six weeks of Lent, challenge yourself to cut out the products and services that are sucking your wallet dry.
NEW YORK (MainStreet) — Lent officially begins today, with Ash Wednesday kicking off 40 days of prayer, penance and self-sacrifice. It's common for Lent observers to give up a favorite treat or vice over the next six and a half weeks to show their devotion to God, but choosing just what to cut out of your life can be a challenge. Sure, there's always chocolate, soda and gum, but if you're looking to get a little more creative this year, why not give up something unnecessary in your life that's been a drain on your wallet? If you're in debt or just looking to save more for the future, you might be amazed at how much extra money you can pocket by giving up these sneaky "money wasters." Here's a list of six to consider swearing off.
Cigarettes
You've been meaning to quit smoking for years, but you've been putting it off for a million different reasons. It's time to stop procrastinating and finally kick the habit for good this Lent season. Aside from greatly reducing your risk for disease and early death, cutting out those frequent cigarette runs will also save you a boatload of money.
According to the American Lung Association, the average retail price of a pack of cigarettes in the United States is $5.51, and the cost may be significantly higher depending on where you live. In New York City, for example, packs can cost between $12 to $14 due to a hefty $4.35 state excise tax per package and a $1.50 local excise tax per package.
To calculate how much you'll save by quitting smoking during Lent, figure out how much you spend on cigarettes per week, then multiply that figure by six (for the six weeks of Lent). For instance, let's say you pay about $6 per pack of cigarettes and you purchase four packs per week. That means you'll be saving about $144 during Lent. If you smoke one pack a day at $6 per pack you could save a whopping $240 over the course of Lent's 40 days. Also, keep in mind that because Sundays are not included as part of the 40 days of Lent, you'll save even more money if you don't smoke on Sundays.
By the end of the Lent season, you'll hopefully be well on your way to staying smoke-free for good. If you need more motivation, you can use this calculator to determine the immense savings you can experience over the next two decades by cutting out cigarettes.
Movie Tickets
Sure, taking the whole family to the movies can be a fun way to spend an afternoon or evening, but it can also quickly empty your pockets. According to the National Association of Theatre Owners, the average price of a movie ticket was $8.17 in 2014. Throw in the cost of popcorn and beverages and you can easily blow through a good chunk of money.
This Lent season, consider skipping those pricey visits to the movie theater and instead enjoying free or low-cost entertainment in your own abode.
"Stay home and use Netflix or Amazon's video-on-demand service and get movie candy at Walmart for $1 a box," says Ed Snyder, a certified financial planner and the co-founder/president of Oaktree Financial Advisors, Inc. in Carmel, Ind. "This is a huge savings over going out to the movies."
Netflix costs just $7.99 per month and includes a free month trial. Amazon allows its Amazon Prime members to stream unlimited movies and TV shows with Prime Instant Video. Amazon Prime costs $99 per year and also offers a free 30-day trial. Of course, for no charge at all, you can also check out your local library to rent movies.
Alcohol
We don't mean to be a party pooper, but those bar tabs can really drink up a good portion of your paycheck. Consider skipping those pricey libations out on the town and enjoy a bottle of inexpensive wine at home instead. Or better yet, dare yourself to give up alcohol altogether during Lent.
"Catholics are encouraged to give up partying during Lent," says Howard Dvorkin, a CPA and chairman of Debt.com. "Assuming your typical weekend tab at the bar is $100, and there are seven weekends in Lent this year, that's $700 in savings."
Unnecessary Groceries
Preparing your own meals at home instead of eating out can be a great way to save money, but many of us load our carts with more groceries than we really need—and much of this food often ends up in the garbage pail instead of on our plates. Wasted food is both a drag on the environment as well as on our finances, so it's best to only buy items at the grocery store that you truly need and are sure that you can consume before going bad.
"Only go grocery shopping once a week," suggests certified financial planner Brian J. Imrich, founder of GPS Financial in Webster, N.Y. "The store is psychologically designed for you to fail. You walk in for a gallon of milk and walk out with about $35 worth of stuff you weren't looking for."
To make sure you don't buy unnecessary items, it's a good idea to create a grocery list beforehand and stick strictly to that list.
"Don't wander aimlessly around the store—shop quickly for what you need," says Stephanie Nelson, founder of the money-saving website CouponMom.com.
To make the most out of your weekly groceries, consider eating dinner leftovers for lunch the next day or try out new recipes with leftover ingredients.
"Come up with a few favorite meals that use some common leftover ingredients based on your preferences," says Nelson. "For instance, use leftover chicken, rice and veggies to make chicken fried rice."
If you need a little cooking inspiration, the website Supercook can suggest recipes that incorporate items already in your pantry or fridge, says Kendal Perez, savings expert for the coupon website CouponSherpa.com.
Daily Deals
Daily deals, such as those offered by Groupon and LivingSocial, may seem like a surefire way to save money, but far too often people purchase deals on a whim that they don't end up using. We're not saying that you should never allow yourself to purchase a daily deal, but it might be a good idea to take your name off of the email subscription list so that you're not constantly bombarded with tempting deals that you might not actually need or have time to redeem.
"The urgency created by incessant emails and time limits is tough to ignore, so unsubscribe from these sites and see how doing so impacts your bottom line come Easter Sunday," says Perez.
Once you remove your name from the email lists, consider visiting daily deal sites directly when there's something you need to search for—such as a discounted manicure or haircut. This way, you'll only be purchasing deals on products and services already on your radar.
Impulse Buys
We've all experienced this scenario at one time or another: We're at the store and something tempting catches our eye. We didn't intend to buy this item but we allow ourselves to purchase it anyway because, heck, it's been a long day and we deserve it.
The problem is that impulse buys can really add up over time, so it's best to stick to your shopping list and resist the urge to purchase items you really don't need.
"Avoid anything by the checkout stand or not on your list, like Cheetos, candy bars and other 'I want it now' buys," says CPA/CFP Tana Gildea, a partner with Compass Financial Consulting, LLC in Atlanta.
—Written by Kristin Colella for MainStreet