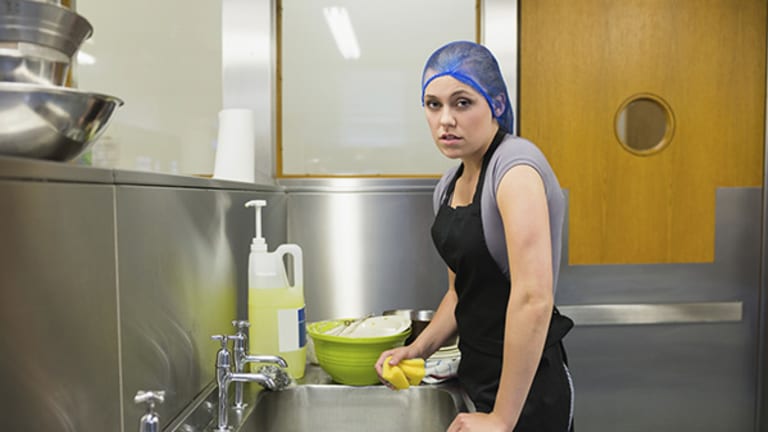 4 Ways to Get Beyond the Resume to Find Your First Good Job
The number of college graduates toiling in minimum wage jobs is roughly 71% higher today than in 2004. Don't be one of them.
The number of college graduates toiling in minimum wage jobs is roughly 71% higher today than in 2004. Don't be one of them.
NEW YORK (TheStreet) -- Last year 21.8 million students were expected to fill U.S. colleges and universities, a 6.5% hike since 2000.
Those numbers are expected to remain strong this fall, and what matters to each of those students (and to anxious parents who may be footing the bill) is: Can the economy accommodate them with a job in their chosen careers once they graduate?
According to the U.S. Bureau of Labor Statistics, the number of college graduates toiling in minimum wage jobs is roughly 71% higher today than in 2004. And the number of graduates with masters degrees working in part-time jobs is twice as high now as it was 12 years ago and three times higher than eight years ago.
That's an alarming trend, and there is only so much a college graduate can do about it. But what a graduate can do is hone and perfect the tools needed to land that all-important first career job out of school.
Also see: How to Get a Job When You're One of 1.6M New Grads>>
Ford R. Myers, a career coach and author of the book Get the Job You Want, Even When No One's Hiring, says that means going far beyond crafting a great resume.
"The resume is just one of many tools a job-seeker should have in his or her job-seekers tool-kit," Myers says. "Unfortunately, most people don't know what these other tools are or how to use them. By integrating other elements into the job search and not relying solely on the resume candidates can add power, professionalism and flexibility to their efforts."
Here's a snapshot:
Write up your accomplishments. Myers says companies love to hire achievers -- that's why recording your "accomplishment stories" is so important. He advises writing up "five or six compelling stories about school or work-related tasks that made you feel proud and include tangible, measurable results."
Also see: 5 College Debt Myths You Can't Afford to Believe>>
What's your statement? Myers stresses the importance of so-called positioning statements -- 15-second commercials about yourself, done verbally, that capture "who you are, what you've done in the past (academically and professionally, if applicable) and the particular strengths you can contribute to an employer."
Target your profile in the third-person. Write a narrative -- one page will do -- about who you are from an outside-in point of view. Myers says this is a great networking tool and will make you stand out from the crowd when reaching out to mentors and hiring managers.
What's your wish list? Think about your ideal employer and write down the qualities you want to see from that employer -- think size of the company, working culture, pay and bonus structure and location. "Then research specific organizations that meet those criteria and put them on a list of 35 to 50 target companies," Myers advises.
Also, list college and professional references from favorite professors and bosses from part-time jobs you've had in the past. Make sure to ask for letters of recommendation from "four or five respected business colleagues or academic associates, which will be printed on their professional letterhead," Myers adds. In addition, make plenty of copies, and store the original in a safe place.
In short, the more you do, and the more creative you are with your career search, the better the odds you'll land that game-breaking first job.