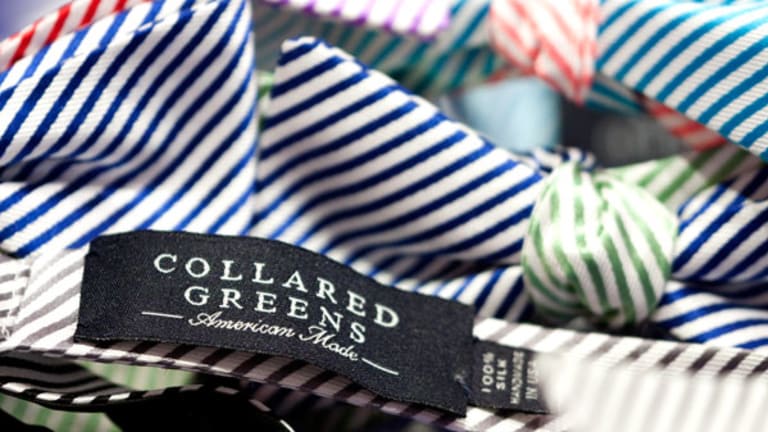 5 Very Awesome Names for Businesses
What's in a name could make or break your company. These five companies wouldn't have had as much success without their unusual names.
NEW YORK (
) -- Did you know what's in a name could make or break your business, especially for small, emerging companies?
"The natural tendency on the part of small-business owners and large-business executives is to do one thing: Play it safe. Playing it safe does not work in business," says Mark Stevens, a marketing and branding expert and author of
Your Marketing Sucks,
and
Your Company Sucks: It's Time To Declare War On Yourself.
"If you're caretaking an old, established brand like
UPS
(UPS) - Get Free Report
, that's one thing, if you're trying to grow an entity to the next level, in a world filled with competitors, whatever industry you're in you want to do things that make people stop in their tracks," Stevens says. "Although a name is not an end-all-be-all, it's very important to come up with a name that is one of two things -- highly intriguing or shocking."
That's because on a very basic marketing level, the name is a starting point for customers.
"You're natural instinct is to name the company based on the products it sells," like Grandma's Cupcakes, for instance, Stevens says. Instead he suggests doodling on a piece of paper or Googling ideas that have nothing to do with the product and see what you come up with. He says the goal is to come up with a sort of "wild connection" to the product or service.
"Don't be afraid to take chances," he says.
Also see: The Startup That Wants to Send Its Next Developer to Space >>
Having a unique name can also become a financial asset to the company if it is sold, licensed or expanded, says Erik Pelton, a trademark lawyer in Falls Church, Va., emphasizing the need for small-business owners to register a company name with the
U.S. Patent and Trademark Office
.
"A very creative, a very unique name is an asset to the business -- not just in how people find it and remember it, but actually a tangible asset that has a value," Pelton says.
Protecting the name also limits a growing company's susceptibility to copycats.
Also see: The Digital Skeptic: Facebook-Killing Dark Social Rules The Web >>
"You're in a much better position to deal with it quickly and more affordably if you have a registration. It's not terribly expensive -- the government filing fee is about $300" and the process takes about a year from start to finish, Pelton says. "If you have a really unique name, those are the easiest to register. You're least likely to encounter a conflict in the application process."
TheStreet
talked to four companies that wouldn't have had as much success without their unusual names.
1. Big Ass Fan Co.
Lexington, Ky.
350+ employees
The Wall Street Journal
hates the name and refuses to run its advertisements.
The New York Times
loves the company's name, according to
president, CEO and "Chief Big Ass" Carey Smith.
Formerly known as HVLS Fans, which sells high volume/low speed industrial-sized fans, the company brought in roughly $120 million in sales last year. However inappropriate some may see the name, Smith says it's great for business.
Before changing its name, Carey says that customers would describe the company as "those guys that made the big ass fans," and after a while, they started encouraging the nickname. Big Ass Fans decided to have a mascot, Fanny, the donkey, and started sending direct mail as part of its marketing campaign. Of course, the local post office was refusing to mail the cards, Smith remembers.
In 2001, just two years after it got its start, the company officially changed its name. But Smith emphasizes they wouldn't have been able to do that if they didn't have a strong product.
Also see: Jaguar Land Rover Sees Big Sales Gains in 2013 >>
"With a name like ours people expect us to be a little different," Smith says. "But in terms of the engineering and the design and just the way we do business -- it forces us to be very serious. On the engineering side and the testing side, it's dead serious. Again, with that name you've got to be that way."
The company started originally selling oversized fans to cool cows. "Because when a cow is cool, a cow is comfortable and a comfortable cow eats more and produces more milk," Smith says.
It expanded to sell industrial-sized fans for large facilities that didn't want the costs associated with cooling large areas. "Those sorts of facilities typically had floor fans, but they take up real estate and they don't get a lot of air and people fight over them," he says. "We introduced to them large ceiling fans."
"Once we did that we got an awful lot of attention," Smith explains. "We started getting calls from churches and schools and at the time we told them that this was an industrial product, you're going to hear it, but it was amazing people were so insistent about it, we realized there is a market there."
Yes, that's right, even churches were calling Big Ass Fans to purchase their product. "That drove us into the design of a fan that could be used in the commercial space or in schools
that didn't make any noise at all. That may sound simple but it wasn't. We had to design motors that would we could actually use on fans. Now part of what we do is manufacture motors," Smith adds. "It moved us from an industrial company for the most part to a company does an awful lot more."
The company has since expanded its designs into residential fans as well.
"The brand is very strong," Smith says. "We have a name of the company that's a little playful, but we have an exceptional product that we make here in the states and the whole thing resonates. The one allows us to do the other. Once I mention the name of my company you'll never forget it."
After all, the "ass" is mentioned in the Bible. "Mary did ride one to Bethlehem," Smith says.
2. Weed Man
Ottawa, Ontario
260 franchised units in U.S., Canada and U.K.
For lawn care management franchise
being associated with the drug culture is not its intentions nor does it condone any association.
Back in the 1970s, founder Desmond Rice even went so far as to refuse to sell the Rolling Stones' Keith Richards a "Weed Man" T-shirt Rice wore to a concert because he didn't want the brand associated with the drug culture, says Jennifer Lemcke, COO of Turf Holdings/Weed Man USA.
"Every year we get some drug connotations. It probably helps our Web visits," she says, adding that "we just think the brand and where
founder Desmond Rice has taken it -- when people think lawn care they think Weed Man."
Instead, the growing franchisor plays up its connotation to weeds -- as in those pesky growths in your backyard -- as part of its marketing strategy.
Kids would comment when Rice would come to the door that 'the weed guy's here,'" Lemcke says. "The name kind of stuck. Really it was kids that named our company just because of what we did back in the day."
The brand carried over into the trucks, painted to look like dandelions, which stood out from competitors that typically used white trucks. The company then created a "Weed Man" superhero as part of its marketing strategy.
"The kids would say that as we drove by," Lemcke says. "All of these different things help play into the recognition of the brand. People see humor in it."
The company has currently sold out its territories in Canada and is actively expanding in the U.S.
"We've delivered such high service," Lemcke says. "Our retention rates are so much higher than our competitors and I think it helps that it's a franchise.
3. Collared Greens
High Point, N.C.
7 employees
Randi Ashton and Jeremy Bull had an idea to have a men's lifestyle clothing manufacturing company that was American-made and as eco-friendly as possible. They launched
in 2008 in Sun Valley, Idaho, but moved the company to North Carolina (where Bull was from) in 2011 to be closer to the state's textile hub, giving the manufacturer more resources, according to COO Mason Antrim.
It also brings a company whose name is a word play on a popular Southern vegetable dish "collard greens" closer to home.
The name also symbolizes a form of patriotism combined with a large dose of environmentally friendly practices. Almost everything the company makes either includes or is worn with a collar -- bow ties and neck ties are two of the company's specialties -- and made in America.
Collared Greens has three channels of distribution -- the bulk of its manufacturing is sold through 150 men's stores retailers across the U.S. The company also sells through its Web site and a small showroom in High Point.
Collared Greens also has its own conservation project, CG/24, where 1% of sales goes to three different nonprofits that focus on conservation.
Antrim acknowledges the catchy name has aided the company in its success. Given its predominantly female customer base, the name has "aided us significantly," once customers recognize the twist.
"It is a wonderful intriguing name for a business. Everyone we talk to loves the name. It takes them a few seconds to get it . . . and spelling it wrong, but it's one of those fun names that people can associate with," Antrim says. "We have a lot of competition that has 'Southern' in their name. This is different. Once you make the play on the words, you get it."
That said, because the dish is so well known, it doesn't limit the company's scope to being a "Southern brand."
"Our product has to be first class. You can't have a cool name and not a very good product," he says.
4. Yikes Inc.
Philadelphia
7 employees
Web development and design company,
launched in 1996. At that time, even just getting onto the Internet was a big deal for most people. Owner Tracy Levesque says she launched the company -- not long after search engine giant
Yahoo!
(YHOO)
launched -- and wanted a name that was equally friendly to consumers.
Originally the company was offering Web design and development to businesses and basic Internet help to consumers. They've since dropped the latter offering.
"We figured that the Internet -- and even now -- computer and technology was very intimidating," Levesque says, adding that many Web-developing companies were easily taking advantage of customers with their above-the-brow conversations.
"We wanted to be more welcoming to any kind of computer user," she says. "We didn't want to have a boring stuffy name. At the time . . . Yikes might have been what people said when they thought about technology. The Web just became graphical in the last couple of years."
While Levesque admits that she's not sure she would choose the same name if she were starting a company today, she says that customers like the name and they are easily recognizable, especially since they are active in the local community.
One of its biggest clients is
B&G Foods
(BGS) - Get Free Report
, but they also have small local businesses and non-profit organizations as clients.
"Standing out is important and
so is catching people's eyes when they're doing a
Google
(GOOG) - Get Free Report
search," she says.
5. Turdbusters
Roanoke, Va.
3 employees
True to its name,
offers drain cleaning and preventative maintenance, sewer line cleaning as well as plumbing repair.
Owner Clinton Yandle says at one time the company had three trucks out doing service calls, but he was having a hard time continuing his own service calls and managing a growing business. He now keeps to one truck, but that doesn't mean business is suffering.
Yandle proudly says he is contracted by local government offices as well as local churches and restaurants for their service and preventative maintenance needs.
The name -- and the company -- started almost as a joke 10 years ago. A few years before he launched his business, Yandle was working for his father, who ran a plumbing repair company. One Saturday, Yandle answered the phone and says his father's good friend played a prank on him. He called saying he ran a construction company and needed a "turdbuster" to help unclog his toilet right away. Yandle took the call seriously and as he was gearing up to go to the call, he realized the joke that was played.
A few years later, that joke became reality when Yandle told his father and his father's friend of his business idea and said he was going name the company "Turdbusters." They dared him to do it and 10 years later, Yandle happily answers calls with "Turdbusters, this is Clinton speaking."
The name is certainly an icebreaker, he says. "It certainly has the potential to deflect people that are calling me" that don't have a sense of humor, he says. "But for the most part, everyone I run across thinks it's the greatest name ever. People are constantly stopping to take pictures of the truck going down the road."
Yandle doesn't do traditional advertising and relies mostly on referrals and his truck.
"I'm really good at what I do," he adds. "They don't call because of the name they call because of what I do and they trust me."
"I've had some customers see my truck outside . . .
and say we're glad you're cleaning the drains instead of somebody else. That makes them feel good," he says.
-- Written by Laurie Kulikowski in New York.
To contact Laurie Kulikowski, send an email to:
Laurie.Kulikowski@thestreet.com
.
>To submit a news tip, email:
.
RELATED STORIES:
>>Lululemon's Reaction to Yoga Pants Mishap: Brilliant Marketing
>>Starting a Business? Move to One of These 6 Cities
Follow
TheStreet
on
and become a fan on
.
Disclosure: TheStreet's editorial policy prohibits staff editors, reporters and analysts from holding positions in any individual stocks.