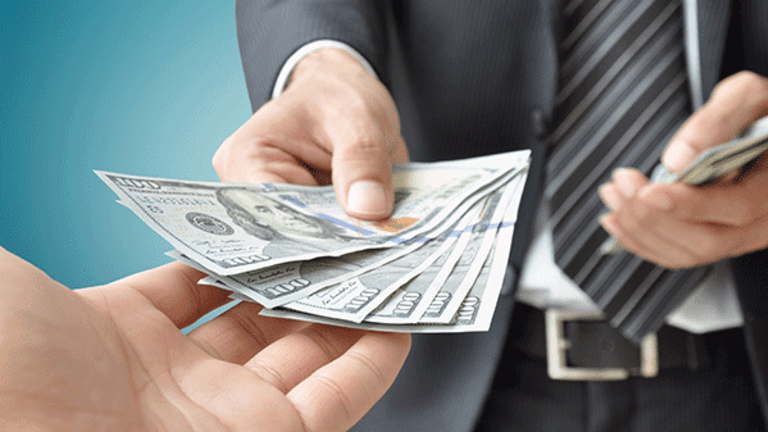 4 Safe High Yield Dividend Stocks for Retirement
Generate more income with less risk: These quality dividend-paying stocks offer an average high yield of 4.9%.
Your Money, Your Retirement, and the 2016 Presidential Election - What changes will you need to make to your portfolio should Hillary Clinton become president? What happens to your investments should Donald Trump become president? Join us on Sept. 12 as our panel of the world's top financial experts provide trusted information on the investment risks and opportunities that arise with the upcoming presidential election in November. [Learn more about the event and RSVP.]
These days many investors are aiming for a comfortable retirement through dividend-based investing.
There is real value in finding stocks that offer both yield as well as safety. 
However, in the reach for yield, so often we have to raise our tolerance for risk by taking on less proven investments rather than invest in quality dividend stocks.
It doesn't have to be that way. We created Dividend Safety Scores that answer the question, "Is the current dividend payment safe?" Scores have correctly predicted major dividend cuts from companies such as Kinder Morgan and ConocoPhillips. 
The four stocks below offer high yield dividends with good Dividend Safety Scores. Each of them has a yield of at least 4%. 
Investors can learn more about Dividend Safety Scores and use them for their portfolios here.
Ventas (VTR) - Get Report
Ventas is the nation's second-largest publicly-owned healthcare focused REIT. The company invests predominately in 768 Senior Housing Communities (70% of sales).
Next in order are 361 Medical Office Buildings (18%) followed by 46 Specialty Hospitals (4.4%), 53 Skilled Nursing Facilities (2.2%) and 12 General Acute Hospitals (1.8%) The balance (2.6%) is from loans and related investments.
The company's investment properties are spread throughout the United States, Canada and the United Kingdom.
Ventas is not a healthcare operator, rather it invests in healthcare properties that are leased to operators such as Brookdale Senior Living, Sunrise and others. These operators offer high quality private pay facilities that are not subject to Medicare or similar reimbursement dependency.
The demand for senior healthcare is underscored by the inflow of 10,000 people daily who turn 65. While only a fraction of those 65+ are able to afford to pay for this care, Ventas management maintains that even a 1% increase in senior living share of this demographic group would require a doubling in the current number of senior housing units.
In general, the business of investing in healthcare facilities is limited by capital availability. Unlike healthcare operators such as Brookdale and Sunrise, investors need only be certain their investment properties conform to various state and local codes.
Available return on investment depends on property prices, interest rates, occupancy and the cost of maintenance or upgrading.
Current investors are offered a high yield of 4.1%. The payout has grown annually by 10% over the past 10 years and 7.3% over the past five. Last year alone, the dividend was increased 12%. However, more moderate growth is likely in store going forward.
Omega Health Care Investors (OHI) - Get Report
Omega is also a Real Estate Investment Trust (REIT). It provides financing capital to the healthcare industry for operators of senior and long-term care.
As is the case with all qualifying REIT's, Omega is required to payout at least 90% of its taxable income to avoid being hit with Federal taxes. This feature typically enhances dividend and yield characteristics of REITs.
Omega's portfolio of investments includes over 900 properties located in 42 states and the United Kingdom. The company acts as a landlord collecting rents on each property and passing 90% or more of the profits to stockholders. In this way, the income is not taxed at the corporate level and stockholders benefit through larger dividends.
Omega is highly profitable. Operating margins have ranged from 47.2% to 68.4% in recent years. This is above average for this industry and significantly better than the average company. Long-term debt is less than 50% of capital, so Omega could leverage the balance to further enhance its growth.
Rapid growth in 2015 resulted in a reversal of long-term positive trends in return on invested capital and equity. These are two signs that a company is either in need of reaping the benefits of a recent acquisition or is not earning enough to justify further investment. In Omega's case, a 47% growth in 2015 revenues indicates it is time to reap some benefits.
Omega has been paying dividends for more than 20 years and has increased its dividend every year since 2003.
The shares offer investors a well above average yield of 6.6% and the appeal of rock solid 9.9% annual growth over the past 10 years and 9.7% over the last five.
Earnings over the next five years are forecast to grow 12% annually, according to Wall Street experts following the company. This makes a good yield even better, and investors can read a full thesis on the company here.
Philip Morris International (PM) - Get Report
Philip Morris International is comprised of all non-U.S. tobacco interests of the Atria Group, having been spun off to shareholders in 2008.
The company manufactures and markets more than 15 of the world's best-selling cigarettes in over 180 countries worldwide.
Brands include Marlboro and L&M, the world's number one and third best selling names. Overall, Philip Morris owns six of the top 15 highest selling brands worldwide. Aside from Marlboro and L&M, other brands include: Bond Street, Sampoerna A, Parliament, Philip Morris, Chesterfield, Lark, Fortune, Dji Sam Soe.
The cigarette and smokeless tobacco industry has been under heavy attack most everywhere in the world based on numerous health issues. In addition, governments at all levels have placed sales and excise taxes on these products and even increased such taxes to discourage consumption. Well over half of the retail-selling price is accounted for by taxes.
Higher taxes have not broken the world's smoking habit. However, as a result of these efforts, the global market has become far more price segmented with Philip Morris holding leadership positions in most regions in each segment.
Overall, the company's market share averages more than 35% and runs as high as 78% in some countries. Brand loyalty is extremely high, insuring Philip Morris with a steady and predictable stream of revenues.
A close look at Philip Morris's financial statements is critical to appreciating the safety of the dividend.
Operating margins, adjusted for excise taxes, sit near 40%. This means that the company generates far more cash than is needed to finance its operations, leaving plenty of room for dividends. The company generates over $2.85 per share of Free Cash Flow compared with the current $2.44 per share in dividends.
Altogether, investors are offered a well above average 4.1% dividend yield, a rate of dividend growth compounding at 8.2% annually over the past five years, and a highly predictable business selling recession-resistant products.
AT&T (T) - Get Report
AT&T's $49 billion acquisition of DirecTV in 2015 expanded the company's reach to offer connectivity services, such as voice/data, pay-TV and broadband internet, to over 350 million people and businesses in the U.S. and Mexico.
AT&T is one of the world's largest carriers in the world with approximately 128 million subscribers. No other telecom business has ever had as many subscribers across each service line as AT&T does now.
Most of the company's markets enjoy high barriers to entry that limit competition and result in more predictable earnings. 
AT&T spends over $20 billion annually on capital expenditures to keep its network infrastructure strong, and smaller companies simply cannot afford to compete. As a result, the industry has consolidated over the last few decades.
The company's dividend is in excellent shape as well. AT&T has increased its dividend for more than 30 consecutive years and is a member of the Dividend Aristocrats List.
Dividend growth has averaged 4.2% per year over the last 20 years and slowed to 2.3% annual pace over the last five years. A low rate of dividend growth is likely going forward as management digests the DirecTV acquisition and works on restoring the balance sheet.
While income growth isn't overly impressive, dividend safety is. AT&T's dividend is supported by the company's moderate 66% free cash flow payout ratio, consistent cash flow generation and recession-resistant business.
Shares of AT&T currently offers investors a high yield of 4.7%.
This article is commentary by an independent contributor. At the time of publication, the author was long PM and OHI.