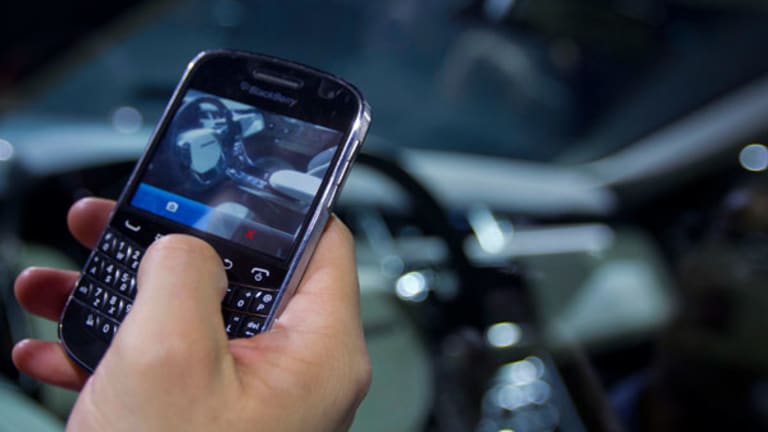 4 Cool Apps for New-Car Shoppers
From head-to-head comparisons to bargaining advice, these apps get the mobile on wheels.
BOSTON (
) -- Mobile apps are becoming a bigger and bigger part of the car-buying process these, with lots of consumers whipping out smartphones or iPads at dealerships to show salespeople competing offers or lower suggested prices.
"What we're hearing from consumers is that they're really using apps to help them with negotiations," says Kenny Goldstein of car-information site
Edmunds.com
. "They're not being shy about literally pulling out a mobile device
on the showroom floor."
Some 1.5 million consumers have downloaded Edmunds' mobile app since it went live in 2010. All told, 3 million of the site's 18 million unique users now access information via apps or the mobile Web rather than through the traditional Internet.
Most car-shopping apps give you mobile access to lots of photos, reviews and pricing data for all sorts of models. Once you know what you want, you can usually search nearby dealerships' inventories by either entering your ZIP code or using your device's global-positioning software to ascertain your location.
Car-buying apps also typically include calculators to help you figure out what you can afford and what your monthly loan or lease payment will be.
Here's a look at four cool, free apps consumers should check out when they're looking for new cars. The apps are in alphabetical order.
Cars.com's app boasts what seems to be the most-comprehensive database of local dealers' inventories, at least in my neck of the woods.
For instance, the app came up with 1,539 new
Toyota
(TM)
Corollas available for sale within 50 miles of my home -- more than double the 580 new Corollas that Edmunds.com's app listed.
The Cars.com app also has a great comparison tool that lets you look head to head at up to three cars actually in dealers' inventories. Most apps allow you only to compare models head to head (such as the Corolla vs. the
Honda
(HMC)
Civic), but won't show you individual cars.
Add in an easy-to-use design and real-world price estimates from Kelley Blue Book and the Cars.com app works great. Its only real weakness is that it lacks a tool for building and pricing the model of your choice with whatever particular options that you want.
Edmunds.com is perhaps the Web's most-comprehensive auto-information site, and the firm makes virtually all of its content available to on-the-go consumers who download its mobile app.
User-friendly navigation puts pretty much everything you'll ever want to know about hundreds of different car models at your fingertips. There are tons of photos, videos, staff-written reviews, consumer-generated reviews and more.
Stand-out features include Edmunds'
True Market Value
estimate, a rundown of what buyers in your area pay on average for given models. You can also build and price a car on the fly by clicking buttons to add or subtract options to a model you're interested in.
The biggest drawback: The app doesn't share the Edmunds.com website's ability to compare models side by side.
Best known as the bible for used-car pricing, Kelley Blue Book offers plenty of information about new vehicles, too.
KBB's mobile app features eight easy-to-scroll-through screens of reviews, photos, fair-value estimates and more for basically any new model you're considering.
The best section is the "Compare" screen, which comes populated with information on a half-dozen or so vehicles that compete directly with whatever car you're researching.
That said, the KBB app does have a few shortcomings, such as the lack of a tool to custom build and price a model with just the options you want.
The app also only lists local dealers who carry the brand you're interested in -- not a rundown of nearby inventories and pricing. That's bad if you're haggling with a dealer and want to show the salesperson what the competitor down the road is offering.
TrueCar.com offers a radically different app than other sites, focusing less on researching vehicles and more on connecting buyers who know what they want to local dealers.
"There are a lot of great places where you can research a car, but we feel that when you're ready to buy, TrueCar is the right place to go," company spokesman Mike Cooperman says.
That means the TrueCar app skips things such as car reviews, but includes detailed information about what you should offer to pay for any given vehicle.
For instance, the app not only gives you a
TrueCar Price Estimate
for a car based on recent sales in your area, but also serves up three actual offers from local dealers. Click the "Lock Savings" button and one or all three will contact you to try to close a deal.
That said, users must register with a valid email to use TrueCar's app. Although the site won't share information with dealers without your OK, many consumers prefer to shop anonymously until later in the car-buying process.