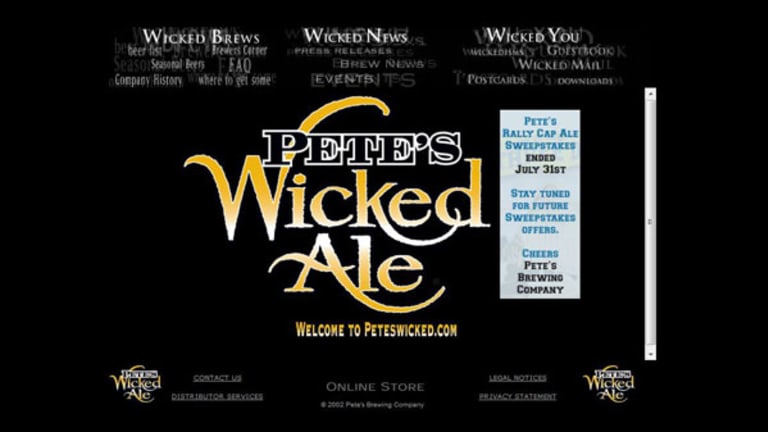 4 Beers We Wish They'd Bring Back
Given craft beer's success of late, you wouldn't suspect its history would be littered with so many gravestones.
PORTLAND, Ore. (TheStreet) -- Back in 1996, Boston Beer's (SAM) - Get Boston Beer Company, Inc. Class A Report Samuel Adams released a beer from its LongShot homebrewing competition that had the body and flavor of hazelnut coffee with almost none of the beer bite.
It was called Hazelnut Brown Ale, and it was magnificent. For about 16 years, it was also impossible to find. That tends to be the case with one-off, special edition beers, but in a craft beer environment awash in milk stouts, coffee porters, chocolate stouts and other decadent, malty delights, Hazelnut Brown Ale's absence was a mystery. Oregon's
Rogue
produced a much stiffer version, but nothing came close to that sweet offering Sam Adams brewed so long ago.
Last year, in its fall variety pack, Samuel Adams pulled Hazelnut Brown Ale out of hibernation and re-dubbed it simply
. It was sweet yet appropriately bitter, it was just a bit spicy and, more importantly, it was a close approximation of the 1996 recipe that was suddenly, readily available.
The state of craft beer is similar to Bruce Springsteen's wizened take on Atlantic City: Everything dies, that's a fact, but maybe everything that dies some day comes back. With small brewers now constituting a $10 billion industry far more stable than the initial microbrew surge of the 1980s and 1990s, faded labels that didn't quite make it to the other side are suddenly being resurrected.
When
Legacy Brewing
in Reading, Pa., went under in 2009, it took brews such as its hop-stuffed IPA Hoptimus Prime with it. Just two years later,
bought the rights to the Legacy beers and began producing them again. After Denver's
went under in 1969, it took more than 44 years before local brewers revived it.
So what other beers are just waiting for their richer progeny to pull them back from the dead? We walked along craft beer's timeline and found four essential brews just waiting for someone to revive their recipes. This is by no means a definitive list, but it's a way to get the ball rolling. If we're missing one of your long-lost favorites, please let us know:
New Albion
This is the one every beer geek wants back, if only to give New Albion founder Jack McAuliffe some much deserved credit for starting the American microbrew movement known today as "craft beer."
When he brewed his first pale ale back in 1976 in Sonoma, Calif., McAuliffe was a retired Navy veteran who was just trying to replicate the beers he'd tried in Europe. His New Albion Brewing Co., which took its name from explorer Sir Francis Drake's "Nova Albion" moniker for Northern California, would last another only six years before McAuliffe had to shut it down in 1982 when he couldn't secure funding, but the spark was already lit.
Inspired by McAuliffe's brewing techniques and Fritz Maytag's revitalization of San Francisco's
Anchor Brewery
after purchasing it in 1965, a young brewing equipment salesman named Ken Grossman started making his own pale ale under the
Sierra Nevada
name in 1979. Grossman's brewery in Chico, Calif., now produces nearly a million barrels and has an East Coast facility under construction in Asheville, N.C.
While there were fewer than 50 breweries when McAuliffe and Grossman were getting started in the late '70s -- with Budweiser, Coors, Falstaff, Schlitz and Pabst accounting for a whole lot of it -- there are more than 2,300 breweries in operation today. Not that McAuliffe reaped any of the reward for it. He stopped brewing immediately after New Albion filed for bankruptcy and spent the next 30 year designing industrial control systems for sewage treatment facilities and factories that produced aluminum car wheels.
ran and interview with McAuliffe in March that made it apparent that he didn't look back on his days at New Albion fondly. He was angry about the brewery's demise, he was angry that brewers who cited him as inspiration went on to make millions and he was disappointed that beer couldn't provide for him when he was most in need.
Yet McAuliffe had more support than he realized, including a huge booster in Boston Beer founder Jim Koch. Three years ago, one of Koch's Sam Adams sales reps stumbled across McAuliffe and put Koch in touch with him. After some prodding, Koch convinced McAuliffe to get the New Albion yeast being preserved by the University of California at Davis' fermentation science program and revive the New Albion recipe.
Last July, Koch and McAuliffe brewed up the first batch of
in 30 years. Koch then handed the proceeds from the sale and the New Albion trademark back to McAuliffe on the condition that he not sell New Albion to a big brewer such as
Anheuser-Busch InBev
(BUD) - Get Anheuser-Busch InBev SA/NV Sponsored ADR Report
or
MolsonCoors
(TAP) - Get Molson Coors Brewing Company Class B (TAP) Report
. McAuliffe has no interest in brewing again, but handed off his citrusy, hoppy recipe to his daughter, Renee DeLuca. She's been keeping fans updated through her blog,
, and promoting the brand as its run with Boston Beer continues.
While New Albion's return in 2013 has been wondrous for everyone involved, a sign from DeLuca that it's here to stay would complete the comeback.
Pete's Wicked Ale
The hardcore fans will pull for his Springfest or Multi-Grain rye, his casual fans might prefer a swig of his Summer Brew, but Pete Slosberg's greatest gift to small brewers was the brown Pete's Wicked Ale that made him famous.
To remember Pete's Wicked is to be haunted constantly by the potential and sporadic failure of the first microbrewery push. Slosberg co-founded Pete's Brewing in San Francisco in 1986 but, as the name suggests, Slosberg was the very public face of the company. He was every bit as charismatic as Boston Beer founder and Samuel Adams brewer Jim Koch. He appeared in
, he
and made himself one of the primary ambassadors of what was then known as microbrewing.
Unlike Koch, Sierra Nevada founder Ken Grossman,
Bell's Brewing
founder Larry Bell and, until recently, Anchor Brewing's Fritz Maytag, Slosberg didn't want beer to be a life sentence. In 1998,
Gambrinus
acquired Pete's Brewing for about
. Pete's Wicked Ale, a 5.6% alcohol-by-volume brown ale that was smooth, sweet and accessible, was thrown into a portfolio that included Spoetzl Brewing's Shiner Bock, BridgePort Brewing and Trumer. The slow deterioration began and by 2011, Gambrinus pulled the plug on Pete's due to slow sales.
It wasn't a tough death to predict. As Jeff Alworth, author of the Portland-based
, noted at the time of Pete's Brewing's demise, tastes had shifted. Brown ales, amber ales, mild lagers and other maltier beers that once served as craft beer flagships fell out of favor as hoppier IPAs, obscure styles such as Gose and Berliner Weiss and more complex Belgian styles hit increasingly refined palates. With nobody at the helm to innovate the brand or its styles, Pete's Wicked was stuck in the '90s.
But so what? People still drink Newcastle, don't they? Brown ale doesn't have to be a death warrant, does it? Maybe it does. Pete's contemporaries survived because they changed with the times. Grossman's fastest-growing Sierra Nevada brand is his hop-heavy Torpedo. Samuel Adams has found success with constantly rotating seasonal selections.
For a brief while, Slosberg made a line of chocolate called
Cocoa Pete's Chocolate Adventures.
More tellingly, however, he moved on. Those who miss his ale and those heady days connected to it are loath to do the same.
Celis White
Pierre Celis singlehandedly revived the witbier after centuries of dormancy in 1965, when he began brewing it in his barn in the Belgian town of Hoegaarden. His recipe became the recipe for Hoegaarden White Ale and sold more than 300,000 barrels at its peak in 1985, when a fire engulfed its brewery and forced a cash-strapped Celis to sell to giant Belgian company Interbrew. That company is now known as Anheuser-Busch InBev and is the reason jelly-glass tumblers of Hoegaarden can be found in outdoor restaurant spaces and beer gardens across America.
Even Hoegaarden wouldn't be the success it is today if Celis hadn't dusted himself off, moved to Texas and opened his own craft brewery just outside Austin in 1992. His Celis White was good enough to get Celis a buyout from Miller in 2000 and introduce witbier to a generation of craft brewers. Celis died in April, but his legacy is in every hazy, spicy sip a beer lover takes of a white beer this summer.
"The first one I ever tried was the Celis White, when Pierre Celis was still brewing it in Texas," Allagash's Tod says. "That's what turned me on to the style and though our white is different than that white, I love that white and remember exactly how it tasted and the mouth feel."
Two years after Celis debuted his white, Tod was selling his first batches of Allagash. A year later, Coors brewer Keith Villa formulated Blue Moon while working at the company's on-site brewery at the Denver home of Major League Baseball's Colorado Rockies in Coors Field. By 2003, the U.S. would have its first Belgian-owned beer maker when Duvel Moortgat bought Cooperstown, N.Y.-based Brewery Ommegang and its Witte witbier less than a decade after its 1997 opening.
Unfortunately, Celis the brand wouldn't reap any of the benefits. Pierre Celis died in 2011 at age 86, but not before his original plant in Texas was shut down and his brand was resold to Michigan Brewing in 2002. The brewer produced a lightly distributed version of Celis until last year, when the brewery was foreclosed upon and its assets were sold.
This story took a more upbeat turn last summer, when Celis' daughter Christine Celis announced that she and her business partner Sushil Tyagi of
Craftbev International
bought back the rights to the Celis name and planned to brew her father's original recipe at an existing facility in Austin. Celis White isn't dead anymore. Like witbier was before Celis revived it, Celis White is just dormant.
Yakima Brewing's Bert Grant's Perfect Porter
Today's brewers tend to think of the brewpub as an American craft cornerstone. Perhaps, but it took a Scottish import to make it so.
American brewpubs and brewing taverns dated back to the Colonial era, but just about all were killed by Prohibition. When Scotsman Bert Grant came to Yakima, Wash., in 1992, he did so with the idea of brewing his beer on premises and serving it directly to drinkers with a little bit of nourishment to keep them around for more than one. That year, he opened Grant's Brewery Pub and gave birth to the nearly 1,100 brewpubs that exist across America today.
What's often forgotten about Grant's little piece of beer history is that his brews including his Admiral Ale pale ale, Hopzilla IPA and his seasonal Fresh Hop Pale Ale were nothing short of extraordinary thanks to their proximity to hop country in the Yakima Valley. His IPA was somewhat less so and lacked the punch of its modern contemporaries, but that may have had something to do with his penchant for shading toward the other side of the pond.
That only worked in his favor when making his Perfect Porter. Jet black with the flavor of heavily roasted malt and chocolate, it had just enough hops to keep its lingering sweetness at bay. At 4% alcohol by volume, it was also one of the first brewpub session beers at a time the term "session" hadn't quite made the trip over the Atlantic yet. Grant's brewpub closed in 2005 and some of his recipes had fallen off well before then, but at a time even hardened beer lovers are hard pressed to tell the difference between a porter and a stout, Perfect Porter was a great introduction to a still obscure style.
-- Written by Jason Notte in Portland, Ore.
>To contact the writer of this article, click here:
Jason Notte
.
>To follow the writer on Twitter, go to
.
>To submit a news tip, send an email to:
.
RELATED STORIES:
>>How Tapping The Jewish Beer Market Begat A Plan
>>Sierra Nevada CEO Makes East Coast Beer Run
>>Craft Brew Founder Widmer Savors Results
Jason Notte is a reporter for TheStreet. His writing has appeared in The New York Times, The Huffington Post, Esquire.com, Time Out New York, the Boston Herald, the Boston Phoenix, the Metro newspaper and the Colorado Springs Independent. He previously served as the political and global affairs editor for Metro U.S., layout editor for Boston Now, assistant news editor for the Herald News of West Paterson, N.J., editor of Go Out! Magazine in Hoboken, N.J., and copy editor and lifestyle editor at the Jersey Journal in Jersey City, N.J.