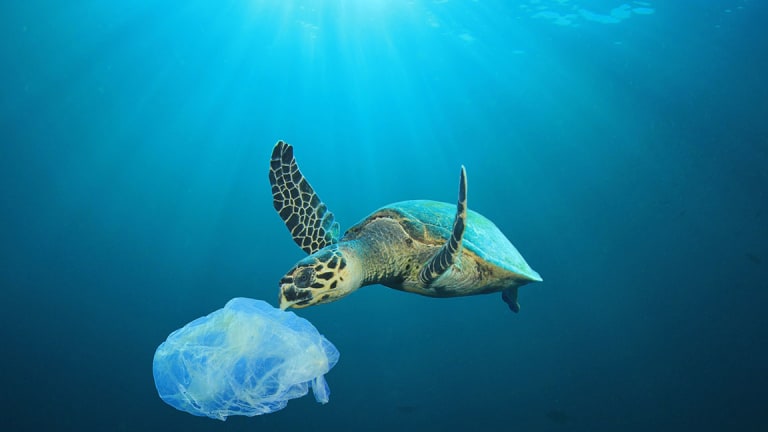 30 Ways to Reduce Your Plastic Waste
Plastic bags are piling up, gloves and masks are littering the ground. It's time to get back reducing plastic waste. Here are some ideas to get you started.
Much was made of a period of cleaner air during weeks of coronavirus shutdown around the world, one of the rare upsides of the pandemic.
But urgent concerns for safety and sanitization have led to a shocking resurgence of plastic waste, a global problem that was hardly getting under control even before the outbreak.
Plastic wrapping, plastic bags, masks, face shields, sheets of plastic and plexiglass, plastic hand sanitizer bottles, and plastic cups are filling garbage cans and landfills, and ending up littering the ground and in the waterways.
Many of the plastics for which demand has increased are the hardest to recycle, according the the Wall Street Journal, which says demand for flexible plastics has jumped 10% this year, and the plastics industry is lobbying to end the bans on their products, like plastic grocery bags, that many communities have enacted to reduce waste. (Curious, since the coronavirus has been found to survive several days longer on plastic surfaces than on wood, glass, paper, cardboard or fabric surfaces.)
Humans produce over 300 million tons of plastic every year -- 50% is single-use, according to Plastic Oceans. More than 8 million tons of plastic ends up in the oceans every year, 90% of all seabirds have plastic in their stomachs, and one in three species of marine mammals have been found entangled in plastic.
So if you want to double down on reducing plastic waste, start at home. Here's 30 ways to reduce or eliminate plastic from your life.
30 Ways to Reduce Plastic Waste
Clean With Baking Soda and Vinegar
Clean with baking soda and vinegar instead of cleaners packaged in plastic. This will also save you money and eliminate sketchy chemicals from your home.
Lose the Sponge
Use washable cleaning cloths and a wooden brush instead of plastic scrubbers and synthetic sponges.
Use Solid Dish Soap
Use solid dish soap for when you hand-wash your dishes, instead of liquid that comes in a plastic bottle. Yes, solid dish soap is a thing. 
Buy Powdered Laundry Detergent
Powdered laundry detergent in cardboard boxes is becoming scarce, replaced by thick plastic jugs of liquid that take more energy to ship, or pods that for some reason come in plastic bottles, making it challenging to have an eco-friendly laundry room. (Most of these jugs are not recycled.) More alternatives are appearing on the market, like this detergent made by Dropps. 
Don't Buy a Swiffer
Don't use a Swiffer. They don't last long, create more waste by using copious disposable pads, and even require a battery. If you already have one, buy a reusable microfiber pad for it. Good alternatives to a Swiffer are a microfiber dust mop or Cuban mop, with removable, washable pads or cloths.
Don't Use Air Fresheners
Don't use air fresheners in plastic cases or spray bottles, use candles, incense or essential oils.
Use Cloth Diapers
The EPA says 20 billion disposable diapers end up in landfills each year. Use cloth diapers to help better your baby's future -- you'll save money, too.
Don't Buy Milk in Plastic
Buy milk in paper cartons. Also opt for juices in cartons, not plastic.
Use a Refillable Water Bottle
Use a refillable water bottle, don't buy water in plastic. It will save you plenty of money, too.
Get a Steel Coffee Cup
Use a refillable coffee cup for to-go coffee.
Skip the Plastic K-Cups
Use a coffee maker that uses paper filters or a reusable filter, not disposable Keurigs. Just because something is recyclable doesn't mean it gets recycled. If you're in love with a Keurig, use a reusable filter.
Buy Bread Bagged in Paper
Buy fresh bread in no bag or a paper bag, not plastic.
Make Fresh Juice
Make fresh squeezed juice or eat fruit instead of buying juice in plastic bottles. 
Buy Drinks in Glass or Metal
Buy beverages in glass or metal, not plastic.
Avoid Wine With Plastic Corks
Don't buy wine that uses plastic corks. Alternatives are real cork or screw caps (there's nothing wrong with wine that uses screw caps, although the aluminum has its own environmental impacts, according to Wine Enthusiast.)
Say No to Straws
Just say no to straws in restaurants, cafes, and bars. Be sure to say "No straw" when you place your order. These wasteful single-use plastics end up in oceans, on beaches and in the stomachs of wildlife. Some places have banned them. If you must use a straw, you can purchase reusable stainless steel ones.
Give Up Gum
Give up gum. Gum is made of a synthetic rubber, which is a plastic. (You're chewing on plastic?) A lot of gum also comes in plastic containers and wrappers. 
Store Food in Glass
Store pantry food in glass or metal containers, not plastic.
Use Washable, Reusable Grocery Bags
Bring your own grocery bags. (Or ask for paper, at least.) Use canvas or cotton bags for groceries, because you can launder them, which you should do frequently. If your grocery store still isn't allowing reusable bags, simply ask them to put everything back in the cart and you can bag it when you get to the car.
Use Washable Produce Bags
Don't use those flimsy little produce bags, you're going to wash your produce anyway. If you must separate the apples from the oranges, use reusable, washable produce bags. Try Ecowaare. 
Use a Wooden Cutting Board
Don't use plastic cutting boards. Use wood or glass.
Use Glass for Storing Leftovers
Use Corningware-type glass for food storage and cooking. You can cook a dish in the oven and pop the leftovers in the fridge without using a plastic container. (Some of their glass storage uses plastic lids.)
Don't Use Disposable Lighters
Use matches instead of plastic disposable lighters. Many places provide matches for free. Or get some flint and fluid and use your grandfather's old Zippo.
Don't Use Plastic Cups or Plates
Use metal plates and cups for outdoor parties or camping.
Don't Use Plastic Utensils
Use real silverware for parties instead of plastic.
Give Up Disposable Razors
Use a razor with replaceable blades instead of a disposable razor, or at least the kind where you replace the whole head but keep the handle. Or use an electric razor.
Use a Shampoo Bar
Use a solid shampoo bar, not liquid shampoo, even beauty magazine Elle recommends it. Shampoo bottles are often not recycled, and the shampoos contaminate other recyclables. There are lots of solid shampoos available now, even Target sells a few varieties.
Use Bar Soap, Not Liquid Soap
Buy bar soap for the shower and for hand washing, not liquid body wash or liquid soaps which come in plastic bottles.
Use Newspaper as Packing Material
Use old newspapers or junk mail as packing material for moving boxes or shipping items, not bubble wrap.
Skip the Plastic Applicator
Buy women's products, such as tampons, without plastic applicators.