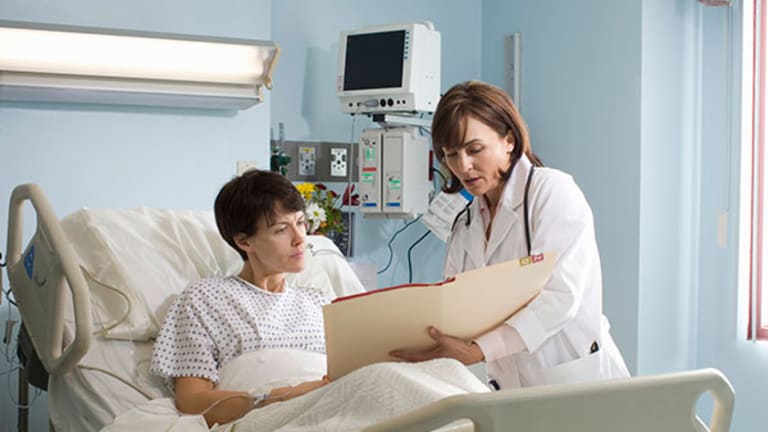 3 Ways to Defeat the Latest Rise in Health Care Costs
Health care costs are up because we're getting more preventative care. Here's how to have it all for less.
NEW YORK (
) -- Consumer health care
spending
, specifically out-of-pocket expenses, rose 4.8% last year, to $768.
That come from the Washington, D.C.-based Health Care Cost Institute, and it shows the third straight year in a row spending on health products and services is on the rise for Americans ages 65 and under.
Overall health care spending rose $181 from 2011, to $4,701, although most Americans see the bulk of that financial burden shouldered by their employers.
Outpatient care and prescription drugs fueled most of the spike in medical costs, with drug purchase costs up 3.8% (brand-name prescription drugs rose 25% last year, the HCCI says). Outpatient services spending took a bigger bite out of American's cash reserves, rising 6.5% last year.
Also see: Obamacare Switchover Carves Out Window for ID Thieves>>
HCCI says the rise in medical costs isn't just a matter of health care providers slapping higher price tags on prescription drugs and patient treatment. It's due to more consumers using health care products and services, with the trend toward paying for preventative care growing stronger.
That's a good sign for the health of Americans, albeit at a short-term hit to the bank account.
"Although average health care expenditures grew at nearly the same rate in 2012 as 2011, the causes of the 4% increase in spending each year were quite different," says David Newman, executive director at HCCI. "In prior years, rising health care prices drove up spending. In 2012, we saw utilization start to change health care trends for prescription drugs and professional procedures."
In the meantime, what can Americans do to curb out-of-pocket health care costs, especially as more consumers are forced into
higher-deductible employer health care plans
?
Also see: Employers Giving Few Answers on Obamacare, But Will Drop Your Spouse>>
Start by
taking advantage of free health care tests
, many of them mandated by the Affordable Care Act (find a list of free heath care tests
).
It's also a good idea to offer to
pay cash
for doctor and
dentist
visits.
Medical care facilities (even hospitals) hate all the paperwork, and now that the federal government is getting more involved in the health care sector, the need for paperwork could grow. Leverage that by offering cash for a discount, allowing medical practitioners access to a quick payment and less bureaucracy.
Another tip:
Shop around for prescription drugs, and go generic.
A
Consumer Reports
shows that Americans can save $749 on major prescription drugs by going generic. Big box stores such as
Costco
(COST) - Get Costco Wholesale Corporation Report
offers the best deals,
Consumer Reports
says. For online drugs, try
; the study says the online drugs provider offers some of the best deals on the 'Net.