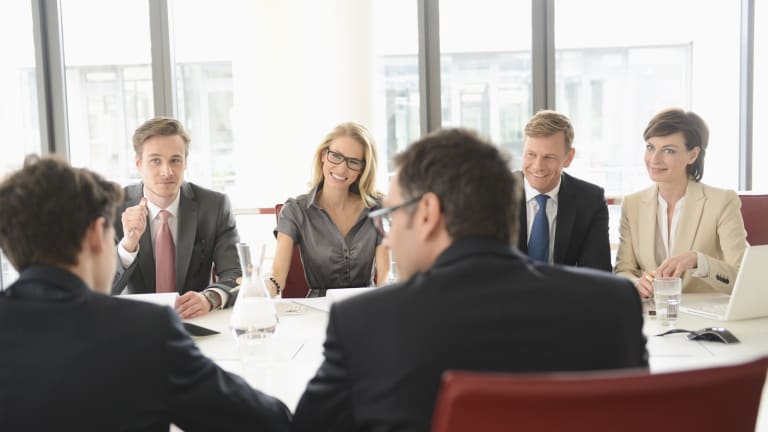 3 Ways Naturally Bossy People Can Successfully Handle Teamwork
If you're a natural leader, working on a team project may seem like torture. Here's how to get it done without your team members wanting you dead.
NEW YORK (MainStreet) — If you're a natural leader, working on a team project may seem like torture. Here are three ways to catch some team spirit and get out of your funk before everyone on your team wants to kill you.
Take a step back.
Since natural leaders like challenges, they should challenge themselves when working on teams to step back and engage others, says Molly Owens, chief executive of Truity, a provider of online personality and career assessment.
"Yes, it can be frustrating at times to not get your way, but good leadership is about inspiring others, not bossing them around," Owens says.
If you find you're usually the first to take action or speak up, pause, take a deep breath and count to 10, says Morag Barrett, chief executive of SkyeTeam, an international HR and leadership development firm.
"This will give others time to speak first. You can then contribute your thoughts and build upon others' contributions," she says. "Be seen as the value-add, not the take-away."
Being out of your "comfort zone" is a good place for bossy types to be, clinical psychologist Barbara Greenberg says.
"When I was forced to work as a team member, I became much more aware of people's strengths and weaknesses," Greenberg says. "You quickly learn who to turn to, who can help you and who can fill in for you when you need them. You just have to get out of the paranoid zone of thinking that everyone is after your job."
Bossy people are often afraid that when they work on a team and shed their leadership role, people won't like them.
"They're afraid that things will fall apart when they change their style of working, but if they can embrace the change, they'll get a wonderful opportunity to work in a setting in which their usual behavior tends to preclude several opportunities," she says.
Leaders who have a hard time letting go of control would also do well to think of teamwork as an opportunity to educate others.
"Part of being a good leader is passing on your skills to someone else. If you really like to be bossy, don't dictate, educate. Turn your desire to lead into a desire to teach," Greenberg says. "It's a much nicer way of dealing with people when you say, 'Let me show you how to do that,' instead of 'Do that.'"
Ask, don't tell.
If you're constantly dictating tasks rather than listening to co-workers' concerns, instead of being the go-to colleague everyone wants to work with, you end up being the go-from coworker that people may avoid, Barrett cautions.
"When it comes to setting direction, ask others what first steps they intend to take," Barrett says. "If they are pursuing what you would have told them to do, then you can simply say 'great,' but if you perceive a potential gap then you can share your concerns at that time."
Also, always be curious.
"When sharing your ideas, ask others for their perspective and what you may have missed. Build upon the suggestions as needed, Barrett says. "This reduces the risk of being perceived as arrogant."
At any point when you're offering direction, try to lead with questions, not statements, says Greg Denaro, manager of HR Services for human resources and business solutions provider Insperity.
"Influence team members by expressing a clear strategy and soliciting their opinions on the approach instead of dictating the process," he says. "Lead with questions, not statements, to create an open atmosphere that allows for new ideas."
See the team as a way to improve results.
When working on a team, you have an opportunity to see that delegating and putting heads together can not only be fun, but can also lead to improved overall results that last long after the teamwork is done, Greenberg explains.
"Bossy people may learn that teamwork is the way to go. They may find that two heads are better than one, because very often people find they are more creative when paired with others," she says. "That's what think tanks are all about. You get so many great people bouncing ideas off of one another, suddenly you're able to think outside the box."
Being bossy isn't always a bad thing, Greenberg says. Perhaps taking on a boss persona was the best course of action in your last job, but it may not be serving you at this point in your career.
"Nobody wants to be not liked at work," she says.
Once the teamwork is done, don't forget to share the credit, Denaro says.
"When the project is complete, share the credit with the entire team. Taking all of the credit will not only burn bridges with team members, but also bring an individual's integrity into question if discovered by management."
— Written by Kathryn Tuggle for MainStreet
Follow Kathryn on Twitter @KathrynTuggle