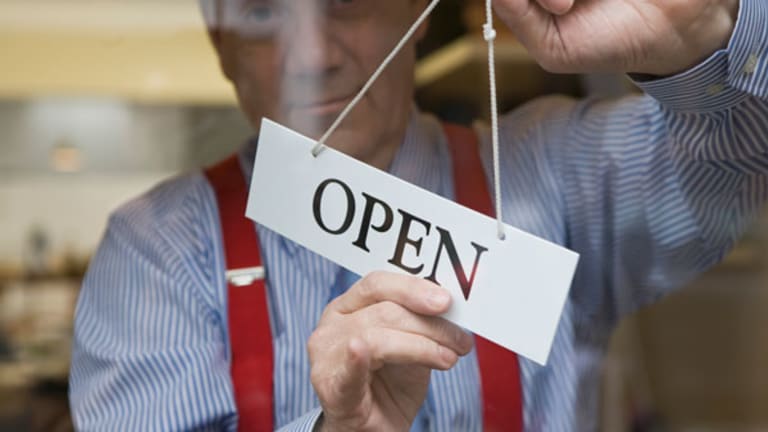 3 Things You Should Know About Small Business: August 31
Win $25K through crowdfunding contest; building trust with your banker; 10 ways to make more money.
NEW YORK (
) -- What's happening in small business today?
1. Win up to $25K in the Small Business Challenge.
Add a new player to the growing list of crowdfunding websites, and this new player should get your attention.
is launching its
, where it is offering a combined $50,000 to the three small businesses that show the best promise of being able to grow and hire new employees.
The voting competition kicks off Saturday and runs through early November. Each company is required to make a pitch for how the contest awards will help the business create more jobs. The top three that demonstrate the most potential for growth and job creation -- as determined by public voting and a panel of judges - will be announced on Nov. 9. The first place winner wins $25,000; second place $15,000; and third place winner wins $10,000.
Businesses with less than 100 employees, as well as entrepreneurs with startup ideas, are eligible to participate.
Through the competition, EarlyShares is trying to increase awareness and education about crowdfunding, since businesses won't be able to use this method to gain capital until next year when reforms in the JOBS Act approved by Congress to stimulate private funding for small companies kick in, the company says.
2. Yes, you can get a bank loan.
Fashion designer and Taiwanese immigrant Eddie Wang, owner of Toula, a women's apparel manufacturing business, has a secret for getting financing. Slowly build good credit and build up a strong relationship with your bank, according to
Immpreneur
.
It might seem obvious but it's not so easy, particularly for immigrant business owners.
Wang's first rule of thumb, pick a bank and stick with it. For Wang it was Barnett Bank which eventually was acquired by NationsBank (now
Bank of America
(BAC)
). His first quest for a bank loan came up short but the bank did offer to lend him money against his accounts receivable. And while this wasn't his first choice of capital, he saw it as an opportunity to secure the money he needed to stay afloat while waiting for clients' payments, the article says.
This also helped him build trust and solidify his relationship with his banker. Wang says he was prompt with financial requests and invited the banker to come visit his plant regularly. He ended up getting a line of credit from the bank that in the beginning the bank required him to pay back in full once a year to show finances were strong, which he did. And after a while the bank stopped requiring it of the business.
When it was time for him to finance, he shopped around for SBA loans, which were accessible to him by that time since he was a U.S. citizen and because of his good credit standing.
3. 10 ways to make more money.
How to make more money is one of the biggest questions always on the minds of small business owners. So what's the answer?
Small business expert and
USA Today
contributor Rhonda Abrams offers 10 suggestions in her latest column, touching on tried and true wisdom of business success, with a twist.
To make more money you need to make more sales.
Anyone can tell you that, but what many business owners take that as meaning is to create new products or implement fancy marketing strategies, when in reality these strategies should be heavily thought out. "Remember, if new initiatives won't directly generate sales, you won't have more money in your bank account," Abrams writes.
Target more profitable customers.
This doesn't mean those with the most disposable income to buy your product or service, but those who are most likely to use your product or service and pay the most for it. Evaluate some other markets, Abrams writes.
"Product-ize" your service.
Find a way to devise a "cookie cutter" approach so you can hire others to do the service for you -- and serve more customers that way.
Don't be a Luddite.
Use technology, such as a customer list within a relationship management program and e-commerce offerings.
-- Written by Laurie Kulikowski in New York.
To contact Laurie Kulikowski, send an email to:
Laurie.Kulikowski@thestreet.com
.
>To submit a news tip, email:
.
RELATED STORIES:
>>5 Fitness Franchises Getting Buff
>>7 Big Lessons From Today's Small Business Successes
>>SCORE Awards: Outstanding Woman-Owned Business
Follow
TheStreet
on
and become a fan on
Disclosure: TheStreet's editorial policy prohibits staff editors, reporters and analysts from holding positions in any individual stocks.