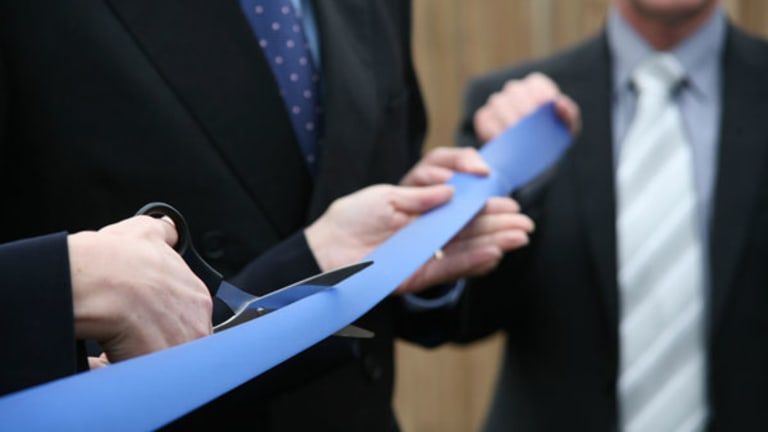 3 Things You Should Know About Small Business: August 27
Split-level economic recovery; are small banks best option for loans?; best candidate for small business.
NEW YORK (
) -- What's happening in small business today?
1. Split-level economic recovery.
Large and small companies differ on whether the economy is recovering. According to the New York Stock Exchange's annual economic survey, more than two-thirds of large company CEOs said economic conditions were fair, while another 20% said conditions were poor. Just under half of the small business owners surveyed said conditions were fair, while another 39% said conditions were poor, according to a
Reuters
report on the survey results.
Forty-three percent of large company CEOs said their need for capital is fully met vs. 21% of small businesses.
NYSE surveyed 340 CEOs from companies listed on NYSE Euronext markets from 26 countries, and 285 U.S. small business owners -- the first time in the survey's eight years that Main Street businesses were included.
The future is not looking so bright for small businesses. According to the results, two-thirds do not expect to add jobs in 2013 or will be cutting jobs.
Earlier this year, the Big Board's parent launched
, which provides small businesses with microloans through Accion, and mentoring.
2. Are small banks the best place to get a small business loan?
Perhaps not, according to research conducted by professors at Harvard University and Yale Unviersity. In one sense, local banks are likely to be a better option to find small company funding when compared to big national banks because they have more autonomy over lending decisions. However, the choice may be better only if there is other bank competition, the research finds.
Without competition, "the same discretion that branch managers have shaping lending decisions to the local environment also allows them to exploit their power by cherry-picking the best firms, approving smaller loans and charging higher interest rates," according to a
article.
As a result, lending increased to small firms when banks were deregulated. "The increase in lending to small businesses may have occurred because small banks no longer had local monopolies, and the addition of market competition benefited entrepreneurs," one of the research paper's authors said.
3. Which candidate will do the most to help small business owners?
Check out the
Small Biz Soundoff for a discussion of what business owners need from the government and which candidate is likely to give it to them. As the Republican and Democratic conventions get underway, the segment asks small business owners what they want to hear most from the candidates in the weeks ahead.
-- Written by Laurie Kulikowski in New York.
To contact Laurie Kulikowski, send an email to:
Laurie.Kulikowski@thestreet.com
.
>To submit a news tip, email:
.
RELATED STORIES:
>>SCORE Awards: Outstanding Small Business Launched by an Individual Over 50
>> Think Goldman Sachs Doesn't Support Small Business Lending?
>>SCORE Awards: Outstanding Green Small Business
Follow
TheStreet
on
and become a fan on
Disclosure: TheStreet's editorial policy prohibits staff editors, reporters and analysts from holding positions in any individual stocks.