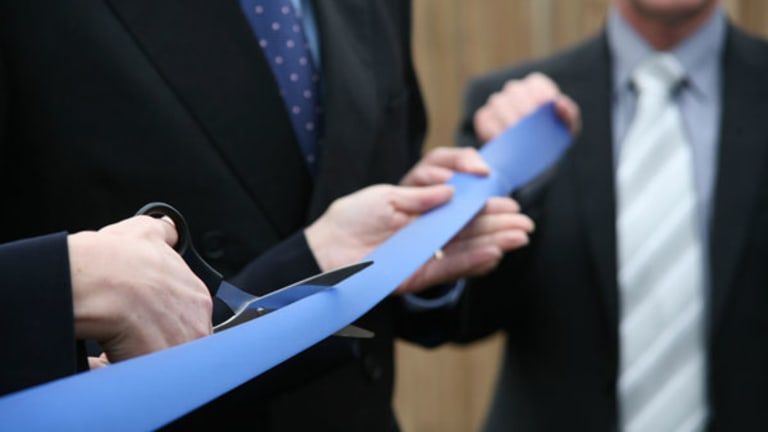 3 Things You Should Know About Small Business: April 30
Small businesses indeed creating jobs; build employee morale; Pinterest-based startup.
NEW YORK (
) - What's happening in small business today?
1. Small businesses are creating more jobs than you think.
The recent tallies of job creation within the small-business sector seem to imply that hiring is slowing. But according to
Bloomberg BusinessWeek
contributor Scott Shane's column in the
, it's stronger than many people think.
The perception that small businesses aren't hiring comes from the fact that small-business employment hasn't caught up to its pre-recession levels. However, since the recovery began, small and midsize companies are creating jobs at a faster pace than the recovery after the 2001 recession, Shane writes.
He points to recent data showing that small businesses are indeed creating jobs at a faster pace than large companies, yet the perception in the market is that they are not creating jobs.
"Behavioral economists would say it's because we tend to think about economic recoveries in terms of getting back to the way things were before recessions," he writes. "At the current rate of small-business job creation measured by ADP, it will be another year and a half -- the end of 2013 -- before small-business employment gets back to where it was at the end of 2007."
With it being an election year, it will be hard for policy makers to temper unrealistically high expectations of job growth. "The message politicians would have to deliver -- hold on for a while more, we're getting closer -- isn't the kind of uplifting message that gets voters energized, even if it would make sense to economists," Shane writes.
2. Build employee morale.
Among the many hats that entrepreneurs need to wear is also a manager of employees. And as that leader, ensuring employees are motivated and happy in they work they do and the work environment is paramount to retaining employees. If your business environment needs some improving, there are plenty of things you can do to change that, according to
, a business blog offering tips and resources to entrepreneurs.
Strategy Plan One
has a few inexpensive ideas that will make big impacts on employee morale.
One option is carving out a few minutes of each week to recognize team members or units for their achievements.
"Even the small successes should be recognized," the article says. "With recognition, staff will feel valued and morale in the organization will pick up."
Make an effort to listen more to your employees.
By listening more you will not only gain respect from your staff but it will give you a better understanding of any operational issues in your business.
Another suggestion is to include creating a paid volunteer day for employees.
Many people would like to be engaged in more volunteer activities. You can include a special perk in your benefits packages to include a paid volunteer day so they can participate and allow employees to promote causes in the workplace. "Not only is this a good notion for employees and for the community, but it also builds solid relationship for your business with the community and organizations in need," the article says.
3. Pinterest-based startup attacking bridal gown consignment industry.
Online startup
is looking to shake up the resale market for designer bridal gowns by emphasizing services it offers via Pinterest, according to
.
The dresses are touted as "nearly new" and Nearly Newlywed will buy the dress back after the wedding, the article says. But owner Jacqueline Courtney is doing something different: she offers personal shopping consultations with brides via the social media site. By getting to know her clients through their wedding inspiration boards, she will offer recommendations based on their tastes.
"We found that women have always been planning their weddings -- gathering inspiration, tearing things out of magazines," Courtney told
Mashable
. "Pinterest is a great way to collect inspiration. And it's a fun way to have a dialogue with girls."
She's also connecting with brides via Facebook and Twitter to answer their questions. The social media sites are helping Nearly Newlywed fill a niche in the space. "I think we are doing something unique," she says. "We are using social media to connect with brides and make the experience special and personal."
-- Written by Laurie Kulikowski in New York.
To contact Laurie Kulikowski, send an email to:
Laurie.Kulikowski@thestreet.com
.
To follow Laurie Kulikowski on Twitter, go to:
http://twitter.com/#!/LKulikowski
>To submit a news tip, email:
.
RELATED STORIES:
>>3 Companies Franchisees Should Be Cautious Of
>>Lessons From the Bard: How Shakespeare Would Run a Business
>>5 Franchises You Want to Invest In
Follow
TheStreet
on
and become a fan on
Disclosure: TheStreet's editorial policy prohibits staff editors, reporters and analysts from holding positions in any individual stocks.