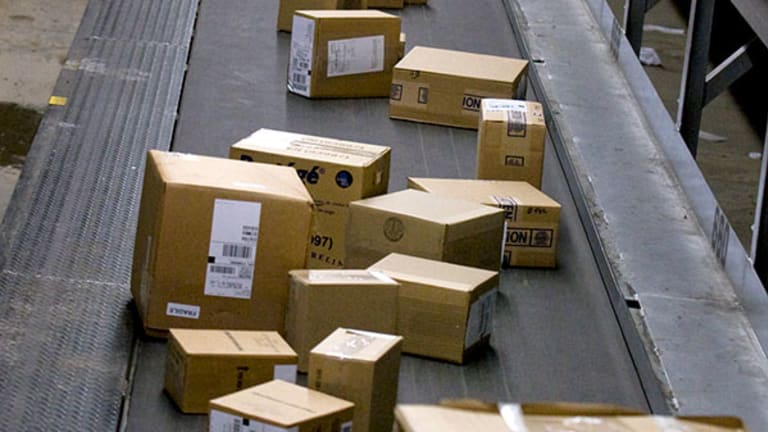 3 Steps to Mastering Holiday Gift Delivery
Here's a guide for those looking to keep delivery hassle to a minimum this holiday season.
PORTLAND, Ore. (
) -- For seasoned online holiday shoppers, this is the time of year the doorbell keeps ringing, the cardboard boxes pile up and the local couriers curse your name -- if you're lucky.
The National Retail Federation's digital branch, Shop.org, found that 51.5% of the consumers it surveyed will shop online for gifts this year, about the same amount as last year. The average person will complete about 39.5% of their shopping on retail and other company websites, up from 38.8% last year and the highest amount in the survey's history. Shop.org is forecasting that online holiday sales will grow between 13% and 15%, to as much as $82 billion, though it fell way short of its prediction of a 12% increase to between $92 billion and $96 billion last year. Meanwhile, online shoppers expect to spend an average $884.55 on gifts, decorations, food this holiday season, compared with an average $737.95 among all holiday shoppers
More than 40% of online shoppers started checking off those holiday gift lists in October or earlier, with two-thirds doing so to spread out their budget. Another half want to avoid the stress of last-minute shopping and late-season crowds. That same retail agoraphobia has driven a 59% uptick in online shopping within the past year, according to a survey by
Google
(GOOG) - Get Alphabet Inc. Class C Report
.
This would all be great if online shopping had turned shipping into a flawless system. Shipping costs can still get fairly high, packages arrive when the carrier deems it necessary and those shipped goods are handled with all the delicacy of an open-field tackle during a bowl game.
For those looking to keep delivery hassle to a minimum this holiday season, we offer the following three pillars of online shopping:
Always get it delivered free
There is little reason not to hold out for free shipping.
Retailers including
Amazon
(AMZN) - Get Amazon.com, Inc. Report
,
Macy's
,
Home Depot
(HD) - Get Home Depot, Inc. Report
,
Lowe's
(LOW) - Get Lowe's Companies, Inc. Report
and
JC Penney
(JCP) - Get J. C. Penney Company, Inc. Report
will throw it your way when you hit certain spending thresholds, but
Best Buy
(BBY) - Get Best Buy Co., Inc. Report
,
Blue Nile
(NILE)
,
Nordstrom
(JWN) - Get Nordstrom, Inc. Report
,
Saks Fifth Avenue
(SKS)
,
Neiman Marcus
and
LL Bean
will ship for free no matter what you spend. It tends to work out for them, too, as 19% off all shoppers tell FreeShipping.org they're willing to spend full price on an item if it comes with free shipping.
Also see: 5 Reasons to Just Surrender to Holiday Radio Now>>
Market research group
ComScore
(SCOR) - Get comScore, Inc. Report
found that 78% of all online shoppers will go with the cheapest shipping option. A full 75% of them are willing to add items to their cart just to get free shipping. That's right, they'll spend more just to get "free" shipping.
Retailers are finally starting to get it. Nearly 35% of all retailers told Shop.org they offer year-round free shipping, up from 23% who said the same. last year. Roughly 16% who offer holiday-specific free shipping started doing so before then end of October, while 27% will offer it just because the economy isn't growing fast enough for their liking.
Even if your retailer of choice still falls into that maximum-density category of shops that just absolutely refuse to send packages for free, don't worry: They'll usually take part in
on Dec. 18 and have that present on your doorstep by Christmas Day.
Stop waiting around
Remember when two-day shipping was an amazing concept?
Amazon still bases its whole Amazon Prime ecosystem of video streaming, book lending and express shipping around this idea. It still charges $79 a year for the privilege of two-day shipping and all the perks that surround it.
Unfortunately for Amazon, that's still a bit slow. The folks at online customer service site
measured the average shipping speed of online retailers last November and found that the average Amazon package took three days and 15 hour arrive -- longer than the 2.7 days it posted a year before. That's a seventh-place finish behind tech and novelty site
Newegg
(three days, eight hours),
Sony's
online store (three days),
HP's
site (two days),
Dell.com
(one day, 16 hours) and
OfficeMax
(one day, seven hours). If you want real speed, head to OfficeDepot.com, Staples.com or Amazon's shoe subsidiary Zappos -- all of which will get your package to you within a day.
Those all fell well below the four-day national average and fared far better than the sad stores at the bottom of Stella Services' list. Deliveries from
Apple
(AAPL) - Get Apple Inc. Report
,
Sears
(SHLD)
Target
(TGT) - Get Target Corporation Report
and
Wal-Mart
(WMT) - Get Walmart Inc. Report
websites all take between six and seven days. That's an absolute sprint compared with JCPenney, which must really want you to shop in its stores if it's going to make you wait an average of nine days for a package to arrive.
Also see: 5 Holiday Shopping Apps You May As Well Download Now>>
Chose your shipper wisely
Don't blame the retailer if your holiday gifts look as if they were used as game balls in a Grinch soccer tournament.
Retailers may try their best to get that package in your hands -- with Amazon using third-party fulfillment companies such as
Lasership
and putting Amazon lockers in
7-Eleven
outlets for folks tired of having presents stolen out of their lobby -- but that duty still usually falls to a delivery service. That means
UPS
(UPS) - Get United Parcel Service, Inc. Class B Report
,
FedEx
(FDX) - Get FedEx Corporation Report
or the U.S. Postal Service.
So which one keeps your holiday gifts safest?
Popular Mechanics
answered this question three years ago when it took packages, stuffed them with a three-axis accelerometer, thermometer and a data logger to measure movement, g-force, temperature, orientation and other factors. If the packages they shipped were flipped, jostled, flung, overheated or frozen, they were going to know about it.
So what did they find? A mixed bag. If your item is going to be particularly sensitive to flipping, don't give it to the postal service, which flipped packages 12.5 times during a three-day trip. FedEx was somewhat better with seven flips per trip, but UPS only needed to move packages an average of four times during their journey.
Unfortunately, UPS is much less gentle with packages when they depart or arrive. The packages registered an average of two acceleration spikes of six g's or greater per trip. That's the equivalent of dropping it 2.5 feet each time it's loaded on and each time it comes off the truck. FedEx is similarly rough, tossing packages 3.1 times per trip. The USPS shows a bit more restraint by keeping the drops to 0.5 for each package.
Meanwhile, if your present is sensitive to temperature, FedEx is your best bet. They kept the average temperature swing for packages at 26.1 degrees, while climates in UPS trucks and facilities varied by 29.8 degrees and USPS went through hot and cold flashes that varied by 32 degrees.
All three shipping companies had one very important feature in common, though: If they got packages labeled "Fragile" or "This Side Up," they just treated them even more roughly. You may as well just label them with profanities and insults toward the couriers' families.
-- Written by Jason Notte in Portland, Ore.
>To contact the writer of this article, click here:
Jason Notte
.
>To follow the writer on Twitter, go to
.
>To submit a news tip, send an email to:
.
RELATED STORIES:
>>How Seasonal Beer Could Boost Holiday Shopping
>>5 Holiday Shopping Apps You May As Well Download Now
>>5 Ways It's Already Black Friday
Jason Notte is a reporter for TheStreet. His writing has appeared in The New York Times, The Huffington Post, Esquire.com, Time Out New York, the Boston Herald, the Boston Phoenix, the Metro newspaper and the Colorado Springs Independent. He previously served as the political and global affairs editor for Metro U.S., layout editor for Boston Now, assistant news editor for the Herald News of West Paterson, N.J., editor of Go Out! Magazine in Hoboken, N.J., and copy editor and lifestyle editor at the Jersey Journal in Jersey City, N.J.