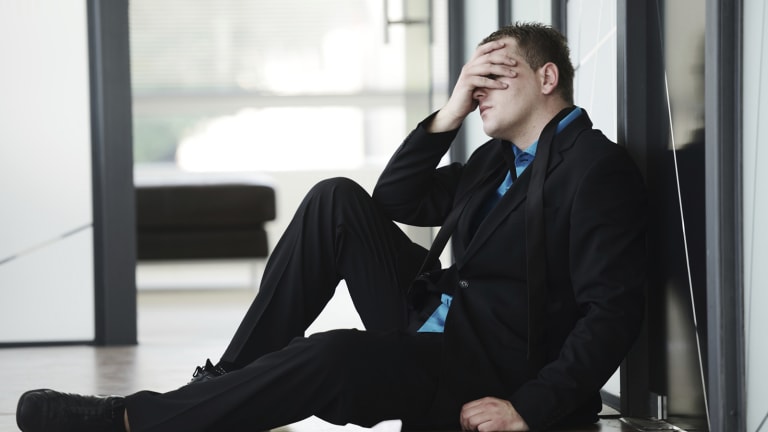 3 Start-Up Costs Entrepreneurs Underestimate and How They Can Bankrupt Your Business
Many entrepreneurs invest their life savings and years of blood, sweat and tears into a business only to have success elude them — and bankruptcy find them.
NEW YORK (MainStreet) — When your business is your baby, walking away from it can be incredibly difficult, financially and emotionally. Once your funds have been depleted, if the customers aren't there, it's time to cut your losses and move on, but that's much easier said than done. Here's a look at three frequently underestimated startup costs and how they can bankrupt your business.
1. The "nitty gritty" of overhead and infrastructure
When you're a small-business owner, you have to wear a lot of hats, says Chad Parks, CEO of Ubiquity Retirement + Savings, a company that offers IRA and 401(k) plans for individuals and small businesses.
"You're the one doing the accounting, the billing, the customer service, the payroll, the IT and the taxes, and there is good and bad in that. On one hand, you learn everything, so when you are able to expand, you know how things should be done. But on the other hand, you're spread so thin that some things are going to fall through the cracks."
Unfortunately, many small-business owners find that these responsibilities take up every minute of their day, leaving very little time for them to explore the reasons they got into business in the first place.
"If you're an artist, a baker or a florist, you started your company because you love doing those things, but day-to-day responsibilities leave very little time to be creative. Doing it by yourself is grueling, but hiring support staff isn't always realistic for your budget."
Almost all entrepreneurs underestimate the cost of overhead and infrastructure, Parks says. Just staying compliant with such things as federal regulations and city building codes can cost thousands, seemingly overnight.
"I've seen so many people shocked by the cost of incorporation, business licenses and employment insurance," he says. "It can be overwhelming, and if you don't do things right, you're going to get fined on top of the initial expense for all these things."
Unfortunately, entrepreneurs are often unable to afford to hire attorneys and other professionals.
"A lot of this stuff you have to do every year. Rules and laws change. At some point it's very easy to exhaust so much time and money with these things that you throw up your hands and say, 'Forget it,'" Parks says.
2. Finding, training and retaining the right employees
Many entrepreneurs underestimate the value in surrounding themselves with the right people, Parks says. They also forget that the right person isn't always the person you like the most.
"Your friend who is an attorney isn't automatically the right choice for your VP of operations," he says. "I know this from experience. It may feel totally natural to bring a friend on board, but you have to stop and ask yourself, 'Is this the best person for the job?' because the cost of hiring is substantial."
When you're hiring a salesperson, although it may be contrary to your instinct, you probably don't want the nice guy, says David Katz, founder of Plastic Bank, a startup that pays for plastic trash and turns it into ethically sourced recycled plastics.
"You want someone who isn't going to take 'no' for an answer," he says. "You're going to invest in this person with a salary and equipment and training, and then you're going to wake up in six months and realize he's not selling anything."
When you don't have the best people in the right spots, you're limiting your ability to grow and thrive, Parks says. It's better to wait and find the very best person for a position than to make a hasty hiring decision "just to get someone in the door."
Training employees is also an enormous expense, Katz explains.
"A lot of entrepreneurs don't even see this as a part of their budget. They just don't get it," Katz says. "If your employees don't have the right training, how will they be able to offer customer support? What is your overall plan for staff development?"
3. Acquiring and retaining customers
Entrepreneurs are often so blinded by their passion for what they're doing and creating that they haven't stopped to think about finding customers, Katz says.
"Some people think, 'If I have this product, people will just flock to it,' but they don't have a system around finding customers. You really have to be focused on marketing and sales to connect with the people who want what you're selling," he explains. "When you don't know how to find customers, it doesn't matter what your product is."
Most people don't understand how expensive each customer really is, Katz cautions.
"The exact cost is going to vary widely from industry to industry, but I'd say the average customer is usually around three times more expensive than you think it's going to be."
Customer retention is equally tricky for first-time entrepreneurs, and if you're not focused on keeping the customers you have, you're doomed, Katz says. 
"When a product is deficient, some companies make customers jump through hoops," he says. "The question of whether the customer is right or wrong doesn't matter. The only thing that matters is that you take care of them. Don't ever underestimate the power of customer feedback and reviews."
— Written by Kathryn Tuggle for MainStreet
Follow Kathryn on Twitter @KathrynTuggle