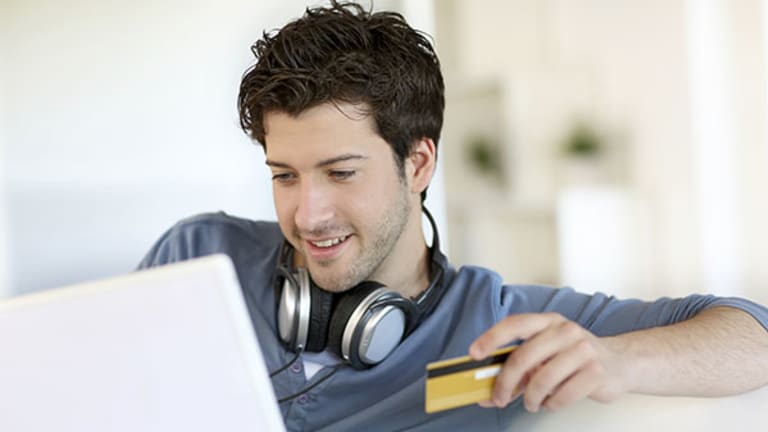 NEW YORK (TheStreet) -- If you have a newly minted college freshman on your hands, you already know college finance is serious business. The average four-year tuition cost for incoming college students last year was $129,700 for a private college and $38,000 for in-state public school students, according to SavingForCollege.com.
At least parents today get a price break compared with parents of newborns who expect their kids to go to college roughly 18 years from now. By 2031, the average four-year cost of a private college education is expected to be $312,000, or $92,000 for an in-state public school.
That's why pinching pennies where you can is so critical with the household college budget. One way to do that is get your college-bound son or daughter a credit card with no fees and low rates, with payment bonuses and ample rewards for using the card the best way.
Used wisely, a credit card for a college student can help them build a good credit history and teach the value of wise spending and paying bills. (Advice from mom and dad is good too.)
Also see: How to Prepare Your Kid for College Culture Shock
Also see: How to Prepare Your Kid for College Culture Shock>>
What cards are best?
Creditcardchaser.com offers some tips on credit cards for college kids, but with some much-needed caveats first:
"Not all credit cards are designed for graduates," the firm says in a research paper out this week. "Selecting the right one mainly depends on the individual's present income. For example, recent graduates should only consider credit card offers that charge low interest rates, have no annual fees, and cash rebates."
The website calls the Discover chrome credit card a starting point for parents looking for a good option for their college freshmen. It has no annual fee and offers a "generous" cash back program that can come in handy for a cash-strapped college student. Card users get 2% cash back automatically on restaurant and gas station purchases, and 1% on all other purchases (up to $1,000 each quarter). The card offers free access to the recipient's FICO credit score as well.
Also see: 5 College Debt Myths You Can't Afford to Believe
Also see: 5 College Debt Myths You Can't Afford to Believe>>
Another option touted by Creditcardchaser.com is the Barclay Rewards MasterCard. The card also has no annual fee and offers 2% back on many card purchases, with no time limits on redeeming points.
Then there's the U.S. Bank Visa Platinum Card with a low introductory APR on balance transfers or purchases for the first dozen billing cycles. The card is one of the securest on the market -- a good selling point for worried parents -- with "Zero Fraud Liability" fraud protection. The card also offers automatic bill pay to ensure late payments don't become a problem.
There are many other useful cards on the market (BankingMyWay.com has advice on finding the best here), but as long as you focus on no fees, low rates and good rewards, you're on the right track for a good card option for the college freshman in your family.