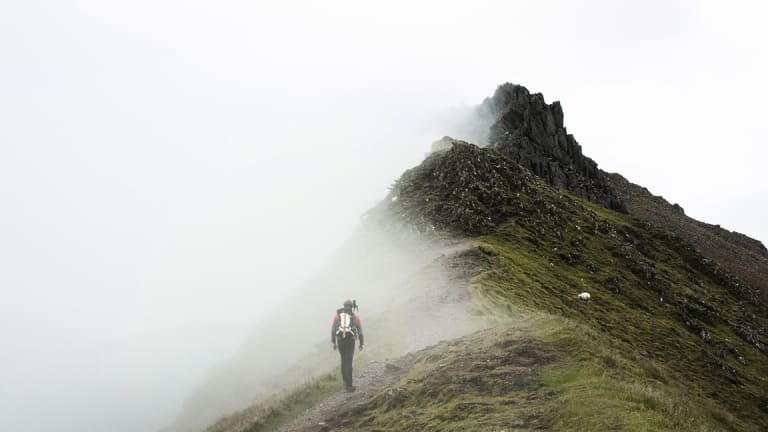 25 Top Destinations for Outdoor Adventurers
Hike to an ice cave, go on a safari to see the world's largest migration, or travel across a massive ancient volcanic crater filled with wildlife at one of these top outdoor destinations.
Pandemic concerns continue to put a crimp in travel, especially international travel, but that doesn't always stop the intrepid outdoor adventurer.
The 10 fastest-growing experiences categories (and 18 of the top 20) were all related to outdoor activities, according to the Viator 2022 travel trends report, a survey of 1,000 U.S. consumers. Outdoor activities grew 153% between 2019 to 2021. According to Deloitte's travel industry outlook, beaches lead among all destination types, followed by cities and outdoor experiences.
Travelers continue to flock to national parks for new adventures and fun. This is Tripadvisor's list of the parks that delivered on both—and then some. To compile this list of best places in the world for outdoor enthusiasts, Tripadvisor takes into account the quality and quantity of traveler reviews and ratings on their site, and ranks the top 1%.
So pack your passport, vaccination card and hiking boots and start planning your next outdoor escape.
1. Arenal Volcano National Park, Costa Rica
Arenal is of the world's most active volcanoes, and the rainforested park is filled with hot springs and wildlife and great for birdwatching. 
In recent years the volcano has been quiet, occasionally spewing steam from its peak. Hikers are not allowed to scale the peak, but the volcano makes a beautiful backdrop from trails within the park and Lake Arenal, where visitors enjoy water sports. 
2. Jim Corbett National Park, India
The oldest national park in India, Corbett, located in the Nainital district of Uttarakhand, was established to protect the endangered Bengal tiger.  
In the summer, Indian elephants can be seen in herds of several hundred. Corbett Park has over 400 different species of flora and over 550 different species of fauna, and a variety of lodging for tourists. 
3. Serengeti National Park, Tanzania
This vast park in northern Tanzania is famous for its massive annual migration of wildebeest and zebra, the largest and longest overland migration on the planet, when some 1.5 million wildebeest travel in a great loop through Tanzania and Kenya in search of greener pastures. 
Serengeti National Park has more than 500 birds and 300 mammal species, including lions, cheetahs, elephants, rhinos, giraffe, impala and hippos. 
4. Maasai Mara National Reserve, Kenya
This reserve is connected to Serengeti National Park at the border between Kenya and Tanzania, and is also known for wildebeest migration, seen here crossing the Mara River. 
Wildlife to spot here include cheetahs, lions, elephants, zebras and hippos. The area nearby is dotted with the villages of the Maasai people.
5. Kruger National Park, South Africa
One of Africa's largest game reserves, Kruger's high density of wild animals includes rhinos, lions, leopards, elephants and buffalos, making it a popular safari destination. 
Kruger is home to over 500 bird species, 100 reptiles, nearly 150 mammals, multiple archaeological sites, and a diversity of trees and flowers. Pictured here is a secretary bird. These large birds of prey can stand up to 4 feet tall.
6. Fiordland National Park, New Zealand
This ancient, glacier-carved landscape is home to glaciers, alpine ranges and unique flora and fauna that have been in existence since New Zealand was part of a supercontinent. 
The wild, rainy park is made up of lakes, rivers, streams, waterfalls and lush rainforest great for hiking. You can take a tour to see the glow worm cave . The Te Anau and Manapouri basecamps offer activities to do on the lake.
7. Denali National Park and Preserve, Alaska
Six million acres of Alaska's interior wilderness and North America's tallest peak are among the highlights of this park. There is just one road, which is mostly only open to buses, allowing wild animals large and small to roam the unfenced, untamed lands.
Denali National Park's relatively low-elevation taiga forest gives way to high alpine tundra and snowy mountains, culminating in North America's tallest peak. 
Denali was the first national park created to protect wildlife. A goal for many visitors is to see a grizzly bear lumbering through the tundra, and there are also opportunities to spot moose, wolves, Dall sheep and caribou.
8. Kilimanjaro National Park, Tanzania
Mount Kilimanjaro is Africa's highest peak and the world's tallest free-standing mountain. This national park protects the area above 8,850 feet elevation and is a Unesco world heritage site. The mountain's foothills transition into lush forests, where you can spot blue monkeys, western black and white colobuses, bushbabies, and leopards.
9. Westland Tai Poutini National Park, New Zealand
The pristine Westland Tai Poutini National Park is known for its glaciers. You can walk to the base of the Fox and Franz Josef glaciers, which can move up to 13 feet a day. The park also features grasslands, lakes, rivers, wetlands and lowland rainforests that reach all the way to the edge of the Tasman Sea.
10. New Forest National Park, Hampshire, England
New Forest National Park is situated in an area of southern England of the same name. The New Forest region is one of the largest remaining tracts of unenclosed pasture land, heathland and forest in southern England.
New Forest was proclaimed a royal forest by William the Conqueror. It is known for its walking and biking trails and centuries-old woods.
11. Snowdonia National Park, Wales
The 823-square-mile park is Wales' largest national park and home to over 26,000 people. The landscape is steeped with culture, history, and heritage, and the Welsh language is part of the day-to-day fabric of the area. Explore the towering peaks and green valleys of this rainy landscape, which has extensive recreation opportunities.
12. Banff National Park, Alberta
This was Canada's first national park. Activities include hiking, biking, skiing and camping among the breathtaking scenery of the Canadian Rockies. 
The resort town of Banff is located within the park, and is part of the Unesco World Heritage Site.
13. Cilento and Vallo di Diano National Park, Italy
Two ancient Greek sites in this part of Southern Italy date back to 550 B.C. The Cilento was a major route for trade and cultural and political interaction during the prehistoric and medieval periods, according to Unesco, which has designated it a world heritage site. 
There's also a Carthusian monastery that dates back to 1306, vast seaside views and deep cave systems.
14. Jasper National Park, Alberta
At over 11,000 square kilometers, Jasper is the largest national park in the Canadian Rockies and another Unesco World Heritage Site. It is a wilderness of majestic peaks, abundant wildlife and outstanding natural beauty.
Hike along some of the 745 miles of trails in Jasper National Park and you may come upon a pair of the bright red Adirondack chairs set in a peaceful and scenic location by the parks service.
15. Grand Canyon National Park, Arizona
Grand Canyon National Park encompasses 277 miles of the Colorado River. The immense canyon is a mile deep, and up to 18 miles wide, and layered bands of colorful rock reveal millions of years of geologic history. Nearly 6 million people visit this famous park annually.
16. Tarangire National Park, Tanzania
This is another park where you can see the seasonal migration of wildebeest and zebra. Tarangire is home to Tanzania's largest population of elephants—you can see herds of as many as 300 during the dry season.  The park is famous for its termite mounds, baobab trees and a variety of wildlife.
17. Ngorongoro Conservation Area, Tanzania
The heart of this park is the Ngorongoro Crater, the world's largest inactive, intact and unfilled volcanic caldera that formed when a large volcano exploded and collapsed on itself two to three million years ago. The crater is 2,000 feet deep and 100 square miles. See black rhinoceroses, hippopotamuses, zebras and gazelles in this vast park.
18. Freycinet, Australia
On the east coast of Tasmania, the Freycinet peninsula showcases the pink Hazard Mountains, coastal forests and the calm, turquoise waters of Wineglass Bay. Hike to the lookout above the bay to see the famous arc of white sand, stay in a luxury lodge and indulge in fine food and wine. Yes, there are Tasmanian devils here.
19. Vatnajökull National Park, Iceland
You don't need to pronounce it to visit this gorgeous protected wilderness surrounding a glacier of the same name. Vatnajökull features blue ice caves, waterfalls, active geothermal areas, unique geological formations and Iceland's highest freestanding mountain.
Pictured is the Svartifoss waterfall and basalt columns in Vatnajökull National Park.
20. Grand Teton National Park, Wyoming
Situated near famed Jackson Hole, and just 10 miles from Yellowstone National Park, Grand Teton National Park's crown jewels include the dramatic spires of the Cathedral Group of peaks that rise straight from the valley floor, as well as the majestic Snake River.
Grand Teton is rich with wildlife, pristine lakes, and alpine terrain, and has hundreds of miles of trails. It's great for hiking, biking, fishing, boating and camping.
21. Bryce Canyon National Park, Utah
A moonscape of reddish-orange hoodoos, Bryce Canyon is situated along a high plateau at the top of the Grand Staircase. The park's high elevations include numerous life communities, fantastic dark skies, and geological wonders. Enjoy epic views, hiking, cycling, camping, stargazing, and ranger programs.
22. Plitvice Lakes National Park, Croatia
This forest reserve in central Croatia is known for a chain of 16 terraced lakes, joined by waterfalls, that extend into a limestone canyon. Walkways and hiking trails wind around and across the water, and an electric boat links the 12 upper lakes and four lower lakes.
23. Chapada dos Veadeiros National Park, Brazil
This park in central Brazil has numerous trails that lead you to dramatic canyons, quartz crystal rock formations, beautiful rock pools and 300-foot waterfalls. The biodiverse park is home to many orchid species and wildlife including armadillos, jaguars and toucans. 
24. Uluru-Kata Tjuta National Park, Australia
The park is home to one of Australia's most famous landmarks, Uluru, a massive sandstone formation in the heart of Australia sacred to the indigenous people. Watch the colors of the desert change as the sun rises and sets, and discover rock art and waterfalls while exploring the park's geology, natural environment and cultural heritage. 
25. Zion National Park, Utah
This park in southwest Utah is famous for its steep red cliffs, the Virgin River, emerald pools, and Zion Narrows, where hikers wade the river. The park is great for camping, backpacking, biking and rock climbing.