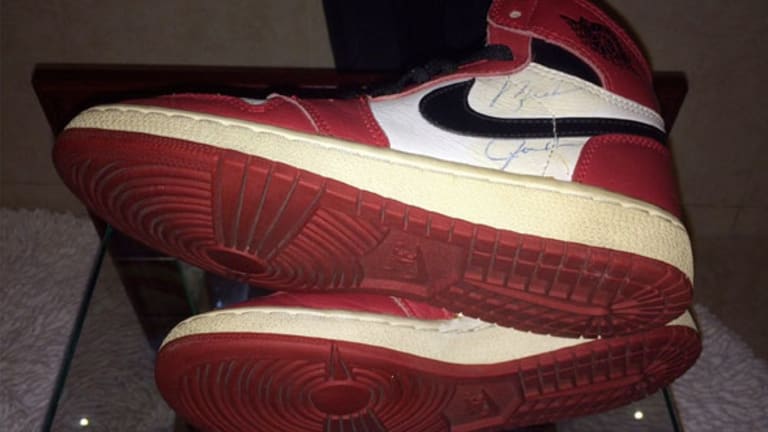 25 Collectibles Jittery Stock Market Investors Should Consider Buying
Collectors of Lego sets have seen their investments increase in value by 12% each year since 2000.
NEW YORK (TheStreet) -- If Monday's stock market drop got you wondering about where else in the world you could invest your hard-earned money, perhaps it's time to consider buying Lego sets and other collectibles.
According to an analysis done by The Telegraph, investors buying Lego sets over the past 15 years were able to secure a better return than those who put their money in the stock market, gold or bank accounts.
Investors in the stock market, gold-bugs or those who simply kept their money in bank accounts generated an average annual return of 4.1%, 9.6%, and 2.8%, respectively. Those who have held onto pristine condition Lego sets, on the other hand, have seen their investments increase in value by 12% each year since 2000, according to the report.
The LEGO Star Wars Ultimate Collector's Millennium Falcon, for example, can be purchased on Amazon for $6,379.71. The set, which has the second highest number of Lego pieces ever made, was originally sold for $499.99 when it was released in 2007.
But unlike investors in gold or the stock market, collectors of Legos and other items are in it for more than the opportunity to make a profit. "Most 'regular' people collect things, because they like the items, not because they might be worth a lot of money one day," writes George Russell on TheStreet's comments section. Russell was reacting to a story on the 15 Collectibles That Are Completely Worthless.
Interested in exploring the market for collectibles? From sports memorabilia to gold coins, here are 25 of the most expensive, Prime-eligible collectors' items on Amazon.
25. Kobe Bryant Autographed Framed Los Angeles Lakers Authentic Purple Jersey
Price: $1,295.00
Kobe Bryant has been an LA Laker since his professional basketball career began in 1996 and has won five NBA championships. This is a signed 'away game' jersey that is authenticated by James Spence Authentication.
24. 2015 CA Gold Maple Leaf 1 oz in Sealed Assay Card $50 Brilliant Uncirculated Royal Canadian Mint
Price: $1,350.95
Canada Gold Maple Leaf Bullion Coins, which have a .9999 Fine purity level, were first minted in 1979 and have been struck annually ever since. The Royal Canadian Mint introduced a compact and secure packaging option for these coins in 2015 that makes handling and storing easy.
23. HOF Stars Multi Signed Baseball 20 AUTO 's Ted Williams DiMaggio Berra JSA ALOA
Price: $1,388.00
With an original asking price of $1,695.00, this baseball has been signed by 20 Hall of Fame baseball players: Joe DiMaggio, Ted Williams, Early Wynn, Robin Roberts, Bobby Doerr, Hank Aaron, Yogi Berra, Warren Spahn, Bob Feller, George Kell, Eddie Mahtews, Billy Herman, Luke Appling, Harmon Killebrew, Hoyt Wilhelm, Enos Slaughter, Lefty Gomez, Ralph Kiner, Frank Robinson and Monte Irvin. This item includes a JSA Auction Letter of Authenticity.
22. 05 SP AUTHENTIC - TIGER WOODS SIGN OF THE TIMES AUTO 10 BGS 9.5 (10,9.5,9.5,9.5)
Price: $1,422.50
Originally $1,575.50, this Sign of the Times card is signed by Tiger Woods. While this card is of near-perfect quality, a card of a slightly higher quality would be worth about $5,000.
21. 10/29/2007 Boston Herald Newspaper- Red Sox Win World Series- "AWESOME!"
Price: $1,495.00
This item is an original Boston Herald newspaper announcing the Red Sox's World Series win in 2007. The Red Sox swept the Rockies in four games to win their second World Series championship in four seasons (and seventh overall).
20. Pedro Friedeberg - Sillas, 2000
Price: $1,600.00
A student of architecture in Mexico, Pedro Friedeberg has participated in national and international exhibitions since 1959. One of his best known pieces is a hand shaped chair, where the palm is the seat and the fingers are the chair's back and arm rests. This lithograph shows various chair designs, including his famous "Hand-Chair."
19. George Steinbrenner "The Boss" New York Yankees Autographed Rawlings Big Stick Baseball Bat
Price: $1,624.99
This Rawlings Big Stick Baseball Bat has been signed by George Michael Steinbrenner III, who was an American businessman and principal owner and managing partner of New York Yankees. A Certificate of Authenticity is included.
18. Mickey Mantle 1956 Autographed Framed Gallo 16x20 Photo (JSA)
Price: $1,668.00
This 16x20 framed color photo is signed by Mickey Mantle with the year 1956 (the year he won the Triple Crown). It is matted in blue suede and white matting, with his name, nickname "The Mick," 1956 Triple Crown Winner, 16x All-Star, 3x AL MVP and Hall of Fame ~ 1974 laser engraved directly on top of the matting. It comes with a letter of authenticity from James Spence Authentication (JSA).
17. Graciela Rodo Boulanger - Voyage Imaginaire I (Elephant), 1988
Price: $1,750.00
This etching is by a highly respected artist of the contemporary Latin American movement, Graciela Rodo Boulanger. According to the listing for this etching, "Boulanger has used her child-like imagery and whimsical imagination to bring to life this fantastical scene of young musicians preforming a concert atop an elephant."
16. Sergio Hernandez - La Conquista, 2013
Price: $1,799.00
Originally $2,200.00, this lithograph is by Sergio Hernandez, an artist and cartoonist from Los Angeles whose focus is on the Latino community.
15. 1972 Miami Dolphins Autographed Miami Dolphins Replica Helmet
Price: $1,800.00
This Miami Dolphins Replica Helmet has been signed by the 1972 Miami Dolphins, including: Don Shula, Bob Griese, Earl Morrall, Larry Seiple, Tim Foley, Larry Csonka, Paul Warfield, Charles Babb, Larry Ball, Mike Kolen, Larry Little, Bob Kuchenberg, Bob Heinz, Norm Evans, Manny Fernandez, Marv Fleming, Howard Twilley, Otto Stowe, Vern Den Herder, Marlin Briscoe and Jim Mandich.
14. Porto Ramos Pinto Original Vintage Poster by Rene Vincent
Price: $1,825.00
This original vintage stone lithograph poster was designed by Rene Vincent for a Portuguese Port company, and has been mounted to linen for conservation purposes. Vincent was influential in the Art Deco movement during the time between World War I and World War II.
13. Heisman Trophy Winners Signed Heisman Pro Helmet
Price: $1,835.00
This helmet has been signed by 29 Heisman trophy winners, including O.J. Simpson, Glenn Davis, Johnny Rodgers, Vinnie Testaverde, George Rogers, Doug Flutie, Gino Torretta, John David Crow, Jim Plunkett, Hopalong Cassidy, Joe Bellini, Johnny Latner, Steve Owen, Barry Sanders, Mike Rozier, Jay Berwanger, Desmond Howard, Archie Griffin, Billy Simms, Tony Dorsett, Charlie Ward, Hershel Walker, Earl Campbell, Bo Jackson, Paul Hornung, Marcus Allen, Gary Beban, Eddie George and Rashaan Salaam.
12. 1960 NY Yankees Team Signed Baseball AUTO w/ Roger Maris, Berra, Mantle, Howard JSA LOA 27 Signatures
Price: $1,988.00
Originally $2,788.00, this baseball has been signed by 27 members of the 1960 New York Yankees including Roger Maris, Yogi Berra, Whitey Ford, Bobby Shantz, Bobby Richardson, Elston Howard, Duke Maas, Tony Kubek and Moose Skowron. It also includes a Letter of Authenticity from JSA and guarantee of authenticity.
11. Hall of Fame Autographed / Signed Hall of Fame Helmet (25 Signatures)
Price: $1,995.00
This autographed Hall of Fame helmet is signed by 25 NFL players, and includes a lifetime 100% guarantee and Certification of Authenticity from Hollywood Collectibles or a third-party authenticator.
10. 2014 Modern Commemorative $5 MS-70 NGC $5 Gold Coin Derek Jeter Signature 75th Anniversary
Price: $1,995.95
In honor of the National Baseball Hall of Fame and its 75th anniversary, the U.S. Mint produced a series of concave commemorative coins promoting six MLB players: Derek Jeter, David Ortiz, Mike Trout, Miguel Cabrera, Clayton Kershaw and Robinson Cano. This is one of the few coins featuring Derek Jeter.
9. Graciela Rodo Boulanger - Chien et Chat, 1990
Price: $2,000.00
The second piece of artwork by Graciela Rodo Boulanger on this list, "Chien et Chat" highlights the relationship between the compassionate care of children and the trusting calmness of animals.
8. Steiner Sports MLB Boston Red Sox 2007 Team Curt Schilling Replica Gray Jersey (Limited Edition of 50)
Price: $2,013.28
This gray Curt Schilling replica Boston Red Sox jersey has been hand signed by 23 members of the 2007 World Series Championship Red Sox team: Luis Alicea (first-base coach), Alex Cora, Manny Delcarmen, Jacoby Ellsbury, John Farrell (pitching coach), Eric Hinske, Jon Lester, Javier Lopez, Mike Lowell, Julio Lugo, Dave Magadan (hitting coach), Doug Mirabelli, Jonathan Papelbon, Dustin Pedroia, Manny Ramirez, Kyle Snyder, Mike Timlin, Kevin Youkilis, David Ortiz, Josh Beckett, Jason Varitek, Terry Francona (manager) and Curt Schilling. This product is one of a limited edition of 50 and includes a Steiner Sports Certificate of Authenticity.
7. Graciela Rodo Boulanger - Ouverture (Music), 1991
Price: $2,500.00
Another piece of artwork from Graciela Rodo Boulanger, this image is one of many of hers that, according to the listing, illustrates "the innocence and simplicity of children exuberant in their joyous playful worlds of fantasy, performance and exploration."
6. 500 Home Run Club Multi Signed Baseball 11 AUTO 's Mantle Ted Williams + JSA LOA
Price: $3,088.00
This baseball, which includes a Letter of Authenticity, has been signed by Mickey Mantle, Ted Williams, Frank Robinson, Ernie Banks, Eddie Mathews, Mike Schmidt, Reggie Jackson, Harmon Killebrew, Willie Mays, Hank Aaron and Willie McCovey. These players are all members of the 500 Home Run Club, a group of batters who have hit 500 or more regular-season home runs in their careers.
5. Quarterbacks of the Century Autographed Helmet
Price: $3,360.00
This full-size helmet is signed by Dan Marino, John Elway, Joe Montana, and Johnny Unitas and comes with a lifetime 100% guarantee and Certification of Authenticity from Hollywood Collectibles or a third-party authenticator.
4. 2015 3-pc. American Gold Eagle (1 oz) $50 BU
Price: $3,957.95
These three coins, which have never been circulated, are each worth $50 and feature a depiction by Augustus Saint-Gaudens of Lady Liberty. Uncirculated American Gold Eagle coins can be purchased directly through the U.S. Mint, and each the content, weight and purity of each coin are guaranteed by the U.S. Government.
3. Super Bowl MVP's Autographed / Signed Super Bowl MVP Authentic Helmet
Price: $4,000.00
This Super Bowl MVP Helmet is signed by Jerry Rice, Chuck Howley, Fred Biletnikoff, Terry Bradshaw, Marcus Allen, Doug Williams, Troy Aikman, Desmond Howard, Larry Csonka, Randy White, Jim Plunkett, Richard Dent, O.J. Simpson, Len Dawson, Lynn Swann, Harvey Martin, Joe Montana, Phil Simms, Mark Rypien, and Larry Brown. It is #10 of only 152 helmets available and comes with a lifetime 100% guarantee and Certification of Authenticity from Hollywood Collectibles or a third-party authenticator.
2. 2015 American Gold Buffalo 5-pc. BU
Price: $6,543.95
The American Buffalo Gold Bullion Coins are the first .9999 fine 24-karat gold coins ever made by the United States Mint. Each worth $50, these gold coins are not sold directly through the U.S. mint but are available through a number of dealers, brokerage houses, and banks. The price of each coin depends on the market price of the metal.
1. Autographed Nike Air Jordan 1 High 4280 OG 1985
Price: $19,995.00
This autographed pair of size 4 1985 Nike Air Jordan 1 high tops comes in Chicago Bull colors, and are sent to the buyer packed in a Nike box (not the original). According to the posting on Amazon, a new cherrywood glass case "will be mailed directly from the manufacturer and will take a couple extra days to arrive."
Anyone looking to buy these Jordans is in luck, as the original price has been lowered from $20,995.00.