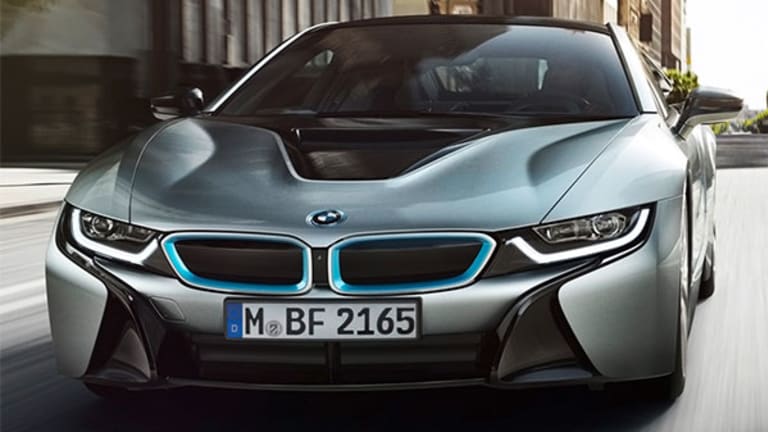 2015's 5 Most-Anticipated New Auto Models
The year is only a bit more than half over, but auto enthusiasts are already looking forward to these models showing up in dealerships for 2015.
BOSTON (TheStreet) -- The year is only a bit more than half over, but auto enthusiasts are already looking forward to these five models showing up in U.S. dealerships for 2015.
"These are the new models that we as individuals or as a group are most looking forward to driving," says Joe Wiesenfelder of auto-buying site Cars.com, which recently named its Most Anticipated Cars for 2015.
Wiesenfelder says next year looks like a good one for car designs because automakers are pushing out models they slowed development on during the Great Recession.
"We're also in an era where manufacturers have to keep their vehicles fresher than they used to because of increased competition," he says.
5 Controversial Cars From the Past Decade
5 Most-Improved Car Models for 2014
5 Best Cars for 8 First Jobs
Also see: 5 Controversial Cars From the Past Decade>>
Look below to check out the models Cars.com editors picked as 2015's most eagerly awaited new cars. Dollar figures refer to manufacturers' suggested retail prices for each model's base version, including destination fees:
Fifth-most-anticipated 2015 model: Porsche Macan
Base price: $50,895
German luxury automaker Porsche is best known for sports cars, but its Cayenne midsized sport utility vehicle has done over the past decade that the vehicle is getting a baby brother.
The 2015 Macan is a compact SUV, but boasts huge numbers when it comes to performance. Base models feature all-wheel drive and a 340-horsepower turbocharged V-6 engine and can go from 0 to 60 mph in just 5.2 seconds.
If that's not enough "oomph" for you, a 400-horsepower turbocharged V-6 engine is also available, as are racing-friendly features such a skid plates and adaptive air suspension. Add the fact that the Macan carries a relatively modest price by Porsche standards and the model looks like a winner.
"The compact SUV segment is a very hot part of the market right now, so I have no doubt that Porsche is going to do very well with the Macan," Wiesenfelder says.
Fourth-most-anticipated 2015 model: BMW i8
Base price: $135,700 (excluding tax credits)
You won't mistake BMW's first-ever plug-in hybrid for a Toyota Prius.
The i8 costs more than $100,000, boasts a 150-mph top speed and features "scissor" doors that open upward instead of outward. (Think of Doc Brown's DeLorean in Back to the Future, although that technically had "gullwing" doors.)
"The BMW i8 is the one [2015] that I'm most interested in driving," Wiesenfelder says. "It's just gorgeous."
BMW plans to sell a small number of i8s this year, but look for wider availability in 2015.
The sports coupe features a 357-horsepower gas/electric power plant, all-wheel drive and a high-tech carbon-fiber chassis. European versions offer 94 miles per gallon in combined city/highway fuel efficiency.
U.S. figures aren't yet available, but BMW expects the i8 to have good enough fuel efficiency to qualify for thousands of dollars in federal tax credits (plus additional state tax credits in California and some other locales).
Third-most-anticipated 2015 model: Jeep Renegade
Base price: TBA, expected to be under $20,000
It's perhaps the quirkiest mash-up of American and Italian technologies since the Philly cheesesteak pizza.
Also see: 5 Most-Improved Car Models for 2014>>
The Renegade, a subcompact crossover SUV from Fiat-owned Chrysler, will combine the Jeep brand's legendary off-road capabilities with a chassis that's based on the tiny Fiat 500L.
Base Renegades will come with front-wheel-drive and a four-cylinder-turbocharged 160-horsepower engine, but buyers who want more off-road capabilities can add four-wheel drive, a 184-horsepower engine and more.
Wiesenfelder thinks the Renegade's mix of small size and hefty ruggedness will be a hit with consumers when the vehicle arrives in showrooms early next year.
"The Jeep name is very strong right now and the subcompact class is very strong, too -- so I think the Renegade will do well," he says.
Second-most-anticipated 2015 model: Ford Mustang
Base price: $24,425
The Mustang turned 50 this year, which makes 2015 the perfect time to give the iconic sports car a major facelift.
Fully redesigned for the first time since 2010, the '15 Mustang will come standard with a great mix of comfort and sport features -- from a limited-slip rear differential to a six-speaker stereo.
Base Mustangs will also boast 300-horsepower V-6 engines, while upper trim levels will offer 310-horsepower turbocharged four-cylinder engines or 435-horsepower V-8s.
"The Mustang is my favorite of the American muscle cars because of its size and its lightweight, nimble nature," Wiesenfelder says.
Most-anticipated 2015 model: Alfa Romeo 4C
Base price: $55,195
Sexy Alfa Romeos won U.S. auto enthusiasts' hearts in 1967 when Dustin Hoffman drove one in The Graduate, but the Italian brand hasn't been widely available stateside for nearly two decades . That's about to change.
Alfa Romeo parent Fiat, which took over Chrysler in 2009, is shipping a small number of special 4C sport coupes to U.S. dealers this year and will begin wider distribution in 2015.
The model represents the first mass-produced Alfa Romeo sold in America since 1995, although Fiat did offer a small number of $240,000 8C Competitizione coupes to U.S. buyers in 2008.
Built in an Italian factory that also produces Maseratis, the two-seat 4C will feature a carbon-fiber body and a turbocharged 240-horsepower four-cylinder engine that's in the middle of the car instead of the front. Options will include racing-caliber tires, suspensions and brakes.
Fiat plans to ship just 500 4Cs to North America this year and 1,200 in 2015, and Wiesenfelder thinks sports-car enthusiasts will snap them up. "A mid-engine car as small and light as the 4C should be a handling champ, and the car looks even better in person than it does in photos," he says.