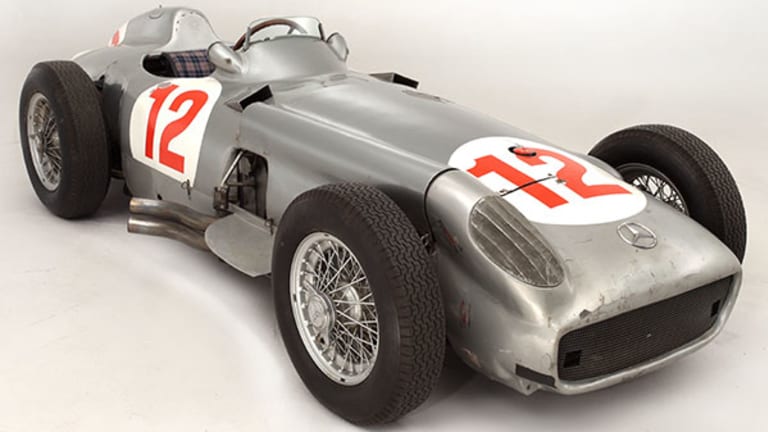 2013's Highest-Priced Auction Cars
When you can auction off a car for $30 million, there's no point in worrying about the stock market.
BOSTON (MainStreet) -- Forget the Dow Industrials' 26.5% gain last year. Collectible-car prices rose more than 40% -- and rare Ferraris saw their value shoot up more than twice as much as the Dow.
"There's a global realization that the automobile as a collectible is very exciting and rewarding," says David Gooding of Gooding & Co., a California auction house that sold $192.6 million worth of collector cars last year.
Experts say collector-car auctions have shifted into high gear since shortly after 2008's global financial collapse, when bank deposits began paying terrible interest and seemed anything but low risk.
"Even if you're satisfied with your bank account's security, it's not earning much money for you," says James Knight of auction house Bonhams, which last year sold one car for nearly $30 million -- believed to be an all-time industry high.
Market tracker Historic Auto Group estimates that prices gained 46.8% worldwide, with rare Ferraris rising 62.1% on average -- the steepest percentage gains for the Ferrari brand and the industry as a whole in about a quarter-century.
Gooding, whose firm auctioned off one of 2013's costliest Ferraris, said the Italian-made cars "are sought after by everyone [in the collecting world]. Globally, Ferrari is a brand that has huge strength."
Even the famous "Ferris Bueller Ferrari," one of three replica 1963 Ferrari California Spyders used in filming the 1986 Matthew Broderick comedy Ferris Bueller's Day Off, sold at auction for $235,000 last summer. (Filmmakers used replicas of the costly Spyder because Bueller's buddy Cameron famously destroys the car near the movie's end.)
Read on to check out the five cars that garnered 2013's highest auction prices, according to interviews with industry experts.
Rankings exclude private, non-auction sales (which are typically confidential), while all dollar figures are rounded off to the nearest $100,000. Winning bids from overseas auctions reflect exchange rates prevalent at the time a vehicle went under the gavel.
Also see: What Cars Do Rich People Buy?>>
2013's fifth-costliest auction car: 1957 Ferrari 250 GT 14-Louver Berlinetta
Price: $9.5 million
"Cars like this certainly made the Ferrari a legend," says Gooding, whose firm auctioned off the 14-Louver Berlinetta last August in California. "It has everything that makes a Ferrari exciting. It looks great, it sounds great, it's fun to drive and it's a rarity."
The car attracted the highest auction price ever for its vehicle type, of which only nine were built and eight survive.
Designed for both racing and "regular" driving, the 14-Louver Berlinetta placed fourth in Italy's 1957 Coppa Inter-Europa race and ninth in the 1957 Mille Miglia competition there.
The vehicle, which recently underwent a two-year restoration, features a 240-horsepower V-12 engine, four-wheel finned-alloy drum brakes and three Weber 36 DCL/3 carburetors.
2013's fourth-costliest auction car: 1953 Ferrari 340/375 MM Berlinetta Competizione
Price: $12.8 million
This 340-horsepower racer won 1953's 12 Hours of Pescara and Circuit of Guadeloupe races and helped Ferrari take the Manufacturer's Championship that year.
The Berlinetta Competizione is also the only known Ferrari "works" car (a vehicle specially prepared for racing by the Italian automaker's competition department) to be driven by three world-champion racers: Alberto Ascari, Nino Farina and Mike Hawthorn.
"Genuine works Ferraris with a competition history such as this are very rare to the market," says Max Girardo of RM Auctions, which sold off the vehicle last May in Italy.
2013's third-costliest auction car: 1964 Ferrari 250 LM
Price: $14.3 million
This car is one of just 32 Ferrari 250 LMs ever built, and the $14.3 million the vehicle attracted last November in New York represents the highest auction price ever for any of them.
The racer's 320-horsepower V-12 engine can propel the car to more than 150 mph, and the vehicle placed No. 1 in class and eighth overall at 1968's 24 Hours of Daytona race.
The 250 LM, which RM and Sotheby's jointly auctioned, also competed in the 1968 12 Hours of Sebring contest, the 1969 24 Hours of Daytona and a host of other races.

Also see: Great Gifts for Car Enthusiasts >>
2013's second-costliest auction car: 1967 Ferrari 275 GTB/4*S N.A.R.T. Spider
Price: $27.5 million
This Ferrari sold for what's believed to be the highest auction price ever for a "road-going" (non-racetrack) car, as well as the second-highest amount in history for any auto regardless of type.
Outfitted with a beefy 300-horsepower V-12 engine, the cabriolet is one of just 10 N.A.R.T. Spiders ever built ("N.A.R.T." stands for "North American Racing Team").
Road & Track put a N.A.R.T. Spider on the magazine's cover when the vehicle first came out, while late actor and car enthusiast Steve McQueen used one in the 1968 film The Thomas Crown Affair. McQueen even bought a N.A.R.T. Spider for himself and tried to buy this model after an accident damaged his.
A wealthy North Carolina businessman picked up the car directly from Ferrari in 1968 and kept it until his 2007 death, and his family had RM sell the vehicle at a California charity auction last summer.
2013's costliest auction car: 1954 F1 Mercedes-Benz W196 Grand Prix
Price: $29.7 million
This super-rare racer garnered what's believed to be the highest auto-auction price not just of 2013, but of all time.
Knight, the Bonhams expert, says the W196 offered well-heeled auto enthusiasts a chance to buy "the talisman of any collection."
"No matter how good the cake is, you want the icing on the cake -- and no matter how good the icing is, you want the cherry on top," he says. "This car offered any collector the chance to buy that cherry on top."
Top race-car driver Juan Manuel Fangio drove the W196 to victories in the 1954 German and Swiss Grand Prix contests. Experts believe the model represented the first Formula 1 usage of such then-radical technologies as fuel injection and a "straight-8" engine (an engine with eight cylinders in a straight line rather than a "V" configuration).
Knight, whose firm auctioned the car off in England in July, says the model attracted big bucks because of its racing pedigree and uniqueness.
It's one of just four such vehicles owned by private parties rather than Mercedes-Benz, and the other three belong to museums or other institutions that seem unlikely to ever sell.
"If you wanted an F1, this was the only one available," Knight says.