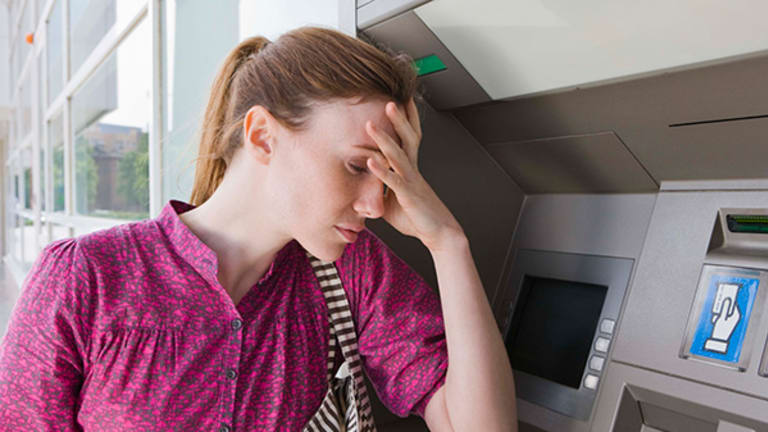 20% of U.S. Households Have Negative Net Wealth
Too many Americans are losing ground financially, and all hands on deck are needed to fix the problem.
Too many Americans are experiencing the emotional and financial pain of losing ground, money-wise, and watching their net worth slide into negative territory.
That's just not supposed to happen to U.S. workers. Historically, generation after generation of Americans have managed to salt some money away for retirement, buy and sell a house for a decent profit, and keep debt low enough to enjoy life on the plus side of the financial ledger.
Every generation, that is, except the current crop of Americans. Just ask some of them.
"My wife and I are both good earners in comparison to national averages and are, by most definitions, part of the middle class," says Nicholas Hamner, director of marketing at Franklin Retirement Solutions, in Willow Grove, Pa. "However, we are losing net wealth, due in large part to several key reasons."
For example, Hamner says he's still underwater on his home. "We bought our house in the summer of 2007, one of the nicer homes in the area," he says. "We got a good deal, looking at comparably-priced homes at the time, and paid 20% down." Then the 2008 economic tsunami hit, and about 15% of his neighborhood ended up in foreclosure in the next 24 to 36 months.
" Home values drop 25%, minimally, due to the dead market and the glut of housing now available in the area," Hamner adds.
Hamner also cites the "crippling" long-term effect of unemployment. "In the post-2008 madness, I've been through two layoffs," he says. "My wife had her company go under and lock the doors, and for three consecutive years, one of us was unemployed for at least three months and collecting unemployment. This killed us at tax season. Trying to get back in a healthy financial situation following the loss of a job, only to have to put money out come tax time was, and is, a kick in the teeth."
He's not alone. According to the recently released  "Portrait of Financial Security" from Pew Charitable Trusts, almost one-fifth of households have negative net worth. "Having children and no college education are defining characteristics for this group," Pew reports. "In eight of the family types explored, at least a quarter of households have negative wealth. In seven of those family types, the household does not have a college education. Four types have no college and children present."
Sometimes, financial industry insiders say, Americans experiencing negative net worth only have themselves to blame.
"Many homebuyers, especially first timers, get emotional about their purchases," says Janine Acquafredda, an associate broker with House-n-Key, Realty in New York City. "They don't want to be outbid. They pay more than the house is worth. It's very easy to get emotional about real estate especially with all the real estate TV shows and press, but that doesn't mean you should take loans out on your loans, especially in a seller's market, but people are doing that so that they can compete with high down payment buyers."
Government policies on trade haven't helped, either. "I'm surprised that it's taken this long for the nation to realize that the average American has been paying the price for free trade," notes Dileep Rao, Ph.D., founder of InterFinance Corp., an entrepreneurial services firm. "The U.S. has suffered huge trade deficits with nearly every country in the world. This means that we are buying more from the others than they are buying from us. The balance of payments has mushroomed from a deficit of $31 billion in 1991 to $540 billion in 2015. This has resulted in huge layoffs in the U.S., and especially in the manufacturing industries and many service industries."
Rao says the wealth the nation has shipped abroad has been affecting us in four unique ways:
1. Areas that do not export have fared poorly. 
2. People in these areas have fared poorly.
3. Home values in these areas have fared poorly.
4. Net worth in these areas and segments have fared poorly.
"The net result is that we have shipped U.S. wealth abroad, but maintained the illusion that our standard of living has not suffered because the federal government has borrowed money," Rao says.
Other experts say the federal government should leverage technology to open up the U.S. economy to all Americans. "Innovations in financial technology are driving down the cost of credit, making saving easier, and providing crucial financial education to teach Americans how to be more savvy consumers of financial products," says Mark Curry, fintech entrepreneur and founder of MacFarlane Group, in Mission, Kan. "One way to reverse the declining trend in household net wealth is for state and federal regulatory authorities to work more closely with fintech businesses to enable responsible access to credit and other important financial services.

"The Internet is one of the greatest tools available to everyday Americans in the new economy," Curry adds. "If state and federal governments can work with innovators to responsibly modernize regulations, that will create greater access to the affordable financial services that consumers want and need."
While the government and industry can both play a major role in helping Americans climb out a financial hole, it's really up to individual financial consumers to take control of their own personal economies. 
"There is really only one way for the large number of houses to work their way out of a negative net worth and that is by making the right financial decisions over time," explains Andrew Marshall, founder of Andrew Marshall Financial, LLC in Carlsbad, Calif. "It takes time for people to make the money to pay down their student loan balance, time for inflation to raise house prices so they are no longer under water, and time to save and invest for a retirement."
That may be true, but for too many Americans stuck in financial reverse, time is running out.