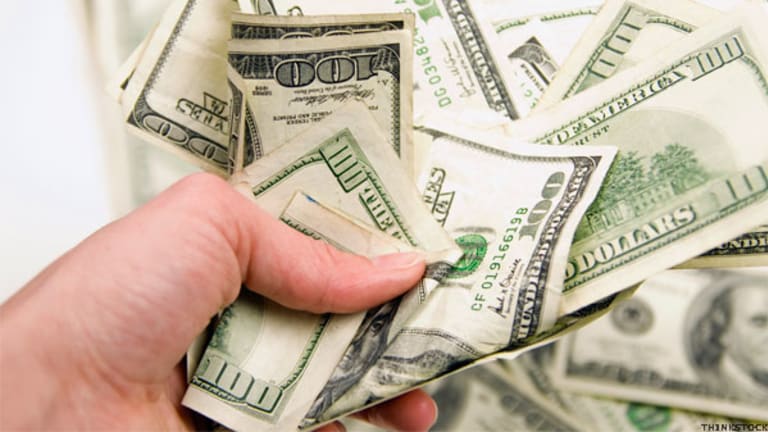 15 Ways Oil Prices Will Crimp Your Budget
Expect to pay more for gas, food, clothing -- and even rock concerts.
BOSTON (TheStreet) -- Political instability in Libya, coming on the heels of government revolt in other oil-producing nations, is driving up the cost of crude oil, and the impact of rising petroleum prices go beyond what you pay at the pump. Everything from groceries, clothing and electronics will potentially cost more.
Saudi Arabia has pledged to make up any shortfall, which helped drive up the stock market early this week after a selloff last week.
The worst-case scenario, however, is that Saudi Arabia also suffers political unrest, causing supplies to drop and oil prices to rise to as much as $150 to $200 a barrel, bringing gas prices to the $5-a-gallon mark.
Even if that pessimistic outlook doesn't come to pass, any degree of oil inflation has measurable effects on a U.S. economy so entwined with the fuel source. According to the International Monetary Fund, a $10-a-barrel increase in the price of oil reduces U.S. GDP growth by 0.5%.
About half of every barrel of oil is used to produce gasoline. The rest finds a use in a wide array of consumer products -- those made of plastic, for instance. The plastics industry, dependent on oil for its manufacturing, is the third-largest manufacturing industry in the United States, employs more than 1.1 million workers and creates $379 billion in annual shipments.
"If the trend of increasing oil prices were to continue, it would have an adverse effect on consumer spending on various industries," says Justin Molavi, an energy analyst for
. "In general, discretionary purchases will be the first consumer costs to go. As a result, industries like travel, accommodation and retail will feel the pain. As consumers spend more on fuel, they are likely to pull back on expenses they know are not necessary. The economic recovery could be compromised if consumers pull back spending sharply. The focus for businesses over the next few months will be whether to pass along costs or reduce the bottom line."
The following are just some of the expenses we'll see rise if along with fuel prices:
Groceries
Shoppers will feel a one-two punch at the grocery store.
"Rising oil prices will directly affect food prices as commodity prices grow across the board," Molavi says. "Grocers are particularly going to feel the pinch and will have to grapple with either passing those costs along to consumers or reducing profit margins to get consumers in the door. Since food is a necessary expense, grocers are likely to pass on some of the cost. A 1% rise in food prices would reduce the supermarkets and grocery stores industry profit to about 1.5%."
Food-at-home (grocery store) and food-away-from-home (restaurant) prices are forecast to rise between 3% to 4% throughout the year, the U.S. Department of Agriculture said last week.
"Although food price inflation was relatively weak for most of 2009 and 2010, higher food commodity and energy prices have recently exerted pressure on wholesale and retail food prices," a department statement says. "These cost pressures, along with strengthening global food demand, have pushed inflation projections upward for 2011."
Oil prices are connected to nearly every step of the commercial food chain, from the tractors used by farmers to the trucks that ship goods to distributors.
Expect to pay more for many household items as well.
At a conference held by the
Consumer Analyst Group of New York
last week, Jon Moeller, chief financial officer for
Procter & Gamble
(PG) - Get Report
, said price increases for many of its product lines would be announced by next month. The company is projecting roughly $1.5 billion in added costs for its fiscal year owing to fuel surges and the cost of materials.
Senior care
Seniors already trying to make ends meet on fixed income may find rising oil prices straining their budgets even more.
Although warmer weather is -- hopefully -- just a few months away, there may still be a tank or two of heating oil they need to pay for at a higher than expected rate.
For seniors who rely on a local Meals On Wheels program, those providers are already seeing their resources stretched thin.
"In 2008, we faced this same problem," says Marley Rave, vice president of communications, marketing and development for the
Meals On Wheels Association of America
. "Gas prices just skyrocketed, and at the same time food prices were going up. We used to say back then that it was a double whammy -- now it is almost a triple whammy. We have food and gas prices going up and on top of that the economy is not doing all that well. Our programs are really going to be facing some serious challenges."
In response the national organization and local programs alike are relying on individual and corporate donations to bridge the gap. Rave is hopeful the crisis will raise greater awareness of the programs' work.
"In 2008, a sense of urgency was finally created," she says. "A lot of times when people hear of hunger, they think of children. They don't necessarily think about senior hunger. When the last gas crisis hit, it finally created a sense of urgency and people realized there are seniors in our country who are hungry too, and we need to help them."
Another financial woe faced by near-retirees and retirees could be from their retirement savings. If oil prices, as entwined as they are with so many businesses, prove a prolonged drag on the stock market, 401(k) plans and IRAs, still recovering from the recession, could face a damaging depletion of assets.
Delivery companies
With postage increases already approved and ready to begin this spring, it is unlikely the U.S. Postal Service will be passing along additional costs related to fuel prices.
The same can't be said for private shipping companies such as
UPS
(UPS) - Get Report
,
FedEx
(FDX) - Get Report
and
DHL
. The big three of ground and air package delivery already add fuel surcharges, and those fees have already increased in recent weeks.
FedEx, for example, adds to its FedEx Express service via a monthly adjustment based on the U.S. Gulf Coast spot price for a gallon of kerosene-type jet fuel. That surcharge is 10% and will rise to 11% on Monday. Ground shipments are similarly adjusted each month using a rounded average of a national average for a gallon of diesel fuel. It is 6% and will rise to 6.5% on Monday. Both fuel surcharges, as noted by the company, "are subject to change without notice."
DHL will similarly tack on an 11% fuel surcharge for airborne packages as of Sunday (there is a two-month lag between the index used and the fuel surcharge). UPS, as of Monday, will add an additional 6.5% for ground shipments and an extra 11% for air and international deliveries.
As a member of the
Energy Security Leadership Council
, an organization that promotes increased domestic oil and natural gas production, as well as the electrification of short-haul fleets, FedEx CEO Frederick Smith addressed the events in the Middle East and the resulting increase in oil and gasoline prices.
"It is one of the United States' greatest economic risks to be tethered to these increasing supplies of imported petroleum from unstable and often unfriendly parts of the world," he said in a statement last week. "It's unsustainable. The country has to mobilize and take some action to finally address this problem, which has been going on now for an awfully long period."
If your delivery needs are more local and you prefer using cabs over bike messengers, you may escape paying more for a little while longer. In most areas, cab fares are regulated by either local or state officials. Drivers and their companies need to petition for approval to raise rates in proportion to gas prices. Back in 2008, many municipalities allowed fare increases of around 50 cents a mile to defray extra costs.
Food delivery
Just like package deliveries and cab rides, the men and women who offer door-to-door delivery of pizza, restaurant fare and groceries will be spending more for the fuel that gets them around.
Many pizza places already add a delivery charge. In many cases, however, especially with national chains, that money isn't split with drivers, who often pay for their own gas. Because of the low margin on pizzas and plentiful competition, pizza parlors may be reluctant to add to their prices and pass the extra along to employees -- this was among the issues leading to efforts to unionize delivery drivers during the last gas spike.
So while you may not pay more, a good conscience may compel you to tip a little better and help the driver make up for the gallon or two of gas they will burn through during the course of a shift.
Air travel
There was good news for the air transport industry at the start of the year.
According to the
International Air Transport Association
, international scheduled traffic results for January showed an 8.2% increase in passenger traffic and 9.1% growth in air freight compared with January 2010. That positive news, credited to strengthening world trade and economic growth, is now tempered by rising fuel prices.
"We are all watching closely as events unfold in the Middle East," says Giovanni Bisignani, IATA's chief executive."The region's instability has sent oil prices skyrocketing. Our current forecast is based on an average annual oil price of $84 per barrel. Today the price is over $100."
Bisignani says that for each dollar the price per barrel increases, the industry incurs $1.6 billion in costs.
"With $598 billion in revenues, $9.1 billion in profits and a profit margin of just 1.5%, even with good news on traffic, 2011 is starting out as a very challenging year for airlines," he says.
"Given that travel for consumers is a discretionary purchase, airline companies will have to balance between charging more for travel or absorbing those increases," Molavi says, adding that "discretionary spending is the first thing that will be pulled back by consumers when other necessary costs rise."
"The hotel industry is also likely to feel effects as fewer people travel on airlines and in the car for vacations," he adds.
Although airlines may fret about a loss of discretionary travel dollars, several airlines have already boosted fares multiple times this year. Rising oil prices in 2008 were the catalyst for airlines to aggressively start adding extra fees, such as baggage surcharges. Travelers might be advised to prepare themselves for even more if high oil prices linger.
Government budgets
For those fighting to reduce government spending, high oil prices will do nothing for the cause.
In every city and town there are fleets of police cars, firetrucks and public works equipment. There are roughly 480,000 school buses in the United States, making close to 10 billion trips a year, according to the
National Business Group on Health
.
Larger cities also have public transportation systems -- New York City has nearly 4,600 buses that help move more than 2.3 million people a day, although the Metropolitan Transit Authority says 1,675 of those buses are diesel-electric hybrids.
On the federal level, according to the
CIA World Fact Book
, the military burns through more than 360,000 barrels per day. Every $10 increase in the price per barrel of oil adds $300 million to the U.S. Navy's fuel costs.
The thousands upon thousands of airplanes, ships, helicopters, armored transports, SUVs and sedans in use from the U.S. Government on down to small towns and counties means that even slight fuel jumps will lead to taxpayers either footing the bill, watching the deficit and national debt grow or suffering the consequences of cut services.
Popcorn
Movie theaters have never been shy or slow about raising the price of their concessions.
The slim profit margin, if any, that theater owners enjoy from tickets is balanced by the large markup on the popcorn, soda and candy they sell.
If oil prices stay high, it is likely a large tub of buttered popcorn could get even more expensive.
Corn has shot up in cost in recent weeks. What may continue to limit supply, and drive up cost, is the use of corn to make the alternative fuel ethanol. Given government subsidies to do so, many farmers are setting aside larger and larger swaths of their farmland for nonfood crops.
Though he probably wasn't referring to noshing during a 7:15 p.m. showing of
Black Swan
, the issue drew a colorful comment from former President Bill Clinton last week.
"We have to become energy independent," he said at a conference held by the U.S. Department of Agriculture. "We don't want to do it at the expense of food riots."
Sugary snacks
The use of sugar cane for ethanol production, as is the case with corn, could have an impact of your snacking behavior.
Bad weather in key global growing regions have led to a sugar shortage and higher prices. The use of sugar cane as a fuel source (mostly produced in, and exported from, Brazil) could mean even more sticker shock for your Gummi Bear fix.
Those sugary, get-the-kids-off-to-a-hyperactive morning cereals that come with marshmallow surprises will face a hit from high sugar prices and the continuing rise of other commodity prices.
Last week,
General Mills
(GIS) - Get Report
Chief Executive Ken Powell said his company's global cereal business will be among the strongest contributors to the company's growth during the next several years. It expects to add $1 billion to its global cereal sales, reaching $4.8 billion by 2015. The U.S. is the single largest cereal market, and North American sales are approaching the $11 billion mark.
Nevertheless, the company is projecting a 4% to 5% inflationary increase in the cost of its raw goods. In response, it has already phased in price increases to the cost of many of its cereal brands. To the extent that oil prices continue to help drive up commodity prices, that box of Lucky Charms may start to feel less lucky when it's rung up.
Sushi
When oil prices shot up in 2008, there were fears Japanese fishermen would be forced to trim tuna-hunting fleets by a third.
The dire prediction fell short, but fewer boats being able to afford the high seas did translate into higher price for restaurant-grade tuna and the sushi it flavors.
High fuel costs will once again have a big impact on struggling fishermen, domestic and overseas.
You may also be continuing to pay more because of another oil-related factor: The fishing industry in the Gulf of Mexico is still fighting to rebound from the
BP
(BP) - Get Report
oil spill, and your local raw bar may be feeling the pinch.
Louisiana is the nation's largest producer of oysters. The fresh water used to force oil away from key fishing areas had the undesirable effect of wiping out many oyster beds.
Plastic Bottles
There is some good news for shoppers and retailers: You'll still have a choice of picking paper or plastic ... for the time being.
According to a representative for the American Chemistry Council, the majority of plastic bags used in the United states are made using natural gas, not petroleum products.
The bad news is that the plastic bottles used for soft drinks and bottled water will get more expensive if oil's cost per barrel remains high and supply tightens.
The cost of PET (Polyethylene terephthalate) plastic, globally, rose nearly 40% last year. The reason: an increased demand for polyester, a key material in its production, that took hold as cotton prices spiked. Now the petroleum-based substance is poised to get even more expensive.
Plastic bottles made partially from petroleum account for about 40% of the products sold by
Coca Cola
(KO) - Get Report
. Though the company has gone on record saying oil prices are not yet a major influence on production costs, a prolonged period of high pricing could force pricing considerations.
NASCAR
NASCAR's drivers will find their sport a lot more expensive throughout the new season. The constant oil changes and tire swaps will also cost more and more as volatility wreaks havoc on our fuel supply.
The average racing car gets about five miles a gallon and, with simple enough math, that means a 500 mile race burns off at least 100 gallons of fuel in addition to about eight gallons of motor oil. Multiply that by 43 cars in each of 36 races in a typical year and the cost adds up.
If there is consolation, and a portent of things to come, it is that ethanol use is getting a boost from NASCAR.
That started with the recent Daytona 500. Its cars now have the option of using "Sunoco Green E15," a new 15% ethanol blend fuel made with corn grown in the United States. As a NASCAR partner, the National Corn Growers Association is using the opportunity to promote the alternative fuel and will place teams of corn growers at races throughout the season as part of an outreach effort to fans.
Summer concerts
Big summer concert tours were once a guarantee of lucrative box office. Since the recession, however, even big-name stars have had trouble attracting a capacity crowd at ticket prices that have entered three-digit terrain. The result, last summer, was the slashing of prices to as low as $10 for even such acts as the Jonas Brothers and Ozzy Osbourne.
Rising fuel costs will do little to help these on-the-road caravans.
U2's most recent tour, for example, required the use of 120 trucks to transport the pieces of its elaborate state setup. Though most tours are far from that over-the-top, extra fuel costs are an unwelcome subtraction to an already weak bottom line. The end result could be fewer tours and/or higher ticket prices.
Clothing
In response to the rising cost of cotton, clothing manufacturers have turned to blending in polyester as a means to bring down costs. (Thankfully, they have thus far avoiding the temptation to bring back drip-dry leisure suits.)
Now the rising cost of oil could make even that alternative more expensive, meaning you'll pay more for the outfits you pull off the rack at
Wal-Mart
(WMT) - Get Report
,
Kohl's
(KSS) - Get Report
and
Target
(TGT) - Get Report
.
As prices for the synthetic thread trend upward, other products that use it will also get costlier to make. Among them: balloons, rope, automobile belts, tents, athletic wear (such as bike shorts), tablecloths, microfiber glass-cleaning cloths, furniture coverings and even the as-seen-on-TV phenomena known as the Shamwow.
Toys
Be thankful Christmas is still 10 months away. The cost of toys may be in line for an increase in the weeks ahead.
Petroleum is not only the key for the plastics used in most toys; there are transportation issues to consider.
The vast majority of playthings are made, at least partially, in China, and its Guangzhou-based Jetta Group is one of the world's largest toy makers.
As markets ratchet up the cost of materials, and the expense of exporting the finished products overseas is tallied, that trip to the toy store is going to game you for a few extra bucks.
Consumer electronics
Plastic is also an important material in the manufacture of many consumer electronics gizmos. CDs, DVDs, Blu-ray discs and video games are also made from it.
The price impact may also reflect the psychology of consumers.
If filling your gas tank sucks away the disposable income that might otherwise be spent on that new
Apple
(AAPL) - Get Report
iPod or
Microsoft
(MSFT) - Get Report
Xbox, that lack of consumer confidence will hit the bottom line of such retailers as
Best Buy
(BBY) - Get Report
,
Game Stop
(GME) - Get Report
and
Staples
(SPLS)
.
A prolonged, pronounced per-barrel price could lead to one or two scenarios: If there is less stock available, given rules of supply and demand, sales will be less frequent and prices regularly higher; or, if you are an optimist, cross your fingers that excess inventory will actually mean better deals, at least in the short term.
It will all come down to corporate strategy as retailers ride it all out.
-- Written by Joe Mont in Boston.
>To contact the writer of this article, click here:
Joe Mont
.
>To follow the writer on Twitter, go to
.
>To submit a news tip, send an email to:
.
RELATED STORIES:
>>BP Argues Oil Spill Claims Overstated
>>Oil Prices Headed Still Higher: Poll
>>Oil Price To Natural Gas Ratio Near Record Highs
Get more stock ideas and investing advice on our sister site,