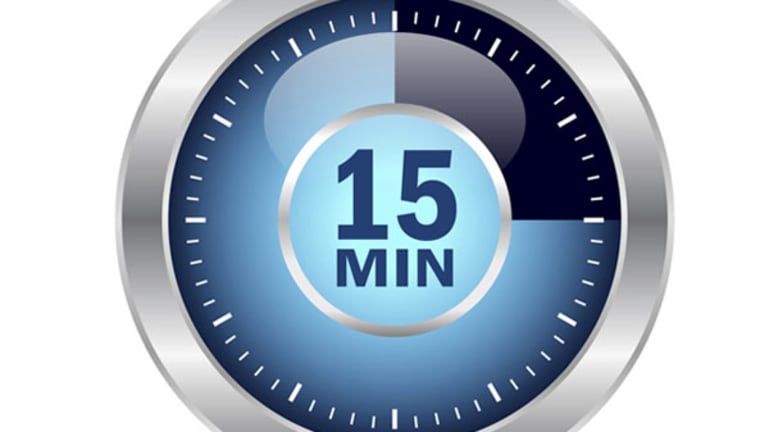 15 Minutes of Every Hour Meeting Are a Waste of Time
When leaders don't stick to the agenda or have a clear purpose, meetings tend to go astray.
NEW YORK (TheStreet) ? You always suspected it, and now there's official backup: 15 minutes of every hourlong office meeting is a waste of time, according to Menlo Park, Calif.-based Robert Half Management Resources.
It's usually because meeting leaders don't stick to the agenda and don't express a clear purpose on the goals of a meeting.
That's not to say that meetings are a complete waste of time. It just means there is plenty of room for improvement, says Paul McDonald, senior executive director ay Robert Half.
"Certainly, meetings can provide value by offering a forum to highlight important updates, brainstorm new ideas and help employees build rapport among one another," he says.
Too often, however, meetings serve as a fallback option, or a communications crutch, McDonald says. "In addition to sometimes being unnecessary, the discussions can easily go off track," he says. "It's just human nature, but people feel comfortable discussing their own agendas and engaging in small talk, and too few meeting leaders are effective at reining in the conversation. Meetings also commonly start late waiting for attendees to arrive, which means the gatherings end late, further eating into the day and showing a lack of respect for others' time."
Also see: Fix a Problem, Enlist Your Clients and Other Tips to Starting a Business
Also see: Fix a Problem, Enlist Your Clients and Other Tips to Starting a Business>>
That's just for starters, McDonald says.
"The time spent in meetings, listening to irrelevant conversations and waiting for people to arrive and get focused all drain time and keep people away from their primary responsibilities," he says. "Meetings also interrupt the workday, making it hard for people to get into a good flow. While meetings serve a purpose, they should be called judiciously."
So how do you run a meeting right?
Limit meeting participants. Robert Half advises keeping a lid on your invite list. "Indicating 'required' versus "optional" attendance lets employees know when their participation and input is necessary and can help them prioritize their time," says the company.
Also see: 4 Myths Getting In Your Way on the Corporate Ladder
Also see: 4 Myths Getting In Your Way on the Corporate Ladder>>
Keep focused. The best meetings are the ones in which meeting leaders stay on track. Stick to the agenda and make sure supporting materials are accessible and publicized in advance and that the discussion remains focused, Half says. "Be prepared to cut off or table an unrelated conversation until a later time."
Track the time. Brevity and clarity are key to a good meeting. Keep tabs on regular meetings and jot down the time. "If a standing meeting is booked for an hour each week, but it usually lasts just 30 minutes, consider rethinking the time allotted," Half advises. "If there's not much to discuss, consider using email or a memo as an alternative to a meeting."
Above all, make sure everyone eaves the meeting with a sense of accomplishment and with duties properly understood. Leave five minutes for questions, and use the time to ensure staffers know any deadlines and next steps.