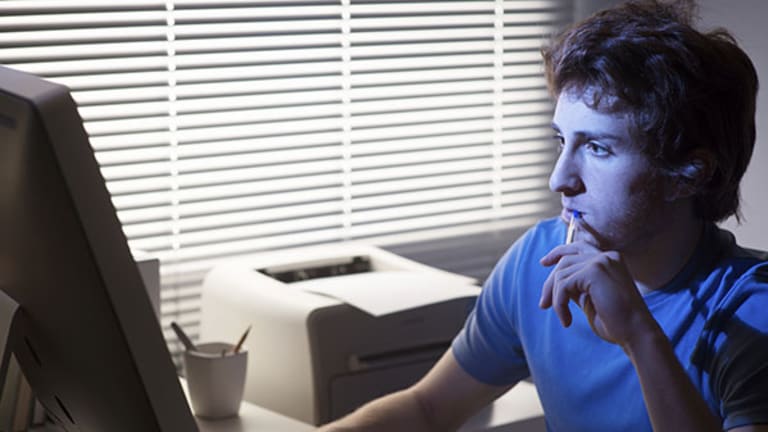 12 Red Flags That You Shouldn't Accept That Job Offer No Matter What
No matter how desperate you are for cash and a change of scenery, there are some jobs you're better off not taking.
NEW YORK (MainStreet) — No matter how desperate you are for cash and a change of scenery, there are some jobs you're better off not taking. Even if you're unemployed or eager to leave your current job, accepting the wrong position can set your career back even further. But how can you know if the job you're being offered is likely to end in disaster? If you keep an eye out for these 12 warning signs, it's easier than you might think.
1. The offer is too good to be true.
If it seems too good to be true, it just might be, says Joe Weinlick, vice president of marketing at career network Beyond.com. If everyone who interviewed you continually repeated how "incredibly awesome" the company is, you should do a bit more research.
"It might be a phenomenal opportunity. But you may be hearing the story they tell people outside the company. Dig a little deeper before you make your decision," he says.
2. The interviewer insulted previous or current employees. 
It's perfectly acceptable for an interviewer to share information about how the company is structured, or even the challenges and politics that exist. But think twice about the opportunity if they openly insult previous or current employees, Weinlick says.
"If you take the job, you may be the next person they are badmouthing," he says. 
3. High turnover.
If a company appears to have a "revolving door" of employees entering and leaving, think twice before you accept an offer.
"Try to speak to people who have worked for the company before to find out why they left," Weinlick says.
If there's no sign of tenure with the staff, there may be a bad boss situation or a toxic work environment, says Bill Driscoll, district president of Accountemps, a division of Robert Half.
4. Interviewers don't respect your time.
This includes both coming prepared to the interview (taking the time to read your resume and cover letter) as well as giving you the attention you deserve during your meeting, says Julia Missaggia, director of talent at Brownstein Group in Philadelphia.
"The hiring process is an expensive endeavor and an investment to the company, and should be treated as such," Missaggia says. "Your treatment during the hiring process is indicative of how you'll be treated as an employee."
5. Interviewers are not all on the same page about the job description.
If the hiring team is not consistent with the information they're putting out to prospective employees, it could signal a lack of communication internally, or that the hiring team hasn't done a sufficient job building out the position, Missaggia says.
"You should leave your interview with a clear idea of how your job performance will be measured and your key responsibilities in the first few months on the job," she says. "If your interviewers cannot define what success in the role will look like, or cannot lay out clear goals for you to work toward, it can set you up for failure."
6. Interviewers lack transparency about organizational challenges they face.
Companies should be forthright about where they stand financially, and should be willing to talk about any major challenges, Missaggia says.
"That's partially why they are hiring you, after all. If the hiring team is unable to discuss openly where they are and what direction they're hoping to go, it may be a clue that they are underperforming at an operational level and lack a plan for growth," she cautions.
7. You're not excited about the offer.
Trust your instincts, and don't compromise yourself. Accepting a job offer is a two-way street, Missaggia explains.
"If the hiring team does not come back to you with an offer package that meets your prerequisites, it may indicate a lack of respect for employees. They should be willing to hear you out and meet you somewhere in the middle, and if not, you owe it to yourself to continue searching for a company that truly values its employees."
8. They want to hire you right away, without any reference checks.
Reference checks are an integral step in the due diligence process. If a company is willing to hire you without taking the time to get feedback from former employers, it shows they may have a tendency to make quick, rash decisions, Missaggia says.
"Always question an employer's motives when they want you to start immediately and are willing to extend an offer without doing a background check. No employer should be too desperate to fill a position."
9. You don't think you fit in with the company culture. 
An interview is a preview of what your life could be like at the company, eight hours a day, five days a week, Missaggia says. Pay close attention to the attitudes and interactions you experience with employees, as well as the overall vibe of the workplace environment, both of which can signal current employees' sentiments about the company.
"Having good rapport with your supervisors and colleagues makes a huge difference in your on-the-job happiness. It's important that your work style, communication style and personal values are compatible with those of the larger organization," she says.
10. Your potential employer is unwilling to work around your schedule.
If you're currently working, companies should understand that you you may need to make some arrangements before you can accept a start date, says Kaitlyn Annaert, human resources manager at Voices.com.
"Employers must be willing to give new employees the chance to provide two weeks' notice to their current employers," she says.
11. The company cannot answer why the position is open.
If the employer can't explain why the previous employee left, it might be a red flag that he's hiding something, Driscoll says.
"Companies should always disclose this. If they don't, that's a red flag that they will not only hide things from you, but also that this role may have been left by someone else who experienced some negativity in the position," Annaert says.
12. The employer does all the talking in the interview.
"If the employer doesn't ask thoughtful questions to better understand your career goals and past accomplishments, she might be self-absorbed or narcissistic," Driscoll says. "There's a risk, once you're in the role, that she could put her interests above yours, steal your ideas or throw you under the bus."
— By Kathryn Tuggle for MainStreet