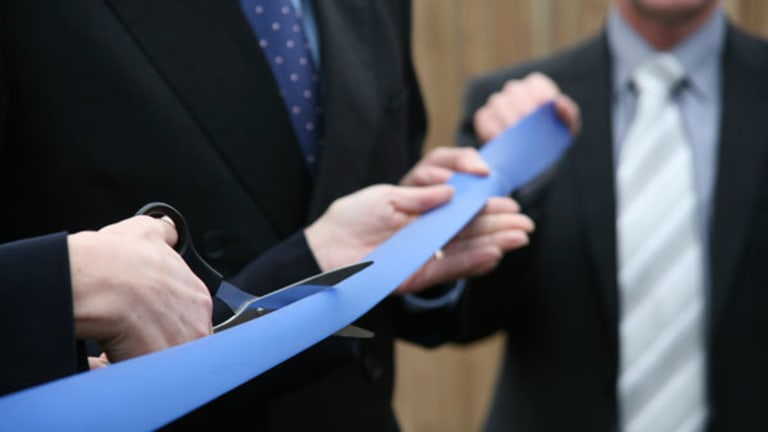 11 Ways to Cut Costs Without Layoffs
There are ways to cut costs without laying off workers, enabling you to take full advantage of an economic rebound when it happens.
There are ways to cut costs without laying off workers, enabling you to take full advantage of an economic rebound when it happens.
With President Obama predicting that unemployment will rise to 10% this year, companies are getting creative about ways to save themselves and, hence, jobs.
British Airways
(BAIRY)
recently asked its 40,000 employees to work for free.
FedEx
(FDX) - Get Report
CEO Fred Smith slashed his own salary by 20% last winter.
In taking cost-cutting steps before laying off even more staff and slicing the business to the bone, you'll be in a position to emerge from the recession stronger than ever.
, for example, is now in the fortunate position of being able to hire "industry leaders" because it shaved costs on an annualized basis to equal about 10% of its revenue, says Jeffrey Cousens, vice president of organizational development. "Also, because we didn't have to cut staff significantly, we won't have to spend money on training a large group of new employees as the country comes out of the economic downturn."
The paper trail can be costly:
Despite our reliance on computers, too many of us still crave that invoice or order request on paper. Well, that comes at a hefty price, as shoe designer
discovered. When she went over her expenses line by line, she realized that the factory she used sent paper invoices via FedEx. By having the documents emailed to her instead, she saved herself $1,000 in FedEx fees alone.
Office etiquette is changing:
Once, not too long ago, when you hired someone, you provided him with telephone, a computer, and all the accoutrements of office life. But is that really necessary? No, realized Janine Popick of direct marketing firm
. "We have 80 employees and 30 of them never use their phones," she says. "They would take calls on their cell phones." She not only saved $120 per handset, she also cut down on her phone bill.
Consolidate power:
Purchasing power, that is. Patrick Engineering discovered that more than 30 people in different departments had the authority to order supplies from various vendors. "We were not getting the best prices and were ordering items that were already overstocked," Cousens says.
Dial back on travel:
For many businesses, travel takes a big chunk out of the budget. So stay at cheaper hotels and limit the perks. If you can, don't even travel. Using teleconferencing tools like
eBay's
(EBAY) - Get Report
Skype and Glance can be a money-saver as well as a time-saver. Shoe designer Shields is saving up to $20,000 a year by changing her flights to her Dublin factory from every two months to every four months. "I am actually seeing more products," she says. "They used to do everything while I was there. But now that I am not coming as often, they have to get things done. They send me pictures and I send corrections back."
Renegotiate everything:
Thanks to the falling price of paper, publishing company
went back to its vendors and renegotiated every single printing contract and got better deals. VerticalResponse spoke with
American Express
(AXP) - Get Report
and got a better processing fee. If you don't ask, you'll never know what kinds of breaks you can get from your vendors. And the discounts can be steep. After all, they too can't afford to lose another client.
Reduce perks:
Cutting life's little luxuries goes without saying. That means no more corporate accounts unless absolutely necessary. Change that dinner business meeting to coffee. Forget making that doughnut run before the company meeting. Eliminate the cleaning service. Drop that 401(k) company-matching program. Freeze hiring and forgo bonuses for now. And just as important, slash that stock dividend, says John Caslione, co-author of "Chaotics: The Business of Managing and Marketing in the Age of Turbulence" (AMACOM).
Cut your salary first:
If you want your employees to make sacrifices, you, as the head honcho, must be the first in line. To keep Nolo afloat, one of the first things co-founder and CEO Jake Warner did was cut his salary by 30% in September, when business started to go south. After laying off some people in November, he cut his salary again by another 30%. In January, he eliminated it. Only when business picked up in April did he bring it back up to November's level. Now, after bringing staff back to a five-day workweek, his income is back to its September level.
Reduce the work:
A surefire position-saver is trimming the workweek from five days to four. And if you're lucky, you're working in states like Connecticut and Massachusetts that allow those employees to collect one day of unemployment.
Eliminate time at the office:
Talk about a money saver. Not only do employees save on things like gas, tolls and lunch, you save on monthly bills like rent and utilities. And it doesn't mean you're any less productive. Dave Hearld of
, an advertising and marketing firm, found he could deliver the same level of customer service and keep valued staff by allowing those who wanted to work from home to do so.
"My biggest fear was salaries with no accountability or supervision," he says. So he decided to try it out with one employee at first. "We evaluated her tasks and projects and calculated the average time involved to complete each. We agreed on an hourly rate of pay and applied this to the average time required to complete each task. This way, she could make as much or more by doing more work."
When he told other employees that they too could be 1099 independent contractors, they were game. Hearld says he not only reduced his rent from $6,000 to $1,100 a month, he also cut payroll taxes to "virtually nothing," lowered his phone bill by 80% and eliminated his "high anxiety level."
Retrain your staff:
During the downturn in the early 1980s, Lincoln Electric saved jobs by retraining thousands of its high-school-educated employees, says Wayne Cascio, the Robert H. Reynolds Chair of Global Leadership at the University of Colorado Denver Business School. Out of 1,200 employees, 90 volunteered to be retrained in sales and marketing. They were subsequently sent out and found $800 million of new business by selling their arc-welding equipment product to big-box stores. "The only way out is to find new lines of business," Cascio says.
Be honest:
Don't do all this cost-cutting in stealth. Be as upfront about why you're taking these steps as possible. Not only does it keep morale high, but it can also push your employees to do their best to pull the business through these tough times. Michael Leen, co-founder of clothing company
, says he holds weekly meetings with his 10 full-time employees because he feels it's important to keep his staff in the loop. "Even in bad times, you try to keep employees happy. That's the key to success, let alone surviving."
Lan Nguyen is a freelance writer based in New York City. She has written for the New York Daily News, The Wall Street Journal, Worth magazine and Star magazine.