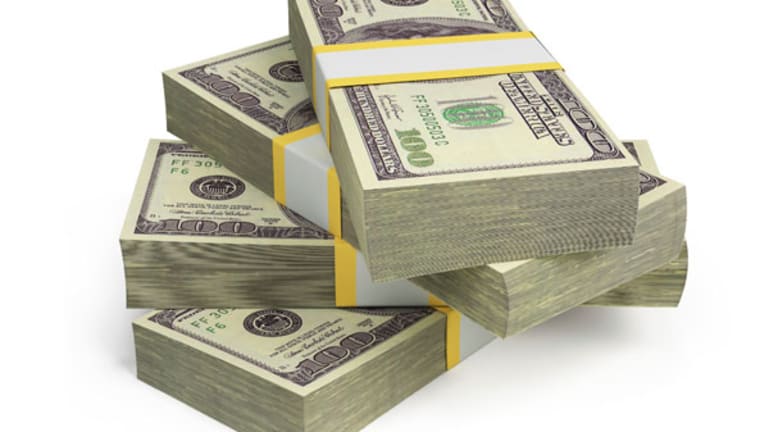 11 Cute Costumes For Corporate Giants
Sometimes a big company such as Colgate-Palmolive needs a smaller, cuter company to soften its image.
Sometimes a big company such as Colgate-Palmolive needs a smaller, cuter company to soften its image.
NEW YORK (TheStreet) -- How does a big, scary corporation make itself look gentler to a nervous populace? By buying and putting on a mask.
Sometimes it's hard being a multinational corporation. Competitors are always gunning for you, regulators henpeck you about your every move and those underfed little activists think you're out to turn the world into a Dumpster and grind the mountains into your private parking lot. Sometimes you just want to hide out and remind people what they liked about you in the first place -- what good thing made you into the big bad creature that you are.
This is why
Starbucks
(SBUX) - Get Report
lovers chuckle a little bit when friends say they prefer
Seattle's Best
-- which Starbucks bought in 2003. This is why Bud drinkers don't get too upset with beer snobs who sneer at them from behind pints of Boddington's or Bass -- which Bud maker
Anheuser-Busch Inbev
(BUD) - Get Report
also owns. It's why someone who offers a coworker a Life-Savers mint and is rebuffed in favor of another coworker with a can of Altoids can hold their head high, as their halitosis-stricken workmate just turned down one Mars mint for another.
With Halloween little more than two weeks away,
TheStreet
took a quick stroll among the retail shelves and found 11 big bad companies hiding in the cutest little costumes. As is the case with most store-bought Halloween disguises, some do a better job of hiding one's identity than others:
Costume:
Tom's of Maine
Company:
Colgate-Palmolive
(CL) - Get Report
For starters: Yep, Colgate-Palmolive makes vegan toothpaste. The bucolic back story features Tom and Kate Chappell starting up Tom's in Kennebunk, Maine, in 1970 with $5,000 in seed money. They made toothpaste, soap and deodorant without animal testing and without animal product. They also took $100 million from Colgate-Palmolive for an 84% stake in the company, but kept the remaining 16% to ensure the products and formulas would remain intact. The Chappells get a nest egg and their integrity, Colgate-Palmolive gets to put some polish on its environmental image. Consumers seem none the wiser.
Costume:
Kashi
Company:
Kellogg
(K) - Get Report
Ah, Kashi. Back in 1984, the company wanted to change the world -- or at least the American diet -- through the power of whole grain and seeds. Its seven whole grains and sesame became a status symbol for self-aware but easily stereotyped consumers across the country. By the end of the millennium, however, even the big boys wanted a piece of the "natural foods" movement that the La Jolla, Calif.-based company was selling. Kellogg bought Kashi in 2000 and, while Kashi remains "independently operated" -- meaning it's really hard to find a reference to Kellogg on its boxes -- it's still fun to picture Tony the Tiger yelling "They'rrre grains!" or the look on Toucan Sam's face when his nose takes a wrong turn into the sesame silo.
Costume:
Nantucket Nectars
Company:
Dr. Pepper Snapple Group
(DPS)
One day back in 1990, a couple of guys named Tom (First and Scott) who'd graduated from Brown University the year before went down to Nantucket, Mass., and opened a floating convenience store called Allserve. They started mixing juice in a blender and, in seven years, expanded their business from a few flavors to a $30 million enterprise. The take was up to close to $60 million by 2002,when Cadbury Schweppes backed a truckload of cash up to the door opened by the Toms and the Ocean Spray collective. The brand ended up in the hands of Dr. Pepper Snapple Group years later and, while the Toms' Juice Guys Juice Bar still stands on Nantucket and their voices still grace the product's commercials, the drinks and their organic counterparts are now brewed and bottled in containers similar to Snapple's at the Snapple facility in Rye Brook, N.Y. While that's little more than 250 miles away from its place of birth, Nantucket Nectars is far removed from its humble roots.
Costume:
Stonyfield Farms
Company:
Groupe Danone
Roughly 27 years ago, Stonyfield Farm was just a little organic farming school in Wilton, N.H. In 2001, Groupe Danone -- makers of the Dannon yougurt and Evian water brands -- bought 40% of the company. That stake was kicked up to 85% in 2003, but the company maintained its healthy organic image by donating a 10th of its proceeds to environmental causes and maintaining a pesticide-free 130,000 acres of family farmland across America. The company's packaging, website and mission still screams down-home organic, but some of the company's recent stumbles resemble those of a multinational. In 2008, Stonyfield voluntarily recalled several batches of blueberry yogurt after consumers complained about finding plastic and glass bits in the mix. Last year, the company recalled containers of its plain yogurt because it could contain food-grade sanitizer.
Costume:
Schwinn
Company:
Dorel Industries
Once a successful, iconic American bicycle brand, Schwinn doesn't have one model manufactured in the U.S. After declaring bankruptcy in 2001, Schwinn was sold to Pacific Cycle. Pacific, in turn, was bought by Dorel Industries, a Canadian company that also makes furniture and baby products. The Schwinn bikes consumers see today at
Wal-Mart
(WMT) - Get Report
,
Target
(TGT) - Get Report
, the Sports Authority and elsewhere are built in Taiwan and China and have little in common with the company's history -- besides a nameplate.
Costume:
Ben & Jerry's:
Company:
Unilever
(UL) - Get Report
Every once in a while, the nation gets a reminder that Ben & Jerry's isn't a funky, freewheeling ice cream company from Vermont, but a small cog in a very big system. The last clue came in September, when Ben & Jerry's vowed to stop referring to its ice cream and frozen yogurt as all-natural when the
Center for Science in the Public Interest
found corn syrup and other less-than-natural ingredients in its Cherry Garcia and Chunky Monkey, among other varieties. It's been nearly 10 years since Unilever bought up shares of the company and effectively supplanted Ben Cohen and Jerry Greenfield, and while moves to make the brand more eco-friendly and continued commitment to flavors such as the Barack Obama-themed "Yes Pecan" and the gay marriage-supporting "Hubby Hubby" keep the brand rooted, Unilever still casts a cold shadow over the ice cream icon every once in a while.
Costume:
Stowe Mountain Resort
Company:
AIG
(AIG) - Get Report
What, surprised another big company can hide out in Vermont? If U.S. taxpayers ever feel like they're not getting enough out of the $47.5 billion it paid to get AIG out of the mess it created by churning out credit default swaps, they should just head up to lovely Mount Mansfield in Stowe, Vt., to reap the benefits of the AIG-owned resort's recent $400 million overhaul. (Technically the resort is owned by an AIG spinoff that is, itself, owned by AIG.) There's skiing, snowboarding, shopping, dog sled tours, a spa, a performing arts center and more, with lift tickets starting at $71 for latecomers and topping out at $655 for 10 days of mountain trails and moguls. Is it worth it? It should be, considering the ownership. Fewer companies know more about going downhill fast than AIG.
Costumes:
Zappos and IMDB.com
Company:
Amazon
(AMZN) - Get Report
If it's sometimes hard to put the two together, it's because Zappos hasn't really changed much since Amazon bought it out of its financial troubles for $1.2 billion last year. Amazon seems to like Zappos just the way it is. With free shipping to and fro, a yearlong return policy and a 24-hour call center, what's not to love? Don't go changing, Zappos.
If it's hard sometimes to remember Amazon started out by selling books, you can start by remembering how long ago it started selling videos and DVDS: 1998. That's also when it happened to buy the Internet Movie Database, or
, the Web's premier spot for tracking the careers of everyone from Johnny Depp (appeared as Glen Lantz in
in 1984) to
(key grip on
Inception
). The site, which is just about to turn 20, is a model for other sites (there's an
too) and now hosts original content, lots of streaming clips and plenty of ads for Amazon -- and itself owns two movie-related sites,
and
.
Costumes:
Red Hook, Widmer, Goose Island and Kona
Company:
Anheuser-Busch InBev
"Whoa, whoa, whoa, Anheuser-Busch doesn't own the
Craft Brewers Alliance
( HOOK)!" Settle down, beer nerds, we're well aware that Anheuser-Busch InBev only has a 35% stake in the operation and the Craft Brewers Alliance pays A-B InBev a fee for distribution. That said, that's an
extremely
helpful arrangement for the Alliance, especially considering that A-B InBev just cut its fee by 30% this year so the Alliance can invest the difference into marketing its brands. There's been
that A-B InBev may just buy the Alliance outright, with craft beer sales growing 10.3% last year amid a 2.2% drop in overall U.S. beer sales, according to the Brewers Association. Yet while Red Hook, Widmer, Goose Island and Kona stay independent and retain their local ties, they're still being brought to the bar and the liquor store in Bud trucks.
Costumes:
Old Style, Rainier, Ballantine, Stroh's, Schlitz, Lone Star, Olympia, Old Milwaukee, Schaefer, Piel's
Company:
Pabst (with a big assist from MolsonCoors
(TAP) - Get Report
)
Yes, Pabst was just sold to food investor C. Dean Metropolous for $250 million this summer, but Metropolous won't be getting a brewery as part of that purchase. He'll be getting the portfolio of brands bought over the years by the Kalmanovitz Charitable Foundation. Who's brewing those brands today? Miller. It's under contract, so when Schlitz reverted to its old formula last year, Miller just followed the instructions. Nevertheless, Schlitz is technically a Miller product, as are all of the above brands and an expansive collection of malt liquors. It's little wonder Miller High Life has mounted a challenge to Pabst Blue Ribbon for the hipster beer throne, considering they were both raised from the same stock.
Costume:
Diaspora
Company:
Facebook
If
ever becomes the next Facebook, it'll have Facebook to thank. Still under development, the project is the brainchild of four students from New York University who wanted to create an open-source Web server that would allow users greater control over information and content -- in other words, more of the privacy users felt had been violated by Facebook. An April announcement on fundraising site
collected $200,000 from more than 6,000 donors ... including Facebook's Mark Zuckerberg, who thought it was a "cool idea." The group's multimedia sharing, Voice over Internet Protocol and instant-messaging platform went live less than a month ago, so any judgment should be reserved for Diaspora's first controversy.
-- Written by Jason Notte in Boston.
>To contact the writer of this article, click here:
Jason Notte
.
>To follow the writer on Twitter, go to
.
>To submit a news tip, send an email to:
.
RELATED STORIES:
>>Google TV Puts Hurt On Hulu Plus
>>Five Ways To Watch The Fall TV Season Online
Jason Notte is a reporter for TheStreet.com. His writing has appeared in The New York Times, The Huffington Post, Esquire.com, Time Out New York, the Boston Herald, The Boston Phoenix, Metro newspaper and the Colorado Springs Independent.