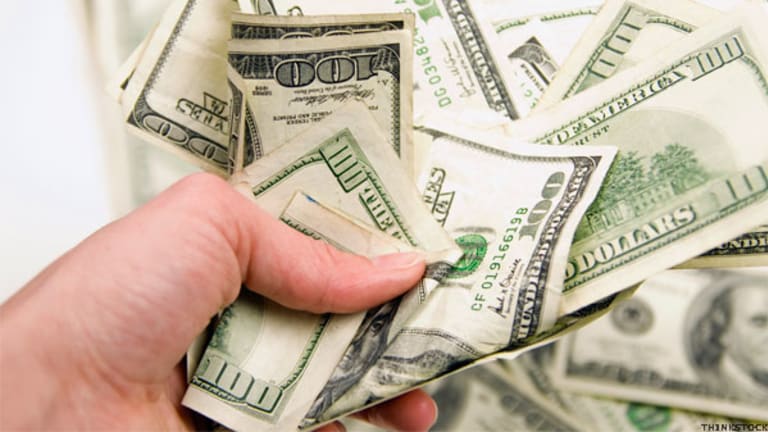 10 Worst of the Worst in 2012
From layoffs to box office draws, we look at some of the worst of the worst so far this year.
From layoffs to box office draws, we look at some of the worst of the worst so far this year.
BOSTON (
) -- There has been a lot to celebrate during the early months of this year.
The Dow is up, finally cracking 13,000 again. Unemployment is creeping downward, car sales are booming, consumer spending has risen and even home values have started to stabilize in some markets.
It may be premature to pop that post-recession champagne. There's lots going on in 2012 in competition for "worst" in various categories.
It may still be premature to pop that post-recession champagne, however. The following is a look at some bad news in various categories and a tally of "the worst" so far in 2012.
Housing
The housing market may be showing some signs of life, but defaults and foreclosures still run rampant.
According to statistics culled by
, an online marketplace of foreclosure properties, Nevada, Arizona and California had the top state foreclosure rates through last year and heading into this one.
Roughly one out of every 16 Nevada housing units had at least one foreclosure filing last year, giving it the nation's highest state foreclosure rate for the fifth consecutive year, despite a 31% decrease in foreclosure activity from 2010. Nevada foreclosure activity also dropped 35% from the third quarter to the fourth last year, "driven primarily by a 70% decrease in default notices, the result of a new law that took effect in October requiring lenders to file an additional affidavit before starting the foreclosure process," RealtyTrac explains in a report.
Arizona registered the nation's second-highest state foreclosure rate for the third year in a row, with 4.14% of its housing units (one in 24) with at least one foreclosure filing in 2011.
California, although seeing a similar late-year drop in foreclosure auctions, had the third-highest foreclosure rate for all of 2011 (one in every 31 housing units).
Other states with 2011 foreclosure rates among the highest in the nation were Georgia, Utah, Michigan, Colorado and Idaho.
On a more local, metro-area level, Las Vegas (with 7.4% of its housing stock) had held down the top foreclosure rate for the year among metropolitan statistical areas with a population of 200,000 or more.
RealtyTrac found that 10 out of the top 20 metro foreclosure rates were in California cities -- Stockton, Modesto, Riverside-San Bernardino, Merced, Bakersfield, Visalia and Ventura.
State budgets
According to the Washington research group Center on Budget & Policy Priorities, the list of states facing the largest potential
(for Fiscal Year 2012) included California ($930 million), Illinois ($507 million), New York ($350 million), New Jersey ($325 million) and Louisiana ($198 million).
Money men
It is hard to get a bead on which money manager is off to the worst start in 2012, in part because of the secrecy that surrounds hedge funds.
One name immediately prevails on the worst of 2011, however.
John Paulson, founder and president of
Paulson & Co.
, a New York-based hedge fund that made billions short-selling subprime mortgages, had a staggeringly bad year. Among his misfortunes were dumping all shares of
Bank of America
(BAC) - Get Report
and
Citigroup
(C) - Get Report
before a fourth-quarter jump. In all, he lost $9.6 billion.
Put in perspective, the previous poster child for a hedge fund disasters was Long-Term Capital Management, which in 1998 lost $4.6 billion in the Russian financial crisis, needed a bailout by the Federal Reserve and was gone by 2000.
Sluggish stocks
Although the
Dow Jones Industrial Average
has been bouncing above and below the 13,000 mark, not all of the stocks in the index have shared in that success.
In a Feb. 28 article on Dow stocks that have been
this year, we found:
Verizon
(VZ) - Get Report
,
Wal-Mart
(WMT) - Get Report
,
Coca-Cola
(KO) - Get Report
,
Pfizer
(PFE) - Get Report
and
Johnson & Johnson
(JNJ) - Get Report
.
You can track the progress of these stocks on our
.
In a Thursday story we looked at
in the
S&P 500
.
That list, which can be tracked
, included
Allegheny Technologies
(ATI) - Get Report
,
Entergy
(ETR) - Get Report
,
Constellation Energy
(CEG)
,
Goodyear
(GT) - Get Report
,
Frontier Communications
(FTR) - Get Report
,
International Game Technology
(IGT) - Get Report
,
Apollo Group
(APOL)
,
EA electronic Arts
(EA) - Get Report
and
Supervalu
(SVU)
.
Worst days
On Feb. 15, due to the ongoing international soap opera that is Greece, the Dow Jones industrial average closed down 89 points, at 12,801.23.
The S&P 500
dropped 9.31 points, to 1,342, its first losing week of the year.
Wednesday was the worst day of the year thus far for anyone invested heavily in gold. After assurances by Federal Reserve Chairman Ben Bernanke there were no plans for a QE3, gold dropped more than 5%.
Layoffs
There has been good news in 2012 on the unemployment front, but not everyone has a reason to celebrate.
Among the largest layoffs announced for 2012:
Procter & Gamble
(PG) - Get Report
trimming 5,700 jobs over the next year and a half in an effort to save $10 billion by the end of the fiscal year 2016;
American Airlines
(AMR)
shedding as many as 2,800 jobs throughout the year;
IBM
(IBM) - Get Report
with up to 1,500 American jobs being slashed; video game maker
Activision Blizzard
(ATVI) - Get Report
cutting 600 jobs globally;
Hewlett-Packard
(HPQ) - Get Report
cutting 275 jobs from its seemingly doomed WebOS division.
The biggest and deepest workforce cuts are planned by the U.S. postal service, which will cut 28,000 jobs by the end of 2012.
Bankruptcies
Among the notable bankruptcy filings announced in 2012 were one-time photo giant
Eastman Kodak
(EK)
, a company that has been hard pressed to succeed in the digital arena and unable to counter the decline of point-and-shoot cameras caused by the inclusion of that feature on nearly all smart phones.
The iconic company that once drove door-to-door sales,
Fuller Brush
, filed for Chapter 11 bankruptcy late last month, its assets bought five years ago by private-equity firm
Buckingham Capital Partners.
Privately held
Hostess Brands
put a scare into Twinkie lovers by filing for Chapter 11 in January. Partly to blame: America's move toward healthier snack foods and away from Wonder Bread.
Dallas-based
Coach America Holdings
drove into Chapter 11 in January, despite being the largest tour and charter bus operator in the U.S.
Real estate services company
Grubb & Ellis
sold off nearly all its assets to
BCG Partners
(BGCP) - Get Report
of New York, which in turn loaned nearly $4.8 million to the company while it undergoes a Chapter 11 reorganization.
Retail closings
Last year saw the end of
Borders
, with the bookstore chain shuttering more than 600 locations. Also shedding real estate was
Blockbuster
(405 locations),
GameStop
(GME) - Get Report
(200),
f.y.e
(FYE)
(160) and
Foot Locker
(FL) - Get Report
(117).
This year is already seeing major retailers shutting doors.
In December, struggling retailer
Sears
(SHLD)
announced that at least 100 stores would close in 2012. Late last year,
Abercrombie & Fitch
(ANF) - Get Report
said it will close 180 of its 1,014 U.S. stores by 2015. That count was later boosted to 300.
The Gap
(GAP)
has plans under way to close 89 locations, 21% of its Gap stores in the U.S., by the end of next year.
Worst credit scores
A recent study by CreditKarma.com found that the state with the worst average credit score was Mississippi, with 622. Close behind were Arkansas (634), Louisiana and West Virginia, (both with 635) and South Carolina (636). By comparison, the state with the best average credit score was Wisconsin, with 683.
Household income is one of the factors that may be dragging down state scores. According to the 2010 U.S. census, in Mississippi, Louisiana and Arkansas the average resident earns about $10,000 less than the national median income of $49,445.
Box office
Among the highest-grossing films of 2012 thus far have been the romantic comedy
The Vow
($110 million), the Denzel Washington spy thriller
Safe House
($106.2 million) and The Rock's kid-friendly
Journey 2: The Mysterious Island
($83 million).
According to the Web site BoxOfficeMojo.com, which tracks film grosses, the movies drawing the least receipts include
Scorn
, an indie film that has earned $1,206 from just a single theater. Among the limited releases with far greater promotional muscle that are nevertheless languishing is Madonna's directorial debut,
W.E.
, which has pulled in a mere $314,000.
-- Written by Joe Mont in Boston.
>To contact the writer of this article, click here:
Joe Mont
.
>To follow the writer on Twitter, go to
.
>To submit a news tip, email:
.
Follow
TheStreet
on
and become a fan on