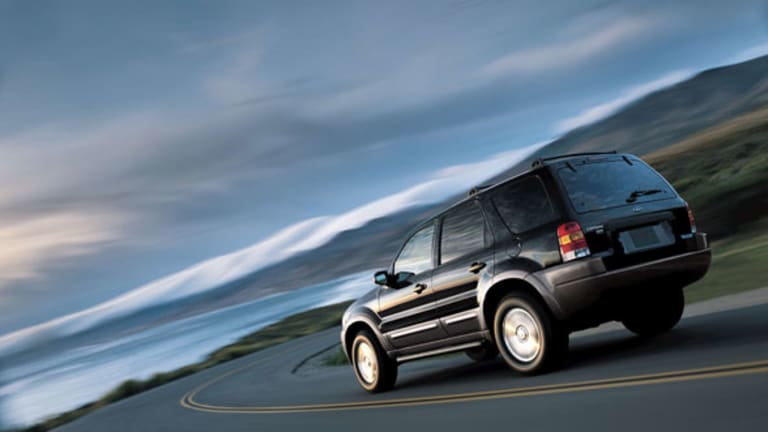 10 Used Cars To Consider Before Buying New
These days, when it comes to new versus used cars, even looking back a decade can get your motors running.
PORTLAND, Ore. (TheStreet) -- The U.S. car market is making a comeback, but that hasn't dented the post-recession value of used vehicles.
New car sales jumped 13.4% last year as Americans tiptoed back onto lots. Americans still scared off by overly conspicuous spending, however, have discovered that the best vehicle money can buy gets them from Point A to Point B, costs little to own or maintain and can sit in the driveway until such time as its owner needs to replace it or can afford better. An inexpensive car more than a decade old used to get derisive names such as "jalopy" and "beater." Today, it's just "the car."
Automotive data service
Polk
revealed last year that the average age of cars and light trucks on U.S. roads is roughly 10.8 years. That's up from 8.9 years a decade ago and 9.8 as recently as 2007. New car sales slumped during the 2008 and 2009 recession years as America's drivers squeezed as much mileage out of their old cars as possible.
According to
Manheim Consulting
's
Used Vehicle Value Index
, used car prices actually fell 0.8% last year, but jolted up 1.2% in December as Superstorm Sandy reduced an already small supply. Dwindling new car inventory and used car lots already depleted of 2- and 3-year-old vehicles are keeping prices high as sales increased 5% in 2012 and more than 10% from 2010.
That's making a lot of formerly undesirable older vehicles a lot more popular. Manheim found that owners looking to sell their old
Toyota
(TM) - Get Toyota Motor Corp. Sponsored ADR Report
Camry,
Honda
(HMC) - Get Honda Motor Co., Ltd. Sponsored ADR Report
Accord or
Ford
(F) - Get Ford Motor Company Report
Fusion, Manheim says they'll make an average of 2% more on the deal than they would have last December. Even used pickups and vans have benefited as demand accelerated 2.6% and 0.2% respectively within the past year.
While Polk says American car buyers are regaining their confidence, they're also learning the value of an older, cheaper, equally reliable vehicle. Considering the advanced age of the average American car, we asked the folks at
Kelley Blue Book
to see what decade-old models should factor into car buyers' decision-making this year. They came back with an extremely flush selection of 30 vehicles.
The list focuses on model year 2003 used vehicles with a Kelley Blue Book Private Party Value of less than $10,000. The vehicles listed are assumed to be in good condition with approximately 118,000 miles, as per Kelley Blue Book's mileage depreciation schedules. The list was further reduced by focusing only on those vehicles KBB expects to require minimal maintenance based on their proven reputation for reliability.
To eliminate certain redundancies, we've pared that list to 10 decade-old cars worth considering before buying new. They may have some wear on the tires, but consensus is that each of the cars on the list should be able to hit or break 200,000 miles with a minimal amount of maintenance:
10. Ford Escape
Trim:
XLS four-door
Original MSRP:
$20,925
KBB private party value:
$3,260
Retained value
22.6%
There's no shortage of small SUVs/crossovers on this list; parents' need for a kid carrier hasn't shrunk much in the past decade.
The Escape's XLS package, however, provides a tremendous discount if you're willing to forgo some of the bells and whistles. The XLS sports a somewhat pokey 2.0-liter four-cylinder with a scant 120 horsepower and lacks the tinted glass and side airbags of the more costly Escape models.Its combined 23 miles per gallon of fuel economy is only somewhat better than the 20 miles per gallon of the XLT, but it can seat five people more comfortably than its smaller competitors from Honda and Toyota. It also offers 65 cubic feet of cargo room with the seat down.
This wasn't such a great year for the American carmakers. KBB's list is completely devoid of
General Motors
(GM) - Get General Motors Company (GM) Report
offerings and has just one
Chrysler
family vehicle among its ranks, but Ford still had a few models that could stand the test of time. Its now-discontinued Crown Victoria joined the Escape on this list by retaining 14.2% of its value for its base sedan, while the Ford Focus sedan's LX model held on to a whopping 22.6% of its value.
9. Mazda Miata MX-5
Trim:
Base two-door convertible
Original MSRP:
$22.125
KBB private party value:
$5,160
Retained value
23.3%
So begins the Japanese dominance of used car offerings.
Of the 30 reliable used vehicles on KBB's list, Mazda, Toyota, Subaru, Honda and Nissan made 21 of them.
Domestic, Korean and German manufacturers have since caught up, but the Japanese automakers were well ahead of the pack by the time the 2008 fuel crisis hit and everyone else began focusing on efficiency and durability. The Miata piled on by becoming the retiree's car of choice with a 167-horsepower, 2.0-liter, four-cylinder and five-speed manual transmission that gives the competing
Porsche
Boxter a good run for the money.
You don't get the pretty pony or the prestige when you pass up a Porsche Boxter for a Miata, but not doing so costs car buyers thousands for no real benefit. The two cars have similar acceleration (zero to 60 in 6.5 seconds for the Porsche, seven seconds for the Miata), similar ratings from 
Consumer Reports
(90 for Porsche and 89 for Mazda) and similar customer satisfaction.
Meanwhile, the Miata lacks the Porsche's slew of engine, cooling, electrical system, power equipment and significant brake problems that add up to a lot of future costs over the life of the car. The 16-inch alloy wheels, larger brakes and a child seat anchoring system Mazda put into the 2003 may not be as sweet as the available hardtop on the current model, but it's still a great convertible on the cheap.
8. Subaru Forester
Trim:
2.5 X
Original MSRP:
$21,870
KBB private party value:
$5,535
Retained value
25.3%
This was the end of the Forester's days as a large station wagon and the beginning of its metamorphosis into a full-sized crossover SUV.
The 2003 Forester's redesign elicited tears from hippies and bourgeois bohemians in organic grocery parking lots across the country. It was lighter, but suddenly a little bit taller and a lot more spacious inside. Already high ceilings vaulted higher and the 64 cubic feet of cargo space with the rear seats down were a step above a grocery-getter, but just a few notches below a true off-road vehicle.
The 2.5-liter four-cylinder with a 165 horsepower engine stayed put, as did the 22-miles-per-gallon -- perfectly game for shuttling duties.
Just hope someone has replaced the standard cassette deck. We know they're making a comeback in the hipper circles, but one of the kids may still try to jam an iPhone into it.
7. Hyundai Elantra
Trim:
GLS four-door
Original MSRP:
$13,794
KBB private party value:
$3,675
Retained value
26.6%
The tiny base-model Elantra didn't really change in 2003, but it's that bland consistency that keeps buyers coming back.
The Elantra's fuel economy has increased significantly since 2003, but its combined 26 miles per gallon were tough to scoff at in its prime. Its 2.0-liter engine and 135 horsepower were brawny for its class, but its roomy interior with seating for five was the biggest draw for drivers seeking something a little extra.
This year was also right around the time that Hyundai started to hit a stride in the U.S. This was five years after Hyundai launched its 10-year, 100,000-mile warranty, which is just expiring on a few fortunate Elantras. It was also a particularly good year for the company's Accent hatchback, which still holds 21.6% of its original value.
6. Nissan (NSANY) Altima
Trim:
2.5-liter four-door
Original MSRP:
$17,689
KBB private party value:
$4,720
Retained value
26.7%
Even the 2.5-liter four-cylinder version of the midsized generates 175 horsepower while getting a combined 24 miles per gallon. That's sporty enough for a three-pod, sports-car instrument layout, but is perhaps the least impressive of its features.
This Altima is loaded with a tilt and telescopic steering wheel, a power port inside the center console (remember, most folks were still using cigarette lighters for smoking at this point) and steering wheel-mounted controls for the stereo and a trip computer. The big selling points, though, include leather seating, an auto-dimming rearview mirror, HomeLink universal transmitter, high-intensity headlights, a power sunroof and an in-dash six-disc CD changer for when that wave of CD nostalgia eventually kicks in.
If the Altima's a little big for buyers still considering a used Nissan, the Sentra XE sedan still fetches 22.4% of its original MSRP and can take a beating.
5. Honda CR-V
Trim:
LX four-door
Original MSRP:
$19,760
KBB private party value:
$6,075
Retained value
30.7%
This vehicle or something that looks like it is what you'll be staring at the back of 180 days a year when you have to pick the kids up from school.
For the family that grew fearful of the full-sized SUV once gas prices skyrocketed, the CR-V was a welcome compromise between the cramped sedan and a fuel-sucking Suburban Assault Vehicle. The CR-V's second generation started in 2002 and its upgraded 2.4-liter, four-cylinder engine with 160-horsepower carried over into the following year.
The spacious headroom and legroom remained the same as well, as did its 33.5 cubic feet of cargo space with all the seats in place and 74 cubic feet when they're down. Tucked into all that space is air conditioning, power windows and locks, a one-touch up-and-down driver window, a CD player, rear-seat heater ducts and two 12-volt accessory outlets for gadgets that were yet to be invented when this vehicle hit the market.
4. Toyota RAV4
Trim:
CE Sedan
Original MSRP:
$19,515
KBB private party value:
$6,900
Retained value
35.4%
You're not mistaking the RAV4 for the CR-V by accident.
The head pocket utility vehicle and its Honda rival have been vying for the same market since the '90s and were just coming out of their wagon-style shells by 2003. That year's RAV4 handled like a car, gets 148 horsepower out of its 2.0-liter four-cylinder engine and has adjustable cup holders and several storage bins for school, vacations and soccer practice soccer practice.
It was also packed with the features several families now take for granted. The RAV4's ABS brakes, aluminum wheels, air conditioning, remote keyless entry and power sunroof were options in 2003, but its combined 25 miles per gallon, dual front airbags and tight suspension were perks Toyota threw in just for kicks.
Lots of expendable income goes out the window once kids enter the equation, so it's not such a bad idea to get a discount on a car that's still fashionable a decade later. Your front-loading washer and 37-inch Internet-free TV can only hope to be as relevant after that many years.
3. Jeep Wrangler
Trim:
GLS four-door
Original MSRP:
$16,910
KBB private party value:
$6,200
Retained value
36.7%
The Wrangler hasn't changed a whole lot during its existence, but the 2003 is a particularly sweet prize for lacking the square headlights that plagued Wranglers during the '80s but pre-dating the stretched-out "unlimited" Wranglers that came later that decade.
Still, 2003 was a year of big changes for the Wrangler, which came in its high-end Rubicon form for the first time. The soft and hard tops fit differently, the metal side mirrors were swapped out for plastic, the audio sound bar along the roll bar was replaced with smaller sound pods, the seats looked and felt different and the transmission switched from a three-speed automatic to a four-speed automatic with overdrive that could be activated and deactivated with the flip of a switch.
The biggest change in the base model, though, was the 2.4-liter Power Tech engine that replaced the old 2.5-liter version with the Jeep since its days at American Motors. It still has the boxy look, the 4x4 capability and off-road chops of its predecessors, though, which is all most fans look for and the biggest reason they still pay big money for it today.
2. Toyota Corolla
Trim:
CE Sedan
Original MSRP:
$14,055
KBB private party value:
$5,550
Retained value
39.5%
While the Corolla was popular to begin with, a complete overhaul in 2003 made even the base model a sought-after commodity.
A new 130-hp 1.8-liter four-cylinder engine gave it more power, but didn't detract a bit from its impressive combined 32-miles-per-gallon fuel efficiency. This is even more impressive when you consider that the 2003 Corolla is larger and 50 pounds heavier than its 2002 predecessor.
That gives the driver and passengers a whole lot of cabin space while increasing trunk space to nearly 14 cubic feet, which is on the larger side for a vehicle of this size. Most importantly, though, Toyota didn't shortchange its base-model customers and threw in air conditioning with micron filtration, a CD player, power steering, power mirrors, an outside temperature gauge, 60/40 split-folding rear seats and 15-inch wheels for their trouble.
Though Toyota had an impressive nine vehicles on KBB's 30-vehicle list, the 2003 Corolla offers extraordinary value for its relatively scant asking price.
1. Toyota Tacoma
Trim:
Double Cab PreRunner 4D 5 foot pickup
Original MSRP:
$18,820
KBB private party value:
$8,250
Retained value
43.8%
The Tacoma has taken Kelley Blue Book's best resale value award 10 times for one big reason: You can beat the hell out of it and it'll come back for more.
Durability is a big deal in the Tacoma's world, where car buyers who don't feel they need all the size and strength of a Ford F-Series or Chevy Silverado are drawn to its off-road agility, flexible cargo options and easy handling. This base model, for example, came with a 2.7-liter engine with a scant 150 horsepower and gluttonous 17 miles per gallon fuel efficiency.
The double cab has room for a family of four, though, and the 2003 upgraded antilock brakes to a standard feature and added child restraint system anchors to the back seats. There's plenty of bed space in back for light-duty hauling, but there's also plenty of room to lug family during moves and vacations, and those family budgets are where the Tacoma's real value lies.
-- Written by Jason Notte in Portland, Ore.
>To contact the writer of this article, click here:
Jason Notte
.
>To follow the writer on Twitter, go to
.
>To submit a news tip, send an email to:
.
RELATED STORIES:
>>5 Winter Cars Worth Buying Now
>>10 Cities Poised For Greatness In 2013
>>5 Most Infamous Cars Of 2012
Jason Notte is a reporter for TheStreet. His writing has appeared in The New York Times, The Huffington Post, Esquire.com, Time Out New York, the Boston Herald, the Boston Phoenix, the Metro newspaper and the Colorado Springs Independent. He previously served as the political and global affairs editor for Metro U.S., layout editor for Boston Now, assistant news editor for the Herald News of West Paterson, N.J., editor of Go Out! Magazine in Hoboken, N.J., and copy editor and lifestyle editor at the Jersey Journal in Jersey City, N.J.