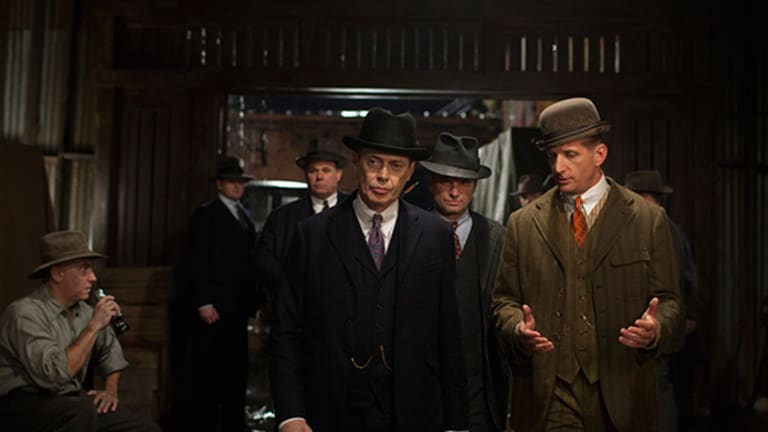 10 TV Shows to Binge Watch Before the Fall Season
Streaming was a huge part of AMC and the success of 'Breaking Bad,' and a whole lot of networks are hoping Netflix, Amazon and Hulu can help them too.
PORTLAND, Ore. (TheStreet) — Netflix, Amazon and Hulu aren't bummed that the fall television season is coming: They're absolutely thrilled.
Last August, just before AMC ran the second half of the final season of Breaking Bad, viewers flocked to Netflix to binge watch the seasons that came before. Until that point, no more than 2.98 million viewers had ever tuned in to Breaking Bad to see meth-dealing chemistry teacher Walter White wreak havoc in Albuquerque, N.M. When the second half of the final season debuted Aug. 11, 5.9 million viewers tuned in — effectively doubling the show's audience after playing catch-up on Netflix. By the time the series finale aired at the end of September, 10 million viewers were along for the ride.
There were a whole lot of shows on television during the season that followed just begging for similar treatment this summer, and a whole lot of streaming video subscribers are more than happy to help.
Partnering with Harris Interactive, Netflix conducted an online survey in the U.S. in November and found that 73% of viewers consider binge watching "watching between two to six episodes of the same TV show in one sitting." Of those same viewers, 61% of the people survey said they binge watch regularly. A full 73% of those binge watchers feel pretty good about watching television that way, though most viewers consume an average of only 2.3 episodes per sitting.
Why? Well, 76% just like the fact that watching a few episodes at a time limits distraction while also distracting them from the outside world. With that kind of time to mull shows over, 79% say binge watching makes a show seem better than when it's presented in its regularly scheduled, commercial-chopped format.
While multichannel content providers are getting into the mix — another Harris survey found that 41% of Americans binge watch TV on demand through cable (34%) or satellite (9%) — a full 40% use Amazon, Hulu Plus or Netflix to binge watch their way though a series or two. That's led to an arms race for content as networks free up more shows and streaming services vie for exclusivity.
Netflix makes it incredibly clear just how much its streaming service has riding on content. Of the $6.3 billion in assets it claimed during the second quarter, nearly $1.8 billion lies in its content library. But of the company's $2.3 billion in liabilities, a whopping $1.86 billion stems from the deals for that content alone — including exclusive deals with Disney, AMC, Warner Brothers and individual shows such as Fox's New Girl. Amazon, meanwhile, hasn't disclosed the terms of many of its biggest content deals, but the acquisition of HBO programming this year -- including library content such as The Sopranos as well as shows still running on the network — is believed to have cost the company upward of $300 million.
Even the Disney, 20th Century Fox and Comcast-owned NBC Universal joint venture Hulu Plus has begun locking up exclusive content. It just made a deal with its friends at NBCUniversal that gives Hulu Plus exclusive rights to shows including the entire Real Housewives franchise and The Mindy Project. It also inked a deal giving it exclusive rights to the entire CBS library -- including current series and catalog titles such as Taxi and Everybody Loves Raymond.
So what's out there for streaming video audiences to catch up on before the 2014 fall television season begins its rollout Sept. 7? We've come up with just 10 shows that are worthy of binge watching before their latest chapter begins.
Parks and Recreation
Network: NBC
Streaming on: Hulu Plus (Seasons 1-6), Netflix (Seasons 1-5), Amazon Prime Instant Video (Seasons 1-5)
In a television landscape where quality and nihilism are often synonymous, Parks & Rec and its town of Pawnee, Ind., are some of the the last vestiges of hope.
Nick Offerman's libertarian parks director Ron Swanson is not only friendly with Amy Poehler's left-leaning, ambitious Leslie Knope, but walked her down the aisle at her wedding. Knope's protege April Ludgate (Audrey Plaza) not only married city hall shoeshine guy and children's musician Andy Dwyer (Chris Pratt), but formed perhaps the most stable relationship on the show. Former Parks worker Tom Haverford (Aziz Ansari) had multiple startup companies explode under his stewardship, but ultimately found success in a small restaurant.
Ben Wyatt (Adam Scott) entered the series as an auditor sent to gut Pawnee government to the studs, but ended up marrying Knope and supporting her through her city council election and subsequent recall. Terrible things tend to happen to just about every character on this show, but their ability to pick up, move on and learn from that adversity have been among this show's most redeeming qualities. The writing staff, as well as Parks & Rec creators Greg Daniels and Michael Schur, have spent six seasons whittling down their characters' archetypes and letting their interpersonal relationships — tested by a cast of Pawnee residents built seemingly out of posts straight from a community website comments field — determine the show's direction.
This season is the show's last and has moved the timeline three years into the future to show how a recently deposed Knope is handling a new set of triplets and her role as head of the Midwest Regional office of the National Parks Department. You get the sense that the writers want to leave their audience with a sense that everything is going to be OK, but this show has always made its characters suffer a bit for that payoff.

Brooklyn Nine-Nine
Network: Fox
Streaming on: Hulu Plus
So what's Michael Schur going to do once Parks & Rec is over? Continue cranking out episodes of the show he and Parks & Rec writer and director Dan Goor kicked off with great success last season.
Taking Andy Samberg out of Saturday Night Live and Lonely Island and plunking him down in a cop comedy with the pec-juggling guy from The Expendables (Terry Crews), an alumnus of The State and Reno 911 (Joe Lo Truglio) and Detective Pemberton from Homicide: Life On The Street (Andre Braugher) was a gamble. It paid off with Golden Globes for the show and Samberg.
Brooklyn Nine-Nine is as much about police work as Parks and Recreation is about government. Braugher's hard-nosed Capt. Ray Holt keeps it the backbone of the series, but the show works best when it's playing pinball with its cast's personalities. It's a very difficult show to like at first: There's an aloof administrators who's in a dance troupe called Floorgasm and leans heavily on pop culture non sequiturs, Crews' Sgt. Jeffords is introduced as a musclebound freak whose weakness is a love for his baby daughters and Lo Truglio's Detective Boyle is, for no good reason, a foodie and the kind of "nice guy" who'll annoy a woman forever for putting him in the "friend zone" instead of getting into a relationship he feels entitled to.
But such is the magic of Michael Schur and Dan Goor. Those abrasive archetypes are just slabs of stone that the writers spend the first season chiseling into something resembling reality. Samberg's Jake Peralta mines a whole lot of comedic material from his '80s cop movie hubris, but works best when he's just observing what's going on around him. Lo Truglio's Boyle lets his insecurities reduce him to nearly nothing before he's able to build them up again. Braugher's Holt wants his crew to be procedurally bulletproof, but only because he's spent so many years building a tough exterior as one of his city's only openly gay cops.
It started out as a Samberg vehicle, but the powerful performances of an ensemble including withdrawn, fiery-tempered Detective Rosa Diaz (Stephanie Beatriz) and by-the-book overachieving Detective Amy Santiago Stephan (Melissa Fumero) turned this into an ensemble piece far greater than anything Samberg brought to the table on his own. It took this show about three episodes to hit stride and it just kept going. Season 2 should be something to behold.

Boardwalk Empire
Network: HBO
Streaming on: Amazon Prime Instant Video (Season 1)
Showrunner Terrence Winter knows his way around a New Jersey mob drama.
Responsible for some of the most riveting episodes of The Sopranos' run, Winter has spent the past five years telling the Prohibition-era story of Atlantic City bootlegger Nucky Thompson. Seventeen Emmy Awards, two Screen Actors Guild Awards and a Golden Globe later and Thompson, Arnold Rothstein, Al Capone, Lucky Luciano and the remaining Who's Who of Roaring Twenties organized crime are packing it in.
The great news for Amazon Prime customers is that they get to see the lavish, Martin Scorcese-directed pilot and the first season of Steve Buscemi playing the role of his life as Nucky Thompson. The bad news? HBO's well-leveraged deal with Amazon gives Prime viewers only the first season... for now. More may come along as the final season nears, but Amazon has given little indication that such a thing will happen. That means anyone who wants to see the final season — or seasons 2 through 4 — will have to subscribe to HBO and see them on demand or through HBO Go. Otherwise, you're stuck paying $3 a pop to watch pay-per-view episodes on Amazon, Wal-Mart's Vudu or elsewhere.
If Nucky Thompson thought running booze was a sweet racket, he should have seen premium television.

Parenthood
Network: NBC
Streaming on: Netflix (Seasons 1-4), Amazon Prime Instant Video, (Seasons 1-4), Hulu Plus (Season 5)
On its face, this show has no business surviving as long as it has.
It has its roots in a 1990s Ron Howard film, it takes place in Berkeley, Calif., it features Craig T. Nelson and Bonnie Bedelia running the Braverman clan from a hippie dream manor and the families of Braverman offspring played by Dax Shepard, Peter Krause, Erika Christensen and Lauren Graham have tackled divorce, drugs, questions of sexual identity and abortion. At just about any other stage in television history, the Moral Majority throws a plastic bag over this show's head, cinches up a zip tie and chokes it completely out of existence.
But this isn't their time. Parenthood has survived this long on the support of an audience that not only shows up when the program airs in real time, but streams through the various services listed above, keeps talking about it through social media and fights doggedly for it whenever NBC threatens to cancel.
The show's sixth season will be its last, but it finally feels as if Parenthood has done all it can. The Braverman grandparents are leaving the nest, the oldest of the Braverman grandkids are all in college and the middle-aged Bravermans are basically in stasis. There will always be a fight for better education and greater acceptance for kids on the autism spectrum such as Max Braverman. There will always be a struggle with balancing relationships for single parents such as Graham's Sarah Braverman. There will always be out-of-nowhere home expenses for young parents such as Shepard's Crosby Braverman, and there will always be struggles about trust and fidelity for working parents such as Julia Graham (nee Braverman).
The entire point of Parenthood has been that it's OK for family life not to be "OK." Financial and emotional turmoil happen, strong exteriors collapse and life just tends to throw curveballs. Sometime it ends with a smiling family dinner, sometimes in shouting matches and people crying on the floor. Those stories don't lean right or left and don't come with a political affiliation. They're fairly universal, which has been the greatest appeal of a show that's gone on this long.
It's a show about growth, and it's a process that continues whether the camera's rolling or not.

Sons Of Anarchy
Network: FX
Streaming on: Netflix (Seasons 1-5), Amazon Prime Instant Video (Seasons 1-5)
In the post-Shield era, this was the show that kept FX on the map and cleared the way for Justified,American Horror Story and the rest of the great FX dramas that came after it. Altogether, FX shows got 45 Emmy nominations this year: More than ABC (37), Showtime (24) and Fox (18) and just one shy of NBC and two short of CBS.
This seventh season will be Sons Of Anarchy's last, however, as the story of Samcro and Jax Teller's (Charlie Hunnam) rise to power within the biker gang comes to a close. The circle has been closing, regular cast members have been dying and Season 6 of this Hamlet-on-a-Harley saga has been one of the bloodiest to date — somewhat nullifying the suggestion that the show has stayed around about two seasons beyond its welcome.
One of the rare shows that has the majority of its backstory available for streaming, Sons Of Anarchy will likely have its seventh season ready for streaming before or just after the final season premieres Sept. 9. It's one worth watching to the end.

Louie
Network: FX
Streaming on: Netflix (Seasons 1-3), Amazon Prime Instant Video (Seasons 1-3)
We're in Season 5 of Louis C.K.'s series of vignettes and, with each passing year, Louie strays further from its beginnings as a sitcom and veers more toward art.
That means the show is going to be terribly uneven in parts. The good C.K. strived for through his relationship with Sarah Baker's self-proclaimed "fat girl" last season was countered and just about undone by his scenes with Pamela Adlon that raised multiple concerns about consent and the lack thereof.
But that's the bargain viewers sign onto when they watch this show. In one episode, Barney/Never from Season 3, C.K. looks absolutely brilliant by broaching the fear of dying alone and unremembered with co-star Robin Williams before looking like a gross-out comic by having a child defecate in his bathtub during the episode's second half.
It's a polarizing show, but easily one of the original and most creative on television. FX has made it clear that they're giving Louie a long leash — hence the two-year hiatus between seasons 3 and 4 — and the show uses just about every inch of it.

Mad Men
Network: AMC
Streaming on: Netflix (Seasons 1-6)
Another AMC series that Netflix was wise to lock up, especially with the second half of its final season coming early next year.
Showrunner Matthew Weiner has spent much of the show's run deconstructing lead ad exec Don Draper (Jon Hamm) and his strutting, hyper-masculine pre-60s facade and getting down to the Dick Whitman character at his core. His former suburban Stepford wife and witting accomplice Betty (January Jones) is struggling to forge her own identity as the wife of a New York politico. His protege Peggy Olson (Elizabeth Moss) is a powerhouse ad writer in her own right and a glimpse at what the future holds in store for her industry.
Get caught up in the nostalgia, the callouts to historical events, the fashion and the retrograde culture if you'd like, but Weiner is wrapping this up and would really like you to focus on not only the changing social landscape, but how Don Draper/Dick Whitman and his relationship with the women in his professional and personal lives fit into that context.
Will his partner Donald Sterling (John Slattery) meet the same early demise that awaited several of his depressive, hard-drinking colleagues? Will Joan Harris (Christina Hendricks) rise to the upper echelons of the advertising world despite the traps laid for her along the way? Will Pete Campbell (Vincent Kartheiser) sacrifice ever more of himself for professional gain? Will any of the toking, nipple-slicing copywriters make partner?
Irrelevant. Mad Men's endgame is coming down to Don Draper and a few close confidants. The clues have been spread out over the seasons, so it's definitely worth revisiting the rest of the series before taking in the show's final episodes.

Community
Network: Yahoo
Streaming on: Hulu Plus (Seasons 1-5)
In NBC's eyes, no one has been watching this show for the past five years other than a loud minority of obsessive pedants.
Well, fortunately for Joel McHale and company, Yahoo certainly didn't see it that way. Sure, this was a show that shot an entire episode in G.I. Joe-style animation last season. Sure, it once filmed a Christmas episode solely to tweak the creators of Glee. And, yes, one of its greatest characters (Danny Pudi's Abed Nadir) exists primarily to lampoon network television and to mock its most common cliches.
But a rabid fan base loved watching the students of Greendale Community College regularly bite the peacock talon that fed them and set their show apart from just about anything on network television. The show transformed Joel McHale from the host of E!'s The Soup into a bonafide comic commodity, it displayed the range of Alison Brie (who spends much of her time on Mad Men as a spurned wife) and it made Donald Glover more of a talent than his music career as Childish Gambino let on. More importantly, it showed that a cast of next-to-nobodies tuned into modern comedy could be more of an asset to a network comedy than Chevy Chase.
By getting picked up by Yahoo for its sixth season, Community did something far greater than make room for intelligent comedies beyond traditional television channels: It may have eliminated the need for abrupt cancellations altogether.

Bob's Burgers
Network: Fox
Streaming on: Hulu Plus (Season 4), Netflix (Seasons 1-3)
In a Fox Sunday lineup that included The Simpsons,Family Guy and just about anything Seth MacFarlane ever suggested to a television executive, Bob's Burgers became a breakout hit just by being itself.
Instead of repackaging pop-culture gags, trying to be topical or trading in on violent non sequiturs, Bob's Burgers creator Loren Bouchard let comedic talents including H. Jon Benjamin, Kristen Schaal, Eugene Mirman, John Roberts and Dan Mintz loose to feast on morsels of prime material. From their modest burger shop in an unnamed New Jersey shore town, the Belcher family has won over critics by taking surreal and outlandish situations and injecting them with everyday heart.
Linda Belcher has seethed with jealously over ziti recipes, been reduced to emotional rubble in public as a member of a high school band and single-handedly destroyed an organic supermarket from within, but does it with doting affection and Jersey-accented quips that hit just a bit close to home for Northeast moms. The shy, horse-worshipping, lovestruck Tina Belcher has come to symbolize teenage awkwardness better than any live-action predecessor this side of My So Called Life. Meanwhile, if H. John Benjamin gets any more comfortable with the dry, animated comic delivery he employs on both this show and Archer, his human form may just cease to exist.
They contaminate their neighborhood Lobsterfest's vat of melted butter, they throw a food-truck festival into fiery anarchy by mislabeling ingredients and they're extroverted to the point that local game show hosts rig the shows for them to lose, but they have heart that neither the Simpsons nor Griffins have displayed in several sweeps cycles. Bob's Burgers jokes without being mean and points out the peculiarities of art aficionados, "Bronies" and Speedo-clad rollerskaters without being judgmental. It's all the animation and laughs with fewer jerks, for which the entire television-watching country owes the Belcher family a debt.

The Good Wife
Network: CBS
Streaming on: Hulu Plus (Seasons 1-4)
So CBS finally makes a lovable, well-written procedural drama that has actually improved with age and what does it do? It makes it virtually impossible to stream episodes of that show when it isn't airing.
Listen, we know that the median age of CBS' audience is AARP-eligible. We realize that its core viewers are either hospitalized or asleep on the couch with the remote lodged between the seat cushions. We just figured that the home of the mature U.S. television audience's favorite acronym dramas (CSI, NCIS) would be able to string enough consonants and vowels together to come up with a cogent plan for its digital presence.
You enter a new deal with Hulu and instead of showcasing Julianna Margulies at the height of her powers — as a lawyer forced back into practice after the imprisonment of her state-attorney husband — you fill the service with reruns of Laverne and Shirley? Is there an executive somewhere on 52nd Street and Sixth Avenue who thinks the network is still airing Petticoat Junction? That the network needs more episodes of "those Norman Lear shows all the kids are into"?
Just about every other network, save HBO, goes through great pains to make sure their best shows are available for streaming and that they're getting the most value out of every episode they air. That more streaming viewers one year will lead to more television viewing the next. Not CBS. No, it would rather just hide perhaps the best season of The Good Wife yet -- big shakeup at the law firm, somebody dies, the grief that follows is presented in the most realistic way imaginable — on scheduled network television that fewer U.S. viewers watch each year than use it to reel in more viewers, content fees and ad dollars.
Good luck paying those Big Bang Theory salaries, CBS. We're sure the same strategy you used to fund and promote Barnaby Jones will work just fine in 2014.
— Written by Jason Notte in Portland, Ore.
>To contact the writer of this article, click here: Jason Notte.
>To follow the writer on Twitter, go to http://twitter.com/notteham.
>To submit a news tip, send an email to: tips@thestreet.com.
RELATED STORIES:
>>Why Seinfeld Is Stuck On Sites About Nothing
>>Yahoo's 'Community' Revival Means The End Of Cancellations
>>How The Cost Of Movies Made Us More Patient
At the time of publication, the author held no positions in any of the stocks mentioned. This article is commentary by an independent contributor, separate from TheStreet's regular news coverage.