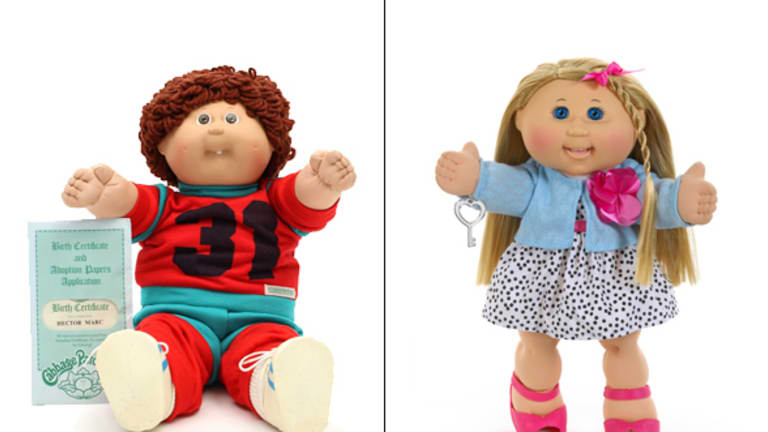 10 Toys That Are Making a Comeback
With so many toys available to children today, brands need to stand out. Here are ten toys that have successfully won over young children of the past and present.
NEW YORK (TheStreet) - Many adults, especially those with young children, may be hit with a sense of nostalgia as they walk through a store's toy aisle. Toys from the past are getting a makeover and being reintroduced to appeal to a new generation of children.
From My Little Pony to the Transformers, toy manufacturers are applying prior research and development to update old concepts without erasing the qualities that made the original so successful.
But not every toy that was a hit at one time will make a great comeback.
"A new audience has no frame of reference, or established relationship with a brand or product, so you have to prove yourself to this new audience," says Chris Byrne, content director for TTPM.com, a consumer website publishing reviews on toys and all things play. "Nostalgia with mom, dad and grandparents is not enough to create success in the marketplace because selling nostalgia doesn't work with kids."
Byrne notes that when a brand is revived, it never achieves the level that it did in its first iteration, but it can still contribute handsomely to a bottom line. Furby, for example, was a cultural phenomenon in 1998, selling in excess of 40 million units. "When Hasbro reintroduced it in 2012, it was still a huge hit, but did nowhere near those kinds of numbers," Byrne says. 
With so many toys available to children today, brands need to stand out. Here are ten toys that have successfully won over young children of the past and present:
MY LITTLE PONY
After the debut of My Pretty Pony in 1981, Hasbro launched the My Little Pony toy line two years later. This original toy line lasted until the mid-nineties, along with animated specials, four television series, and a feature-length film. Hasbro released two more generations of My Little Pony toys between 1995 and 2010, although neither became as popular as the original. However, since 2010, the most recent toy line has become extremely successful, with a fan base well outside of the target audience of young girls. Men and women of all ages appreciate the newest My Little Pony characters.
Since 1983, the ponies have had colorful bodies and manes, in addition to symbols on one or both sides of their flanks to distinguish them from other characters. Today, the ponies can also be purchased with accessories like carriages and collectible charms.
Check out My Little Pony on Amazon
JURASSIC PARK / JURASSIC WORLD
In 1993, toy maker Kenner released the first series of Jurassic Park toys to coincide with the theatrical premiere of the film. Sales of the Jurassic Park toy line continued to do well through the release of the second film, The Lost World: Jurassic Park, with different variations of dinosaurs and new playsets being produced. In 1998, Kenner needed to breathe new life into the Jurassic Park toy line, creating Jurassic Park: Chaos Effect.
Jurassic World, released this June,has broken a number of North American and worldwide box office records, and its corresponding toys (now sold by Hasbro) have been extremely popular.
Check out Jurassic World on Amazon
THE TRANSFORMERS
The original Transformers toys were a collaboration between toymakers Hasbro and Takara that were produced and nearly unchanged between 1984 and 1991. Soon after the toys were introduced, a comic series and an animated television show were created, followed by an animated movie.
New generations of Transformer toys and animated comics and series were developed between 1991 and 2007, but the live action films directed by Michael Bay were able to bring the series to an audience beyond fans of the animated comics and series. The increased popularity of the franchise also boosted interest in the toys, especially among younger children.
Check out the Transformers on Amazon
CONNECT 4
Connect 4 is a classic two-player game that was introduced in 1974 by Milton Bradley. While the game and grid have not changed much, a number of alternative ways of playing the game have been developed over the years.
In 2015, toy company Winning Moves reinvented the game by creating Connect 4 Twist & Turn. Instead of a flat grid, Twist & Turn is played using a tower with a rotating ring. This more complex version of Connect 4 appeals to players who may have outgrown the original, as it involves more strategy to win.
PLAY-DOH
Play-Doh was created by accident in the 1930s, when the owner of a soap company, Noah McVicker, produced a putty-like substance that was meant to clean wallpaper. Over the years, teachers realized that the non-toxic wallpaper cleaner worked well as a modeling compound for art and craft projects. A relative of McVicker brought the product to a convention for school supplies manufacturers, and began selling the newly named Play-Doh at department stores.
Today, Play-Doh products include elaborate molds and playsets for even more interesting and fun creations.
OUIJA BOARDS
The idea that a person is able to create written words without consciously writing through a psychic ability was mentioned in China as far back as 1100AD, and is the basis for the Ouija board. In the 1890s, a businessman named Elijah Bond patented a board with an alphabet printed on it as well as a planchette to facilitate the psychic ability of automatic writing. Between the 1920s and 1960s, the use of these boards in séances was extremely popular.
In the United States, online searches for the boards increased by 500% in 2014, the same year that the film Ouija was released. It is possible that this film was responsible for the rise in interest, as the boards have not changed much since their original distribution.
Check out Ouija Boards on Amazon
CABBAGE PATCH KIDS
Cabbage Patch Kids were introduced in 1982 by Coleco, and within their first year sold over 2.5 million dolls. By 1983, demand for the Cabbage Patch Kids was far higher than the supply. In many instances, near-riots would break out in stores as customers tried to get their hands on the dolls. At one store, 5,000 people fought for just one of the 120 dolls available. At another, a woman broke her leg in the commotion.
About six years later, the homely dolls lost their popularity. In 1996, Mattel presented a "Snacktime" version that had movable jaws that were used to imitate eating plastic carrots and French fries. Unfortunately, children found their fingers and hair caught in these battery-powered jaws, and the dolls were recalled soon after. Now with a new line of Cabbage Patch Kids, Wicked Cool Toys, the current manufacturer, hopes to bring the dolls back into the mainstream.
Check out Cabbage Patch Kids on Amazon
AMERICAN GIRL DOLLS
In 1986, the Pleasant Company developed a line of 18-inch female dolls that represented characters in various periods throughout American history, each with her own corresponding book series. The books feature main characters who are all inspiring, strong girls between the ages of 8 and 11, and teach readers how to best face different kinds of challenges.
Recently, new American Girl Dolls have been added to reflect more modern circumstances and issues in an attempt to draw in new generations of girls. Last year, the main "Historic Characters" were updated with new clothing, in addition to the return of one of the previously discontinued dolls.
Check out American Girl Dolls on Amazon
CARE BEARS
American Greetings created Care Bears in 1981, and two years later released six books introducing the ten main characters. Additionally, from 1983 to 1988, toy maker Kenner released plush toys to accompany the books and various production companies developed animated television specials and a TV series.
After a few efforts to relaunch the program and toys, Netflix announced in early 2015 that it had commissioned a TV series called Care Bears and Cousins for some time in 2016.
Check out Care Bears on Amazon
STRAWBERRY SHORTCAKE
Strawberry Shortcake was originally designed in 1977 to be used in greeting cards by American Greetings. Throughout the 80's, Strawberry Shortcake became very popular among young girls, as the brand extended into dolls, posters, clothing, and even a video game.
In 2008, American Greetings revamped the doll to appeal to younger generations. With new clothes, hair, and a cellphone, Strawberry Shortcake continues to be a young, independent character that young girls enjoy.