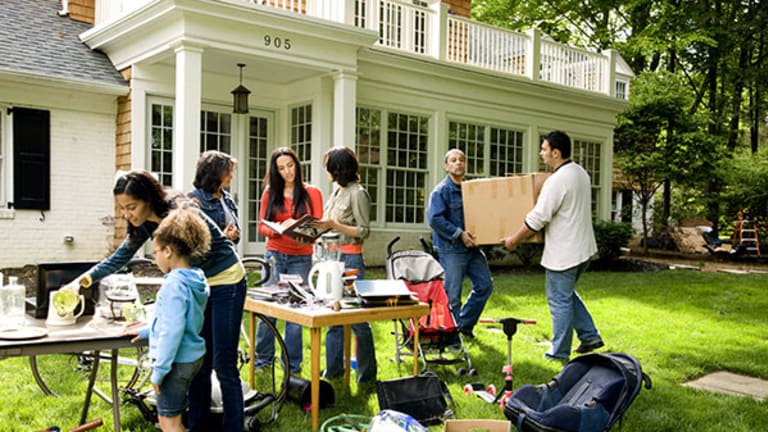 10 Tips to Make Sure Your Yard Sale's Worth It
Lugging boxes and sitting on uncomfortable lawn furniture is no one's idea of a good weekend -- here are 10 tips to make sure your garage sale efforts really pay off.
NEW YORK (TheStreet) -- If spring cleaning is on your list of to-dos, a yard sale or garage sale should be too. Sure, it's a lot of work, but all the lugging of boxes and bags can be worth it if you know how to turn a profit. We checked in with experts to find the best ways to turn an average yard sale into a real money-maker.
1. Have as much stuff to sell as possible.
Keep your purpose in mind as you clean out your closets, attics, basements and drawers: You want to clear clutter and make money, says Janelle Gallatin, sale event expert for RummageWisconsin.com, a site devoted to rummage sales, auctions and flea markets in Wisconsin.
"If you need the money, you've got to let go of things you like. Look at clothing you haven't worn in a year or books you never read," she says. "Let go of any emotional attachment you may have to these items."
Some of the best sellers typically include children's clothing, toys, books, antiques, appliances and furniture, Gallatin says.
2. Make sure the price is right.
While you want to make sure you turn a profit, your customers are all looking for a deal. People aren't going to a garage sale to pay retail, Gallatin says.
No matter how hard you worked setting up the perfect yard sale or how much emotional attachment you may have with an item, it's still only worth what people will pay.
"Just because you saw something listed on eBay for $100 doesn't mean people will pay that at a garage sale," she says. "Especially if the item is something you were going to donate anyway, price it to sell -- you don't want to take it back home."
3. Advertise like crazy.
The most common way to advertise these days is online. Most people turn to Craiglist, Facebook and other community message boards, Gallatin says. In all cases, it's important to have good pictures of what you're selling so that people are enticed to stop by.
"It's always a good idea to have pictures of your bigger-ticket items," she says. "Just make sure that the pictures don't reflect your clutter-filled garage -- they need to look good."
Other places to advertise include a traditional newspaper, any community newsletters in your area and service stations. The traditional yard sign also works well, Gallatin says -- just make sure you take your signs down after the sale to avoid creating "litter on a stick."
Also see: How to Make Your Etsy Business Pay Off>>
4. Make sure your items are clean and look good.
When items have been packed away for several years or stored in a musty basement, they lose a bit of their luster, says Austin Allgaier, founder of garage sale listing website YardSaleSearch.com.
Your items need to be freshly washed and pressed or steamed when possible -- nobody wants to buy dirty clothing, he says.
When your items are clean, customers are more likely to linger longer at your sale, says Chris Heiska, founder of YardSaleQueen.com.
"You don't want to stay and browse if you see things in dirty boxes or things are in disarray," she says. You can ask a bit more money for things when they are nice and clean."
For example, a dress might bring $5 if it's hanging up and is clean and pressed. If it's dirty and folded in a box, you'll be lucky to get $1, Heiska says.
5. Organize your items.
Organizing before the sale and the day of the sale is critical, Gallatin says.
"You want people to buy your things, and you want people to come back next year. They will remember your sale if things are organized and they can easily look around and shop."
Think about it this way: Stores are organized, so why wouldn't your yard sale be?
"If you're looking for glassware, you don't want to pick through baby toys to find it," Heiska says. "Don't set up a table with jewelry, a coffee maker, earrings and a hammer -- shoppers don't have all morning to sort through your stuff. They will simply go to a different yard sale."
6. Price your items.
"People who go to garage sales hate having to ask how much every item costs," Allgaier says.
If you don't have time to price things individually, try to have price "sections" or tables where everything is the same price, he says. One table can be your $1 table, another can be a $2 table.
If you'd prefer, try colored dots or labels, Gallatin says. For example, a red dot can signify 50 cents, while a blue dot can signify $1.
"If you use the color system, make sure you have plenty of signs that tell people what price each color represents," she says. "And keep things easy with round numbers -- 50 cents, $1, $5. You need to be able to add the prices up in your head and quickly give change."
Also see: How to Party Without Asking Your Guests for Too Much>>
7. Be prepared to haggle.
About 50% of garage sale buyers haggle with the sellers, according to a YardSaleSearch.com survey.
If you are flexible with how much you'll accept for an item, take baby steps when you adjust your price and try to meet the buyer "in the middle," Heiska says.
"When someone offers you a price that you don't like, give them a counteroffer."
Also, base your price on time of day. If it's late in the day and you still haven't sold an item, it's time to start taking best offers.
8. Hang your nicer adult clothing.
Most of the time, shoppers just don't want to dig through piles of clothing, Gallatin says.
"If you walk into a retail store, do you want to dig through piles of clothing, or do you like to browse what's on the rack?" she says.
If you have expensive jeans, suits, nice blouses or dresses, hang them up. But other items, such as T-shirts, sweatshirts and baby clothing, can be left on tables or in boxes as long as they are folded neatly.
9. Give visibility to your best items.
Many of your customers may be people who are driving or walking past, and you need something that will catch their eye, Allgaier explains.
If you run out of table space, make sure you relegate your cheaper items to boxes and bins. You don't want a $10 item buried under a pile of $2 items.
Also, make certain you have a variety of things on display.
"You need to catch the eye of whoever is driving the car!" Heiska says.
10. Don't be afraid to ask a friend for help.
Throwing a garage sale can be an exhausting experience.
"A neighbor or friend doing it with you will give you more energy to do everything you have to," Allgaier says.
Also, if they have stuff to sell while they're helping you, you'll have a wider variety of things on display and that will just make your sale more attractive to passers-by.