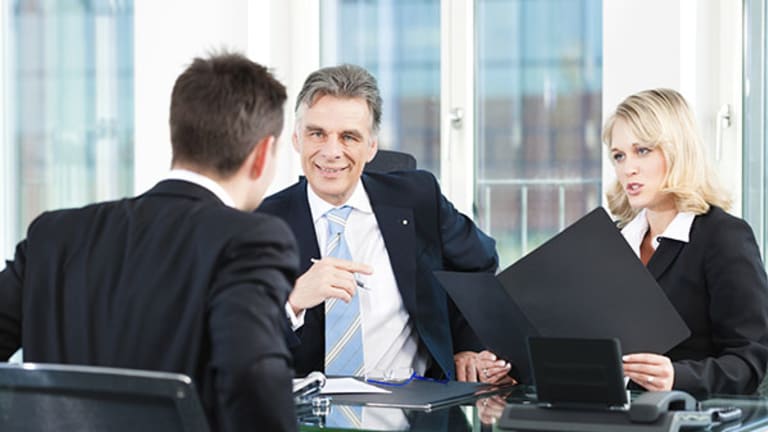 Publish date:
10 Things You Absolutely Need to Say in a First Interview
In an interview, first impressions are everything. Don't leave the room until you've made these 10 things clear to the hiring manager.
In an interview, first impressions are everything. Don't leave the room until you've made these 10 things clear to the hiring manager.
NEW YORK (MainStreet) — In an interview, first impressions are everything. If you want to leave the hiring manager wanting more, make sure you let them know these 10 things: 
1. I want the job
Ask what you need to do to get the job and how you can be successful in the position. Then tell the hiring manager that you want the job, says Julia Missaggia, director of talent at Philadelphia communication agency Brownstein Group.
"Not only does this show initiative and confidence, it will leave you with a better understanding of the objectives against which you will be measured," she says. "Ask about their expectations for you in the first 90 days, six months and a year and, equally, ask about hiring managers' priorities for this same timeframe, so you know what the larger goals of the organization are."
Knowing how the company defines success will help you to determine where your role fits in the equation.
2. I've done my homework.
Demonstrate that you've done your homework. If you've taken the time to research the company, it would be a misstep not to communicate this during your interview with the hiring manager, Missaggia says.
"It shows that you are serious about the position and that you came prepared to back your argument of why you're the best fit for the job, both of which will impress the hiring manager," she says.
This includes researching the company but also the person with whom you are interviewing. Know what their role is and what their career path looked like before their current position.
Also, make sure you demonstrate a passion for the industry by mentioning recent events or sharing experience that relates well to the position, says Mary Massad, recruiting services division president at human resources and business solutions provider Insperity.
3. The company is a great cultural fit for me.
"Know thy culture," Missaggia says. In addition to researching the company's history and service offerings, it's important to have a good sense of the company culture.
"While it's important for hiring managers to make sure prospective candidates have the skills and expertise required to produce quality work, it's also important to learn whether they'd be a good fit culturally," she says. "As a hiring manager, we respect an individual who does the same. We like to know that people aren't taking themselves too seriously, and that they can have a little fun — not to mention creativity — throughout the process. And we want to make sure that the individual's values are aligned with our own."
4. I'm the best person for the job.
Explain why you are the best person for the job, Massad says.
"Review the job description and take notes on what the company is looking for in this position," she says. "It's important to express the reasons why you should be hired."
Reiterate not only what the company is looking for, but also how your abilities, experience and dedication fit the position and will help the company succeed.
"This helps an applicant stand out from the others as a hiring manager narrows down the list of potential candidates," she explains.
5. I'm genuinely interested in this company.
Hiring managers enjoy speaking with candidates who have a genuine interest in the company and its growth, Massad says.
"Express genuine interest in the company," she says. "Prior to the interview, read the company's latest press releases and research any current news related to the company. Ask about clients or projects listed on the website, as well as how the position will contribute to the success of the company."
6. I'm successful.
Describe your most significant accomplishment, Massad encourages. This is perhaps the most important information you can share with a hiring manager. And yes, there are ways to brag about your successes without sounding like a jerk. 
"When asked about previous professional accomplishments, take the opportunity to explain leadership abilities, skills and results related to a specific project," Massad says. "This provides a hiring manager with great insight into what you are capable of achieving in the new position."
When you're having this conversation, don't forget it's important to be memorable, Missaggia says.
"Take it upon yourself to do something that sets you apart from the rest of the applicant pool," she says. "Tell a story or a joke, talk about your personal hobbies outside of work, give anecdotal evidence to support a claim about your strengths or how you overcame a challenge — do something that will leave a lasting impression."
7. I'm available and I know where I'm going in life.
Tell the hiring manager what your availability is, says Kaitlyn Annaert, human resources manager at Voices.com. Whether you're available immediately, require two weeks' notice at your current employer or need a month to relocate, let them know upfront. 
Also, be ready to speak on your long-term career goals.
"Have a five year plan," she says. "You're not expected to have a ten-year plan, but everyone should be able to express where they'd like to see themselves in five years."
8. I'm a nice person.
Be positive and smile, says Kevin Krumm, managing partner at the Chicago recruiting firm Objective Paradigm and its sister staffing company, Talution Group.
"Nobody likes people who don't smile. Be friendly and resonate with the tone of the company culture," he says.
Also, a good handshake can go a long way.
"It's cliche, but a good handshake says a lot! It exudes confidence," Missaggia says.
9. Thank you for your time.
This seems obvious, but a thank you can go a long way.
"Hiring managers will remember the prospective employee who lacked manners," Missaggia says.
10. I'm ready for next steps.
Ask about next steps, Annaert says. You should leave the interview with an understanding of what is expected of you.
"It will most likely be to wait patiently until you hear from them, but you may be able to squeeze a timeline out of them, and this will give you peace of mind while you wait," she says.
— Written by Kathryn Tuggle for MainStreet