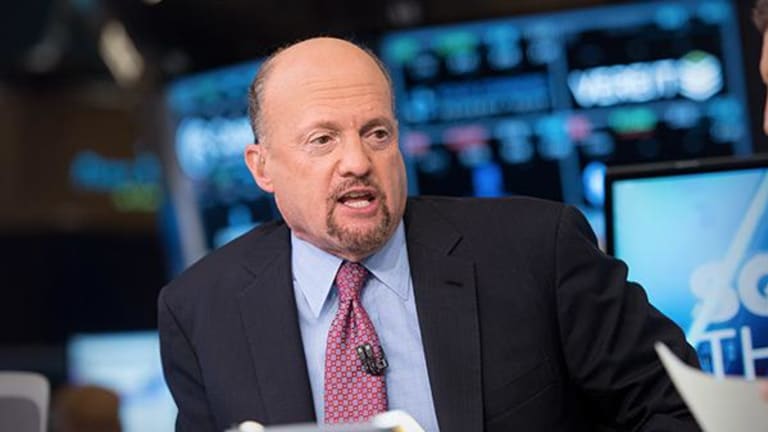 10 Things We Learned From Our Daily Facebook Show With Jim Cramer
TheStreet's Jim Cramer discusses the hottest stocks of the day on our daily Facebook Live show, airing weekdays at 10 a.m. EST.
TheStreet's Jim Cramer discusses the day's trending stocks on our Facebook Live show, airing weekdays at 10 a.m. EST.
Friday was the last day of the first quarter. Despite the S&P 500's flat performance in March, the broad index rose 5.5% during first quarter thanks largely to expectations of tax reform and deregulation under the Trump administration. 
In fact, Arconic (ARNC) was one of the best performing stocks in the S&P 500 during the first quarter, rising over 40%. The stock is a holding of Cramer's charitable trust, Action Alerts PLUS. 
The Trump trade started to unravel toward the end of March as investors grew anxious about President Trump's ability to follow through on health care and tax reform. The GOP's proposed health care bill failed to receive enough support on March 24.
TheStreet compiled 10 highlights from this week's shows.
1. Keep an Eye on Aronic
Cramer attributed the first quarter rise in Aronic shares to CEO Klaus Kleinfeld's recent move to spin the company out of Alcoa (AA) .
"We've made some trimming here [with Arconic] - it has soared so much from where we bought the last chunk," Cramer said referring to his charitable trust. "It is a company that is uniquely levered to both aerospace and auto and the aerospace business I think is going to be very, very strong."
Trending news on TheStreet:
Focus on Earnings in the Second Quarter, Not Donald Trump's Policies
Why These Wall Street Titans May Be Tripping Over Themselves to Buy Shares of Dying Sears
2. Stocks Are Entering 2Q Too High
While Jim Cramer isn't a bear, he thinks stocks are entering the second quarter at elevated levels. He thinks a better time will come to commit capital in the next couple of days.
3. Hold Apple, Don't Trade Apple 
Cramer said his charitable trust is holding shares of Apple (AAPL) and not trading them.
"Apple went from $93 - where it was the first week of May - to $143," Cramer said. "When you have a move like that, I am not going to tell someone this is the price and pound the table to buy."
4. Lululemon Faces Plenty of Competition
This week, Lululemon Athletica (LULU) issued disappointing quarterly guidance sending shares sharply lower. 
Cramer said the athletic clothing company is grappling with a host of competitors. 
"A lot of companies have come into this particular niche," Cramer said, referring to Nike (NKE) , Old Navy, a division of Gap (GPS) , New Balance and others.
5. Walgreens-Rite Aid Deal Is Good
Cramer wants the Walgreens Boots Alliance (WBA) and Rite Aid (RAD) merger to close. Walgreens is a holding of Cramer's charitable trust, Action Alerts PLUS. "It's the government that's giving them a hard time," Cramer said.
Walgreens has reportedly given the Federal Trade Commission a deadline for its planned $9.7 billion merger, according to a New York Post report. 
6. Cramer Is Bullish on e.l.f. Beauty
Amid the rise of selfies, Cramer is fond of e.l.f. Beauty (ELF) .
"If you want to look your selfie best, then you have to have makeup on when you go out," Cramer said, adding that e.l.f. Beauty products are sold in Target (TGT) .
7. Don't Give Up on Chipotle
Chipotle (CMG) has suffered since its 2015 E. coli outbreak. Cramer said consumers need 18 months to rebuild their trust of following its 2015 E. coli outbreak. The last incident was in December 2015.
"We are starting to get to the point where Chipotle numbers will soar," Cramer said.
8. Don't Underestimate Samsung 
This week, Samsung (SSNLF) unveiled its Galaxy S8. Even though battery fires ruined the launch of the Galaxy Note 7, Cramer isn't underestimating the company.
Though the Samsung battery issues helped boost shares of Apple. 
9. Profits Are in Focus for Restoration Hardware
Even though Restoration Hardware (RH) had a rough 2016, Cramer is optimistic about the company in 2017. 
"They're going to run this place for profit," Cramer said. "They were doing a very big reformation of the company last year - there are a lot of good things that are going to occur with Restoration Hardware."
Restoration Hardware shares are up some 51% since the start of the year. 
10. UK Stocks Are Too Expensive 
On Wednesday, the U.K. triggered Article 50, which commences a two-year negotiation of the nation's withdrawal from the European Union. Cramer said UK stocks are too expensive. "I would sell almost all [UK] stocks except Diageo (DEO) . 
More on Brexit: