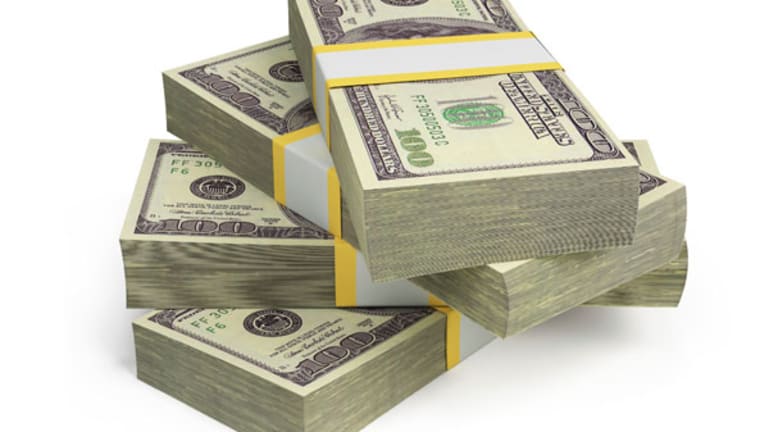 10 Terrible Financial Choices in Music History
As the Grammys near, artists from MC Hammer to Garth Brooks can attest: Money doesn't last forever and weird doesn't always work.
LOS ANGELES (TheStreet) -- The stage at the 53rd Annual Grammy Awards on Feb. 13 will be filled with music's stars, and probably an equal measure of bankruptcies in the making.
While a lucky few such as nominee Jay-Z are successful in their business ventures, music history is strewn with examples of missed opportunities, misspent fortunes and miscalculated risks. The margin for error's getting tighter, too, as Forrester Research noted that music sales and licensing dropped from $14.6 billion in 1999 to $6.3 billion a decade later. Meanwhile, Nielsen says total album sales fell 13% last year, while digital music growth slowed from 27% in 2008 and 8% in 2009 to just 1% in 2010.
With less of the pie to go around, artists would be well served to hold on to what they have and not go into high dudgeon when more isn't coming their way.
TheStreet
thumbed through the annals of music history and found 10 of the worst business moves artists have made. Keep these in mind when you hear a song by one of this year's Grammy artists half a decade from now and wonder "What ever happened to ..."
10. MC Hammer can't touch his old mansion
Before he was a hip-hop punchline and a celebreality show regular, MC Hammer was valued at $33 million by Forbes in 1990. His 1990 album
Please Hammer Don't Hurt 'Em
sold 18 million copies and produced the ubiquitous
U Can't Touch This
; his image was licensed out to Mattel dolls, British Knights shoes and a Saturday morning cartoon called
Hammerman
; and his follow-up album
Too Legit To Quit
went triple platinum, had James Brown's support and called out Michael Jackson.
By 1996, however, Hammer piled up $13.7 million in debt against $9.6 million in assets basically because the outspoken pop-rapper's vocabulary lacked one very important word: No.
Hammer spent $30 million on a sprawling estate, paid a 60-person troupe of onstage backup performers and yet another 100 people behind the scenes. When tastes changed and Hammer's gangster-rap switch to Death Row records was met with more chuckles than CD purchases, Hammer as an industry couldn't keep up and saw it all slip away.
He's been on better financial footing since, but has never quite recovered. He's known more in recent years for appearing on VH1 reality shows such as
Surreal Life
and
I Married ... MC Hammer
and A&E's
Hammertime
than for dancing in genie-sized parachute pants to positive rhymes. The closest he's come to musical relevance of late is when Nelly braggadociously declared he was going to "blow 30 mil like I'm Hammer" in his hit
Country Grammar
more than a decade ago.
Willie Nelson's tax woes
When you've been on the road as long as Willie Nelson has, even a multimillion-dollar mix-up with Uncle Sam is just another stop along the way. Way back in 1990, the Internal Revenue Service seized most of Nelson's assets and claimed he owed them $32 million in back taxes. Apparently, while Nelson was doing duets with Julio Iglesias and touring around with Johnny Cash, Waylon Jennings and Kris Kristofferson, his accountants were back home doing exactly the opposite of what Nelson was paying them for and not filing his taxes for years at a time.
Instead of grousing about it, Nelson released a double album called
The IRS Tapes: Who'll Buy My Memories?
for $19.95 and used the proceeds to pay his debts. He also sued Price Waterhouse for steering him into tax shelters that were the equivalent of rice paper umbrellas -- getting a nice settlement out of the deal -- and auctioned off items that were later bought by friends. Nelson shook off the debt about three years later and, aside from the occasional
marijuana-related jail stint and charity appeal
, has been back on the road ever since.
8. Damon Dashes from Jay-Z
In 2006, Roc-a-Fella Records co-founder and Jay-Z partner Damon Dash did an interview with
New York Magazine
in which he went into detail about his $50 million personal worth, opulent Manhattan home (with a whole level dedicated to his wardrobe), staff of butlers and personal assistants, $400,000 Maybach, more than 1,200 pairs of shoes and stylist wife Rachel Roy.
Just about all of that is gone now, as Dash's split with Jay-Z and ensuing business decisions left him owing New York State $2 million in taxes, putting two of his condos into foreclosure (including a 5,200-square-foot Tribeca duplex loft that went up for auction last year after Dash stopped paying the $78,000-a-month mortgage with $9 million left in the balance) and watching his Chevrolet Tahoe get repossessed after he failed to make the $714 payments. Roy, meanwhile, filed for divorce two years ago as the creditors moved in and lawsuits began piling up.
So where did Dash go wrong? Let's start in 2004, when he sold his stake in Roc-a-Fella to Island Def-Jam Records for $10 million after a reported dispute with Jay-Z about the direction the company would take. When Jay-Z became head of Def Jam that same year, he basically took sole ownership of the company he, Dash and partner Kareem Biggs had started and took artists such as a then up-and-coming Kanye West with him. Apparently trying to cut more ties with Jay-Z, Dash sold him the remainder of their Rocawear brand for $22 million in 2005.
It's a shame Dash washed his hands of Mr. Shawn Carter, as Jay-Z could have taught him a few things: like how to turn a dying $22 million clothing label called Rocawear into a $204 million windfall by flipping it to a company such as Iconix Group. Or how to turn experience with Roc-a-Fella's overpriced Armadale vodka house label into a gig as
Anheuser-Busch InBev's
(BUD) - Get Anheuser-Busch InBev SA/NV Report
co-brand director for Budweiser Select. Or how to invest money into money-making enterprises including the 40/40 sports clubs or foundering-but-moving NBA franchises such as the New Jersey Nets instead of buying cars and bottles of Crystal.
Last year, Jay-Z made $63 million and topped
Forbes
' list of hip-hop's cash kings -- a list from which Dash was noticeably absent.
7. Jay-Z and R. Kelly's worlds collide
As noted earlier, Jay-Z doesn't make bad businesses decisions often, and -- at the time -- this seemed like a no-brainer. He had just wrapped up a radio-fueled feud with Nas that is now the stuff of hip-hop legend, his album
The Blueprint
just went double platinum and produced his highest-charting song to date -- the party anthem
Izzo (H.O.V.A)
. Its follow-up pulled off the same sales feat while giving him the biggest commercial success of his career thus far with help from future wife Beyonce Knowles on
'03 Bonnie and Clyde
.
R. Kelly, meanwhile, had just worked with Jay-Z on the tracks
Guilty 'Til Proven Innocent
and
Fiesta
, just had a hit single with
The World's Greatest
from the movie
Ali
and was putting the finishing touches on his highly successful
Chocolate Factory
album and hits such as
Step In The Name of Love,
Ignition
and
Snake.
On paper, a collaboration album and tour seemed like a great idea. Certain realities made it less than ideal.
In February 2002, a videotape surfaced of R. Kelly allegedly having sex with and urinating on a 14-year-old girl. As R. Kelly and Jay-Z's album
Best of Both Worlds
hit stores, cops were searching Kelly's Florida home for evidence. Kelly was indicted on child pornography charges and arrested in January 2003. The album's tour was postponed until 2004, but even that couldn't save the enterprise as friction between R. Kelly and Jay-Z came to a boil during a performance at
Madison Square Garden
(MSG) - Get The Madison Square Garden Co. Report
when R. Kelly quit the show, claiming two members of the audience flashed guns at him. Saying Kelly had held up the show for much of the tour and tested his patience for the last time, Jay-Z kicked Kelly off of the bill and completed the final leg with a "Jay-Z & Friends" lineup.
Though Jay-Z and R. Kelly both recovered nicely -- with Jay-Z's album sales and business ventures flourishing and R. Kelly being acquitted of all charges in 2008 -- the tour was an unmitigated disaster and
Best of Both Worlds
' 1 million in U.S. sales (or 500,000 per headliner) was a professional low for all parties involved.
6. Mariah Carey's Glitter isn't gold
At the end of the 1990s,
Billboard Magazine
and the World Music Awards dubbed Carey the best artist of that decade. Each of her first seven albums had gone multiplatinum -- with her
Daydream
and
Music Box
albums selling more than 10 million copies each. Where do you go from there? To the movies!
Surely Carey could handle being one of the biggest music stars in the world, a one-woman industry and an actress in a film about a struggling club singer in the 1980s -- familiar subject for a performer who was once a backup singer for Brenda K. Starr. It was a lot more complicated than that, however, as Carey had just left Columbia Records amid fallout from her divorce from
Sony
exec Tommy Mottola, signed an $80 million deal with Virgin/EMI, ended a relationship with boyfriend Luis Miguel and had a near breakdown on MTV's
Total Request Live
. Just months before
Glitter
was supposed to be released, Carey was checked into a hospital for extreme exhaustion.
She'd get no rest once
Glitter
was released, as it that happened the same day as the Sept. 11, 2001, terrorist attacks, was nearly universally panned, brought in less than a quarter of what it had cost to make and won Carey Worst Actress "honors" at that year's Golden Raspberry awards. More importantly, it cost Carey her new record deal when its soundtrack failed to go multiplatinum and Virgin bought out Carey for $28 million.
It took Carey almost four years to completely rebound, signing with Island Records in 2002 and scoring 6 million sales of her album
Emancipation of Mimi
in 2005. Though Carey albums such as 2009's
Memoirs of an Imperfect Angel
or last years
Merry Christmas II You
have failed to sell a million copies, Glitter remains the one garish, sparkly smudge on an otherwise brilliant career.
5. Metallica un-Loads hair, fans, credibility
Time has dimmed just how bright Metallica's star was in 1994. Their self-titled "black" album was on its way to selling 15 million copies, its boxed set
Live Expletive: Binge and Purge
would sell as many and the band itself just wrapped up an appearance at Woodstock '94 (the Woodstock sequel that
didn't
end in assaults and fires). They were tightrope walking the line between "awesome" and "iconic," but what happened next dropped them right into the safety net.
As is the case with many bands whose members' egos get too bloated for their leather britches, Metallica decided to take the recipe that gave them all their success and chuck it clear out of the nearest tour bus window. For their follow-up effort, the band decided to release an album of songs lead singer James Hetfield would later admit were experimental, but decidedly average, call it
Load
(complete with an Andres Serrano album cover made with the artist's own blood and semen) and cut their hair to a gentlemanly length for the promotional photos. The grand result? A staggering 66% drop in sales from the black album -- which would be the case for their symphonic live album
S&M
and their B-sides compliation
Garage Inc.
as well -- and a 40% sales slump from
Load
to its 1997 follow-up
ReLoad
.
To further twist the fork the band was sticking into its career, it not only filed a lawsuit against peer-to-peer file-sharing network Napster, but culled the names of more than 335,000 Napster users (Metallica fans, mind you) and ratted them out -- asking that they be kicked off off the site.
How did fans respond? By laughing as Metallica members cried about band issues during therapy sessions in the 2004 documentary
Some Kind of Monster
and basically ignoring their albums
St. Anger
and
Death Magnetic
-- which each sold 2 million copies but were the band's worst-selling of all time and cost them their deal with
Time Warner
(TWX)
, which just let Metallica's contract expire.
Metallica's not doing too shabbily, however, teaming up with Slayer, Megadeth and Anthrax for a highly anticipated one-off concert later this year. That's great for a metal band that always wanted to be the next Black Sabbath or Motorhead, but not so much for a band that could have been the next Led Zeppelin.
4. Garth Brooks unleashes Chris Gaines
Maybe it was the Y2K scare or a fear of all those zeroes, but Mariah Carey wasn't the only '90s music superstar to lose the handle as the 2000s arrived. Garth Brooks, for example, had been named the second-best-selling solo artist of the 20th century behind Elvis Presley by the Recording Industry Association of America. Four of his first six albums between 1989 and 1997 sold more than 10 million copies, with 1990's
No Fences
nearly doubling that mark and 1992's
The Chase
not missing it by much. He got to collaborate with Kiss on a cover of
Hard Luck Woman
in 1994 and the debut of his seventh album, 1997's
Sevens
, was so big that it warranted a concert on the Great Lawn in Central Park. Even if music fans knew nothing about modern country in the 1990s, they knew Brooks because he took it to them.
Then he went crazy.
Like Fleetwood Mac did when it followed up its inescapable
Rumors
album with the more experimental
Tusk
, Brooks decided at the height of his powers that success meant unlimited artistic freedom. With backing from
Viacom's
(VIA.B)
Paramount Pictures, Brooks started work on a movie featuring a country-singing alter ego he named Chris Gaines. It's a cute enough concept, but when you make a fake
VH1: Behind the Music
about that character, refer to that character in second person during a
Saturday Night Live
appearance and release a "prequel" album --
Garth Brooks in ... The Life of Chris Gaines
-- you're going into the dark place. That little foray led Brooks to 2 million album sales, easily the lowest of any record he'd ever made, and years of semi-retirement after the release of his last album
Scarecrow
roughly a decade ago.
Brooks is now booked solid at the
Wynn
(WYNN) - Get Wynn Resorts, Limited Report
Encore casino in Las Vegas and, while his sales have since surpassed Elvis', his new turn as a Vegas nostalgia act is a big step away from Central Park and a little too close to Presley's own career path.
3. The Beach Boys have fun, fun, fun until daddy takes the songs away
Behind the Beach Boys' serene, laid-back West Coast surf sound was oceans of turmoil, but perhaps none of it would have been possible if not for the actions of manager Murry Wilson. The father of Beach Boys members Brian, Dennis and Carl Wilson, Murry decided in 1969 that the boys had peaked and decided to cash in by selling their Sea of Tunes publishing company and all the rights to their songs to A&M Records for a scant $750,000 -- or little more than $4 million adjusted for inflation.
Never mind that at the time his son Brian's mental health was deteriorating to the point that he'd spend three years in bed gorging himself on food and drugs, or that the Beach Boys' catalog at that time contained
Surfin' USA, California Girls, I Get Around, Help Me Rhonda, Barbara Ann, Wouldn't It Be Nice, Good Vibrations
and every other hit they'd ever written.
Wilson's relationship with his sons seemed to be built on a foundation of criticism and humiliation, based on beatings of the boys detailed in Brian Wilson's 1981 autobiography and a letter from Murry Wilson to his sons on Sea of Tunes letterhead and circulated last year in which he tells Brian "No matter how many hit songs you write or how many hundreds of thousands of dollars you may earn, you will find when you finish this short cycle of business success that you didn't do it honestly and for this reason you are going to suffer remorse."
Murry died of a heart attack in 1973, while sons Dennis drowned in 1983 and Carl died of cancer in 1998. Brian Wilson eventually recuperated and sued for the rights in 1989, getting $25 million in royalties but losing on the publishing. Beach Boy Mike Love then sued Wilson for a piece of the take in 1992, getting $13 million for his trouble. That's a lot of darkness behind those sunny songs.
2. MJ to McCartney: "The songs are mine"
The story of how Sir Paul convinced Michael Jackson to buy the Beatles' publishing rights is nearly as legendary as the musicians themselves. After collaborating with McCartney on the songs
The Girl Is Mine
and
Say Say Say
, Jackson came to McCartney's house for dinner and the Cute One showed Jackson a booklet of all the song publishing rights he owned -- including Buddy Holly's -- and told Jackson he was earning $40 million a year off of the royalties to said songs. Michael's alleged response: "I'm going to buy some of your songs, Paul."
When ATV Publishing went up for sale in the early 1980s, with several of McCartney's and John Lennon's Beatles compositions included, McCartney passed -- having previously tried to buy the rights with Yoko Ono for $40 million in 1981, only to fail when Ono balked and he didn't want to catch flak for stealing Lennon's songs. That opened the door for Jackson who, in 1985, won a bidding war for the rights and paid $47.5 million for them. He'd earn that back and then some a decade later when his merger of the publishing rights with Sony would net him $90 million.
The entire catalog, now owned solely by Sony, has an estimated worth of $5 billion or more, with the Beatles songs yielding $30 million to $45 million a year in returns. McCartney was initially displeased with the sale and has said he hates paying someone else to play
Hey Jude
or
Yesterday,
but it's hard to feel too badly for him. The
Times of London
placed his net worth last year at roughly $700 million.
1. Decca brushes off The Beatles
"Not to mince words, Mr. Epstein, but we don't like your boys' sound. Groups are out; four-piece groups with guitars particularly are finished ... The Beatles have no future in show business."
Those are the words Beatles manager Brian Epstein heard uttered by Decca Records executive Dick Rowe on Jan. 1, 1962, after The Beatles finished a one-hour, 15-song audition in London.
Despite fellow executive Mike Smith's enthusiasm after seeing the band play in Liverpool the night before, Rowe thought they sounded too much like an existing band called The Shadows and wouldn't be necessary on a label that already included Louis Armstrong, Count Basie, Billie Holliday, Judy Garland and Bing Crosby. EMI, however, was more than willing to take them in, and reaped the benefits almost immediately when the band sold $50 million in records in the U.S. alone in 1964. To add insult, Decca was actually called in to help with production when EMI was overwhelmed.
Instead of enumerating all of the album revenue, royalties, reissue, greatest-hits, Cirque du Soleil,
Across the Universe
and
Electronics Arts
( ERTS)
Rock Band
money Decca missed out on, we'll note that the label got perhaps the best consolation prize in music history courtesy of George Harrison, who tipped off the label about a little outfit then known as The Rollin' Stones.
-- Written by Jason Notte in Boston.
>To contact the writer of this article, click here:
Jason Notte
.
>To follow the writer on Twitter, go to
.
>To submit a news tip, send an email to:
.
RELATED STORIES:
>>50 Cent Twitter Stocks Pump Hip-Hop's Power
>>5 Best Gift Cards For Early Holiday Shopping
>>Credit Cards That Pay For Holiday Shopping
Jason Notte is a reporter for TheStreet.com. His writing has appeared in The New York Times, The Huffington Post, Esquire.com, Time Out New York, the Boston Herald, The Boston Phoenix, Metro newspaper and the Colorado Springs Independent.