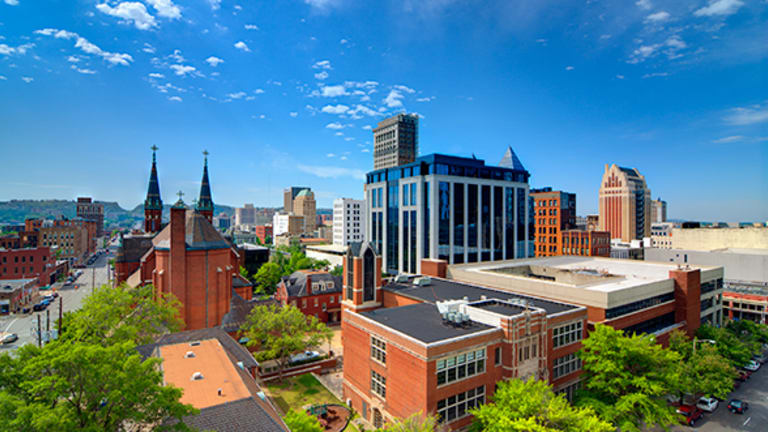 10 Cities Where Craft Beer Is Taking Off
Selling craft beer or opening a brewery in Vermont, Oregon or California isn't so tough. Just try doing it in Las Vegas or Birmingham.
NEW YORK (MainStreet) -- Craft beer can grow in popularity and production as much as it likes, but it won't make a difference if it doesn't grow out of its comfort zone.
According to the Brewers Association craft beer industry group, craft brewers sold 12.2 million barrels of beer in the first half of 2015, up from 10.6 million barrels during the first half of 2014. At the end of that same period, there were 3,739 breweries operating in the U.S. That's an increase of 699 breweries since the same time last year and doesn't count the 1,755 breweries currently in the planning stages. That translates to an estimated 115,469 full-time and part-time jobs in the craft beer industry.
That's a not insubstantial portion of 49,576 brewery jobs, 131,307 distribution jobs and 383,190 beer supplier positions -- hop growers, maltsters, brewing equipment fabricators and the like -- that the Beer Institute and National Beer Wholesalers Association lobbying groups say the beer industry will fill this year. Overall, those groups say the beer industry contributes about $253 billion in economic output -- roughly 1.5% of the nation's GDP -- and accounts for $48.5 billion in tax revenue.
However, that industry doesn't affect each part of the U.S. equally. Portland, Ore., adding yet another brewery to the more than 60 within its city limits does little to help Mississippi's beer industry and its seven breweries total. Nobody's raising a glass in North Dakota's six breweries to toast the opening of yet another big craft brewer's East Coast facilities in Asheville, N.C. According to Nielsen, while 35% of drinking age adults say they're interested in drinking a beer labeled "craft," 45% want a beer that's made locally. That percentage of locavore beer drinkers jumps to 53% among drinkers ages 21 to 34, which suggests that beer is going to be an increasingly local concern for the foreseeable future.
That's inspiring a whole lot of brewers to forego craft beer hotspots in favor of less-saturated locales. With some help from local drinkers and increasingly friendly beer laws, the following 10 cities have seen their craft beer cultures explode within the last year. Craft brewers could hoard their newfound riches, but they're quickly discovering that their success, like their beer, is best shared with friends:

10. Detroit
Increase in craft beer sales during the last year: 18.6%
Even in a state as beer-rich as Michigan, Detroit couldn't catch a break. Breweries including Founders, Bell's and New Holland helped make towns like Grand Rapids, Kalamazoo, Holland and Ann Arbor beer hubs and boosted Michigan's overall beer production 41.5% over the last year. However, thanks to the opening the Brew Detroit brewing facility and its 70,000 barrels of capacity, breweries including Motor City and Atwater now have a means of meeting demand that has long outpaced supply. Combined with the opening of Batch Brewing this year, Brew Detroit gives the city some muscle as it pushes into Michigan's thriving craft beer scene.
9. Las Vegas
Increase in craft beer sales during the last year: 18.8%
The Rat Pack and Swingers painted Vegas as a cocktail town, but the fact that brewpubs have only been legal here since 1993 certainly hasn't helped Sin City's craft beer culture. Nevada had 25 craft breweries altogether in 2014, which still represents a more than 25% increase from the 18 it had as recently as 2011. Sure, while Vegas is starting to get a push from breweries including Banger, Big Dog's and Ellis Island Casino, it's taprooms like Aces & Ales, Public House and The Pub at Monte Carlo that are spreading craft beer to the strip's masses.

8. Minneapolis
Increase in craft beer sales during the last year: 18.9%
How does a city with more than 30 non-chain brewers and craft beer stalwarts including Surly and Summit get such a huge push? Easy: It just didn't have this much craft beer a year ago. There were 52 craft breweries in all of Minnesota at the end of 2013. There were 73 by the end of last year, an increase of nearly 25% within a year and more than double the 35 breweries that called Minnesota home in 2011. It isn't just that there's more craft beer: There's more local craft beer to choose from, which means folks in Minneapolis don't have to go rummaging for a brand from another state once they've cycled through their favorite locals.

7. Greenville, S.C.
Increase in craft beer sales during the last year: 20%
Don't let South Carolina's 31 breweries fool you: This is a state with a growing, thirsty beer culture. While it still doesn't allow its brewers to self-distribute, which isn't great when neighboring North Carolina has seen its brewing industry boom by allowing brewers who brew less than 25,000 annually to distribute their own beer, things are looking up. In 2013, South Carolina breweries got a big boost from the "Pint Law," which allowed breweries to sell up to 48 ounces of beer to consumers in a 24-hour period. Previously, breweries were limited to just offering 4-ounce samples. However, the doors were blown wide open by last year's "Stone Bill" which, in an attempt to lure Stone Brewing Company of Escondido, Calif. into building an East Coast brewery in South Carolina, allowed breweries to get a food service permit and a retail permit and not have mandated limits on on-site consumption. Breweries also can have guest taps and sell wine. It didn't work, as Stone chose Virginia instead, but it worked out for South Carolina brewers, whose numbers increased more than 33% last year. It's also worked out fairly well for Greenville, which is home to five of the state's breweries and has two homebrewing shops for budding brewers.

6. Des Moines, Iowa
Increase in craft beer sales during the last year: 20.2%
The funny thing is, this is just Iowa warming up. Sure, Des Moines has some great breweries including Confluence, Court Avenue and Exile. Sure, Iowa breweries including Coralville's Backpocket and Decorah's mighty, award-hogging Toppling Goliath are raising the state's beer profile in the rest of the country. However, in July, the state finally decided to let its citizens purchase beer in refillable growlers and to classify beers above 5% ABV as beer instead of liquor. As a result, Iowa brewery numbers that grew from 27 in 2011 to 46 by the end of last year should likely swell even further.

5. Charlotte, N.C.
Increase in craft beer sales during the last year: 21.8%
North Carolina has more than 100 breweries after having only 60 to its name in 2011. Asheville still accounts for more than a dozen of them, and that's before you count the Oskar Blues, New Belgium and Sierra Nevada outposts built there in recent years. Raleigh now has close to 20 of its own and is making the Triangle a bubbling beer hub. Charlotte, with its nine breweries (including a Rock Bottom franchise) and two homebrew shops may seem just a little underpowered. However, breweries including NoDa, Birdsong, Triple C and the Olde Mecklenburg combine with taprooms including Duckworth's and Flying Saucer (not to mention the Salud Bottle Shop) to give both Charlotte's and North Carolina's beer a huge audience of business travelers, Panthers fans and the long-suffering Hornets Faithful. North Carolina has built itself into a craft beer powerhouse, but Charlotte's time in the craft spotlight has just begun.

4. San Diego
Increase in craft beer sales during the last year: 22.5%
It's hard to believe San Diego's craft beer sales had any further to climb. According to Nielsen, 35% of all beer served in San Diego comes from craft brewers. The city has its own brewers guild, is home to roughly 50 breweries (including Stone, Green Flash, Ballast Point and AleSmith) and the massive San Diego Beer Week in November. However, with more brewers opening shop here -- including an outpost of Danish gypsy brewer Mikkeller -- and the city showing an nearly inexhaustible thirst for craft beer, biting into that remaining 65% of all beer sales doesn't seem like such a daunting task.

3. Cleveland
Increase in craft beer sales during the last year: 23.5%
We are about to ruin everybody's good time by going on about Cleveland beer. While it shouldn't really surprise anyone that this town is big on beer, its craft beer scene has grown into its own. Great Lakes Brewing Company brought Cleveland's craft beer to the world, but the Fat Head's chain performed a feat of its own by bringing its beer to Portland, Ore., and getting folks there to fall in love with its innovative brews. Market Garden, Buckeye Brewing, Portside, BottleHouse -- not to mention six homebrew shops and more than its share of taphouses, Cleveland is putting up impressive numbers in a state where the brewery count soared from 45 in 2011 to 110 last year.

2. Cincinnati
Increase in craft beer sales during the last year: 27.5%
This is a revival that's long overdue. Long home to great breweries including Hudepohl-Schoenling, Christian Moerlein and George Wiedemann, Cincinnati built its Over-The-Rhine neighborhood on breweries and helped convince Hofbrauhaus to put its first U.S. location in Newport, Ky. Today, the Hudepohl-Schoenling brewery produces Samuel Adams for Boston Beer Company and Christian Moerlein is just recently revived, but the city's beer-making future rests in the hands of newcomers including Blank Slate, MadTree and Over-The-Rhine's own Rhinegeist.

1. Birmingham, Ala.
Increase in craft beer sales during the last year: 63.1%
is improving, but still largely terrible. State legislators' summer reading assignment was to look at other states' beer laws and determine how they compare with Alabama's draconian nightmare. Breweries here can't send visitors home with a beer: Not in a bottle, not in a can and not in a growler. Before 2011, breweries couldn't even sell their beer in a pint and, prior to 2009, couldn't sell beer over 6% ABV at all. Homebrewers couldn't brew here legally until two years ago. Under those conditions, just about any concession is amazing. Within the last three years, five breweries (Avondale, Cahaba, Good People, Beer Engineers and Trim Tab) have opened in Birmingham. There are exactly three stores where you can guy craft beer, but a
broad spectrum of craft brewers
 including New Belgium, Ballast Point, Bell's, Sierra Nevada and Stone have begun distributing here in recent years. Just after beer laws changed in Alabama in 2011, there were just six breweries in the state. There are now upwards of 19, with more on the way. Alabama still has a long way to go, but its craft beer is finally taking its first steps toward greatness.
This article is commentary by an independent contributor. At the time of publication, the author held TK positions in the stocks mentioned.