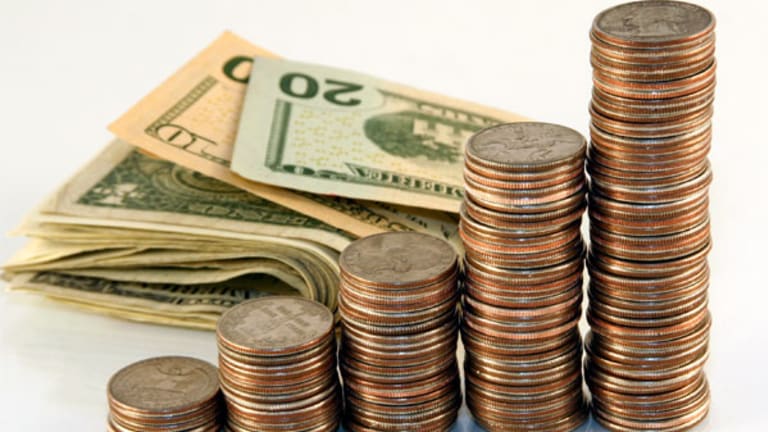 DUBLIN -- (
) -- No, everybody
isn't
Irish on St. Patrick's Day, and neither is their beer.
St. Patrick's Day continues to walk the fine line between religious holiday, celebration of Irish heritage and reason for everyone else who isn't associated with either the church or Ireland to buy or sell beer. Last March, U.S. brewers alone produced nearly 17.7 million barrels of beer just to meet demand, according to the Treasury Department's Alcohol and Tobacco Tax and Trade Bureau. That was the most beer brewed in March since 2006.
But is any beer really "Irish?" George Killian's Irish Red has "Irish" right there in the name, but it has little to do with the Irish red ale George Killian produced in Ireland from 1864 to 1956. After Killian's brewery closed, his brand name was passed on to a French brewery and, eventually, to the folks at
Coors
. It's now part of the
Molson Coors
(TAP) - Get Molson Coors Brewing Company Class B (TAP) Report
empire and doesn't brew a drop on Irish soil.
Guinness
, meanwhile, has more than 250 years of history behind the doors of its St. James Gate Brewery in Dublin, but is now part of U.K.-based
Diageo
(DEO) - Get Diageo plc Sponsored ADR Report
. The Guinness family still owns 51% of the brewery itself, but the brand is just one among several in a multinational corporation's stable.
What can we divine from these two examples? Well, if you want to be considered Irish, it helps to keep producing your product in Ireland. All of Guinness' Irish and U.K. production still comes out of Dublin, the brewery still stands and the attached Guinness Storehouse still serves as a museum to the beer's humble beginnings and heritage.
It also helps to keep producing a low-alcohol product that won't have you stumbling out the door after long sessions at the pub. At the very least, it should have something in its makeup, character or even heritage that would make it at home in an Irish pub. We've pored (and poured) though the options and found 10 beers as Irish as Guinness for your St. Patrick's Day enjoyment:
One of the Big Three Irish stouts along with Guinness and the next stout on our list, Murphy's is a lighter, sweeter alternative. If that only makes a drinker want more of it, Murphy's highly sessionable 4% alcohol by volume should remove any fears of a nasty hangover by night's end.
Murphy's history in Ireland stretches back to 1856, when it was brewed at a facility known as Lady's Well Brewery. The name changed to Murphy's Brewery in 1983 when the company was bought by
Heineken International
. Even after the big-beer takeover, Murphy's remained the less-bitter alternative to a Guinness and is most likely to be the stout on tap in a non-Guinness pub.
Similar to Guinness in bitterness and texture, Beamish is the third member of the Big Three and is a big deal in Ireland.
How big? William Beamish and William Crawford established the brewery back in 1792, so more than three centuries worth of big. So big, in fact, that when Heineken International was getting ready to take over the Beamish and Crawford brewery in 2006, Ireland's Competition Authority put out a report on the state of stout in Ireland. The result: not good.
The authority's inquiry found that stout had dwindled from 70% of Irish beer market share in the 1970s to just 30% by 2006. Beamish wouldn't be immune to the downsizing after the Heineken takeover in 2008. The following year, 120 Beamish workers were let go and the remaining 40 were sent over to the Murphy's brewery. That same year, Heineken halted all Beamish exports.
It's a shame, as it's a nice blend of caramel, cocoa and coffee sweet from roasted barley to match the slight, hoppy bitterness at the finish. If you're lucky enough to find yourself in a place that's managed to get some cans or even kegs brought over from Ireland, park yourself there to enjoy the slight 4.1% ABV and the brown lace foam's long journey down your pint glass.
Ever notice how every power group has one member that just doesn't seem to fit in?
Among the fizzy lagers, it's Pabst pushing for prominence among Bud, Coors and Miller. With Irish stouts, O'Hara's is the little brother playing tagalong with Guinness, Murphy's and Beamish.
The shame of it is O'Hara's might be better than all three. A product of
Carlow Brewing
, an Irish craft brewer founded in 1996, O'Hara's experienced growth similar to most American craft brews. While only a modest presence in Ireland for the first years of its existence, O'Hara's built its footprint through lots of do-it-yourself promotion, word of mouth and exports.
The beer itself held up its end of the deal. Made with a stripped-down combination of roasted barley, hops, yeast and water, O'Hara's has a creamy, malty flavor with hints of scorched coffee bean. That tan foam, jet-black body and smooth texture is an absolute dessert of a drink, with a 4.3% ABV that won't put you to sleep.
Porterhouse Brewing Oyster Stout
There's more than one brewer in Dublin, you know.
Since 1989, Porterhouse Brewing has been spreading some of the craft beer spirit around Guinness' backyard by fooling around with Belgian recipes and tweaking beloved Irish styles. Porterhouse has since expanded to brewery and four brewpubs in Ireland, another brewpub in London and yet another at the New York pub -- Fraunces Tavern -- where George Washington had a few beers with his officers to celebrate their victory over the British.
Its line of stouts is still extraordinary, with none more so than the Oyster. Still creamy and coffee-flavored like your average stout, the Oyster Stout gets just a hint of sweetness from the oysters shucked right into the conditioning tank. We realize that the thought of oyster in beer conjures up briny tastes in the mouths of the uninitiated, but stout lovers would be missing out on a molasses sweetness that's more like a porter than a dry stout.
Out of the stouts at last, we finally settle into the world of smooth Irish ales.
One of the longtime favorites is Kilkenny Irish Cream Ale, a style that falls between a warm-weather ale and a cellar-stored lager. Brewed by Guinness and distributed by Diageo, Kilkenny traces its origins back to Smithwick's brewery during the 14th century. The entire point of this beer is to have the sweetest, smoothest, most inoffensive brew imaginable in your glass to make you forget you're drinking a beer.
Kilkenny accomplishes all of that with an almost vanilla aroma, a rich, creamy, toasted malt flavor and a nitrogen-infused texture similar to Guinness, but with little more than 4% ABV. It wasn't available here until 2009, however, and then only at the Dubliner Pub in Washington, D.C. It's availability has expanded somewhat, but drinkers should still consider themselves lucky if a local decides to carry it.
Remember that whole 14th century bit we told you about Kilkenny? Well, it applies to Smithwick's, too.
Both Smithwick's and Kilkenny were brewed on the site of a Franciscan abbey in Kilkenny, where monks had brewed since the 14th century. It wasn't until 1710 that John Smithwick and Richard Cole founded the brewery that it started producing the Irish Red Ale known and loved today. With lots of malt and a little hint of caramel, Smithwick's is almost still as it hits a drinker's tongue and smooth and light going down. While it feels almost devoid of carbonation, a pint of Smithwicks from a nitrogen tap can be as light and lovely as any stout and pairs nicely with a Guinness as a proper Black and Tan.
Though only 3.8% alcohol in Ireland, Smithwick's gets kicked up to 4.5% ABV in the states. If you're worried about where to find it, you obviously haven't been to a pub in a while. Smithwick's was bought by Guinness in 1965 and is part of the Diageo family. If you find one, chances are you'll find the other at a tap beside it.
Yet another of the dry, malty, caramel-flavored Irish red ales, so named for the reddish hue that comes from adding just the right amount of roasted barley.
This one also has some history to it, going back to the early days of Lady's Well Brewery in 1856 when it was brewed as Lady's Well Ale. The modern incarnation has a bit less romance to it after being reintroduced by Heineken in 1983 as export bait for beer-drinking countries Heineken didn't think would take to stout.
Since then, however, Murphy's and Smithwick's have spawned a host of U.S. doppelgangers that have little to no Irish roots, but are giving the old standbys a run for their money.
Boston Beer
(SAM) - Get Boston Beer Company, Inc. Class A Report
makes a serviceable version with its
, but kicks the ABV up to 5.8% for the American craft beer masses. Some of the best Irish Reds in the U.S., however, come from the dead center of the country. Kansas City, Mo.-based
(5.8% ABV), Cleveland's
Great Lakes Brewing's Conway's Irish Ale
(a whopping 6.5% ABV) and the smooth caramel and peat of the
(5.5% ABV) from
Three Floyd's Brewing
in Munster, Ind., started with the same traditional red ale foundation but give the formula a decidedly American spin.
Oh, we're sorry, is cider not a potent enough drink for you on St. Patrick's Day? Why don't you just step into any Irish pub in the Northeast on darts night and say how weak you think cider is?
Not so tough now that you're getting cider through a straw, are you?
The Irish have been making big batches of hard cider since the mid-1930s, when the first batches were made by William Magner. Cider now accounts for 12% of Ireland's beer market, and that original cider Magner made makes up a huge part of that percentage.
Though it's known as Bulmer's in Ireland for reasons involving former ownership by H.P. Bulmer and a lot of evolution we're not going to address, Magners found a huge following among East Coast Irish expats and pub crowds. Sales were up more than 29% last year as the sweet, mild cider set its sights on even more U.S. growth with new varieties, including a peach-and-berry concoction.
Its owners,
C&C Group
, recently bought E.&J. Gallo Winery's Hornsby's cider brand -- the No. 2 brand in the U.S. -- and seem fixed on expanding Magners' presence from coast to coast. That's great for West Coast rugby watchers looking for a bit of Irish authenticity in their local pub, but could get confusing for cider fans who'll wonder what all those ice cubes are doing in their drink. If you want a real pint of Irish cider, it's best enjoyed on the rocks.
Cains Dark Mild
OK, we admit it, this beer isn't from Ireland at all. It's from Liverpool, which makes it about as Irish as The Beatles.
But "beer sommelier" and
owner Matt Simpson recommended this beer that's been kicking around since 1858 because this English dark mild ale drinks like a stout. It has a smooth, tan head, goes down without much fuss and has about a percentage point less alcohol content than its lightest St. Pat's competitors.
"I'm not necessarily one for all Irish beers on St. Patrick's Day, and I think the United Kingdom in general has a lot of similar styles of beer that can be employed on that day," he says. "I've been telling a lot of people that I've been drinking the hell out of Cains Dark Mild recently because it comes in a big 15-ounce can, tastes like Guinness but better and is only 3.2% alcohol, so it's the definition of session beer and perfect for a day like St. Patrick's Day."
This isn't going to earn it any credibility in your local Irish pub, but Cains Dark Mild and other ales of its ilk could be the difference between a full St. Patrick's Day and tapping out before the dinner bell rings. He draws a similar parallel to Scottish ales such as Belhaven's, which flirts with 5% but can be found in a 60-shilling variety abroad that clocks in at 2.9% ABV or a St. Andrew's variety that comes down to 4.6%. These styles excel when made by folks who've produced it for a century or two, but U.S. craft brewers such as
and
are embracing the more sessionable beers as well.
"Try your local beers and something more sessionable like local cream ales or amber ales, a lighter session lager, an Irish red ale or even a Belgian blonde or a witbier, which are really tasty beers that are sort of light and easy to drink," he says. "That's the tradition, isn't it: Sort of hanging out with your friends and having fun all day, presumably trying not to get too
expletivey?"
Black IPA
Once again, not of Irish descent in the least. India Pale Ale is a British style that's since been Americanized and has precious little to do with Irish ales and stouts.
Joseph Tucker, editor of the site
, has found that the black IPA is just a little more Irish than its hoppy profile lets on. Though its aroma is West Coast, the black IPA's inspiration lies on Ireland's rocky shores.
"Stout is a dark ale. It's such a close cousin to porter that the lines are often quite blurry," Tucker says. "The American take on this very general style are hop-forward examples known as black IPAs."
Those hops are about as forward as they can get, with Escondido, Calif.-based
hauling off and slugging drinkers of its 8.7% ABV Sublimely Self-Righteous Ale in the mouth with hops and citrus. Though West Coast brewers such as Oregon's
and
also dabble in hoppy black IPA, the East Coast has produced some formidable black brews of its own. Lakewood, N.Y.-based
Southern Tier Brewing
created a heavyweight in Iniquity that's not only smoky and hoppy, but a potent imperial at 9% ABV.
"Try looking for Black IPAs by craft brewers of Irish ancestry here in the States ... Shaun O'Sullivan's Back In Black from
is canned and widely available," Tucker says. "Tony McGee of
makes a coffee stout -- Cappuccino Stout -- that's also found in many states and is a more celebratory alternative to very light-bodied beers like Guinness. They should both play well with corned beef and cabbage at the table."
>To submit a news tip, email:
.
RELATED STORIES:
>>The Beer Dance: Our March Madness Bracket
>>How Nitrogen Powers St. Patrick's Day Beer Business
>>Brewers Invest In Perfect St. Patrick's Day Pints
Follow
TheStreet
on
and become a fan on
Jason Notte is a reporter for TheStreet. His writing has appeared in The New York Times, The Huffington Post, Esquire.com, Time Out New York, the Boston Herald, the Boston Phoenix, the Metro newspaper and the Colorado Springs Independent. He previously served as the political and global affairs editor for Metro U.S., layout editor for Boston Now, assistant news editor for the Herald News of West Paterson, N.J., editor of Go Out! Magazine in Hoboken, N.J., and copy editor and lifestyle editor at the Jersey Journal in Jersey City, N.J.