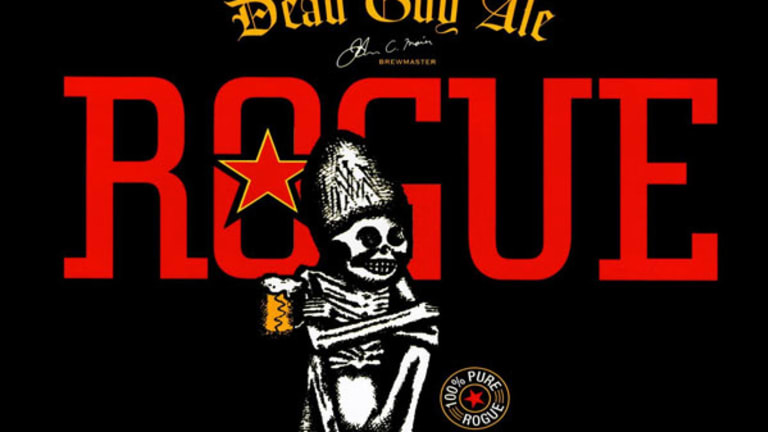 10 Spring Beers for the End of a Long Winter
The spring seasonal beer styles are available whether you want them or not. Among them are some great brews that don't abandon heavier winter malts, but signal a tastier summer ahead.
PORTLAND, Ore. (TheStreet) -- This is not spring. It's not even nearly spring. It's just a gray, cold, snowy month that beer brewers with calendars to keep want to pass off as spring.
It doesn't matter baseball considers February "spring" and that pitchers and catchers have reported to "spring training." It doesn't matter what a Pennsylvania rodent that once starred in a Bill Murray film had to say about it a few weeks ago. It's winter, and it's going to be tough to convince us otherwise.
It's a season of dispute for beer lovers and brewers, but it's also just an odd time for beer in general. Drinkers are transitioning away from darker, maltier, boozier brews and into hoppier, more refreshing beers. That makes it a tumultuous time in taprooms and a period of chaos in the beer coolers, as space once taken up by winter warmers, strong stouts and carmel, coffee or even chocolate-flavored treats and bold barleywine becomes an awkward mix of winter leftovers and early spring wheats, pale ales, blondes and fruit beers.
But that's February for you. You'll hit a warm spell in the beginning of the month that makes you want to trim hedges, plant vegetables and roll out the grill, but then those last storms roll in and you're wondering if that bag of rock salt from December is still around and where you put your shovel. Beer during this month is no different. A hoppy, citrusy IPA will remind you that the sun is out and the worst is almost over, but that brisk breeze that comes in when you open the door and the sun blatantly lies to you sends you racing for the nearest mperial stout. This is where mellow but potent Scottish ales and light-drinking dry stouts tend to shine and where a slightly amber pilsner makes an adequate seasonal filler.
Unfortunately for brewers, resolution-bound drinkers aren't having any of it. According to figures from the Beer Institute and the Alcohol and Tobacco Tax and Trade Bureau, February is typically one of the more miserable months on the beer calendar when production falls about 3 million barrels off its midsummer peak to its lowest point until the November-December holiday season.
While St. Patrick's Day gives those numbers a boost, it's not until Memorial Day hits in May that beer starts to sell again. Despite this, there are still some great seasonal offerings out there for the optimists among us. The following 10 offerings are just a sample of what brewers put out around this time of year and are as scattershot and unpredictable as the season itself:

10. New Belgium Spring Blonde
Style: Belgian Pale Ale
Alcohol by volume: 6%
The first bottle of this arrived way too early in February, to the point we would have had to clear snow off it if we kept it on the porch another day. That said, when the thermometer hits 70, this is going to be wonderful. As translucent as a belgian typically is, this blonde is lighter than most and keeps a foamy, white head that drinkers typically equate with light lager. Just hold out for that flavor, though. The Munich malts give it some body while a bit of lemon zest and some spice give it a flavor like a less potent witbier. There are Nugget hops in the mix, but it takes some real nitpicking to find them. Malty without being sweet and heavy and citrusy without being bitter, it's a warm-weather beer signaling better days ahead.

9. Widmer Brothers Columbia Common
Style: California Common
Alcohol by volume: 4.7%
This is one that first surfaces around January, but it seems far more suited to the gray, transitional days of February and March than most of its contemporaries. That's because this amber lager traces its roots to San Francisco and Anchor Brewing's Anchor Steam -- so named for the vapor that used to come off of the roof of Anchor's brewery when the cold Pacific Ocean air would hit the hot bins of cooling wort. It's malty, it's cold-brewed and it's easy drinking. Widmer Brothers spiced up their version a bit by using hefeweizen yest and a revived strain of the nearly extinct Columbia hop. It's a beer just as suited to the dismal days of early February as it is to warming weeks of late March. Not as complex as wintry brews and not as thin as summer offerings, California Common meets the season where it's at.

8. Green Flash Palate Wrecker
Style: American Imperial IPA
Alcohol by volume: 9.5%
Easily the most fun name on our list, Palate Wrecker is also by far the most accurate. International bitterness units are used to measure just how bitter a beer is and typically cut off at 100. San Diego's Green Flash claims 100+ for Palate Wrecker, which may not be possible but is certainly disputable considering the mouth-puckering bitterness of this brew. This isn't a brewer that saves its hops for seasonal gimmicks, either. Its year-round West Coast IPA weighs in at 95 IBUs. Its everyday Imperial claims 105 IBUs. Each has a hops-up-your-nostrils floral aroma and a flavor that couldn't be more citrusy if you sat around all day licking grapefruit. Palate Wrecker isn't released from January through April as a pleasant little spring awakening. It occupies that window because you couldn't handle it the other eight months of the year.

7. Sixpoint Hi-Res
Style: Imperial IPA
Alcohol by volume: 11.1%
When you take a hop in your hands and crush its leaves between your fingers, there's a fragrant and slightly sticky substance left behind. Congratulations, you've just extracted hop resin: The substance that gives an IPA the aroma and flavor its adherents love.
Two years ago, the folks at Brooklyn's Sixpoint got down to the painstaking work of extracting hop resin and putting it into a 9.1% ABV, 103 IBU year-round beast of an IPA called Resin. It was potent enough to force Sixpoint to slim down their cans from 16 ounces to 12 but appealing enough to consider cranking it up a bit for a seasonal release.
That's where Hi-Res comes in. Dumping a whole lot of hops into the mix late, Sixpoint bumps up the bitterness to an off-the-scale 111 IBUs while still maintaining a sweet, fruity flavor. A beefed-up grain bill accounts for the boost in alcohol content, but the flavor and aroma shouldn't be shotgunned straight from the can. It's worth savoring, even when the other three cans in the pack beckon.

6. Elysian Brewing Split Shot Espresso Milk Stout
Style: Sweet stout
Alcohol by volume: 5.6%
Just pure genius. The problem with any good milk stout -- where lactose is used to boost the sweetness -- is that it can come off as too sweet on some occasions. The problem with coffee stout -- which adds coffee or coffee beans to the mix for bittering -- is that it can come off as way too bitter. Who best to resolve this issue than a brewer in a town with ubiquitous espresso shops and Starbucks headquarters parked right near the railyards. Using lactose for sweetness and Stumptown espresso from Portland, Ore., for its bitterness, Split Shot hits it right down the middle and creates a near perfect stout just in time for the end of stout season. This one goes away in March and it's going to be missed something awful by anyone who's ever wished they could balance their stout the way they balance their morning coffee.

5. Deschutes Red Chair NWPA
Style: American Pale Ale
Alcohol by volume: 6.2%
There's a sweet spot around this time of year when beer drinkers know they want to get back into hops, but aren't quite sure they're ready to let the maltier side go. Deschutes is in the ski town of Bend, Ore., and knows exactly where those folks are coming from. Red Chair gives Deschutes' malty Jubleale the boot each January and replaces it with a copper blend of Pale, Crystal, Munich, Carapils, Pilsner and Carastan malts. That mild brew gets a much needed kick from a liberal helping of Cascade and Centennial hops that gives it just enough citrus aroma and flavor to trigger some thoughts of spring. The chairlift on Oregon's Mount Bachelor gave this beer its name, but this beer is meant to get beer lovers through the ski season and help them remember that winter is all downhill from here.

4. Sierra Nevada Southern Hemisphere Harvest
Style: American IPA
Alcohol by volume: 6.7%
Fresh hop season is still the better part of a year away here in the U.S., but it's fresh hop season somewhere.
Way to the south of us, the temperatures are far more amenable to hop growing around this time of year and, just as winter is ending for us, summer is ending there and bringing on the hop harvest. A whole lot of New Zealand-grown Southern Cross, Pacifica and Motueka hops go into this mix and produce a beer that's incredibly floral and flavorful without being overly bitter.
But can you can it "fresh hop"? By that definition, hops would have to go from the vine to the brew kettle and fermentation tanks in less than 24 hours, and these are picked, dried and shipped over a seven-day stretch. That may test the definition of "fresh" that this longtime Chico, Calif., brewer is putting out there, but, let's face it, you're not getting anything else ever resembling a fresh hop beer here until at least late August. Just enjoy the modern convenience of international shipping and take it for what it is: a nice break in an otherwise dull season.

3. Rogue Dead Guy Ale
Style: Maibock
Alcohol by volume: 6.5%
This is the part where we get run through by the beer pedants who don't think this holds up to the German versions.
While that's true, the German versions of this traditional seasonal don't tend to make it across that large body of water between us and Europe very well. Besides, Rogue has been making this fine example of the style for decades and pretty much nails it. Rogue has been kicking around since '88 and still thrives today for one reason: consistency. It's something brash younger brewers can't wrap their skulls around and that long-departed pioneering microbrewers couldn't quite manage.
With Dead Guy, Rogue builds a base of Munich and proprietary malts that give the beer a deep color, but also a rich, complex flavor bordering on bitter -- with just a bit of spice in the mix. Other breweries treat this style as a one-off seasonal or a wine-bottle-sized special release, but Rogue's been making this year-round for time immemorial. It's a consistently fine balance between malty winter brews and spicier summer wheat beers, but it's tread that line for longer than its toughest critics have been alive.

2. Great Lakes Conway's Irish Ale
Style: Irish Red Ale
Alcohol by volume: 5.4%
The Irish Red, like the Maibock, is a perfect transitional beer.
Built on a backbone of roasted malt that provides its toasty flavor, Conway's Irish Ale is mellow above all else. As with any good red, there's just a bit of punch on the back end courtesy of some Mount Hood, Willamette and Northern Brewer hops, but not enough to make drinkers pine for a citrusy IPA.
It's still plenty miserable out there for most North American beer drinkers, and an Irish Red doesn't sugarcoat it. We're still weeks from St. Patrick's Day and half of the continent suddenly developing a taste for dry stout and still nearly three months from Memorial Day and even the vague notion summer is upon us. An Irish Red gets true publicans through the last of the dreariness, but lightens the mood a bit for better days ahead.

1. Victory St. Boisterous Hellenbock
Style: Maibock
Alcohol by volume: 7.5%
The state of Pennsylvania knows its way around German beer styles. Brewers such as Stoudt's and Yuengling have bocks in their history, but even its younger craft brewers such as Victory give the older styles the respect they deserve.
St. Boisterous doesn't tone down the Maibock style in the slightest, using German malt and German Hallertauer Saphir and Tettnang hops to remain as faithful to the traditional recipe as possible. It also gives purists their due by keeping the alcohol level on the high side and keeping this Maibock the early season warmer that it was meant to be.
Spring is inherently bock season, and St. Boisterous is a brilliant reminder of why that is. Deep, rich, spicy and warm, Victory's Maibock is strong enough to beat back the clouds and rain, but complex enough to usher in the bouquet of flavors that awaits on the sunnier side of the season.
-- Written by Jason Notte in Portland, Ore.
>To contact the writer of this article, click here: Jason Notte.
>To follow the writer on Twitter, go to http://twitter.com/notteham.
>To submit a news tip, send an email to: tips@thestreet.com.
RELATED STORIES:
>>5 Big CES Products That Tanked
>>10 Cities Poised For Greatness In 2013
>>5 Most Infamous Cars Of 2012
-- Written by Jason Notte in Portland, Ore.
>To contact the writer of this article, click here: Jason Notte.
>To follow the writer on Twitter, go to http://twitter.com/notteham.
>To submit a news tip, send an email to: tips@thestreet.com.
RELATED STORIES:
>>Where Does U.S. Beer Go After 3,700 Breweries
>>Blue Point Sale A Blueprint For Forgotten Craft Beer
>>5 Hard Cider Brands Pressuring Beer
Jason Notte is a reporter for TheStreet. His writing has appeared in The New York Times, The Huffington Post, Esquire.com, Time Out New York, the Boston Herald, the Boston Phoenix, the Metro newspaper and the Colorado Springs Independent. He previously served as the political and global affairs editor for Metro U.S., layout editor for Boston Now, assistant news editor for the Herald News of West Paterson, N.J., editor of Go Out! Magazine in Hoboken, N.J., and copy editor and lifestyle editor at the Jersey Journal in Jersey City, N.J.