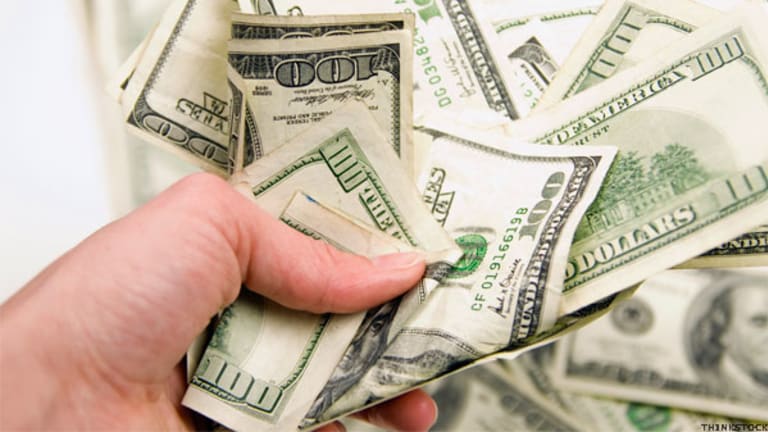 NEW YORK (
) -- The heart of back- to-school shopping season, the second biggest shopping time of the year, means everyone is out to score a great deal on clothing, notebooks, electronics and the usual necessities that come along with the new school year.
It's no surprise that more and more consumers are hunting for those back-to-school deals online. Almost 40% of consumers will shop online during the back-to-school shopping season, compared to just over 21% in 2007, according to the
National Retail Federation
. But just because the migration to the web for outfitting today's student is now established, it doesn't mean consumers have learned the best ways to find online deals.
Whether you're shopping for a grade school kid or a college student in need of a new laptop,
TheStreet
has compiled 10 must-know rules for finding the best back-to-school deals.
1. Coupons now come in 140 characters: use Twitter
Retailers are taking to social media sites to offer special coupons and alert consumers to sales. Aside from following your favorite stores on Facebook and Twitter, the website CouponTweet.com aggregates tweets with links to coupons. You can search by retailer, which features coupon-related tweets from Macy's and Sears, to name a few. Additionally, use the site to search for the money saving tweets based on what category of merchandise you're looking to purchase, whether it's apparel or electronics.
2. You get what you pay for, and you often can't "see" it, so look harder
When shopping online you're at a disadvantage in the sense that you can't physically see the product, as you would at a traditional bricks-and-mortar store. To get the most for your money when shopping online, it's important to learn as much about the product as possible.
"Sometimes products will have similar prices, while their specs are on opposite ends of the spectrum. To combat this, use sites such as
PriceGrabber.com to compare similar electronics and appliances side by side and determine which gives you the most for your money," says consumer savings expert
Andrea Woroch.
3. Timing a sale means being a historian
If only we could purchase everything at a discounted sale price, instead of discovering an item went on sale five minutes after we bought it. If you haven't been too successful lately at predicting when an item hits the sale rack, use history to help.
To get over that hump, the website
CamelCamelCamel.com tracks prices of items on Amazon.com and will show you a graph of the historical prices of the item. You can see what months the specific item has gone on sale in past years, and time your purchases accordingly.
If you deduce from CamelCamelCamel.com that the LED television you're eyeing has gone on sale in November for the past two years, it might be wise (though a tad risky) to hold off until November to catch the next sale.
4. Be alert by setting online alerts
"If you see an item online, you can sometimes set up alerts for when it does go on sale," says savings expert Jeanette Pavini with Coupons.com.
Check retailers' websites to see if they offer alerts, too.
Additionally,
PriceBlink is an app for your web browser (available on Chrome, Firefox, Safari and Internet Explorer) that not only compares prices of items, but will alert you if there are any available coupons associated with the item you're looking to purchase. So if you're shopping on BestBuy.com, for example, a PriceBlink browser bar will appear on the top of the window with a drop-down list of coupon codes for that retailer.
5. Don't forget that bricks-and-mortar hasn't surrendered in the pricing war
The bricks-and-mortar stores aren't letting the online retailers take all of the business. They are offering discounts too. Whether shopping online or on the pavement, finding the best deals is the art of the shopping experience.
Don't think there is a scientific law that states any online promotion will beat every in-store price.
"There are promotional items that are only available online -- it's important to see what the online prices are, factor in the coupon code and compare this amount with the prices in-store," Pavini cautions.
Even when the best price is online, there's often a deal within a deal. If you see a space to enter in a coupon code, don't leave that box blank. Many times a simple Google search for promotional codes related to the item you're looking to buy is the answer to scoring the best deal.
6. Search for free shipping codes
The downside to shopping online is often the cost of shipping. A few clicks, however, can result in free shipping, which is a term online shoppers love to hear. We're talking about websites like FreeShipping.org, which instead of reducing the price of the actual item, offers codes that simply remove the price of shipping.
Don't automatically assume that the biggest retailers have the best shipping deals. A recent search for an item on Target, Toys 'R Us and Amazon didn't merit free shipping for any time frame other than two weeks because of the low price-point. However, a boutique toy site was offering free two-day shipping for the same product at the same price (plus a free pack of batteries to go with it).
7. Use free trials to get free shipping from retailers
How does two-day free shipping sound? The website ShopRunner.com offers just that at dozens of retailers, including Calvin Klein, Lord & Taylor and American Eagle Outfitters. After the site's thirty-day free trial, you'll be charged a monthly fee of $8.95 to be able to score this two-day free shipping from the site's participating retailers.
Depending on how often you shop online, the savings could potentially pay for the membership fees. Otherwise, just remember to cancel that free trial once your free-shipped product has arrived.
8. Stick to a few websites to save on shipping
Retailers will offer free shipping assuming you meet a certain threshold of spending.
"Make sure you combine purchases to qualify for cheaper shipping discounts. Most people will buy an item from one site, and their next item from the next site. Batching your orders can help you save on shipping," says online marketing expert and founder/CEO of
WebiMax, Kenneth Wisnefski.
9. Chat online with a salesperson
Shopping online means you can't talk in-person to a manager or store associate. Some online retailers, like J. Crew, offer a live chat online with a store representative. Just as you might ask a manager in-store for a discount or to match a price, ask the store rep online for a free shipping code. Sometimes, saving money comes down to simply asking questions, even when there is "no one" to ask.
You can also use live chat for website technical glitches or if you have a question about an item.
"Live chat gives merchants the ability to provide near concierge level service to consumers who want that personal shopper experience when making a purchase online. For consumers, live chat support can help on everything from merchandise selection to payment challenges," says Brian Hoyt, senior writer for
The RetailMeNot Insider .
10. You no longer have to wait in line, but need to make tracks
Once you've made your online purchases, how are you going to keep track of when they arrive at your doorstep?
The
Slice app on the iPhone and
Android version links to your email and takes the data from those e-receipts that pop up in your inbox after making an online purchase and catalogs them conveniently on your smartphone. The app even lets you see when each shipment will arrive, this way you don't have to head to the shipping company's website and enter in multiple tracking numbers.
--By Scott Gamm
Gamm is the founder of the personal finance website HelpSaveMyDollars.com. He has appeared on NBC's TODAY, MSNBC and CNN. Follow Scott on Facebook and Twitter.