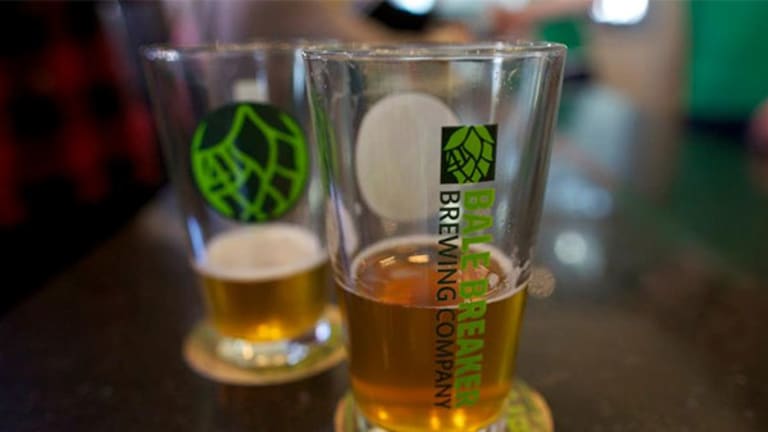 10 Reasons To Love Fresh Hop Beer Season
If you value fresh hops and want to be sure they're in the brews you're buying, here are some places to start.
PORTLAND, Ore. (TheStreet) -- Back in August and early September, beer lovers in hop-growing regions across the country got out their ladders and snips, took to the wires and twine strung to poles, barns and garages and began harvesting big green piles of hops.
Nothing against the nutmeg and cinnamon of a pumpkin or harvest ale or the easy drinking goodness of an Oktoberfest Marzen, but if you're fortunate enough to live in a place where the vines stretch 20 feet and the hops blossom so thick that the air is tinged with the scent, fresh-hop beer season is a wonderful time of year.
Situated outside Portland, Ore., as it is, our beer reporting bureau spent the past year learning the merits of the fresh hop through immersion. We attended The Oregon Brewers Guild and Oregon Hop Growers Association's 2012 Portland Fresh Hop Fest at Oaks Amusement Park last October and sampled from dozens of state offerings teeming with Centennial, Cascade, Chinook, Nugget, Crystal, Liberty and various other hops.
In spring, we planted a few hop rhizomes -- basically, hop roots -- of our own and watched our fledgling Cascade and Willamette hop vines slowly creep up the twine. With a first-year yield of scarcely a cup of mixed hops, our first crop landed on the back porch of
Lucky Labrador Brewing
in Portland -- where pickup truck beds filled with surplus hop vines were transferred to tables of beer-fed volunteers for picking, sorting and weighing.
Daunted in our own efforts, we took a quick trip to the Hillsboro, Ore., site of Oregon-based brewery, restaurant, theater and hotel chain McMenamins, where a brewer at the six-barrel Cornelius Pass Roadhouse and Imbrie Hall brewery explained how fresh hops were most effective in their brew Thundercone when producing aroma and just a bit of flavor. Much of the bittering is left to a somewhat less-fresh hop stockpile.
But it's that flavor and aroma that give those once-a-year fresh hop beers their unparalleled character. Though brewers and beer fans in hop-growing regions such as the Pacific Northwest are usually the prime beneficiaries of U.S. harvest season, the logistics of modern commercial delivery has made it possible for even far-flung breweries to get in on the action. The fresh hops being used by brewers at the Craft Brewers Alliance's
Widmer Brewing
facility in Portland bear a distinct resemblance to those being flown in by brewers on the Atlantic.
Granted, as blogger and Northwest beer writer Bill Night
pointed out so vehemently this month
, that has led some breweries to play it fast and loose with the "fresh hop" designation. Some will instead use the term "wet hop" to describe freshly picked hops while applying "fresh hop" to bundles of dry product they deem the freshest hops of the season. How can a beer buyer really know the difference?
We wish we could tell you it was a regional thing and that you should be good with beers from hop-growing regions, but Night singled out two Oregon brewers -- Widmer and
Hopworks
-- for using only dried hops in "fresh hop" batches from several years ago. Each has since abandoned that practice in favor of the real deal.
Our advice: Get to know the brewers you like and if you have doubts about their fresh hop beer, just ask. Most have a
Facebook
(FB) - Get Meta Platforms Inc. Class A Report
or
Twitter
presence and have more to lose from lying about it than from giving you the straight story. If that's not enough, here are 10 brews from brewers that we're absolutely positive are using fresh hops. There are far more out there, but just consider these 10 a rhizome to get you started:
Sierra Nevada Brewing in Chico, Calif.
If this isn't the beer that started it all, it's certainly the oldest of its kind remaining. Back in 1996, Sierra Nevada introduced its first "fresh-hop" or "wet hop" Harvest ale. That was followed by years of arguments about whether a "fresh hop" could ever be a "wet hop" if the harvesting process dries it or if that "wetness" even makes a difference if the fresh oils and resins remain regardless. It was also followed by years of great beer.
Also see: 10 Pumpkin Beers You're Seeing Before Labor Day and Why>>
The 6.7% ABV
Northern Hemisphere Harvest Ale
is still made with fresh Cascade and Centennial hops from Yakima, Wash., that go from the vines to the brew kettles in 24 hours. But in 2008 Sierra Nevada began producing a
Southern Hemisphere Harvest Ale
with Pacifica, Motueka and Southern Cross hops flown in from New Zealand.
Can you still call that "fresh" when the process of getting hops to the kettle can take as long as two weeks or more? We're not getting into that fray, but will just say that the Northern Hemisphere variety is tough to pass up around this time of year.
Thundercone Fresh Hop Ale
McMenamins, various locations in Oregon and Washington
McMenamins isn't your average Northwest brewer, and that doesn't do it many favors in the eyes of the region's beer die-hards.
The fact that it's a chain that serves its beer at its restaurants, hotels, movie theaters, golf courses and resorts tends to knock it down a few pegs in the eyes of more discerning beer drinkers. That's honestly too bad, as the beer they most commonly sample in plastic tumblers during a $3 showing of
World War Z
is well-made, consistent and a great baseline beer for the initiated or gateway beer for someone who doesn't drift too far from light lagers.
Thundercone is just that kind of beer. Made with 1,000 pounds of Cascade hops that are rushed from a farm in Salem, Ore., to 22 McMenamins breweries throughout the Northwest, Thundercone comes in much milder than all those hops would suggest. The 6.2% ABV beer smells citrusy, but has a mild flavor more akin to a Vienna Lager (like
Samuel Adams
(SAM) - Get Boston Beer Company, Inc. Class A Report
Boston Lager) thanks to a combination of Pilsner and Belgian Caramel malts. Flowery on the nose and earthy on the tongue, Thundercone is a tasty baby step into the world of fresh hop beer.
It may not be the first fresh hop beer a craft beer lover reaches for, but chances are it's among the first they had.
Wet Hop Lager
Jack's Abby Brewing in Framingham, Mass.
The general rule of thumb is that once you're around 48 degrees north latitude, you can get to some excellent hop growing. That doesn't preclude folks from growing them just south of that point, however, and the limited success that some farmers in the Northeast are having with that endeavor is sparking an entire Northeast hop-growing movement.
The
is actively pushing a return to the hop growing that was a way of life in the region for more than a century.
in Bloomfield, Conn., filled its
photo gallery
with images of workers harvesting its home-grown hops for a fresh hop India Pale Lager.
Four Star Farms
in Massachusetts supplies Greenfield, Mass.'
People's Pint
and Portland, Maine's
Peak Organic
with hops grown on its six-acre farm.
With hop farms springing up in Maine and Vermont, the concept of fresh hop beer is taking root in New England, New York and elsewhere. Few have been able to use those fresh hops in a beer as regionally appropriate as Jack's Abby's Wet Hop Lager. Though beers such as Heady Topper from Vermont brewer
The Alchemist
are chipping away at the Northeast's malty reputation, malt is still king among the brewers here.
That's not to be bemoaned. At a time in craft beer when just about every brewer is shifting attention toward hoppier offerings and increasingly bitter IPA and imperials, the fine Northeast tradition of making less hoppy styles well is under attack. That shouldn't be the case, and this lager is an example of why. Jack's Abby has built a brand around German brewing tradition and has largely shunned ale. The hops it's using here aren't building a floral aroma bomb, but enhancing an earthy -- dare we say peaty -- scent that evokes the late season harvest. Much of the smooth, bready flavor comes from cereal malt and unmalted spelt.
Also see: 10 Fastest-Growing Craft Breweries In the U.S.>>
There are hops all over the labeling, but this beer tastes nothing like what U.S. craft beer drinkers have come to expect when they see all those green, leafy cones. Just as the Northwest hop harvest has created an expectation of Northwest-style ales, a burgeoning Northeast hop movement just might move the needle back toward classic Czech and German styles and the more subtle hops supporting them.
Lucky Labrador Brewing in Portland Ore.
This is where our hops ended up this year -- in a pile culled from backyard trellises, vine-laden sidewalk poles, green-laden garage walls and even the occasional hop-strangled abandoned structure.
The one-day harvesting process itself was a fine bit of chaos, with volunteers at the Hawthorne Boulevard brewpub in Portland plucking hops from freshly unloaded bundles of vines in an attempt to get them into kettles less than a day later. What kind of hops are they? The brewers and pickers seldom know, but the more than 300 pounds come together in a mild, refreshing mix that's a bit more amber and malty that a traditional IPA.
Those muttly Amarillion, Centennial, Cascade, Willamette and other hops give it a sweet aroma, but a healthy dose of pale and crystal malt keep it a fairly mellow and very drinkable 4.5% ABV. It doesn't have to command drinkers to sit and stay a bit, but it coaxes them with this hop-addled treat.
Hoppopotamus Fresh Hop Ale
Silver Moon Brewing in Bend, Ore.
As is the case in Portland, there are any number of fresh hop beers to choose from in Bend.
10 Barrel Brewing filled its Crosby Fresh Hop with Centennial hops last year. Crux Fermentation Project loaded their Crystal Zwickel with Crystal Hops. Bend's biggest brewery, Deschutes, makes multiple fresh-hop beers each year (more on that later).
What makes Silver Moon notable across all its beers, however, is its heavy handedness with its hops. The brewery brought a red ale to this year's Oregon Brewers Festival that was so bluntly hoppy compared to the more grapefruit-flavored fare dominating the OBF lineup that it spawned lines spanning half the width of the event grounds.
Its 6.7% ABV fresh hop ale is no different. The flavor, aroma and bitterness comes from using only fresh Oregon Cascade hops across the board. Using fresh hops for bittering isn't exactly an easy thing to do, but Silver Moon comes through with a fruity, bitter flavor to match its overwhelmingly floral aroma. This is the beer most enthusiasts dream of when hearing the phrase "fresh hop." It's just seldom the one they receive.
Two Beers Brewing in Seattle
Folks in Seattle whose idea of beers in the city's SoDo neighborhood is a Pyramid or Elysian before a Seahawks or Sounders game needs to update the itinerary a bit. Just down the road from CenturyLink and Safeco fields are upstart breweries such as Schooner Exact and Two Beers, the latter of which continues to expand and improve its production, brewing facilities, tasting room and distribution.
Since 2009, Two Beers has released its fresh hop ale at the end of August after a road trip to Puterbaugh Farms in the Yakima Valley to harvest Centennial Hops. Those particular hops give its brew hints of grapefruit and passion fruit, while caramel malt gives it a lovely straw color that belies just how hop-heavy Two Beers' fresh hop beer is. Packing 6.2% ABV and a strong backbone of Simcoe, Amarillo, Cascade and Experimental hops, Two Beers' fresh hop offering is punchy and bitter. With each passing year, it's becoming a more alluring reason for Seattle visitors to head South of Downtown.
Green Pig Fresh Hop Ale
Coalition Brewing in Portland, Ore.
Oh, to catch a $4 showing of
Pacific Rim
at the Laurelhurst Theater a block away while sipping a tumbler full of this bad boy.
Coalition's Green Pig embodies all the best parts about experimenting with fresh hops in a limited timeframe. Loaded more than 100 pounds of Cascade hops fresh from Crosby Hop Farm in Woodburn, Ore., and brewed in a tiny 10-barrel facility across from its single-car-garage-sized pub, Green Pig has a pleasantly sweet hop aroma with relatively moderate residual bitterness. This year, Coalition brewed up two batches using early harvest and late harvest hops, but at least one still holds onto its traditionally understated citrus flavor and distinctly floral scent.
It's a rare opportunity to call a hop laden pale ale or IPA refreshing, but Green Pig has a habit of providing it every year around this time.
Bale Breaker Brewing in Moxee, Wash.
Imagine Napa Valley with no wineries. Kentucky or Tennessee with no distilleries. Belgium with no abbey breweries.
This was essentially the state of Yakima Valley in the vacuum left by Bert Grant's death in 2001. Grant founded Yakima Brewing and Grant's Brewery Pub in Yakima, Wash., in 1982 and gave the U.S. not only its first brewpub since prohibition, but its first taste of what would later be known as Northwest IPA.
It wasn't until 2007 that the esteemed
Yakima Craft Brewing Co.
picked up the mantle and brought brewing back to the region that produces nearly 80% of the hops grown in the U.S. The brewery even uses Grant's original boil kettle for some of its brews. While Yakima Craft proved last year with its Fresh Hop Imperial Red that there are benefits to being near the source, another brewer right down the road is taking that assertion to its logical extreme.
Bale Breaker only opened in April, but the great-grandparents of owners Patrick Smith, Meghann Quinn and Kevin Smith first planted hops in the Yakima Valley in 1932, the year before Prohibition ended. Their 30-barrel, 11,000-square foot production facility sits in their family's hop fields just down the road from where they grew up and is surrounded on three sides by Cascade hops. Smith, who serves as head brewer, came over from a shift-brewing gig at Two Beers to develop his brewery's offerings at the family farm's nanobrewery.
These are the people you want pouring you a fresh hop beer, and Topcutter IPA is the one you want to start with. Named for a piece of farm equipment that removes hop vines from the trellis during a hop harvest, Topcutter is laden with some of the Yakima Valley's most sought-after hops. By adding Simcoe, Citra, Ahtanum and Mosaic late in the process, Smith gives Topcutter a fruity, citrusy flavor and strong floral aroma that's only heightened by the use of fresh hops. At 6.8% ABV and a formidable 70 international bitterness units -- potent for a non-imperial IPA -- Topcutter is built around the hop.
Picking up a can of it certainly won't hurt the brewery's cause, but the Bale Breaker taproom only does the fresh-hop version of its Topcutter IPA more favors by running it through a
Randall
-- a dual chambered device from folks at
Dogfish Head Brew
that attaches to a beer tap and stores hops in one chamber to infuse a beer with even more hoppiness, collects unwanted foam in another chamber and pours out as close to a liquid version of hops as you'll find. For hop-minded beer lovers, it makes Yakima and Bale Breaker as worthy as a pilgrimage as Napa would be for fans of Pinot Noir.
Co-Hoperative Ale
Fort George Brewery in Astoria, Ore.
Astoria is a fairly special place to begin with. The barks of the sea lions on the docks, the smells coming from the cafes and restaurants that line its old Cannery Row, the remnants of its history as John Jacob Astor's Pacific fur trading port of choice and the hordes of visitors who still make their way up the hill to check out the house from
The Goonies
would be enough to give bragging rights to any city. It's Fort George's neighbors in the Columbia River town, though, that give the place much of its character.
Each year, a dozen or so of those same neighbors take the hops from their backyards, fences and garages and give them to Fort George for a brew that never quite has the same formula from year to year. The alcohol content usually hovers around 5%, the honey malt and caramel grain usually mellow it out a bit, but the random combinations of Nugget, Cascade, Chinook, Citra and other hops change up its aroma and a bit of its flavor in each batch.
Since Fort George isn't much for putting this in its 16-ounce tallboy cans, the best way to get your hands on some Co-Hoperative is to head to Astoria, grab a seat by the window and sip one while people watching. One of those folks may have supplied the hops for your beer.
King Cone
Deschutes Brewery Portland Public House in Portland, Ore.
When you're a 25-year-old brewery and one of the longest-tenured members of the craft beer movement, it gets tough to keep things interesting. Even around fresh hop season, there's a chance you'll play to a much bigger audience if you just throw some fresh aroma hops into a benign 5% ABV batch of Mirror Pond pale ale and call it a day.
That's not how the Class of '88 does things. Using fresh Cascade and Centennial hops for aroma and a bit of hop flavor, Deschutes basically rams a handful of fresh hops right into the drinker's nose and palate. This 6.6% ABV, 70 IBU beast still has a surprising amount of malt for a beer this aromatic and bitter, but it would take a lot of caramel malt to drown out the 275 pounds of hops that give this small batch its citrusy, piney bitterness.
While notably absent from the taplist at Deschutes' flagship brewpub in Bend, King Cone rewarded its Portland fans with a little bit of wonderful from the Willamette Valley. It usually requires a lot of patience and fortitude to brave the crowds of buzzer-holding tourists and untethered children at this location in Portland's Pearl district, but this pint is worth it.
Update (9/25 at 11 a.m.):
So much so, in fact, that the supply was exhausted shortly before this story ran. However, the excellent fresh hop versions of both Deschutes' Mirror Pond Pale Ale and Oktoberfest beers are still available in Portland, while the Cinder Cone Red has made its way onto a tap in Bend.
Total Crystalation
Ninkasi Brewing in Eugene, Ore.
If you have a great IPA recipe with the kind of bitterness and potency that's won it a huge following, why mess with it too much come fresh hop season?
Ninkasi just follows the recipe for its Total Domination IPA when it adds Amarillo and Summit hops to its Total Crystalation mix the first two times. On the third go-round, it runs the mixture through 500 pounds of Crystal hops picked just a few hours before to give the beer an even more pronounced, floral hop aroma than the IPA it's based out.
Ninkasi's team travels less than 80 miles from the brewery to Sodbuster Farm near Salem, Ore. (the same farm McMenamins uses for its hops) and harvests 1,500 pounds of fresh Crystal hops just before producing three batches of Total Crystalation. The result, at 6.7% ABV and 65 IBUs, is one of the more powerful fresh hop beers on this list. If not for the Carahell and Munich malts smoothing it out a bit, this would be an intimidating beer. Instead, it's a great step up for a novice beer drinker looking to advance beyond the gateway.
-- Written by Jason Notte in Portland, Ore.
>To contact the writer of this article, click here:
Jason Notte
.
>To follow the writer on Twitter, go to
.
>To submit a news tip, send an email to:
.
RELATED STORIES:
>>10 Brewpubs Calling For A Taste In 2013
>>10 Beer-Drinkingest States In America
Jason Notte is a reporter for TheStreet. His writing has appeared in The New York Times, The Huffington Post, Esquire.com, Time Out New York, the Boston Herald, the Boston Phoenix, the Metro newspaper and the Colorado Springs Independent. He previously served as the political and global affairs editor for Metro U.S., layout editor for Boston Now, assistant news editor for the Herald News of West Paterson, N.J., editor of Go Out! Magazine in Hoboken, N.J., and copy editor and lifestyle editor at the Jersey Journal in Jersey City, N.J.