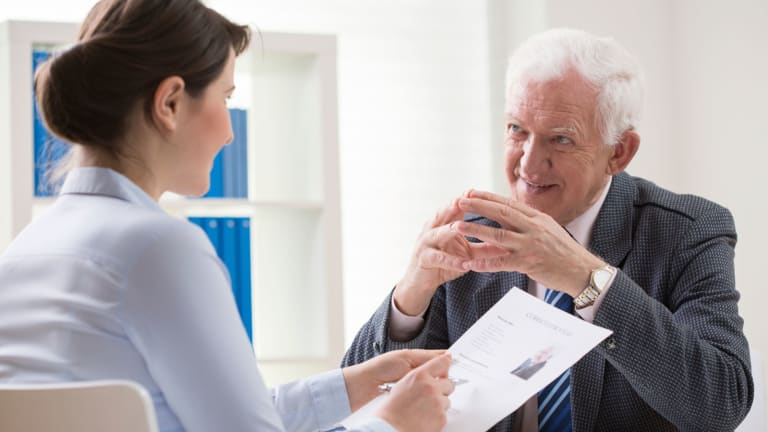 10 Reasons Hiring an Older Worker May be the Best Decision You Ever Make
It turns out older workers are wiser and can bring more to your team than you ever expected.
NEW YORK (MainStreet) — Recent college grads have got a lot going for them — they're ambitious, driven and eager to please — but the same holds true for workers who are much older and wiser. If you're searching for a new employee to join your team, here's a look at 10 reasons why gray hairs are an asset, not a liability. 
1. Older workers are resilient.
Many older workers have lived through and persevered through mergers, major management changes, layoffs and more, explains Mark Anthony Dyson, founder and CEO of employment consultancy Competitive Resumes.
"To 'know when to hold 'em' is an incredibly valuable skill. Older workers also know when and what to say in stressful situations that can help younger employees," Dyson says.
Boomers have seen it all, says Stephanie Menchaca, manager of HR services for human resources and business solutions provider Insperity.
"Boomers have learned professional coping skills and perseverance that allow them not to get discouraged easily," she says.
2. They're lower-maintenance.
Older workers are lower-maintenance on average — they aren't always looking for constant affirmation, says Jay Meschke, president of human resources solutions firm CBIZ Human Capital Services.
"They aren't expecting to walk in and have their boss say, 'Hey! Way to show up for work today!' They don't need that feedback and they don't need constant direction. They'll just get a task, complete the task and be OK with that."
In other words, if you want to avoid hiring someone who will constantly ask "Am I doing this right?" or "Is this what you wanted?" an older worker is your best bet.
3. Their energy level may be higher than that of 20-somethings.
The thought that older workers have lower energy levels — and correspondingly lower work output — comes from unfair generalities, Meschke says.
"There are young 60-year-olds and there are old 30-year-olds, and sometimes people don't get that."
4. They don't get anxious easily.
"Older workers tend not to be intimidated by or get anxious about face-to-face dealings with people. They have been through all that before," Meschke says. "Having a meeting with a large group or doing a presentation is second nature to them at this point in their career."
5. They're careful about the decisions they make.
Older workers can be more methodical in decision-making and the processing of information, which can be a welcome advantage in business, Meschke says.
"They aren't going to overreact to things immediately. They may take the time to think things through before acting," he says. "They may be a little stuck in their ways from time to time, but they aren't going to go off the deep end."
6. They can be good leaders and mentors.
When management heads off to a staff retreat, you need employees with experience to hold down the fort.
"During times when there is an absence of leadership, older workers know how to conservatively assess critical situations and use the resources available to them," Dyson says.
When it comes to mentoring younger staff, there's no better choice than someone who has worked in a variety of different industries and positions.
"Because of their experience in the workplace, Baby Boomers often naturally fall into coaching roles, innately sharing their knowledge and experience — verbally and by example ' with their colleagues," Menchaca says.
7. They're hard-working and reliable.
Baby Boomers are consistently seen as hard-working, productive members of their organizations. They remember what the work environment was like before you could Google everything you needed to know.
"Boomers are results-driven and goal-oriented, so managers may not have to spend an inordinate amount of time monitoring efficiency," Menchaca says.
8. They know loyalty is important.
Boomers tend to remain at a company longer than younger workers. According to a recent survey by Elance-oDesk and Millennial Branding, 58% of Millennials expect to stay in their jobs fewer than three years, compared with Baby Boomers who stay at a company for an average of seven years.
The same study found that more than half of surveyed Generation X hiring managers say they struggle to find and retain Millennial talent, "so a displaced Boomer searching for a new opportunity may be the perfect match," Menchaca says.
9. Their soft skills are more fully developed.
Through years of experience, Baby Boomers have enhanced their soft skills — including face-to-face interactions and interpersonal skills — developed years before texting, emailing and other online methods of communication became mainstream, Menchaca says.
Older workers may also be more readily able to relate to clients of their own generation, who would prefer a quiet sit-down lunch to a weeklong back-and-forth exchange over text.
10. They have large, strong networks.
Business success is about quality products and services — and relationships.
"Because older employees have been in the workforce longer, they've often had more time build a professional network of contacts and industry professionals. Hiring a Boomer employee may mean those relationships can be leveraged to secure new business and increase customer loyalty," Menchaca says.
Older workers generally tend to be "higher in the food chain" than younger workers, because they've got thousands of hours of experience — likely at multiple companies — already under their belts, Meschke says.
"They've got a reputation and they may be able to open more doors, all the way up to the C-suite," Meschke adds.
— Written by Kathryn Tuggle for MainStreet
Follow Kathryn on Twitter @KathrynTuggle